Boris Johnson Has Refused To Say If He'll Keep The British Ambassador Who Upset Trump In His Job
The Tory leadership frontrunner dodged a question about Sir Kim Darroch.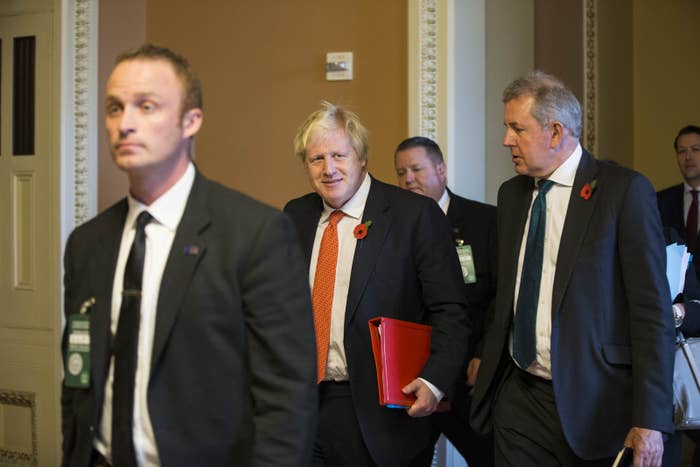 Boris Johnson, the frontrunner to become Britain's next prime minister, has refused to say whether he will keep the UK's ambassador to the US in post — after leaked emails revealed he had labelled the Trump administration "inept", prompting a furious response from the president.
Johnson was asked outright at ITV's head-to-head debate on Tuesday evening whether Sir Kim Darroch would remain in post until the end of the year if Johnson became PM.
He replied simply that he would "not be so presumptuous" as to assume he would remain in his job. "I and I alone will decide who takes important and politically sensitive jobs," he added.
His leadership rival Jeremy Hunt, however, pledged that he would keep Darroch in his job until he wanted to leave. "He is due to retire at Christmas and I will certainly keep him until then," he said.
Johnson was backed by MP supporters Matt Hancock, the health secretary, and Dominic Raab, the former Brexit secretary.
Hancock repeatedly refused to say whether Darroch should remain in post, telling ITV's Good Morning Britain: "The relationship is much bigger than any individual person."
And Raab told BBC's Newsnight that Darroch should have 'tried to avoid personalised stuff" in his diplomatic cables.
But current prime minister Theresa May has fully backed the UK's ambassador after leaked diplomatic memos, published in the Mail on Sunday, showed that he had called Donald Trump "inept", "insecure", and "incompetent".
Since the news broke, Trump has not held back in his criticism of Darroch and May herself on Twitter.
Hunt, the foreign secretary, hit back at Trump on Twitter on Tuesday.
On Wednesday, former Tory prime minister Sir John Major also backed Darroch, saying he was "doing precisely what he was instructed to do" and accusing Johnson of "throwing him to the wolves".
"We really cannot have our ambassadors chosen by host governments; he should not be forced out of his office," he told BBC Radio 4's Today programme.
And Simon Fraser, former permanent secretary at the Foreign Office, offered his full support to Darroch, accusing the person who leaked the memos of causing "damage on many levels".
Nick Boles, an independent MP who used to be a Conservative, also called on Johnson to support Darroch, saying it was important that foreign leaders did not "pick and choose" British ambassadors.