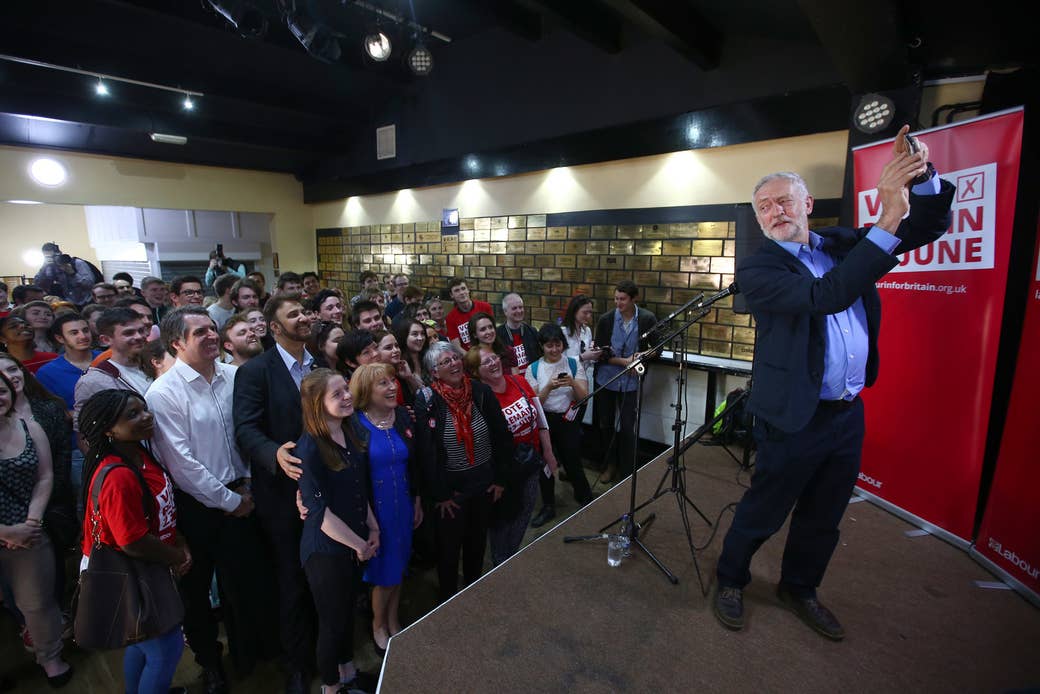 "There is a temptation by the establishment to look at young people like they're in a petri dish," says pro-EU campaigner Harriet Kingaby. "What we can't have is a group of older people who say 'we know what's best for you'." She's a founder of We Are Europe, just one of a vast array of movements targeting young people that have sprung up ahead of next month's referendum on Britain's EU membership.
With just four weeks to go and polls still tight despite a recent surge for Remain, students across the country are being wooed, cajoled, and persuaded to make sure they turn out to vote. They're being given branded condoms, told to get "votin", promised some cool bands, and even ordered to talk to their granny. But will it work – and isn't it all a bit patronising? BuzzFeed News speaks to university students, MPs, and campaigners on both sides of the fence.
The Remain camp sees the 18-35 age bracket as key to victory because younger people are more likely to back EU membership. But it faces two major problems: Leave voters are more passionate, and older people vote more than the young. A decent turnout overall is therefore vital to boost the numbers of both unenthusiastic and younger voters.
An overwhelming 66% of 18- to 24-year-olds want Britain to stay in the EU, compared to 34% of over-50s, according to a recent YouGov survey for The Times. But 63% of students don't know the date of the referendum and 54% don't even know what month it's in, a separate poll by Universities UK found. That's why the race is on to convince young people to take an interest before it's too late.
We've hopped aboard Labour's pro-EU battlebus in the Midlands, where it's touring student hotspots in a last-ditch attempt to get people to register to vote by 7 June. First stop is the Cosy Club café in Leicester, where MPs Alan Johnson, Liz Kendall, and Gloria De Piero squeeze themselves around a table with 13 supportive students from nearby universities.
According to these students – who are actively campaigning for Remain – the main arguments winning over their peers are the Erasmus exchange programme, workers' rights, and fears about the effect to the UK economy if Britain leaves. Michael Oatway, 19, from Leicester University, says Erasmus is the "big one".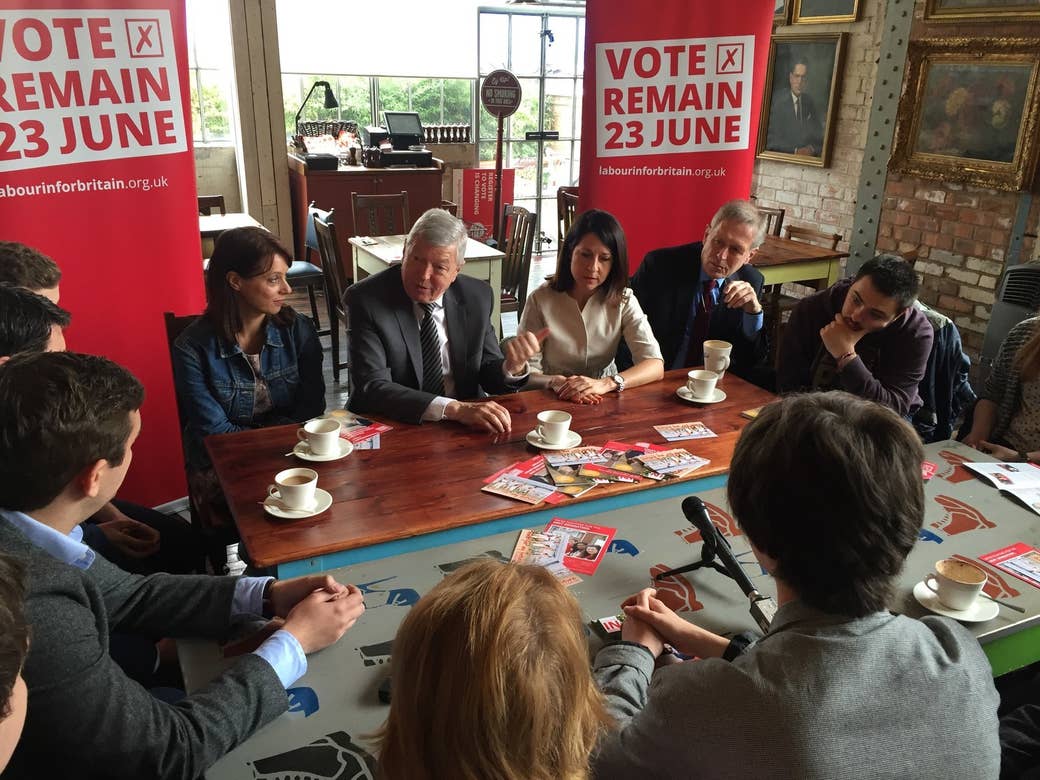 "Yes, Erasmus," nods Rachel Holland, 23, chair of Leicester's student union. "I think for young people in general, free movement is quite an important thing. I think a lot of people are very nervous about losing that privilege." Immigration into the UK, on the other hand, isn't something they're too exercised about. "The issue of sovereignty, taking back our borders and all that, really isn't an issue for students," Oatway says.
The Remain camp is generally better organised than the Leave side on campus, the students say. "You've got a few Conservative students who are quite opposed to the EU; there's also a socialist argument from socialist students against Europe," Holland says. "But it's not as coordinated as Britain Stronger In or Labour's campaign."
Later a couple of students tell BuzzFeed that Leave campaigners "invariably come from Conservative Future", the youth wing of the Tories.
But Tom Harwood, chair of the anti-EU Students for Britain (SFB) group, begs to differ. The 19-year-old Durham student says the 50-plus SFB university associations across the UK are chaired by people from a range of parties, including Tories, Labour, Liberal Democrats, and Scottish Nationalists.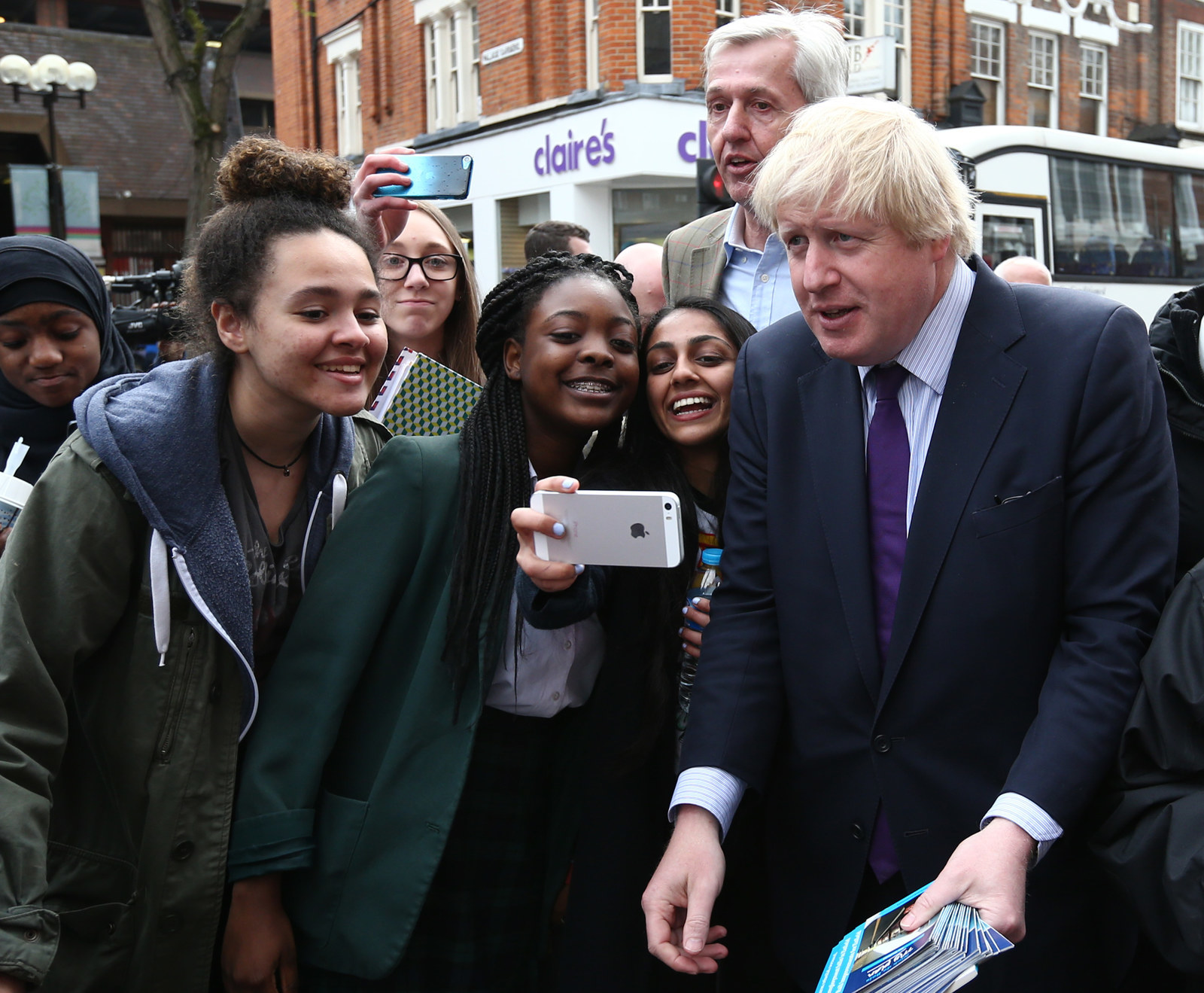 "We've got total cross-party cooperation, but of course most students aren't part of a political party at all," he tells me. "We don't see left and right, we just see student issues."

Despite the polls showing a clear preference for Remain among young voters – and a survey on Tuesday revealing that most older people are now unconvinced by Brexit too – the Leave campaign is doing all it can to persuade students that staying in the EU isn't a good deal.

Harwood reckons the best way to measure student opinion isn't through polls but through debates, because after them there is "almost always a swing to leave".
"When people hear the arguments not filtered through Nigel Farage or other toxic figures, when people hear people like them[selves] talking about the issues, suddenly the debate becomes less toxified," he says. This is key for campaigners on all sides – all are adamant that the only way to reach young people is through young people.
The main aim of the student Leave campaign is to "dispel the myths" put out by the Remain side. "They try and equate programmes like Erasmus to EU membership," Harwood says, "when in fact Turkey and Iceland and Israel all participate and they're not EU members."
But he also warns of a "massive lack of information" among young voters. "I'm not sure I buy into this idea that all students are rabidly pro-EU," he says. "I think the overwhelming response we see on the ground is just apathy – people really don't care about the debate, and I think people are disinterested in politics altogether."
Switch on the news and it's not hard to see why the younger generation might feel left out of the debate: It's speech after speech from middle-aged MPs warning of the grave perils of either leaving the EU or staying in it. One Leicester student says: "I worry that a student reads their news app and sees that Dave and Boris have traded blows again and thinks, 'Why do I even want to vote?'"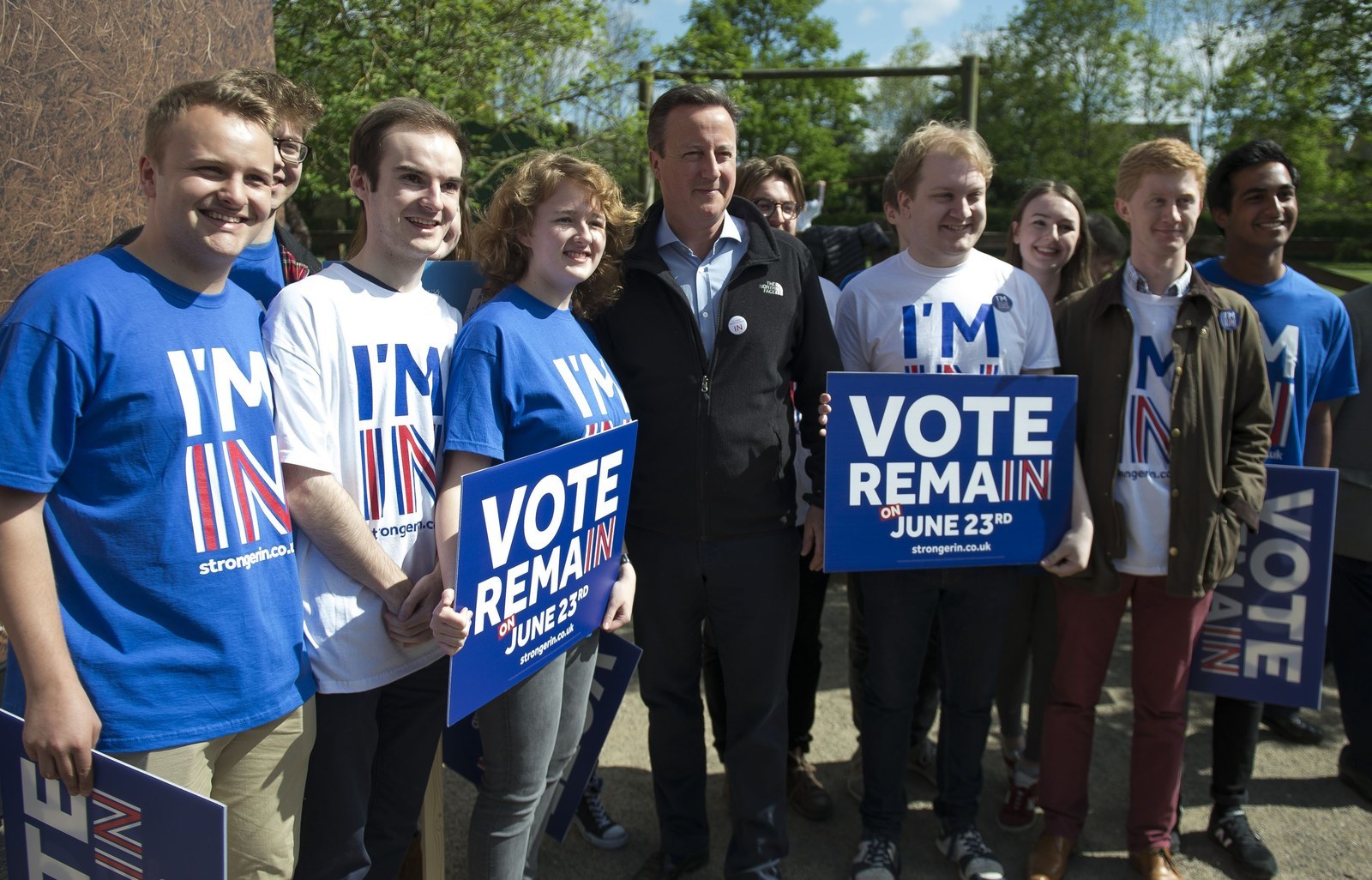 It doesn't help that efforts by both camps to reach out to younger voters have at best been deemed patronising and at worst insulting. The Stronger In team revealed its new "Votin" campaign on Tuesday, packed full of words like "chillin", "workin", and "earnin". Its designer, Scott Townsin, told us: "With the less 'official' style, you get a slight 'us and them', anti-establishment feel." But students on social media weren't hugely convinced.
Leave.EU, the unofficial Eurosceptic campaign, which is backed by Farage, has been busy promoting Britain's first anti-EU music festival. The gig is aimed at getting young people excited about the referendum; unfortunately, a fair few acts have pulled out after being told it was a political event. It was a blow to all those 5ive and Alesha Dixon fans out there.
Johnson, a former home secretary who's now chair of Labour's In campaign, tells me that he and Tory universities minister Jo Johnson have written to every vice chancellor urging them to persuade students to stay in the EU. "But me and Jo are politicians in suits – people are far better persuaded by fellow students making the argument," he says.

So how do young campaigners go about persuading their mates to bother voting? Kingaby, 32, got involved in the Remain campaign when she realised how little her friends knew or cared about the EU. She set up We Are Europe with three other young women, including 30-year-old Bethan Harris. "The more we talked to our friends, the more we realised that people didn't know it was coming up – they were saying, 'I don't know why it's relevant to me, I don't know enough to vote,'" Kingaby says.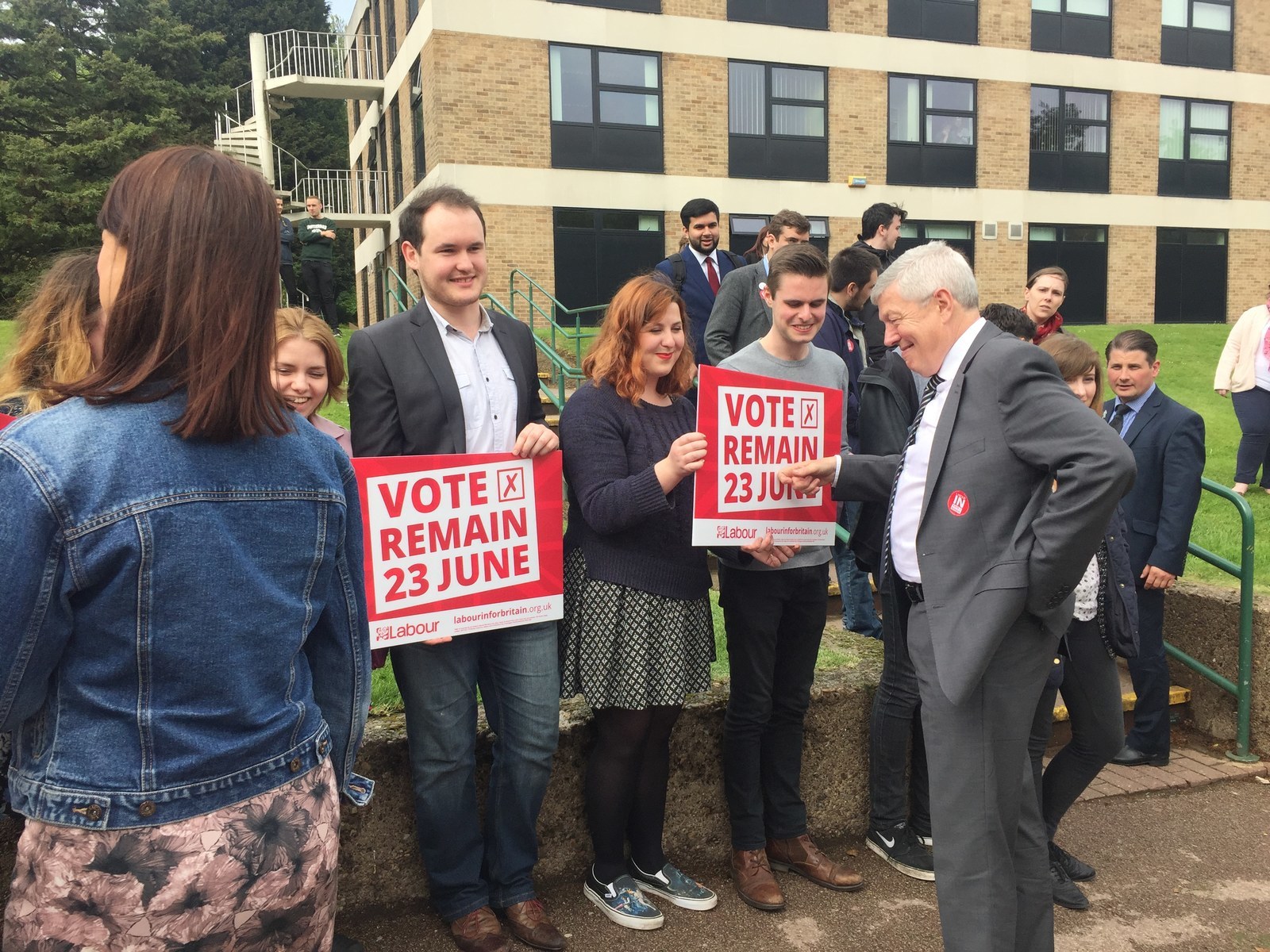 Meanwhile, there were "very passionate" Eurosceptics on social media making the case for Leave. "We thought, Oh my goodness," Kingaby says. "We could just tweet it out or get angry on Facebook but actually we wanted to start doing something about it."
Harris says the aim is to encourage people who don't feel confident about politics to make their voices heard. "Under-forties are more likely to vote In but they're less likely to vote," she says.
"What we're trying to say is that if there's any way that you might feel shit if you wake up on 24 June and find out we left, then you need to start getting engaged."
They believe part of the problem has been a lack of social media content that represents young people. "They're not gonna share the picture of David Cameron standing on a bus, because that's not a reflection of them," Harris says. "So it's about creating content that you actually want to put on your wall because it's cool and funny – memes, GIFs, little videos."
In one recent image on We Are Europe's Facebook page, Donald Trump stands with his arms outstretched and mouth wide open. "Thought this was impossible?" the text reads. "Our 'impossible' moment could happen on June 23rd. If under 40s don't vote in the referendum, polls show we will be leaving the EU." People are also encouraged to share "selfies and snaps" with the hashtag #InFor that spell out why they want Britain to stay in the EU.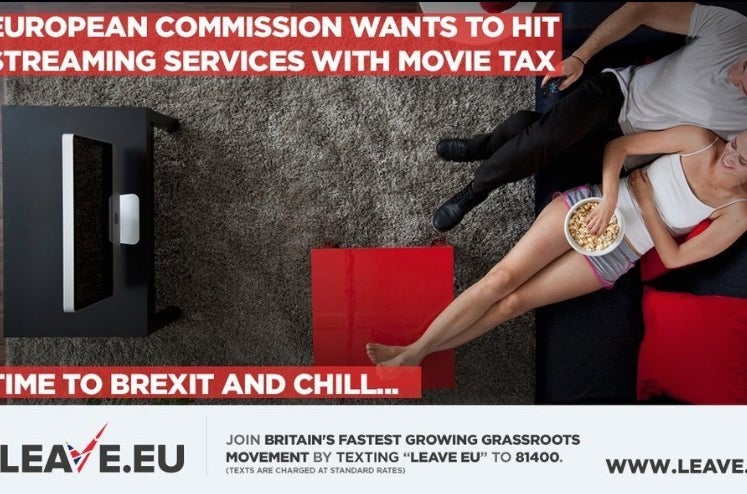 And it's not just the Remain side that's embracing social media. Leave.EU released a graphic last week claiming that EU bosses wanted to bring in a tax on Netflix and Amazon Prime. Its down-with-the-kids tagline? "Brexit and chill."
Other online Leave campaigns may prove more effective. Harwood points to the hashtag #ImLeaveBecause, which people are using to share their reasons for wanting to exit the EU. What people don't like, he says, is being dictated to by the so-called establishment – and that includes the National Union of Students.
Harwood says student Leave groups are at a disadvantage because the NUS's We Want In campaign has a lot of money and support. "There's huge resentment towards that kind of top-down structure and that really stifles debate on campus," he says. "Students are a little bit fed up of being told what to think or what to do, particularly by the NUS."
The NUS says it's simply reflecting the views of the vast majority of students – pointing out that nearly 95% of conference delegates at last year's annual gathering wanted the body to fight for Remain, not least because of the extra funding universities receive from the EU.
Back in Leicester, shadow young persons minister De Piero is eagerly asking students how exactly they will persuade their peers to register to vote. She says you have to go back to 1964 to find an election where young people turned out to vote in the same numbers as the rest of the population.
Outway suggests she might be missing the point. "You can get as many people to register as you like – at the end of the day a lot of them might still not go out and vote," he says. "I think there needs to be some incentive to make them realise just how important this is, that it isn't just a general election."
Johnson agrees. "If it's a general election and they're in a Tory area or a Labour area they might think, Oh, why bother, it's gonna be a landslide either way," he says. "Whereas this one really is every single vote counts."
I ask him later whether it baffles him that young people might not bother to vote in the referendum. "It does baffle me, I have to say," he says. "I don't think we're coming up against, 'Oh, on principle I don't want to take part in any democratic decision.' It's generally, 'Oh I never got round to it, I don't know how to do it,' that kind of thing. I think it intellectualises your apathy to invent some reason when really you just can't be arsed."
But the 23 June date is proving problematic. University exams are over by the end of May and many students will be back home for the summer. That means they need to make sure they're registered at the right address to vote. The Electoral Commission says students can register at both their university and home address, as long as they only vote once. If they're planning a holiday or going to Glastonbury (which helpfully kicks off on polling day) they should apply for a postal vote by 8 June.

Johnson is confident that turnout will be higher than expected. "By the time 23 June comes around, this will be so high up the agenda that everyone will know there's a referendum on," he says. "I think if everyone plays their part now, including the media, we could make this a very big turnout indeed."
Eurosceptic Tory MP Tom Pursglove is also convinced that big numbers of young people will take part. "I think they recognise this is such a big decision," he says.
As the Conservatives' youngest MP, at 27, he's visiting student unions and sixth form colleges to persuade the younger generation to vote Leave. But he admits to BuzzFeed News it's an uphill struggle.
"Among young voters, we've got to do more to try and win the case," he says. "I think young people are leaning towards remaining but actually it's very frustrating that that's the case. Project Fear again knows no bounds – we've heard that there'll be no Erasmus scheme if we leave the EU, we've heard inter-railing won't happen, which is complete rubbish because neither of those are dependent on EU membership."
Pursglove reckons a key problem is that "the European Union and the status quo is drummed into students at a relatively young age": "I don't ever really recall the counter arguments being put when I was at school to be honest."
He wants Boris Johnson to do more campaigning at universities in the coming weeks because he's "very effective at connecting with younger voters". But that statement is at odds with what young people themselves have been telling us – that MPs and the "establishment" in general are a massive turnoff.
One student at Labour's focus group sums up his feelings about the EU debate so far: "I worry that students who are apolitical are being turned off a bit at the moment because the national coverage of the referendum is that it's a contest for the next leader of the Conservative party."