The album comes just five months since her last release, Folklore, and continues its premise of blending stories of Taylor's personal life with fictional worlds and characters.
And perhaps the song where this is most evident is the magnificent "No Body, No Crime" — a collaboration with Haim about the disappearance of a woman named Este. The protagonist eventually decides to avenge her death by murdering Este's husband — who she believes is responsible for killing her — and framing his girlfriend.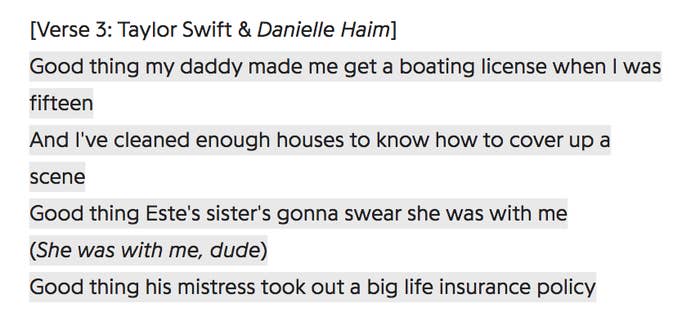 It's quite a ride.
And the story behind the song is just as batshit, with Taylor revealing that she set out to write a murder mystery after becoming obsessed with true crime podcasts, and included Este's name because she thought her friend would be "stoked."
"Working with the Haim sisters on 'No Body, No Crime' was pretty hilarious because it came about after I wrote a pretty dark murder mystery song and had named the character Este, because she's the friend I have who would be stoked to be in a song like that," Taylor explained during a fan Q&A.
"She chose Olive Garden, and a few days later, I sent her the song and asked if they would sing on it. It was an immediate 'YES,'" Taylor added.
And it turns out that they all had a blast recording the track, with Haim proving just how proud they are of the collaboration by posting this video of themselves pretending to dine at an Olive Garden while singing along to the song.
But they didn't stop there. The ladies went on to post this frankly iconic photo alongside the caption: "Get in loser we're gonna go find his ass at Olive Garden."
And who should show up in the comments despite rarely commenting on anything these days? None other than Ms Taylor Swift herself!
"Is it possible to tattoo a whole post on my face," she wrote. "Asking for a friend 😂😂😂"
The Instagram post came just hours after Taylor revealed she couldn't believe that she and Haim hadn't collaborated sooner.
"We can't figure out why we hadn't collaborated sooner. We've toured together, played live together, choreographed dances like we're at summer camp, but it took a song about avenging your friend's murder to give us the idea to take this step," she said. "Long story short, I'm the fourth Haim sister now, confirmed."