On Thursday, at 8am ET, pop superstar Taylor Swift made an announcement none of her fans were expecting: She would be releasing her eighth studio album, titled Folklore, in just 16 hours.
The move was unprecedented for Taylor, an artist who usually spends at least three months prior to her album releases teasing fans with clues and Easter eggs in social media posts, music videos, and interviews. For her last three albums, Taylor has invited select fans to her home to listen to the music before anyone else at what she's dubbed "Secret Sessions", which has resulted in details about and quotes from the songs spreading like wildfire online before the general public has had the opportunity to listen to them. Her single and album releases are usually meticulously scheduled to maximise both profit and her music's eligibility at major awards ceremonies, and it's something fans have come to expect. But, as Taylor noted in her album announcement, the events of this year have been nothing if not unexpected — and, as a result, so is the new Taylor Swift.
"Before this year I probably would've overthought when to release this music at the 'perfect' time," she wrote in a statement posted to her Twitter and Instagram accounts, "but the times we're living in keep reminding me that nothing is guaranteed. My gut is telling me that if you make something you love, you should just put it out into the world. That's the side of uncertainty I can get on board with."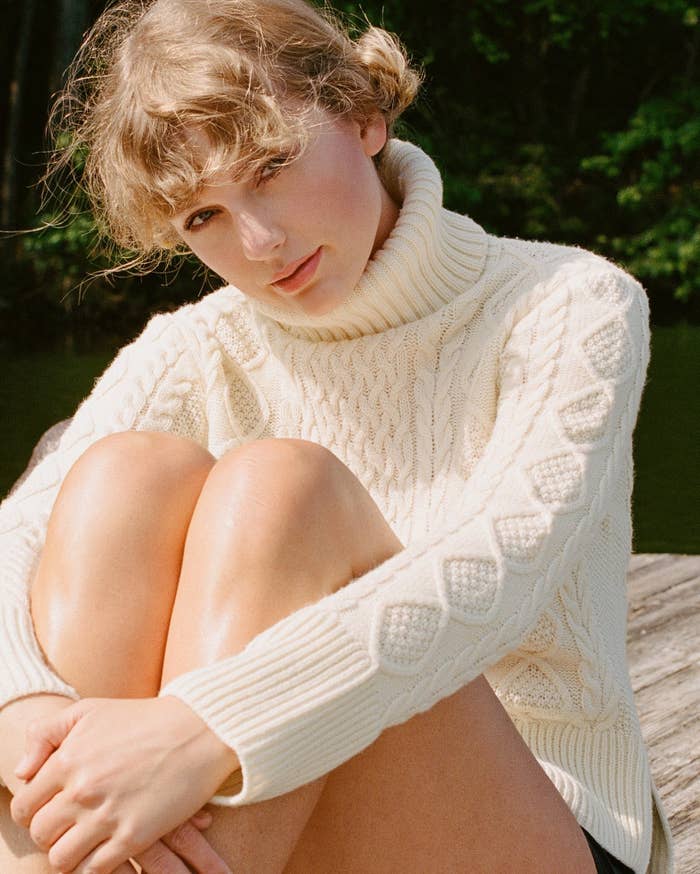 Folklore is already receiving critical acclaim, collecting a string of four- and five-star reviews from outlets calling it a "triumph", "timeless", and "magic". Sonically, it's completely different than anything Taylor has ever done before — as the title suggests, the music is more folksy in contrast to the pop of her last three albums, or the country of the four before that. In a significant departure from Taylor's past works, pop giants Max Martin and Shellback have zero credits on the album; instead, 11 of Folklore's 16 tracks were cowritten or produced by the National's Aaron Dessner. The fourth track, "Exile", is a collaboration with Bon Iver. It's categorised on iTunes as "alternative".
If Folklore's sound absolutely had to be compared to any of Taylor's earlier music, it's probably most reminiscent of Red's "The Last Time", which features Snow Patrol's Gary Lightbody, the haunting "Safe And Sound", a collaboration with the Civil Wars for the Hunger Games soundtrack, or "The Archer" from last year's Lover. It's definitely worlds away from the majority of the highly produced pop Taylor pivoted to with 1989 in 2014, but it can't really be compared to the banjo-filled, up-tempo country tracks of her roots either.
The world is no stranger to a Taylor Swift reinvention, a fact she continues to acknowledge on the new album: "I can change everything about me to fit in," Taylor sings on "Mirrorball". But while Folklore was unexpected both in terms of its release and its sound for even the most dedicated of Swifties, the themes explored in the album's 16 tracks feel like a natural progression for Taylor, whose public persona has undergone perhaps its most dramatic transformation yet over the last two years.
In January this year, Netflix released the documentary Miss Americana, which followed Taylor's life and career from the time of her 2018 Reputation stadium tour to the moment she was honoured as Artist of the Decade at the 2019 VMAs. It was the year Taylor reemerged into the public after a period of self-imposed isolation preceding the release of Reputation in November 2017, and throughout the film, we see Taylor reckon with the fact that the "good girl" persona she became known for at the beginning of her career just...may not be her anymore.
"When people decided I was wicked and evil and conniving and not a good person," Taylor says in the film, referencing a change in public perception after the culmination of a yearslong feud with Kanye West and Kim Kardashian West, "that was the one thing I couldn't really bounce back from."
"My whole life was centred around it," she says. "The reason why that backlash hurt so much was because that used to be all I had."
It was the beginning of a brand-new and much more significant kind of reinvention for Taylor. Bigger than just a haircut and a change of genre, the Taylor Swift of Miss Americana went from the good country girl who vowed to stay out of politics to an almost-30-year-old woman proudly endorsing Tennessee's Democratic candidate for Senate, standing up in court against the man who sexually assaulted her, and speaking up for LGBTQ+ equality in a way she never had before. That stance has only continued since the documentary's release: In recent months, Taylor's Twitter feed has essentially become a medium for her to communicate her feelings on systemic racism in America and the potential reelection of President Donald Trump. "We will vote you out in November," Taylor wrote in a tweet on May 29, marking her first-ever official public stance on a presidential election.
If Miss Americana was an introduction to a new Taylor Swift, who is infinitely less concerned with public perception of her, then Folklore is a continuation of that mindset.
Throughout her career, celebrity feuds and drama have been a permanent fixture on the New Taylor Swift Album Bingo Card. It arguably started all the way back in 2008, with Fearless, when Taylor sang about her heartbreak over the boy who ended their relationship in a phone call that lasted 27 seconds in "Forever & Always". (The boy was Joe Jonas.) In 2010's "Back to December", she seemed to reference another breakup, this time with her Valentine's Day costar Taylor Lautner, 2012's "All Too Well" is widely assumed to be about Jake Gyllenhaal, and plenty of songs on 2014's 1989 — including, uh, "Style" — were assumed to be about her short-lived relationship with Harry Styles. Then, of course, there was "Bad Blood", about an exhausting feud with Katy Perry over a group of backup dancers, and on Reputation, Taylor seemed to reference the Kimye drama in "This Is Why We Can't Have Nice Things".
For a while, speculation about the subjects of Taylor's songs was both understandable — a product of her very public lifestyle and very personal lyrics — and encouraged, with Taylor hiding secret messages in the lyric booklets of her first five albums hinting at deeper meanings. It was a tradition she broke with Reputation — though of course, Taylor's insistence that gossipy theories from magazines and tabloids would be "incorrect" didn't stop them from theorising anyway. Now, though, the tradition truly has been laid to rest: If you're looking for drama on Folklore, you'll be left wanting.
"Cold was the steel of my axe to grind / For the boys who broke my heart," Taylor sings on Folklore. "Now I send their babies presents."
Of course, Taylor still writes about love and heartbreak and betrayal on Folklore — to do so is only natural for a woman who has been writing intensely personal songs about her own emotions and experiences for more than half her life — but, in the album's prologue, she explicitly announces that many of the songs aren't written about her, but rather are from the perspectives of "people I've never met, people I've known, or those I wish I hadn't".
"In isolation my imagination has run wild and this album is the result," Taylor wrote in the prologue. "A collection of songs and stories that flowed like a stream of consciousness. Picking up a pen was my way of escaping into fantasy, history, and memory."

One such song is "The Last Great American Dynasty", which tells the story of Rebekah Harkness, the former owner of Taylor's Rhode Island home. Harkness became rich and famous after her marriage to William Harkness — heir to the Standard Oil fortune — in 1947, and after his death in 1954, took to doing things that didn't make her neighbours too happy. According to the New York Times, she founded her own ballet company and built a blue plastic dome on her lawn as a space for the dancers to practice. Her neighbours apparently "were outraged, and sued to have it removed". In the song, Taylor writes about Harkness's friendship with Salvador Dalí and says she dyed her neighbour's dog green (according to a biography, it was actually a cat).
Perhaps the most telling line of the song, though, is when Taylor references how Harkness "flew in all her Bitch Pack friends from the city, filled the pool with champagne, and swam with the big names". For a few years, that same Rhode Island home played host to Taylor's legendary 4th of July parties, attended by the most famous names in showbiz and members of her infamous squad. She hasn't hosted a party there since 2016 — the one with Tom Hiddleston's "I ❤️ TS" shirt — and she seemed to reference the decision to end the tradition on 2017's Reputation.
"This is why we can't have nice things, darling," Taylor sings on that album. "Because you break them / I had to take them away / Did you think I wouldn't hear all the things you said about me?"
Those lyrics were a product of that turbulent time in Taylor's life and, interestingly, also a period of (albeit self-imposed) isolation, when she was reckoning with the idea that public perception of her may be anything less than perfect. "This time last year I was living in LA, getting ready for Grammys and now I'm essentially based in London," Taylor wrote in a journal entry in January 2017, nine months before Reputation was released, "hiding out trying to protect us from the nasty world that just wants to ruin things."
Reputation was resentful of the people Taylor saw as responsible for her downfall, and understandably so — after all, it seemed as though the entire world had turned against her. But in the years since Reputation's release, Taylor has discovered a simple solution to such a problem: stop caring. "There goes the loudest woman this town has ever seen," she sings about herself in "The Last Great American Dynasty". "I had a marvellous time ruining everything."
The contrast between Taylor's last three albums — lyrically and thematically, as well as sonically — is stark. It's the product of some of the most transformative years of her career and, as proven in Miss Americana, a complete overhaul of her feelings about her own public persona. After Reputation came Lover, Taylor's pastel-toned, rainbow-filled declaration proving she was happy, in love, and no longer afraid to show it.
If Lover was loud, proud happiness, then Folklore is soothing, quiet contentment. This time, the only thing Taylor Swift is proving is that she's a seriously talented songwriter.

CORRECTION
Max Martin and Shellback didn't work on Taylor Swift's 2019 album, Lover. A previous version of this post said they were credited on all of her albums since 2012.