I'm sure you've heard the news by now that Taylor Swift released her eighth studio album, Folklore, last Friday. And it's fair to say it's been pretty successful, smashing all streaming records and shifting 1.3 million copies in 24 hours.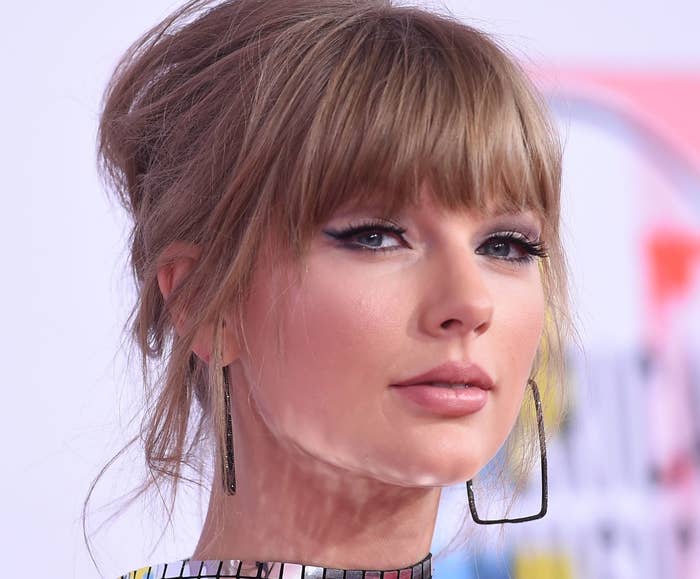 Not only is the music a departure from the pop Taylor has become known for over the last few years, but the very way she released the album was also a huge break from tradition.
Rather than her usual monthslong album cycle packed full of Easter eggs and clues, Taylor chose this time to announce the album a mere 16 hours before it was released.
In fact, the album was such a secret that even her own record label didn't know about its existence until hours before it dropped.
But because this is Taylor Swift we're talking about, there was no way she was going to release an album without dropping some sort of hint at what was coming.
And it turns out that she actually decided to troll us all, by posting a series of Instagram photos suggesting that she was having a highly uneventful time in quarantine despite being in the middle of creating the album.
For example, Taylor posted this photo of herself enjoying a trademark glass of white wine alongside the caption: "biiig isolation" — which suggested that, as has been the case for many of us, she wasn't up to much in quarantine other than hanging out with some sauvignon blanc.
However, the photo was posted on May 7, which we now know was almost exactly when she began recording the first tracks for Folklore with collaborator Aaron Dessner.
Taylor also posted a snap of some cinnamon buns, which hinted that she'd just been spending her newfound spare time baking like the rest of us as opposed to working on the album of her career.
However, by far the sneakiest post has to be this selfie that Taylor posted on April 27 alongside the caption: "Not a lot going on at the moment."
At the time, some fans read the post as a hint that Taylor was gearing up to release something — although most people thought it was most likely a music video for "Cruel Summer." Others, however, took the whole thing at face value and resigned themselves to many more months without any Taylor content.
But now Taylor has released the voice memo she sent to Aaron Dessner showing her working on Folklore's lead single, "Cardigan." And in the accompanying caption, she revealed she sent the memo on — you guessed it — April 27.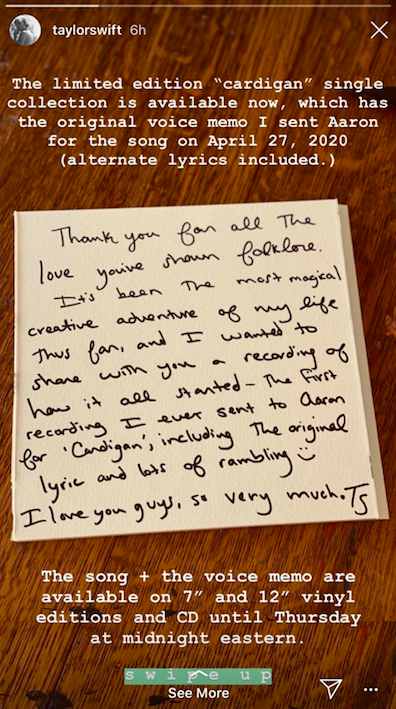 And, according to Aaron, Taylor actually wrote the whole song in just a few hours after receiving the backing track from him. This means that she posted her ~not a lot going on at the moment~ photo the same damn day she wrote the entire lead single from her upcoming new album.
Needless to say, fans absolutely lost their minds after realising that there was indeed a Folklore Easter egg left back in April.
Never underestimate Taylor's Easter-egging abilities.