It's officially that time of year again! The Swifties have donned their detective hats, and we have reason to believe Taylor ~might~ be getting ready to release a new single.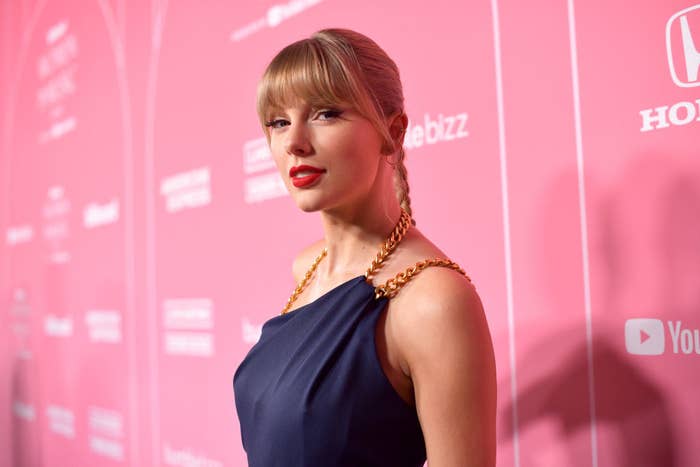 You may remember that last year, fans began speculating about a potential seventh album in February, six whole months before Taylor actually released Lover.
So, when Taylor dropped an unexpected selfie on Instagram this week claiming she ~doesn't have a lot going on at the moment~, it was just the latest in a series of potential hints that have fans convinced she has something in the works.

Some fans are convinced Taylor is getting ready to release "Cruel Summer" — the second song on Lover's track list, a fan favourite, and an absolute slap — as a single.
Let's face it! It would be appropriate for 2020!
It all began last week, when Taylor shared a video to her Instagram story of Disney star Olivia Rodrigo performing a cover of "Cruel Summer". She loved it!
She then liked a post on Tumblr that mentioned Olivia's cover as well as the fact that Bill Nye the Science Guy had added "Cruel Summer" to an Apple Music playlist, because he, like the rest of us who want it to be a single, has taste.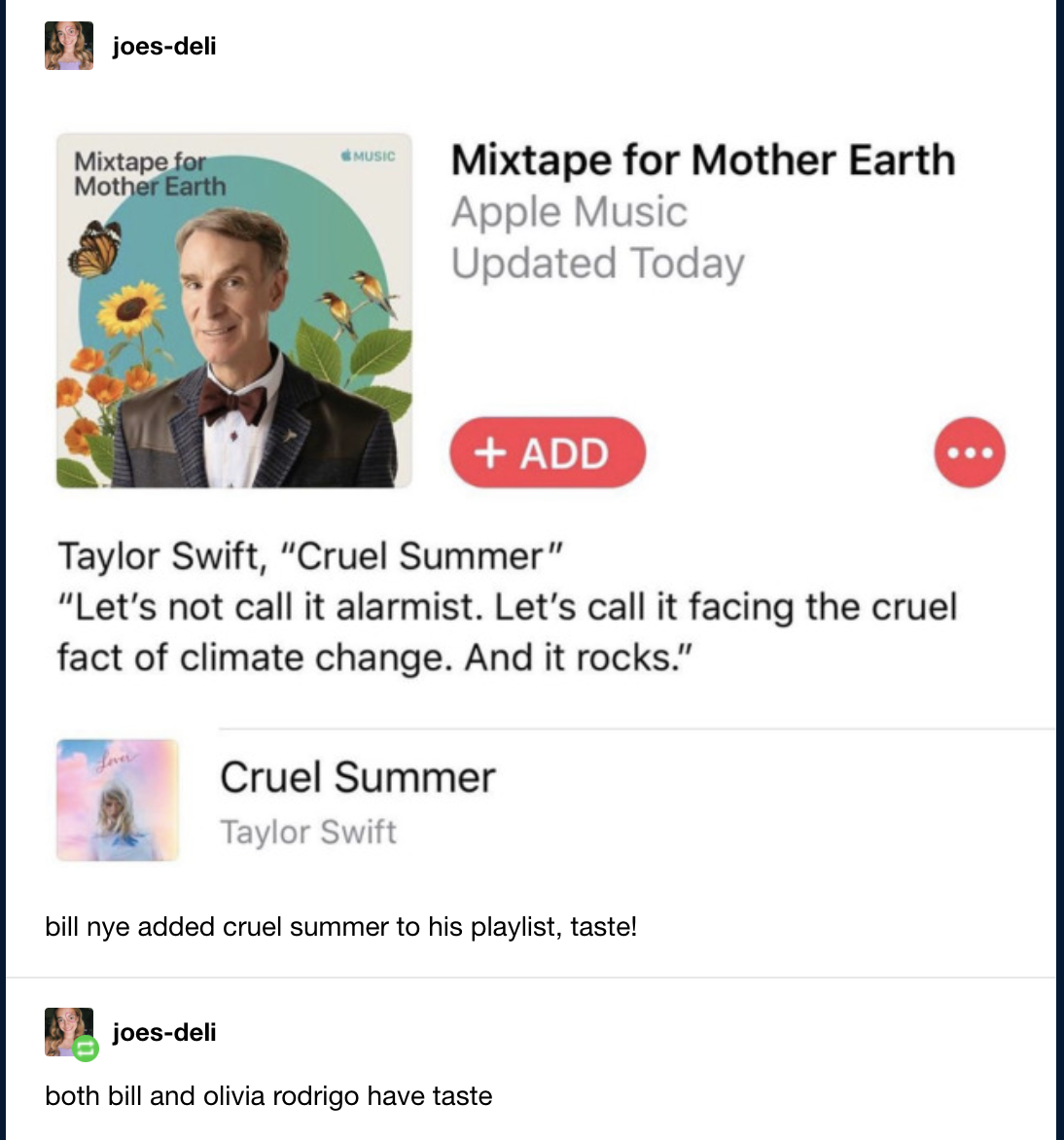 OK! Now that's settled, back to the selfie!
According to fan @Mereswift98, Taylor shared the selfie on Chinese streaming sites QQ Music and NetEase Cloud, and linked it with — you guessed it — "Cruel Summer".
It was also posted at exactly 5:08pm in New York City where Taylor lives. I live in the UK, so for me it says 10:08pm, but I can promise you the difference between EST and GMT is five hours.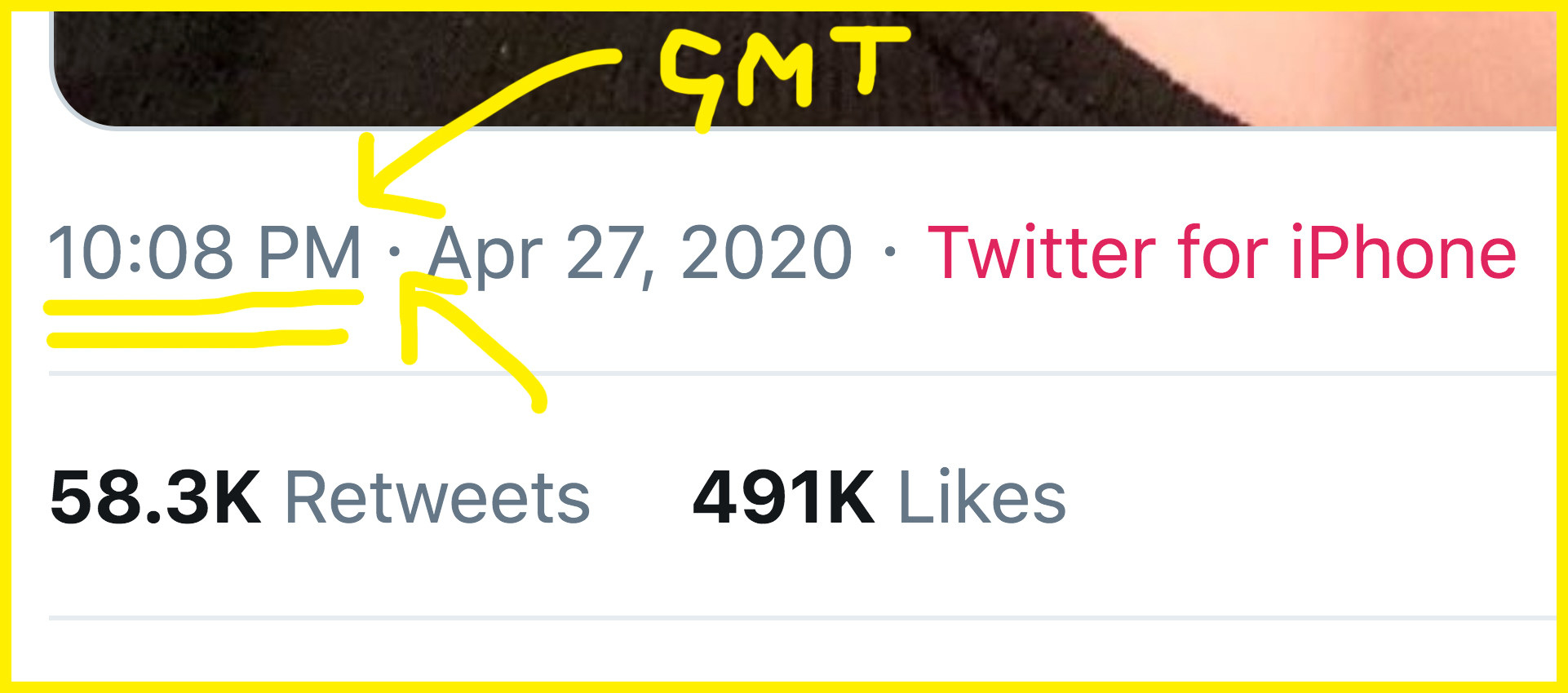 And that's not the only time the numbers 5 and 8 have shown up in the SCU (Swift Cinematic Universe) recently. In the music video for "The Man", which was full of easter eggs, we saw the titular Man getting married "58 years later".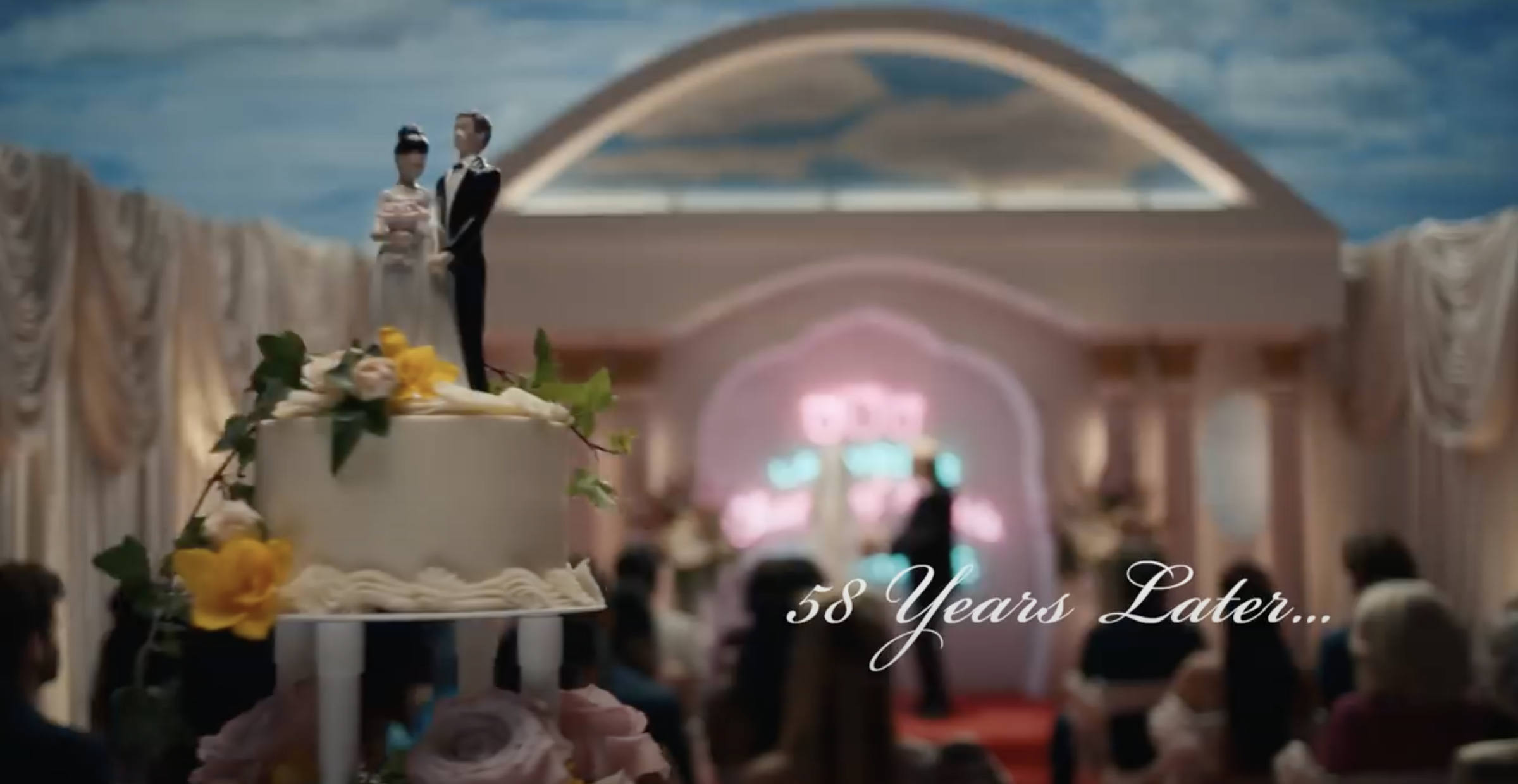 As Twitter user @TS7Track3 pointed out, that shot comes literally one second after TikTok star Loren Gray's cameo in the video, where all she does is stand there and roll her eyes.
That's not the only hint fans have found in the "The Man" video, though. At one point, the Man pees on the wall in the shape of the song's title — but, at the time, some fans thought it could also spell out "THIS MAY".
All this has fans convinced Taylor is going to release "Cruel Summer" as a single on 5/8, aka May 8th, aka literally next Friday. And, as we know, singles are usually released on Fridays.
There's also the matter of this purple thing in Taylor's hair, which is a complete mystery to me, but if she releases a music video for "Cruel Summer" that includes anything purple at all, I'm considering it a clue.
In conclusion, all the clues point to Taylor releasing "Cruel Summer" as a single next Friday, and if she doesn't, I'll just refer you to this Tumblr post she liked essentially calling us all clowns for overanalysing everything she does: