If you're a fan of Modern Family, I'm sure you'll know that the series will be coming to an emotional close after 11 seasons on April 8.
And the cast of the show have now shared a series of emotional Instagram posts marking their final days on set, and showing fans what went on behind-the-scenes of the last few episodes.
Rico Rodriguez took to Instagram to share these videos from the table read of the final episode, alongside a caption revealing it was "a surreal moment" which left "tears in [his] eyes".

Sofia Vergara then posted a photo of herself with Rico as they filmed their final scenes in the Pritchett family kitchen.
And she also posted this cute snap of herself with Jesse Tyler Ferguson and Julie Bowen with a caption reading: "My modern family."
And Sofia then shared a photo of herself with Ed O'Neill, her onscreen husband, filming on location for the last time.
Jesse Tyler Ferguson posted this photo of himself with his onscreen family and the show's co-creator, Chris Lloyd, from their final shoot at the Dunphy house.
And he also posted a photo from the cleared-out set with an extremely emotional caption that's literally making me tear up.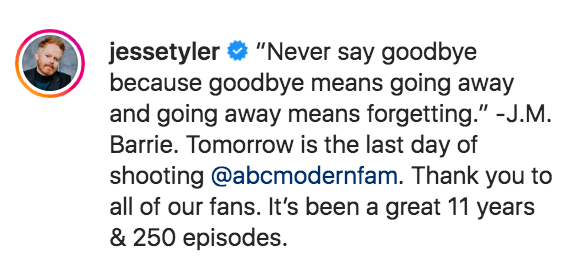 But then the final day of shooting rolled around and things got even more emotional.
Ariel Winter posted this photo from outside the trailer she's occupied on set for a decade.
And Rico did the same, with a caption reading: "One final time."
"No amount of photos will ever convey what this day means to all of us, but here are some to share," Aubrey Anderson-Emmons wrote in the caption of her trailer photo.
And Sarah Hyland captioned hers simply: "11 years. 250 episodes. 1 Modern Family. 💕"
"I will never forget this set, these people. There where only good times," Sofia Vergara wrote. "Thank you Modern Family. Thank you Gloria Pritchett."
She went on to share this emotional video of the cast and crew after filming the final scenes.
As well as this video of the cast and crew waving goodbye.
"I guess I'll see myself out now stage 5," Eric Stonestreet wrote. "11 years walking in and out of this door went by in a flash."
"So hard to believe it's over," Aubrey Anderson-Emmons wrote. "Today was a long and emotional day but we feel so fortunate to have been part of something so special."
She also shared these lovely photos taken in the final hours on set.
And Rico Rodriguez posted these emotional photos and caption as the cast and crew wrapped up.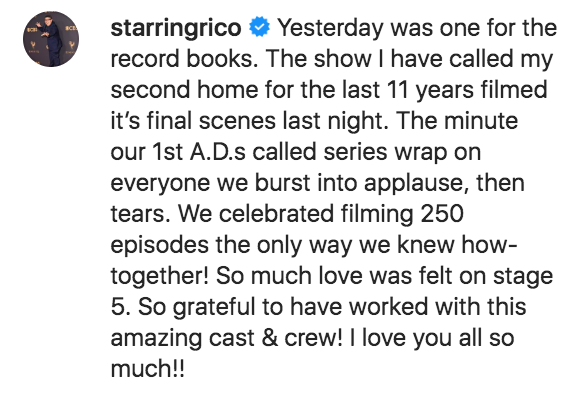 And, finally, Sarah Hyland posted these photos of herself with her on-screen siblings at the wrap party.
"I love these people with all my heart," she wrote in the caption. "We'll always be Dunphys and we'll always have each other ❤️"