You're probably aware that last week the ponytail queen herself, Ms Ariana Grande, announced she was collaborating with Starbucks on a new drink called the Cloud Macchiato.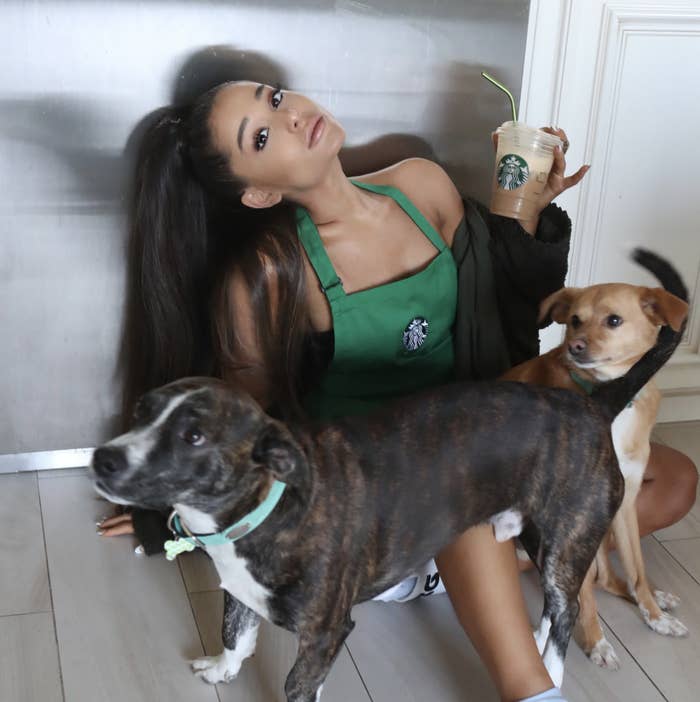 The drink is basically an espresso shot and milk with fluffy foam on top, comes in caramel or cinnamon flavour, and is apparently pretty good!
But while many people have enjoyed a Cloud Macchiato of their own over the last few days, others have been inspecting the ingredients list — and they aren't happy.
According to the Starbucks website, the Cloud Macchiato requires egg white powder to make the foam, and the syrup in the caramel version includes butter, heavy cream, and milk.

In other words, it's very much not vegan.
That would be all well and good, but Ariana herself has professed to be vegan since 2013, when she tweeted she had "always kept meat minimal" but had officially decided to go 100% vegan.
She even encouraged fans to "try the soy version" when she announced the launch of the drink on Twitter.
A lot of people tweeted saying they assumed the Cloud Macchiato would be vegan — or at least would be customisable — seeing as she's been vocal about her veganism in the past.
Even Starbucks employees have been tweeting, saying people are coming into their stores expecting the drink to be vegan if they request soy milk like Ariana suggested.
"Ariana says she's vegan herself," one person tweeted. "A LOT of people came to my store today thinking it was vegan."
But because the egg whites are necessary to create the Cloud's foam, it's literally impossible to make a vegan version of the drink, even if you choose a nondairy milk alternative.
Some people are saying Ariana shouldn't be advertising the drink in the first place, since she also promotes veganism.
But some people defended Ariana, saying she probably wasn't consulted when it came to the ingredients that went into the drink.
Another person said "limited options" are unfortunately just part of being vegan.
And some pointed out that it's unclear whether Ariana even considers herself vegan anymore, since she hasn't spoken about it publicly in a while.
A representative for Ariana Grande has been contacted for comment.