Amber Rose Says She And Blac Chyna Have Found Inner Peace
"It's a level of just owning all the negativity, and just letting it come in and go right back out."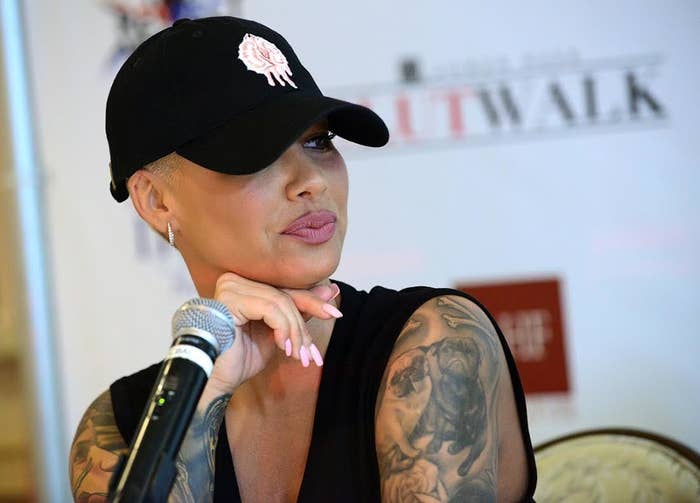 There are few celebrities who are as worshipped, feared, and reviled as Amber Rose. Even the positive articles about her can't help but frame the model/fashion designer/actor/author in the context of the men in her life and her personal history (GQ: "Kanye's infamous ex, Wiz Khalifa's baby mama ... The teen stripper turned megalomaniac muse"), as if to say that if it wasn't for these men, Amber Rose would not herself exist.
Last year, she hosted the first Amber Rose SlutWalk, a daylong festival to raise awareness of rape culture and reclaim the word "slut," an event that attracted several hundred people to downtown Los Angeles. (The first SlutWalk was held in Canada in 2011 and spread internationally before Rose led one of her own.)
Rose's second effort (held tomorrow, Oct. 1, again in downtown LA) will be a bigger affair. As she explained in a press conference in Beverly Hills on Thursday, there are sponsors like Budweiser, Beats by Dre, and ubiquitous Instagram fashion line Fashion Nova attached. Last year, tickets were free, and Rose was planning on charging this year until a cosmetics sponsor stepped up. Perez Hilton and the singer-activist Frenchie Davis are co-hosting. Friends of Rose's — like Blac Chyna, Kendra Wilkinson, and Joanne the Scammer (described on a press release simply as "scammer") — are slated to appear. And women are encouraged to come dressed as "slutty" as they want, Rose said.
The documentary The Hunting Ground, the Brock Turner victim statement, and the Nate Parker/Birth of a Nation controversy have helped bring discussions around consent and sexual assault into the open in American culture. (California Gov. Jerry Brown recently signed a bill ending the statute of limitations for rape cases in the state.) You could say it's the perfect moment for someone like Rose: Unapologetic about her past, yet focused on making the world better for women of all ages, she's become the public face of one aspect of this empowerment movement.
Rose has even bigger plans for the future. Post–press conference, she told BuzzFeed News she'd like to expand the LA-based SlutWalk to other cities, like New York, Miami, her hometown Philadelphia, and Chicago. "I have a huge fanbase there — girls ask me to bring the SlutWalk there all the time," she said of the latter.
At the press conference, Rose was dressed in black leggings, a black tank top, and a black baseball cap with a pink vagina patch on it. Her skin looked flawless. She rushed through one-on-one interviews because she needed to be at a rehearsal for Dancing With the Stars, the ABC show on which she's competing this season, and during which she said she's felt "body shamed" by DWTS judge Julianne Hough. She's also planning a doc and a museum that would showcase all of the artwork that has been displayed at SlutWalk. "The Amber Rose Museum of Feminist Art or something," she said.
In an age where some female celebrities are still uncomfortable calling themselves feminists, Rose is leaning all the way into what it means to be a feminist icon in 2016. Indeed, feminism — particularly its tenets of body positivity and fighting rape culture — has become her brand. She's carving out a space for women of color specifically to identify with feminist principles, and holding herself up as a role model for them.
That includes, for her, getting to a place mentally where the name-calling and slut-shaming (West once said he needed "30 showers" after he dated her) don't bother her. "'You're a ho.' 'You're a slut.' 'You're a golddigger.' 'You don't deserve this.' 'You're nothing but a stripper.' 'You're a horrible mom,'" Rose said, quoting the type of insults hurled at her on Twitter. (Her son with Wiz Khalifa is 3 years old.) "I see all that stuff, but I know that I'm a great mom. And I haven't been a stripper in eight years, which is not a bad thing. That's like saying, 'Oh, you're gay.' Gay is okay! If it does bother you, block them and report them. For me, it just doesn't bother me anymore. It's a great place to be."
Getting to where she is, she admitted, took some time. "It's a level of just owning all the negativity, and just letting it come in and go right back out. I literally don't even think about it. Perez got to that level. My dear friend Blac Chyna has got to that level. I feel like Rihanna kind of doesn't care. You just get to a point where you're like, man. You can say who you are until you're blue in the face and people still won't believe you. You just have to prove them wrong and just be great in your own life."