The Small-Town America I Love Is The One I See At Football Games
A trip back to Central Illinois — and a high school football game — put my formative years in "real America" in perspective.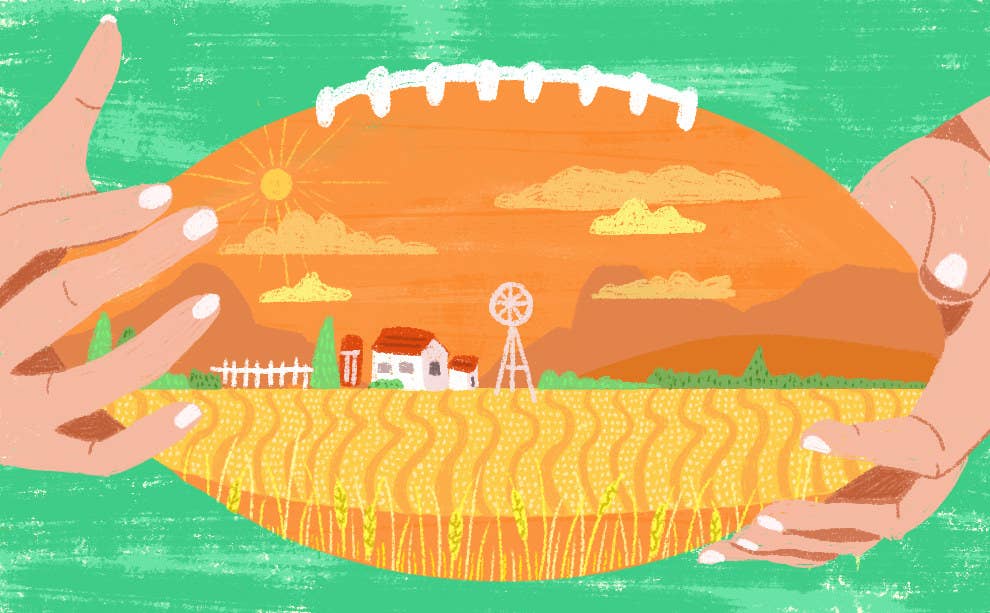 Earlier this fall, I flew home to Central Illinois to do an incredibly Central-Illinoisan thing: go to a Friday night high school football game.

Officially, I was back in Dunlap, my hometown, on house-sitting, dog-feeding, and teen-brother-management duty. Our parents were out of the country visiting family in China, and — afraid my brother and our goldendoodle couldn't quite be left completely to their own devices — they'd bought me a round-trip ticket out of LaGuardia to help hold down the fort for a week and a half. The timing was perfect: Even though my usual modus operandi was to avoid going home as much as possible, I'd decided that a breather from the usual New York City schlep sounded nice.
And, I had to admit, I was curious — and cautious. After moving definitively to the East Coast years ago and observing the "real America" vs. coastal elite culture war, highlighted by the 2016 election cycle, from the safety of the Brooklyn snowglobe, I wasn't sure what being back would be like. Growing up in a small town in the Midwest was something I usually didn't talk about anymore, except as a punchline when people suggested that I seemed "too nice," or when I wanted to scare my big-city friends with stories about Take Your Tractor To School Day, which, yes, was a real thing, and yes, was sponsored by our Future Farmers of America club.
It's about as middle — or "real" — America as it gets.
I usually don't even refer to Dunlap by name. Instead, I tell people I'm from Peoria — one of many hallmarks of a small-town upbringing, to always be rounding up to the bigger point on the map. Of "Will it play in Peoria?" fame, the former riverboat stop and now seventh largest city in the state sits halfway between Chicago and St. Louis, in "the heart of Illinois." There, it's surrounded by a thick moat of rural counties and towns that overwhelmingly voted for Donald Trump. It may not seem like an obvious spot for my Chinese engineer parents to end up, until you factor in the region's crown jewel — the Caterpillar company headquarters. We lived in Peoria proper until I was 8, then moved 15 miles north of the city to Dunlap, a former railroad village turned de facto suburb, with an official population of 926 people.
So, that's where I grew up, and where I still feel the strongest sense of identity that the kid of two immigrants possibly could. Outside of the treasured public high school campus and a few blocks we could generously call "downtown," Dunlap was corn and soybean farmland that, over the years, has been slowly converted into subdivisions and strip malls. But even now, my parents' house still backs up into somebody's field. You could stand in our driveway and see their barn and a tidy row of silos across the way. It's about as middle — or "real" — America as it gets.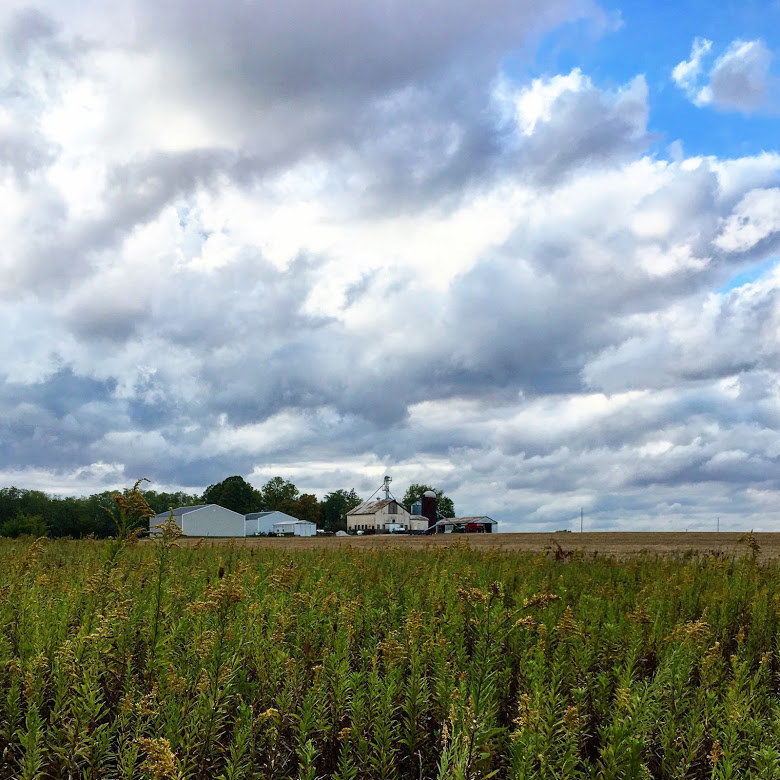 And a lot of the clichés about life in that kind of half-rural, half-suburban piece of flyover state are real. Dunlap was the kind of place where everyone spent their weekends hunting with their dads and going to church, and where being Asian was still remarkable enough to tattoo a lifetime's worth of feeling distinct otherness into your psyche. Once I was old enough to watch TV shows like My Life as Liz and Glee, which centered on small-town characters yearning for life in the big city, I began counting down the days until I, too, could escape and go somewhere — anywhere — I wouldn't be stuck spending another Friday night deciding between the mall, the movie theater, or driving aimlessly around in someone's car. For the most part, I thought my hometown was suffocatingly quiet and utterly unremarkable, and secretly congratulated myself for "getting out."
There was one exception: the fall season. At the end of every summer, when I put my AC unit away for the year and cracked open all of the windows in my apartment in Brooklyn, that first icy chill in the air always took me back to the cornfield mazes and the church potlucks. It was always the best time of year to be in Dunlap, where, for the precious few months between the soul-sucking heat and the ferocious winters, my hometown came alive. And that's what made this particular pilgrimage home special.
I flew first to Chicago, then switched to a 50-person regional jet to get to the miniature General Wayne A. Downing airport in Peoria. From there, I hailed an Uber — a new development that this New York resident acutely appreciated — out to Dunlap. It was a misty Friday morning, and I was already on edge from seeing my first doom-and-gloom anti-abortion rights billboard. But as my driver and I chatted — because of course we had to — I found myself surprised to be slipping so naturally into the local dialect: No, I didn't know that Radnor Road was under construction, yes Route 91 seemed like a good bet, and oh gosh yes, it was already getting cold for this time of year, and hey, was I going to the game tonight?

And there you have the reason for why Dunlap in the fall was so transcendent — fall, in Dunlap, signaled the blessed end of another aimless summer, the start of a new school year and all of the hopes it brought, and more importantly, a new football season for the Dunlap High School Eagles. And I say that with a supreme ignorance of the actual specifics of the sport, and none of the fandom that connects so many with national teams and heroes. But where I come from, football was more than just important. As the public school option for several towns, Dunlap High School accommodated about 1,000 students, which made the village the social and economic center of the area. So if the school was Dunlap's lifeblood, then the high school sports calendar was its beating heart, and the football season was its inextricable soul.
For the most part, I thought my hometown was suffocatingly quiet and utterly unremarkable, and secretly congratulated myself for "getting out."
That was something even I had understood, as a nerdy Asian girl with braces and an immigrant-instilled self-consciousness about what it is to be American. Growing up in Dunlap, I might not have understand much about living in what seemed like the most boring place on earth, but I did understand the high school football season, when the magic and glory and community of Friday Night Lights America drew even her into its luminous glow.
I can't speak for every small town ever, or even begin to put forth a unifying theory of Why The Midwest Loves Football, but what I know is this: Every year, for a few Friday nights, high school football was what brought the whole of Dunlap together, contracted into the nucleus of our idyllic, homecoming-and-hay-bales high school. For that reason, my Uber driver's pedestrian question, Are you going to the game tonight?, felt like a secret code. Was I going to join in? Was I going to the modern-day equivalent of a barn raising, our village's Great Awakening?
I told him yes, yes I was. After leaving high school, and Dunlap by extension, more than six years ago, tonight, I was coming back.
After the Uber dropped me off, I walked into my parents' house, which was left unlocked, of course — just another feature of living somewhere where everyone waved to each other, even if they were just driving by. It was still a few hours before kickoff at 7, and I busied myself by unpacking, feeding the dog, and then fussing over my brother when he stopped home after school. We made plans to meet up after the game, and then he headed back to school for marching band practice, since he would be performing at the pregame and halftime shows.

Since he took the car, I made myself a sandwich, walked the dog, and then threw on a windbreaker to head over to the high school once it got closer to 7. It was only a 20-minute walk — shorter than my usual work commute, but there was something a little desolate about walking through a startlingly dark and quiet subdivision, without streetlights or a passing ambulance or other pedestrians to break up the thick dark. The houses felt too far apart, the sidewalks too narrow. Eventually, I broke into a run, unnerved by the stillness and craving the already visible glow of the field's lights.
I got to the football field right as the pregame show was starting and rushed to throw four dollar bills at whoever's mom was manning the ticket booth, before climbing up into the aluminum bleachers. There was the high school marching band, my baby brother standing with militant posture amongst them, all lined up across the gleaming AstroTurf field. On one end of the field, two men — one of whom I faintly recognized as my old biology teacher — were handling the Eagle: the large, maroon-and-gold inflatable tunnel that unfurled into the shape of an eagle with its wings outstretched.
As I watched, I could feel myself time traveling, burrowing within until teenage me surfaced, and she took my place on the bleachers, screaming along.
And then it all began. First, the marching band's drum corps tapped out a steady war beat, which whipped up the student section standing on the south end of the stands. Hyped up on Mountain Dew and energy drinks, they stood on the bleachers and started chanting: D-U-N. L-A-P. Duuuuunlap!
From further up in the stands, the announcer — someone who'd replaced Mr. Peterson, the sports administrator who used to do all the games — boomed over the speakers to welcome the town and introduce the opposing team, the Metamora Redbirds. They jogged onto the field in red uniforms, and the crowd hissed good naturedly at our fellow small-town neighbors from across the Illinois River. Beaming cheerleaders took their places, glittering gold pom-poms in hand. A smoke machine was placed inside the Eagle tunnel. Unspooling into a new formation across the field, the marching band played first the school fight song, and then the official school song. After that, everyone in the bleachers leapt to their feet as a group of chorus kids were hustled together down by the scoreboard to huddle around a mic and sing "The Star-Spangled Banner." I watched the edge of the field, where you could see the team approaching.
"AAAAND NOW," boomed the announcer when the national anthem was over, punching up each word with the bombast of an ESPN commentator. "Introducing...your...2017...Dunlap...High...School...Varsity...Eagles!"
There isn't a better word for it — they swaggered onto the field, with that full, unadulterated U-S-A! U-S-A! kind of pride and the heartbreaking teenage confidence that old Taylor Swift songs were made of. With their shoulder pads giving them chests and arms of grown men, and the padding on their hips exaggerating their strut like they were models on a catwalk, they tore onto the field, racing through the Eagle and emerging in a cloud of ghostly smoke on the other side, to the prideful screams of their adoring parents, their adoring town. Under the stadium lights, their golden helmets gleamed. The varsity football team had arrived, and they already looked like heroes.
As I watched, I could feel myself time traveling, burrowing within until teenage me, with her wannabe Aeropostale tees and self-conscious slouch and deep-seated need to feel like she belonged somewhere — maybe even here — surfaced, and she took my place on the bleachers, screaming along.

As the game got underway, I let my attention drift from the field and into the crowd, and I remembered, and then reveled in, how everyone had a role to play in Dunlap that night.

It was just like it used to be: If you were a chosen one, on the team, it was obviously your night, even if you just stood on the sidelines and worked on a furrowed brow throughout the first half. But it was also a night for you if you were gifted in other ways, especially at halftime, when the cheerleaders vaulted their impossibly buoyant bodies into the night air, and the dance team shimmied right on the line of that conservative Dunlapian sensibility with their latest Nicki Minaj–inspired moves. When the Marching Eagles took the field, I climbed down to the front of the bleachers, next to the other band parents, and got out my iPhone to record the whole thing.
There were the teachers moonlighting as coaches and raffle ticket sellers and concession stand managers. There was the tireless announcer, still switching between theatrically growling "first downnnn, Eagles," and filling in the empty air time with advertisements from the town library promoting their new college-readiness classes.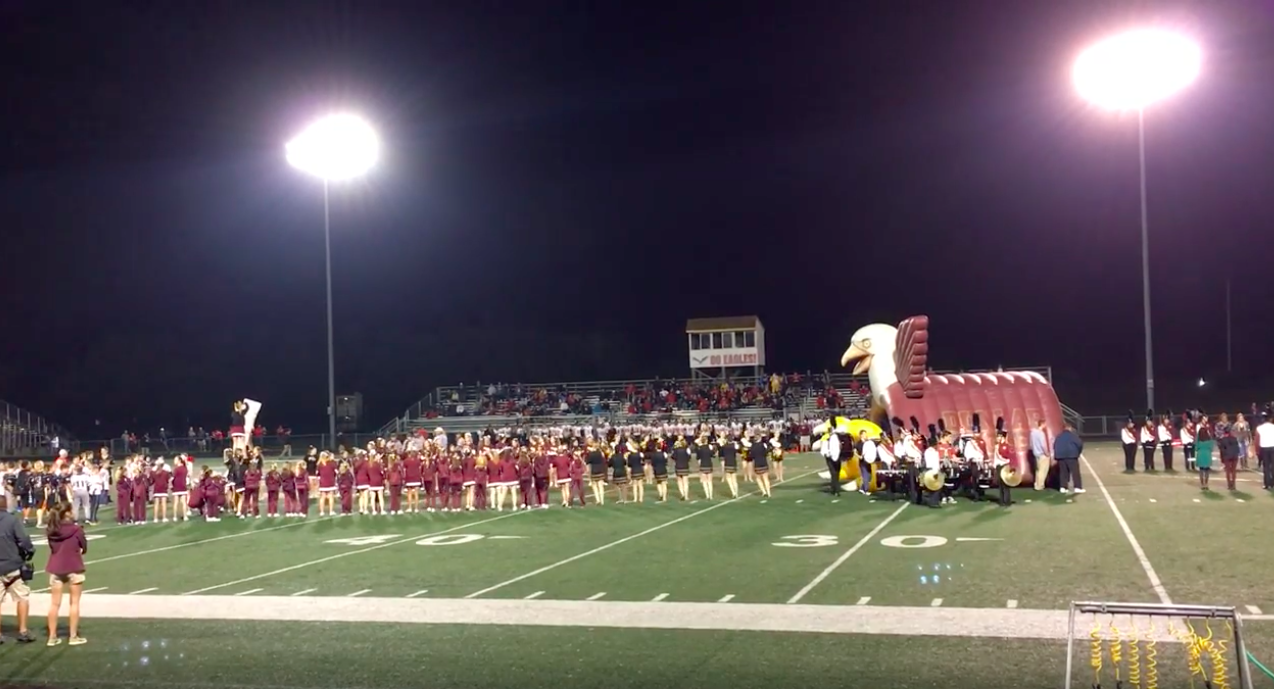 And there were the families — entire families gathered in the stands for the night. The proud dads, the grandmothers perched on handmade "Go Eagles" fleece blankets, the fleets of little boys, all proudly wearing their Junior Football League jerseys over their sweatshirts and running up and down the bleacher stairs. We started them young in Dunlap. Some of them had been chosen as water boys for the varsity team, and you could see them bustling up and down the field.
The two brothers next to me couldn't have been older than fourth graders, and they sipped their concession-stand Gatorade and craned their necks curiously to study the young men on the field they so clearly hoped to become. "See that?" their father, sitting behind them, remarked as one of the Eagle linemen sacked a Redbird. "You need to cover your teammates like that. Cover them like they're your brother." They observed solemnly until the one with glasses got hungry. He turned around and solicited a few crumpled dollar bills from Dad, then marched over to the concession stand to buy his very own pork chop sandwich.
There were the little girls, some of them wearing their recreation league cheer uniforms, some already in possession of a boy's jersey to layer on top and flushed with pride at their proven prowess. They roamed the space between the bleachers and the concession stand, whispering and strategizing until the air was thick with popcorn and middle school flirtation and the same giddiness that seemed to infect everyone. It wasn't terrible that the mist from the day still hung around. It made the night feel all the more pure and untouchable.
As I turned back to the game, I felt a flutter as I watched the — our — quarterback break away from the scrum and lunge unencumbered across the field, straightforward as an arrow, propelled by his youth and an enviable surety of his place in the world that night. We all watched it happen, caught in a wave of kinlike pride, as he crossed that last line and threw his hands up, victorious as a gladiator. I leapt up and hooted embarrassingly, which made a little girl sitting in front of me turn around and tap my knee politely. I looked at her, and she asked me what "inning" it was. Her eagerness to understand and one day bottle this unknowable mystery thrill was almost heartbreaking.
We won, 42 to 7. An unambiguous landslide. After the game, I ventured inside the halls of the school, kept open for the students, and found my way to the band room. The time-travel spell still hadn't quite worn off, and I half looked around for my old friends until my brother, so tall and grown and nearly unrecognizable in his uniform, waved at me from the corner.

We walked across the emptying parking lot where a few band members and cheerleaders and other students still lingered by the hoods of their pickup trucks and minivans, talking about next week's biology exam. When we got to the car, I got in the passenger side and watched my brother studiously click his seat belt, check the rearview mirrors, and pull out of the school lot. He started heading in the direction of our neighborhood, until I suggested that maybe we didn't have to go home yet. That maybe we should go out for milkshakes.
So he flicked on his turn signal and pulled back onto Route 91, and we shot down the highway like that quarterback did, fast and unfettered and anxious to make the night last a little longer. 🏈