Conor McGregor Is Being Sponsored By A Firm That Was Fined Under Money-Laundering Laws
The mixed martial artist promoted the "super high-risk" financial service through Twitter and Instagram, and features in the site's online advertising.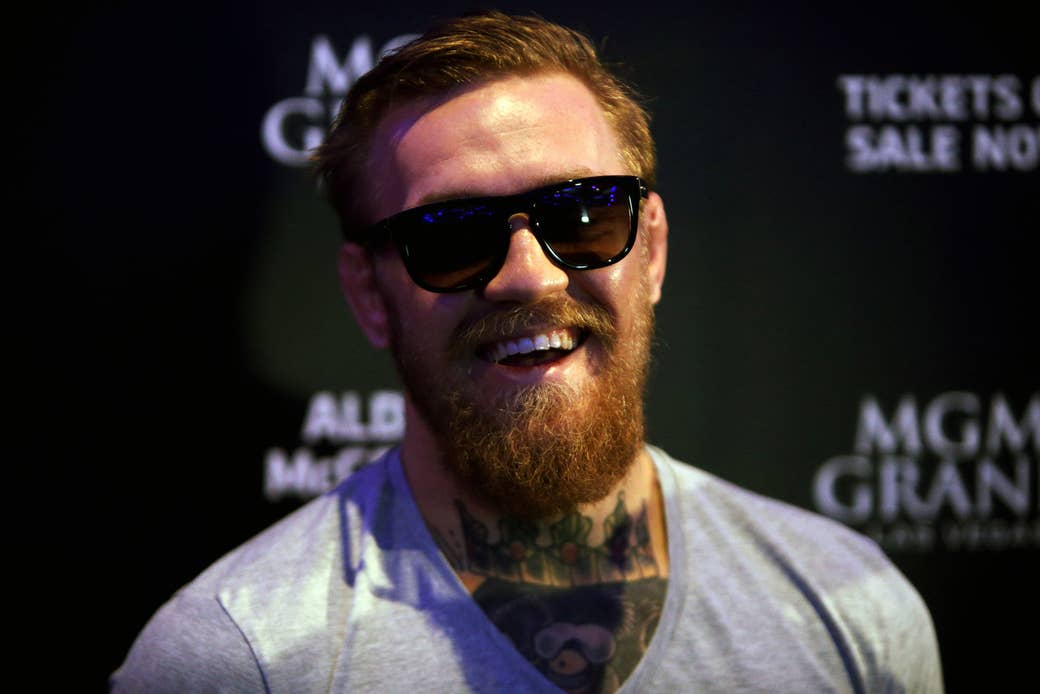 The mixed martial artist Conor McGregor has received sponsorship money from a high-risk trading service that was fined under Cyprus money-laundering regulations, banned in France, and subject to warnings from another national regulator, BuzzFeed News has learned.
The reigning UFC lightweight and former featherweight world champion, who was named Irish broadcaster RTÉ's Sportsperson of the Year in December, signed a sponsorship deal with binary options trading site 24Option to promote the brand.
Binary options trading involves an "investor" making a yes/no guess on whether something will happen – often whether a share price will rise or fall in the next few hours – and receiving a large return of around 90% if the guess is correct, but losing all the money invested if wrong.
Though often regulated as an investment, binary options trading has been likened by experts to a form of gambling.
McGregor's deal with 24Option means he regularly gives shoutouts to the binary options trading site on Twitter and Instagram, including promotions for VIP packages to see fights. Some attracted thousands of likes and shares.
McGregor's name was also used as a promotional deal by 24Option at the start of November in which his followers were encouraged to sign up to a bonus deal that required a deposit of €500 and €100,000 worth of trades.

24Option also sponsors the Italian football team Juventus FC. The Juventus deal was first agreed in 2014, and was renewed earlier this year for a further two years.
The 24Option brand is controlled by a Cyprus-registered company called Rodeler Limited, which has been subject to action by regulators in multiple countries.
Most notably, Rodeler was fined €156,000 (£132,000) in January by Cyprus's security and exchange commission CySEC for a series of breaches under the country's laws on investment markets and "suppression of money laundering and terrorist financing law".
The fines covered a series of compliance failures including inadequate complaints procedures, noncompliance with operating conditions, and failure to "act fairly, honestly, and professionally in accordance with the best interest of its clients" on bonuses, inadequate due diligence, and more.
France's trading regulator AMF also took action against Rodeler in August, banning the company from providing any services to new or existing customers within France across all of its platforms. The action was the first time France's regulator had ever banned an EU-regulated financial institution from operating in the country.

The ban was enacted under rules allowing the AMF to "take appropriate measures to protect investors within its territory in cases where a service provider acts in a manner which is clearly harmful to the interests of those investors".
24Option was also on a list of sites issued by the Canadian financial regulator CSA in 2015 as an unregistered trading platform. The CSA issued a stark warning to Canadians against trading with 24Option and 36 other binary trading sites in March after becoming aware of multiple sites alleging that the regulator had permitted oversights in regulations to exist, allowing apparent "easy" profit to be made.
The CSA's statement noted: "Many of these websites are trying to lure investors by making untrue and/or misleading statements about Canadian securities regulators' oversight of binary options" and said many of these websites were "not registered to conduct business in Canada".
Rodeler said it complies with instructions from regulators. "Upon such action by the Canadian authorities we immediately stopped accepting clients from Canada," the company told BuzzFeed News.
As details of McGregor's sponsorship deal came to light, parliamentarians are beginning to air concerns about the wider binary options sector in parliament, with MPs from multiple parties calling for tighter regulations and warning of bad actors in the sector.
"Binary options sites are involved in some of the biggest scam operations currently underway in the UK," SNP MP Roger Mullin told BuzzFeed News. "I have already raised this in parliament. The UK is far behind other jurisdictions in dealing with them, but I intend pursuing this until the government acts.
"Too often it is vulnerable people who are taken in by 'free' offers, 'investment' opportunities and such like. There needs to be tough regulation in this area, and those exploiting the vulnerable need to be brought before the courts."
Conservative MP Mike Freer echoed the call for tougher regulation.
"I was not aware of the lack of regulation of binary options trading until the issue was brought to my attention by a local constituent who had invested in binary options," he told BuzzFeed News.
"Since that time I have lobbied the government to look into this issue and make considerations for more robust measures to protect customers with respect of binary options firms that are not regulated by any UK agency. Currently, this is unregulated gambling and must be regulated as such."
Rodeler said it is regulated in Cyprus and so its activities are not required to be regulated independently in the UK. "Financial services regulators in the United States, Australia and Japan also regulate binary options," said a spokesperson.

The spokesperson for Rodeler told BuzzFeed News the Cyprus fines related to small and specific issues and said businesses in many sectors with regulation are "fined on a regular basis".

"In the beginning of 2015, CySEC increased its enforcement on all the regulated companies in the industry, and yes, fines are part of the regulatory enforcement," they said. "However, please note that each mentioned 'failure' represents a small specific case.
"It is important to understand that like other bodies such as media broadcasters or companies in the food industry, that are under regulation and are being fined on a regular basis, online trading brokers are also being penalised every once in a while."
The spokesperson added that the French ban was related to how the company's marketing pages worked, and said 24Option and Conor McGregor accurately described their product as "super high-risk".
"The reason that the French regulator temporarily revoked our right to operate in France is due to the fact that certain marketing pages did not comply with the guidelines of the French regulator," they said. "That is exactly the purpose of regulation."
They added that Rodeler was "now cooperating in full with AMF to meet any and all additional requirements and expect to be working in France again shortly".
"It is well known that binary options trading is indeed a super high-risk – high-reward financial instrument, and therefore is not suitable for everyone," they said. "Regulation requires regulated brokers to clearly and elaborately disclose all risks involved in online trading platforms and Rodeler is very strict on that.
"Also note that Mr. McGregor clearly warns his social media followers and advise [sic] them to trade carefully."
BuzzFeed News made multiple attempts to contact representatives of McGregor, including sending a series of questions including whether he was aware of the various regulatory actions against 24Option when agreeing sponsorship deals with the firm, but received no response by the time of publication.
A spokesperson for Juventus FC confirmed the company had a sponsorship deal with 24Option until June 2018, and referred all other requests for comment to the company.