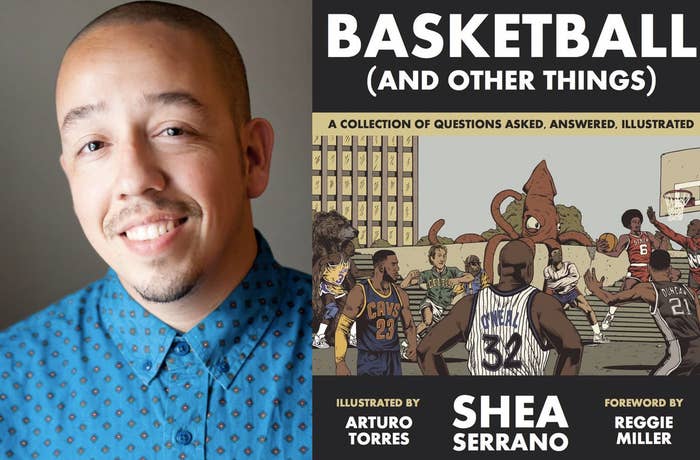 Shea Serrano is a writer at The Ringer and an author of Bun B's Rap Coloring and Activity Book, The Rap Year Book, and, now, Basketball and Other Things, a book that asks and answers unique basketball questions. It's full of hilarious hypotheticals, fun footnotes, and magnificent illustrations by Arturo Torres.
How did you get started writing online and arrive at Grantland?
I wrote wherever I could get checks. I was freelancing for LA Weekly, and Molly Lambert, who worked there, saw a thing I wrote. She asked if I wanted to pitch Grantland some pieces, so I sent some stuff and wiggled in there.

You've got a loyal following on Twitter, when did you start tweeting?
I set up Twitter because it was a requirement at one of the places I was working for. At one point I was writing things for The Houston Press, and it was hard for me find local artists' email addresses, but it was easy to find them on Twitter, so I started using it for that. Then, I started finding pockets of people doing fun things or being funny, so I used it more and more.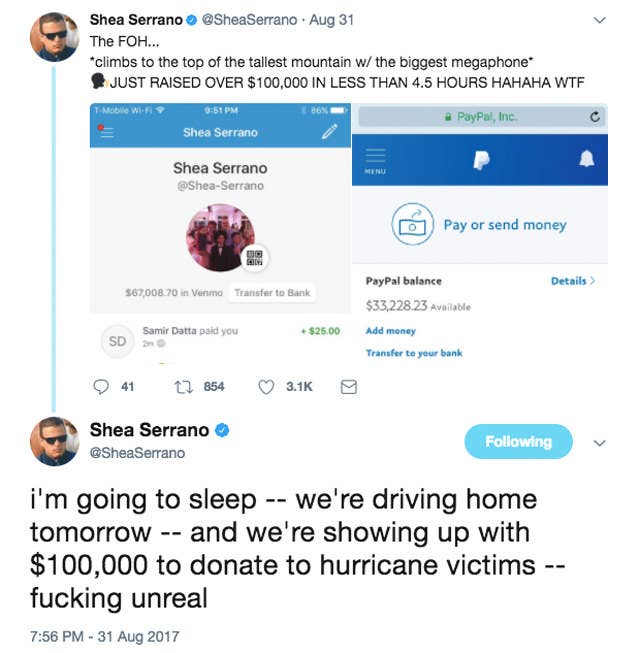 You and your followers have worked together to do some pretty significant good deeds, from the giant tip for an airport employee to the Hurricane Harvey fundraising. Is it ever surprising, witnessing everything happen firsthand?
All of them are surprising because it's just me going like, "I'm going to give some money to a place and you guys should send money so we can all do it together."

That's a weird thing to say, and have people send you tens of thousands of dollars. So, if I'm like, "There's this youth center in San Antonio I want to support, let's send 'em some money," then they send 10,000 bucks in an hour or two, it's always weird that that's happening.
What's your typical writing process like at The Ringer, and how did it compare to your process with Basketball and Other Things?
With The Ringer, every Friday I send a list of ideas to my editors. I have four editors I report to. I send several ideas to the four of them, then I get an email back like, "I like this one, I don't like this one, change this one," or whatever. So, I have the stuff I'm going to write for the next week set in place on Friday.
With the book it was similar. The schedule was longer, so it'd be like spending two weeks on a chapter, or whatever. You're researching and taking notes, then there's a day or two where you're stitching it all together. For me, I need a set schedule.

Each chapter in Basketball and Other Things is a unique question being answered. How do you come up with those questions, or is that just what you're thinking of during games?
It's not how I watch the game, but that's definitely how I talk about it. Like, if you and I discuss a game, we're not just going to recap it quarter by quarter. We're going to say, "Wasn't it crazy this happened or that happened." Then that turns into its own conversation. That's how I came up with the stuff for the book. It was usually one or two instances of a thing happening, and it just turned into a chapter.

Like, there's a set of chapters in the book that are called, "What Happened in the Moment Before the Moment?" So, we're taking iconic basketball plays and figuring out what happened immediately before them, because that's interesting to me. Everybody remembers the 0.4 shot that Derek Fisher hit, but most people don't remember that Tim Duncan hit maybe an even crazier shot before that. So, why don't we do that with all of the big shots?

Do you have a favorite chapter in the book?
I don't think so because by the time the book comes out, I've read and edited each one 25 times, so I'm over it. I'm done. I definitely have favorite pieces of art. There's a picture of Scottie Pippen walking away from an explosion that I think is really cool. The stuff Arturo [Torres] did that I didn't have to worry about, I can pick from, but the actual writing? There's no favorites for me anymore.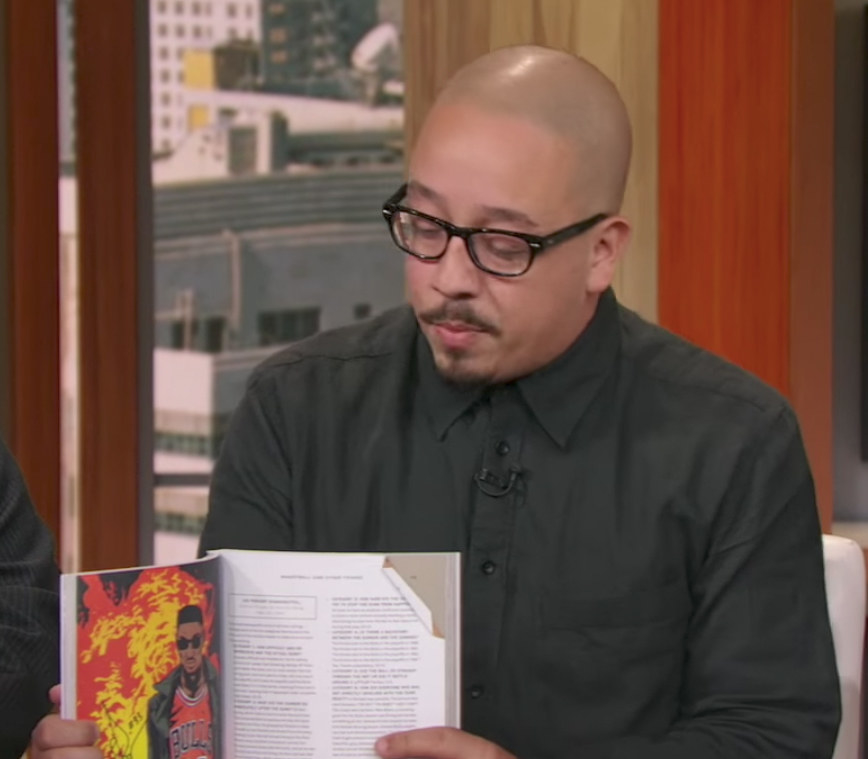 What's the process like teaming up with Arturo on the artwork?
I try not to get in the way. Usually I just give him a theme or a feeling I want. With the Scottie Pippen one for example, I just said, "Hey, I want a picture of Scottie Pippen doing something cool. I don't know what it is, but just have him doing something cool" Then a couple days later, I had that picture. Sometimes it's specific stuff related to the writing, but, for the most part, I let him do what he does.

As a former teacher, who is your favorite fictional teacher in TV/film?
I like Jaime Escalante from Stand and Deliver — he was a real teacher, but we got Edward James Olmos playing him, and he was fantastic.
If you could be in a buddy cop film with any actor, who would be your co-star?
I think I go with Michael Peña. We're gonna do End of Watch 2.
If you could revive any TV series for ONE more season, which would you choose?
The Fresh Prince of Bel-Air, no question.

You're a vocal fan of The Office, what's your favorite season?
I like Season 2. I like when Jim and Pam are young. It has the basketball episode, we're seeing shapes of what the characters go on to become, and it ends on a cliffhanger.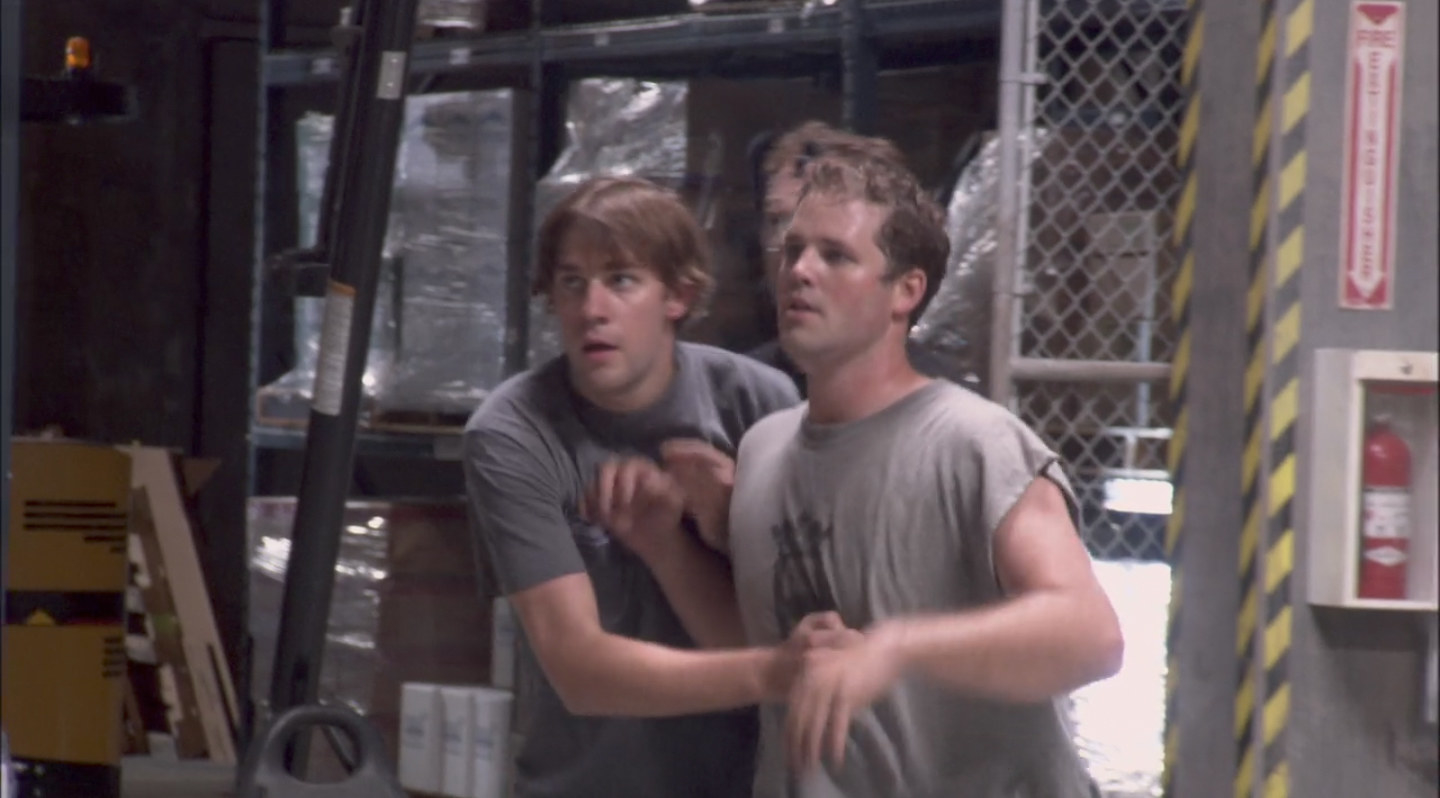 This book actually mentions that basketball episode of The Office, specifically Jim's performance during the game. If Jim and Roy were to play one on one, who wins?
Jim destroys Roy. If they play to 15, he beats him 15–2. It's not even close.

While we're on The Office, was Jim Halpert actually a scumbag in your opinion?
No, of course not! I've seen that article. That's ridiculous — he was not a scumbag!

Kissed an engaged woman, bailed on Rashida Jones' character, Karen — still not kind of a dick?
No, because the engaged woman is the woman he ended up marrying. She wasn't supposed to be with Roy anyway, everybody knew that she was miserable. Also, Rashida has to take some responsibility there. Like, you moved to another city for a guy you knew for a little while. You can't put it all on him.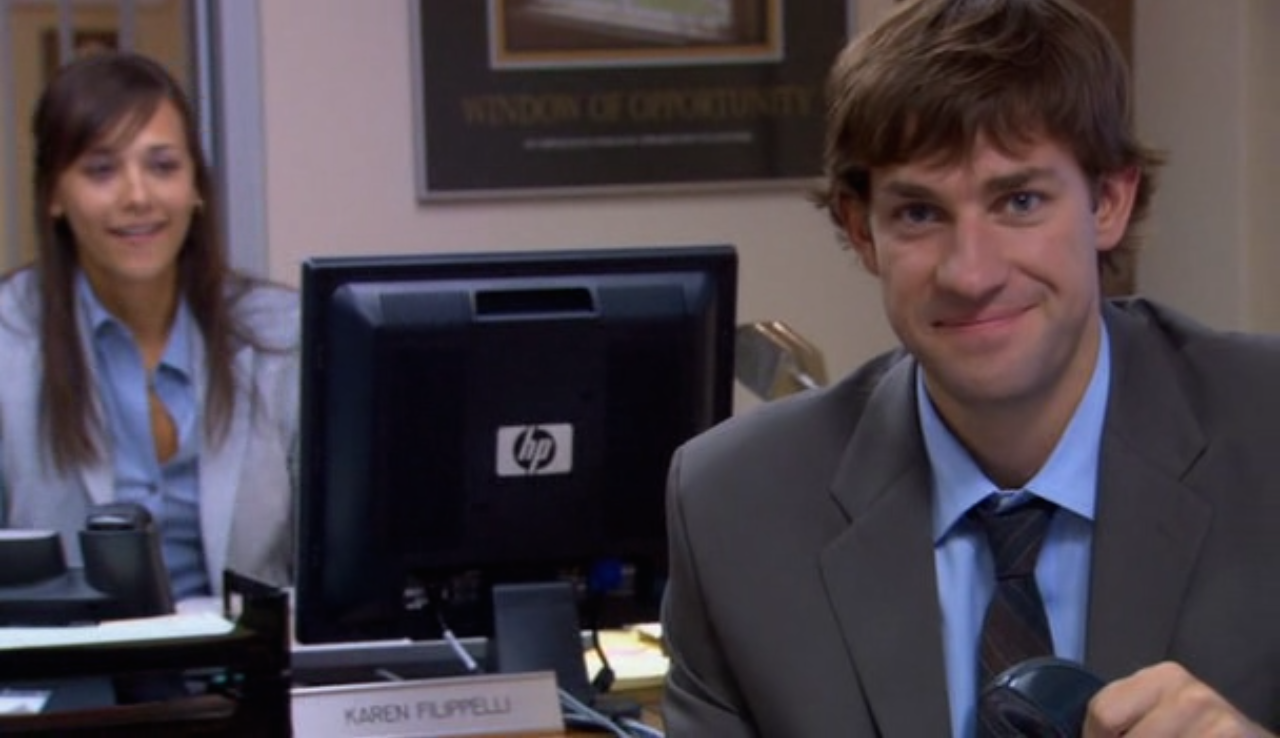 The only things Jim did that I thought were not cool, and this is probably just because I'm married, but when he bought the house for Pam, that was a big decision. There's no way I could just buy a house without talking to my wife about it. Also, when he took the Athlead job. It was the correct decision, but he arrived at it in the incorrect manner. I feel like he could've talked to her about both of those things, and it would've been fine.

If you get kidnapped, who do you trust to find and save you — Denzel in Man on Fire, or Liam Neeson in Taken?
Give me Liam because they got the jump on Denzel. They snatched the girl up on his watch. Liam was in another country and they got his daughter and that's the only reason.
Which Will Smith sequel interests you more, Bad Boys 3 or Hitch 2?
Bad Boys 3. I love Hitch, but I don't know if you can do it again. I feel like you can make seven Bad Boys movies.

Breaking Bad or The Wire?
I'm going to go with The Wire today. I recently watched the Marlo "You want it to be one way" clip, so I have Marlo in my head, so that's the only reason why. If I would've watched the "I'm the one who knocks" scene, I would've said Breaking Bad.

Which confusing movie is more worth watching? Interstellar or Inception?
Inception. It was only confusing in parts and at the end you understand why it happened that way. With Interstellar it was like, this is too much.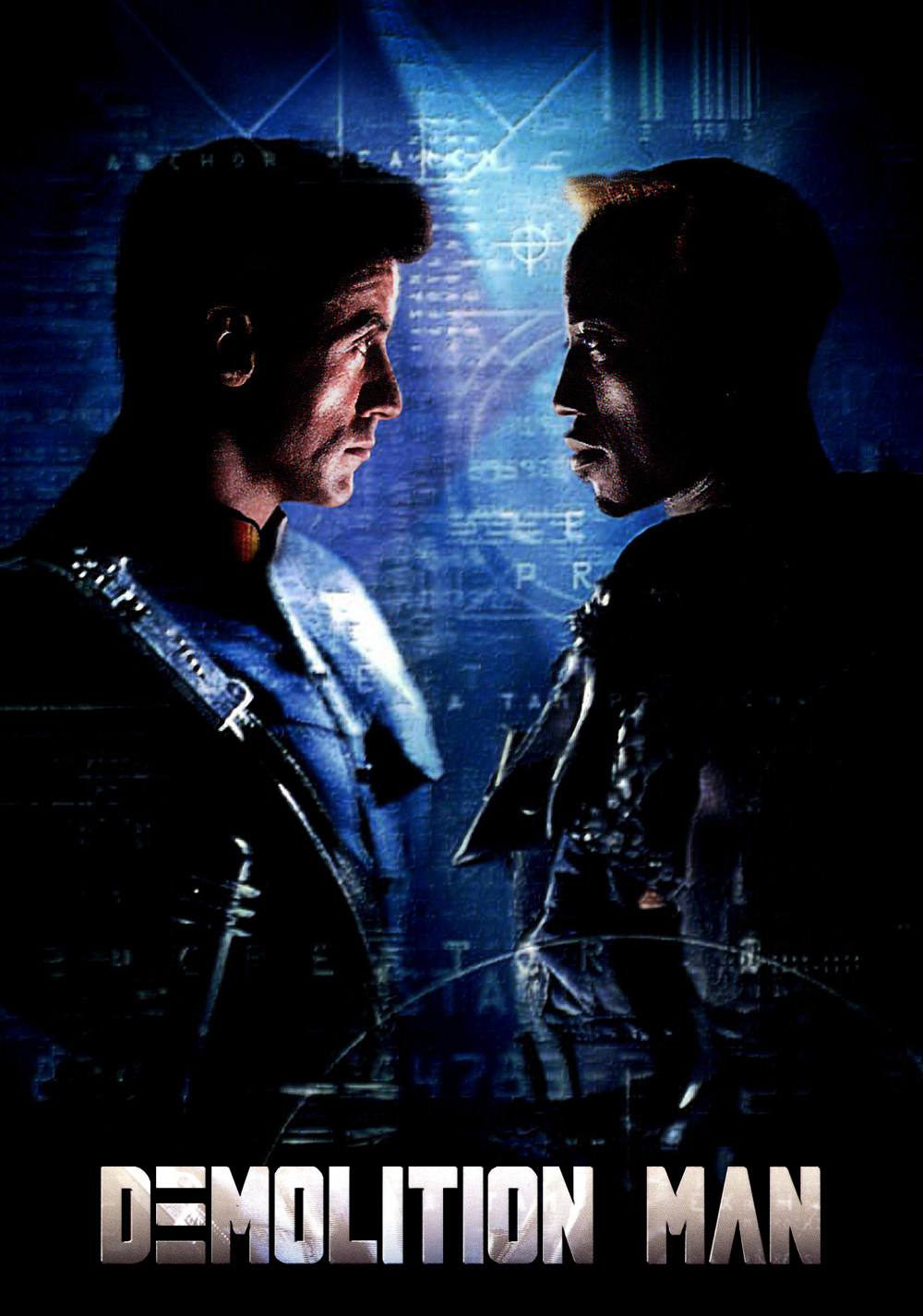 You have a concept in the book called a "memory hero," which is essentially remembering something as amazing when it actually wasn't that great. Which '90s movie is your memory hero?
Demolition Man. It's really bad but also just great.

You tweeted about the new It movie. If you were assembling a group of NBA players to battle Pennywise with, who would you choose?
The only way to beat Pennywise is if you're not afraid, so you need players who aren't afraid: Zach Randolph, Matt Barnes, Kobe Bryant, Ron Artest, and Rafer Alston — he slapped a dude in the head during a playoff game.

Best NBA rapper ever?
Shaq.

Best NBA actor ever?
That's tricky — not Shaq, I know it's not Shaq. Ray Allen (in He Got Game). He wasn't super great, but he was good enough.

Favorite basketball movie?
White Men Can't Jump.

There's a chapter in the book called "Am I allowed to ____ in pickup basketball?" Let's play "Am I allowed to ____ on Twitter."

Tweet pictures of food?
Yes. I like when people tweet pictures of food — it either looks delicious or like the worst thing in the world.

Use three or more hashtags?
No.
Ask questions that could've been asked to Google?
Yes.
Retweet compliments?
Yes.
Retweet parody accounts?
No, never. That fake Chance the Rapper account has fooled a lot of people.
Rap Coloring Book in 2013, Rap Year Book in 2015, BOAT in 2017: It seems like you drop something new every two years. What can we expect in 2019?
You can expect for me to be quiet that year because I'm done with books. It's way too much work! Nah, I don't know, I barely know what I'll do next week, so I have no idea what I'll do in 2019, but I'll be around, retweeting compliments on Twitter.
Basketball and Other Things is available now.