1.
A set of silicone baking mats that'll replace reams and reams of parchment paper. If Netflix's 10+ reality cooking competitions have inspired you to spend more time in the kitchen, they'll pay for themselves in no time.
Promising review: "These baking mats are absolutely fantastic. The quality is superb, and SUCH a good price. I use them for just about everything I put in the oven. From oven pizzas, cookies, you name it! I also love that besides food sliding easily off the nonstick surface, that they help protect all my baking sheets and such. It's also super handy to just throw them in the top shelf of the dishwasher or even just wipe clean. Update: I've had these mats and used them almost daily for nearly a year now. They still look brand new and I have had no problems with staining, melting, or wear. When using them, I cook most items at 375 degrees but have used them at up to 425 degrees several times with no issues so far. These things are fantastic and have paid for themselves many times over in the superior non stick surface, ease of clean up and the cost of parchment paper and or/aluminum foil I used prior to discovering these." —Jezzhani
Get it from Amazon for $12.44+ (available in packs of two, three, or four). 
2.
A scrap collector for those who wipe bits of food into their sink before remembering their rental doesn't have a garbage disposal. 🤦🏼‍♀️ If you've ever had to fish soggy veggies or a handful of egg shells out of your drain, this should sell itself.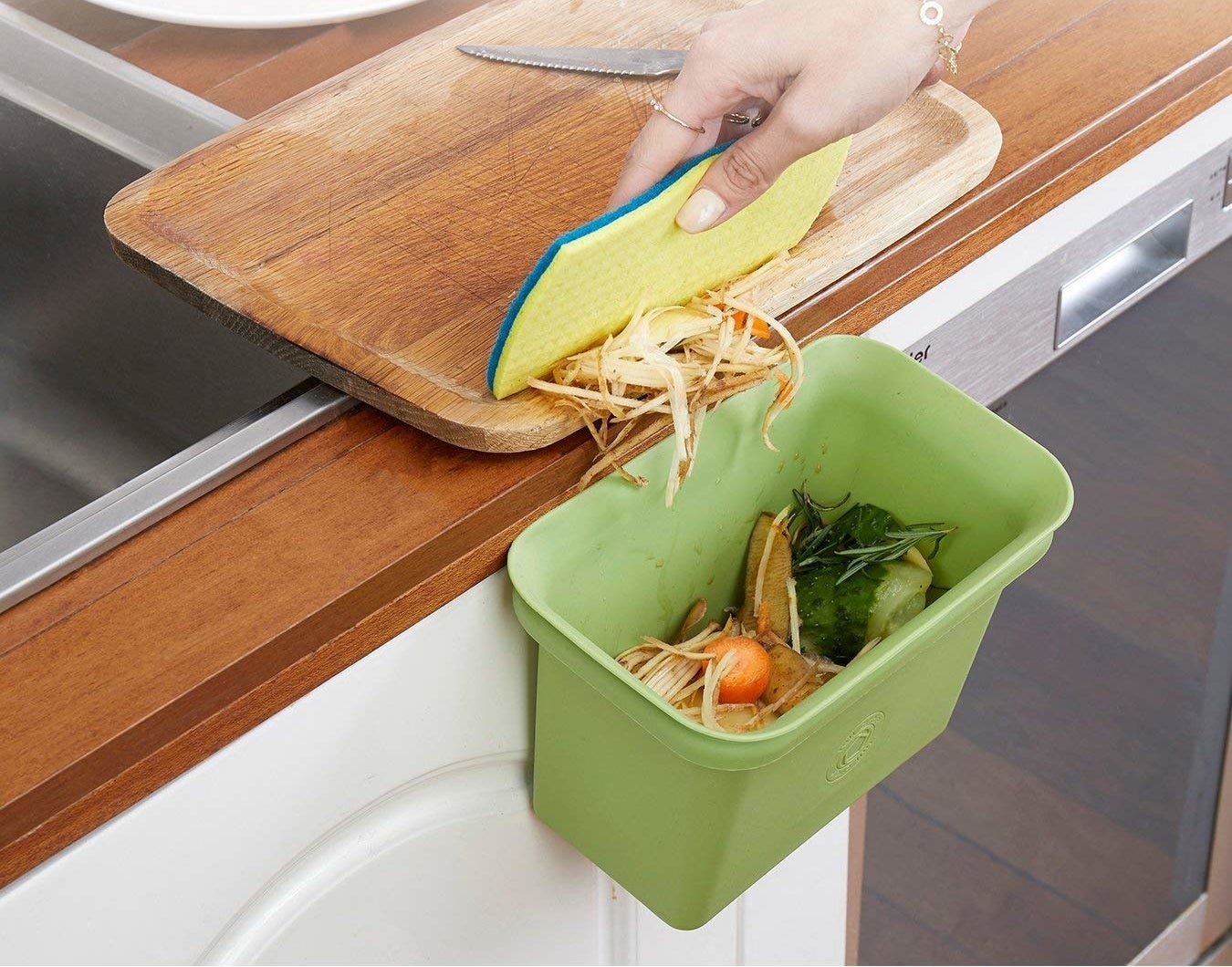 The bin attaches to your cabinet or counter with the aid of a simple little wire rim. It is dishwasher-safe and also freezer-safe should you want to store it in there before it's full and ready for composting.
Promising review: "So useful! I use mine more as a small trash collector. I have mine next to the stove for eggshells and anything else I may want to toss quickly. Also, I line it with a plastic produce bag so that it doesn't get grimy and dirty. Not only this, but using this as a small trash can, I end up using my large kitchen trash bag as a bin for my smaller produce-bag-wrapped trash bags (and/or trash items that don't have a smell). This means my large trash can usually doesn't smell bad, since it's only ever full of smaller wrapped trash bags. Maybe it seems a little strange, but for someone who usually only cooks for one, I don't like my large trashcan to be partially full and already smell like it needs to be taken out." —Shaz
Get it from Amazon for $11.41+ (also available in black).
3.
A set of silicone stove counter gap covers so you won't attract unwanted critters after flinging pasta into the half-inch crevice for the third time this week. We all know nobody is actually cleaning it out (don't try to lie to me), so go ahead and do yourself a favor.
The covers just slip right into the gap — there's no adhesive involved — so you can easily remove and clean them whenever necessary.
Promising review: "I've been using these for about a week on my new freestanding range. When they removed my old range, I was really surprised to see how much stuff had slipped through! Now, when I cook, I can see the splatters and seasonings left on the silicone that would have fallen between the stove and the counter. These gap fillers really do clean up easily, too. Although they are that extra thing to clean, I prefer that to knowing there's a mess hiding in the cracks." —JMom
Get a pack of two from Amazon for $10.95+ (available in two sizes and three colors).
4.
An Instant Pot that can whip up meals in 20 minutes or less! I'm not too fond of the kitchen myself but I have made pulled BBQ chicken, teriyaki chicken and rice, and mashed potatoes in one of these with little effort.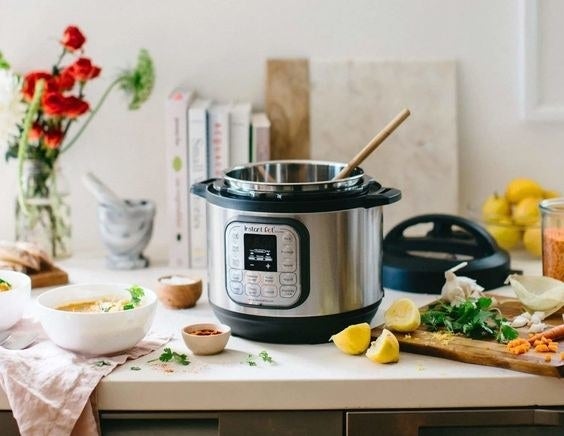 Promising review: "After a childhood experience that involved a pressure cooker spewing black beans all over the ceiling, I had no interest in ever trying a pressure cooker again. Until I started hearing about the Instant Pot. I've had it three weeks, and have used the pressure cooker function to make dishes as varied as black bean soup, butternut squash soup, dulce de leche, and cheesecake. My favorite aspect of it is that you set it and walk away. No more having to monitor the temperature. No more having to time the pressure phase. I also like the fact that the sauté function allows you to brown the onions or meat in the same pot, before adding the other ingredients and cooking at pressure. I'm big on avoiding recipes that create a lot of dirty dishes." —A. Jennerjahn
Get it from Amazon for $59.99+ (available in four sizes).
Learn more about the Instant Pot in "I Tried The Instant Pot That Everyone's Obsessed With."
5.
A three-in-one avocado slicer for those who still haven't gotten over their avo toast obsession. Pick up one of these gadgets — it'll split, pit, and slice your avocado — and you'll whip up a plate worth $15 or more at your favorite cafe.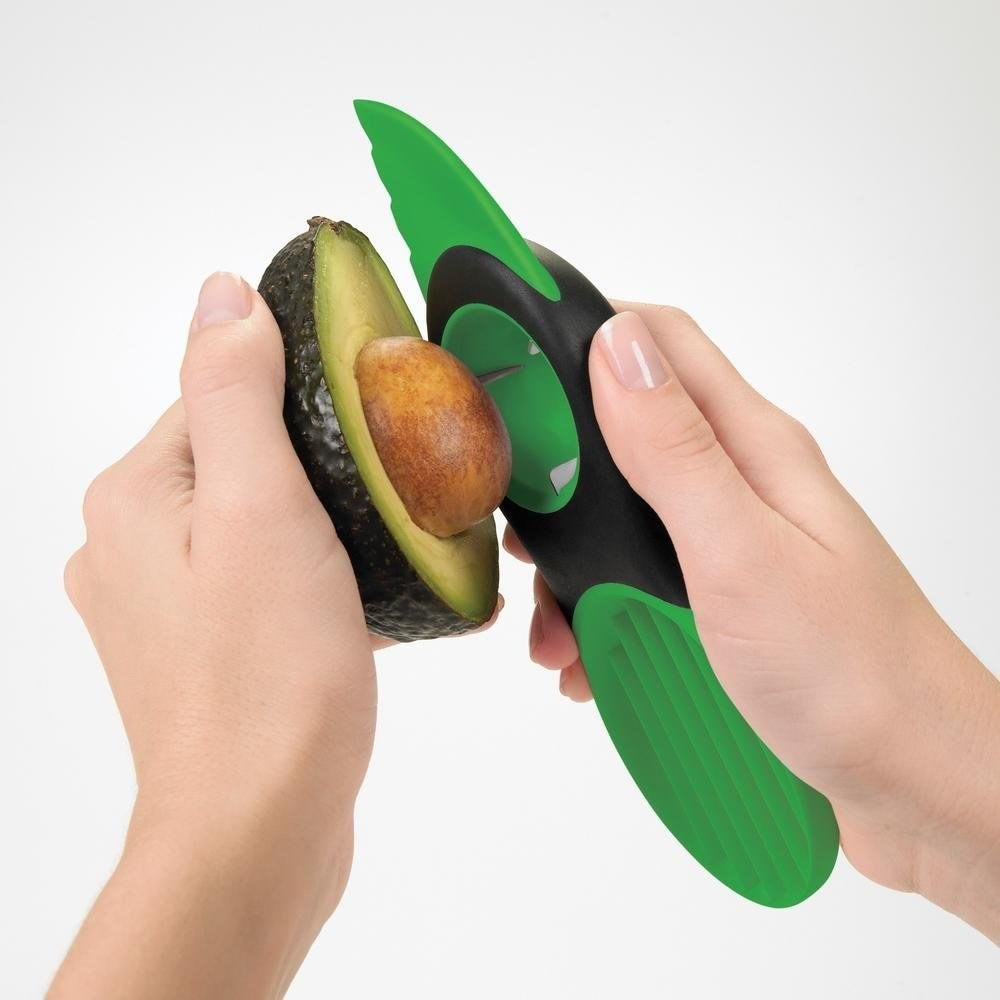 Promising review: "I used to laugh at this kind of product until my friend was using hers. It made it all so easy! Honestly, I can't believe someone as clumsy as me was functioning without it. Where I used to use a knife and spoon or fork to deal with avocados, it's now just this one thing. Each part of the tool does its job really well, and it's easy to clean. Love it so much. Even if you're not a clever tool kinda person, just get it. It's worth it." —kikikitten
Get it from Amazon for $9.99.
6.
A HyperChiller beverage cooler that allows you to turn hot coffee into iced coffee in 60 seconds flat. Just fill the container with water and keep it in your freezer so it's always ready when you need it.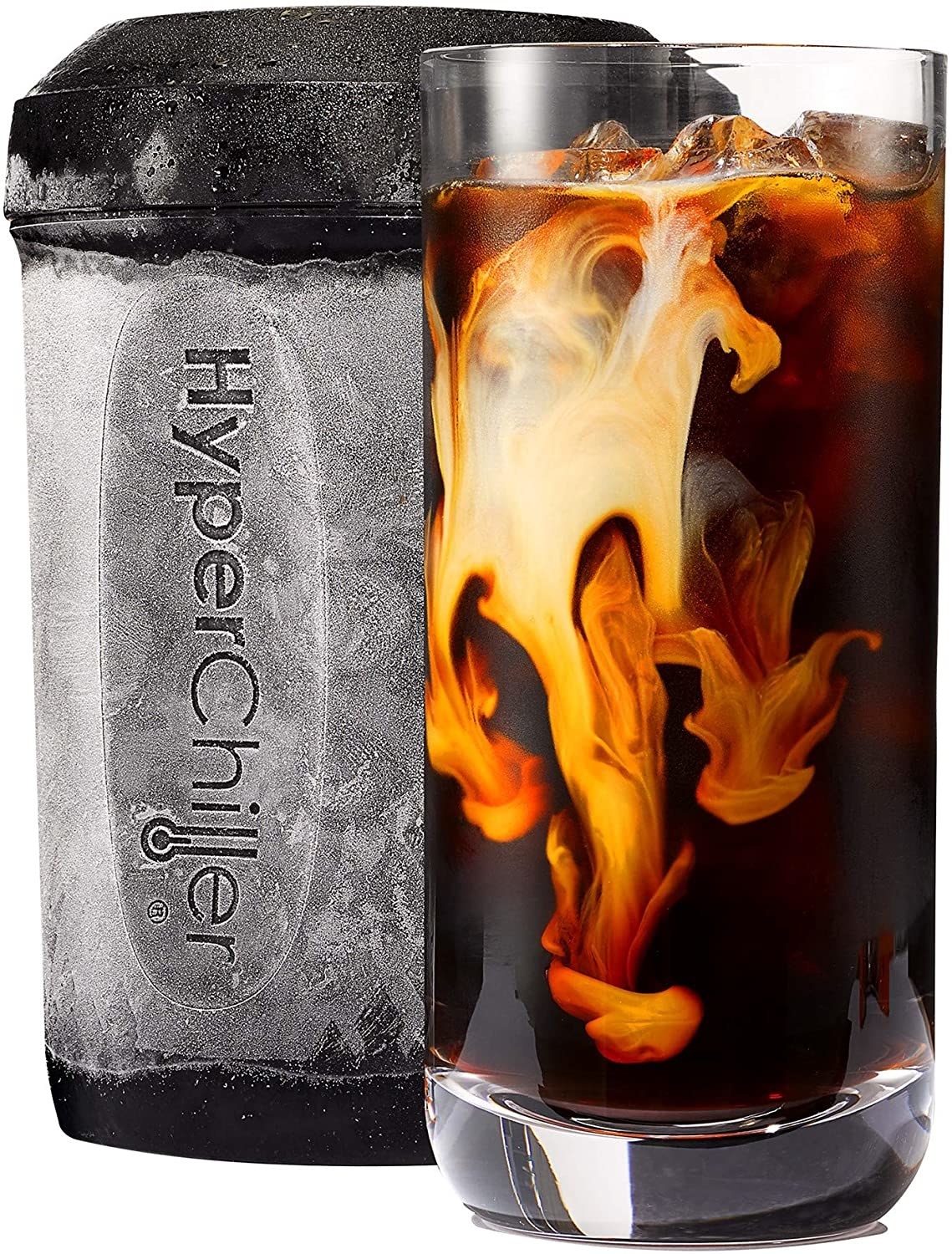 The dishwasher-safe container can also be used to cool chill tea, juice, wine, or whatever else you feel like drinking. No water comes into contact with your beverage, so you don't have to worry about dilution, either.
Promising review: "I am an avid (i.e. daily) iced coffee drinker, but I have been extremely hesitant to make my own iced coffee at home because I didn't want the bitter flavor from two-day old coffee or the watered-down nature of just adding ice to coffee. Thanks to the HyperChiller, I have now found a solution!!! The HyperChilller worked like a CHARM today!!! I was able to create my own iced coffee directly from my coffee maker in the comfort of my own home. I guarantee this item will be used frequently! Great job!" —Chelsea
Get it from Amazon for $24.99+ (available in four colors). 
7.
A magnetic meal planner you can stick right to your fridge so you can easily keep track of the week's menu and any groceries you may need to pick up. Once you've written your list, rip out the perforated page and take it with you.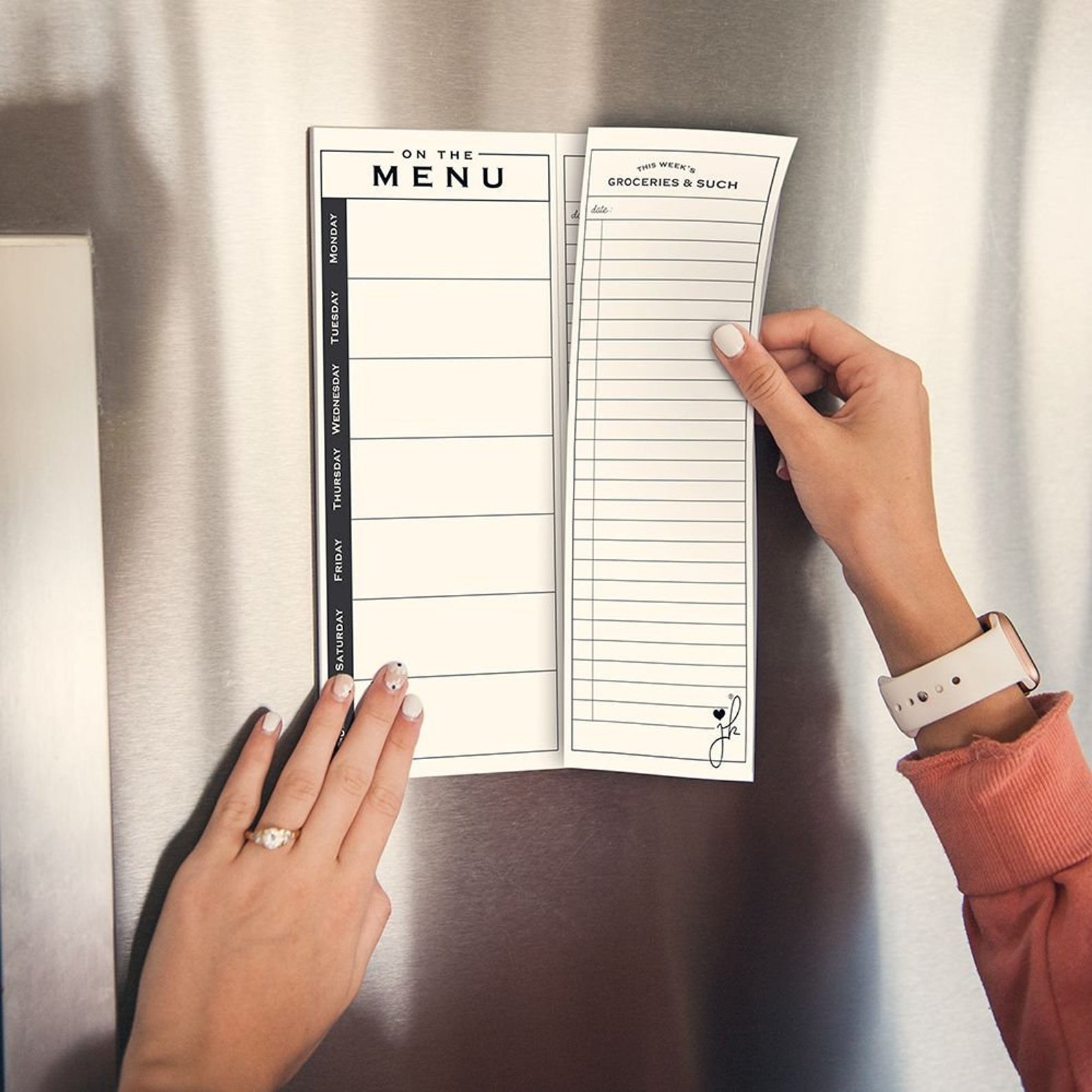 Jenna Kate is a Utah-based Etsy shop that sells all sorts of organizational accessories (many magnetic) from calendars and chore charts to daily planners and pen holders.
Promising review: "The perforated list separator is very nicely done, super easy to tear. Quality of paper, cardboard backing, and magnets is great. Love the free shipping, plus this item shipped SO quickly! Very happy with this purchase." —Stacy S.
Get it from Jenna Kate on Etsy for $11.69 (originally $12.99).
8.
An Our Place Always Pan which will quickly become the Swiss Army knife of your kitchen. The gorg pan can replace up to eight pieces of cookware as it braises, sears, steams, strains, sautes, fries, boils, serves, and stores.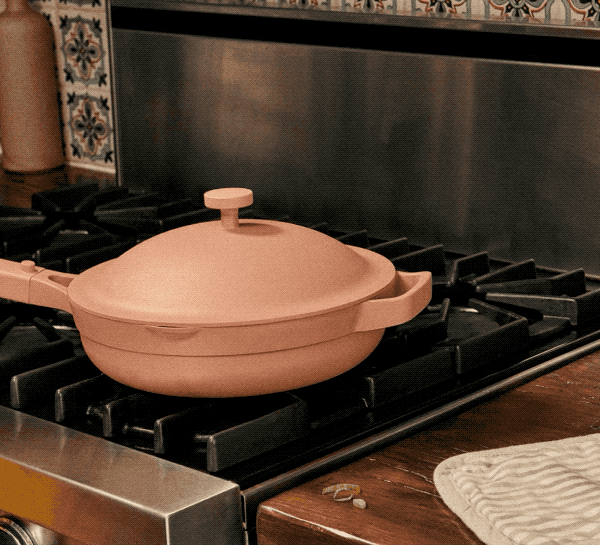 I finally caved and bought myself one and I'm so happy I did. I make a lot of stir fries and they just. don't. stick! In fact, I just made a honey garlic chicken dish and I may or may not have left the pot on the stove for a few hours and the caramelized honey came out with just the swipe of a sponge. It's also deceivingly lightweight, so it's easy to move to and from the stove/sink as well as transfer food to your plate.
What's included: A nesting beechwood spatula with integrated spoon rest and custom stainless steel steamer basket.
Promising review: "This pan is EVERYTHING! I went from making pasta in the basket to steaming broccoli in it and then finishing my meal in there. Then I forgot about cleaning it because I'm lazy and the nonstick cleaned up so easily. The sponge they include is incredible, I do all my dishes with it now. Also it looks really cute sitting on my stove all day." —Darby S.
Get it from Our Place for $145 (available in nine colors).
9.
A cold brew coffee maker with — if you can even believe it — more than 34,000 5-star Amazon reviews!
The BPA-free pitcher can make four servings of cold brew at a time and with whatever ground coffee you prefer. After you let it steep, a fine-mesh filter keeps the grounds from flowing into your cup.
Promising review: "This Takeya cold brew coffee jug is wonderful! I know a lot of people use Mason jars, however, I wanted something easier to grab from the fridge and more lightweight (and cheaper!). I have used Takeya products before and have been impressed with their durability as well as the easiness of cleaning them. This cold brew jug has only four pieces; the jug, the handle, the lid, and the coffee filter. The coffee filter has an extremely fine mesh and it has not let through even the finest of coffee grounds. It is really easy to clean! The filter, after filling it with your favorite coffee (I find nonflavored coffee to taste best during the cold brew process), just screws into the lid. After you have filled up the jug about 85% of the way with filter water, you place the filter (already attached to the lid) into the water filled jug and screw it on! The coffee will have a great flavor within eight hours, however, it is most potent by 24 hours and stays fresh up to 72 hours, in my opinion. Remember, you are brewing a coffee concentrate as about 1 cup of grounds are used to brew. Mix with two parts water or you will... well, be like me that didn't read the directions and was up until 3 a.m. with a caffeine high, lol. Overall, I am really pleased with this purchase!" —LiliBelle
Get it from Amazon for $19.99+ (available in two sizes and three colors).
Interested in reading more? Check out our full review of the cold brew maker.
10.
A produce-saving Rubbermaid container that'll extend the life of your fruits and veggies. Now, instead of throwing away your untouched spinach after just a few days, you can throw it out after a week!
The containers use "FreshVent" technology to let in the optimal amount of oxygen and carbon dioxide and a crisp tray (at the bottom) keeps the produce elevated so it doesn't sit in a pool of condensation.
Promising review: "Oh my gosh, these work! I went on a 10-day trip to visit my mom and left my husband home with asparagus, strawberries, and spinach in the containers. He ate some of all of them, but there was plenty left when I got back and they were in perfect condition! I couldn't believe it! These will save us a lot of money not throwing away food because we couldn't get through it fast enough. (We shop at Costco and get large containers of produce.) These are TOTALLY worth getting and I will be getting a few more sizes. Excellent product!!!" —Elizabeth Walter
Get it from Amazon for $14.50+ (available in six sizes and combos).
Check out our full review of these Rubbermaid produce saver containers.
11.
An oil mister so you can perfectly spritz all of your one-pan meals. This way, you don't have to toss everything by hand and get covered in hard-to-clean (not to mention expensive...) EVOO. 
Promising review: "This is a great item for lightly spraying salads, roasting vegetables, or adding some oil to a prepared plate of pasta. Avoids using more oil than necessary so that's a savings right there. I also use it to put a light coating of oil on all my cast iron cookware to prevent rust. Best of all, it looks great on the dinner table. Lots of uses which really makes it an asset in the kitchen. It seems that it should last a while so I think it is worth the few bucks spent." —Clancy
Get it from Amazon for $12.99.

12.
A terra-cotta bear that, when presented with a bag of brown sugar, will bravely say "I volunteer as tribute!"
This adorable little guy can be used a few different ways. To keep things like brown sugar and fresh cookies nice and moist, soak it in some water and then place it in the same container. On the flip side, keep things like chips and crackers nice and crispy by using it dry.
Promising review: "Not only do I use one of these little fellows for my brown sugar, I picked up a tip from someone else. If you take one of these little guys and don't run him under water, but leave him perfectly dry, he will help keep your electronics such as cameras dry in the camera bags during humid months by absorbing the humidity. How perfect is that? A multi-tasking little fellow. Well worth getting multiples of. I'm sure I can find other uses as well." —A.B.A.
Get it from Amazon for $3.99.
13.
A washable sponge with a seriously impressive lifespan. According to reviewers, when washed and rotated in and out of use, they can last upwards of a year!
The eco-friendly invention comes from Sarah Dooley of Marley's Monsters. If you're looking for other sustainable supplies, you should also check out her reusable gift wrap, coffee filters, facial rounds, and nursing pads.
Promising review: "I love these reusable sponges! They scrub food off easily and are very sturdy. I am so happy with the quality and the fact that I can wash and reuse them! Perfect replacement for disposable sponges and so cute!" —Kristen Velasquez
Get it from Marley's Monsters on Etsy for $12+ (available in packs of one or three and three colors).