Australia has been in the grip of a deadly bushfire season since September 2019. As of Jan. 6, 2020 the fires have claimed 24 lives; an estimated half a billion native animals have perished; and more than 1,700 homes have been razed.
Many Australians are finding out information about the bushfires through social media networks, but some accounts are spreading information that is false, misleading or unverified.
BuzzFeed News is keeping track.
1. Claims that various groups — including environmentalists and Muslims — have conspired to start bushfires are baseless.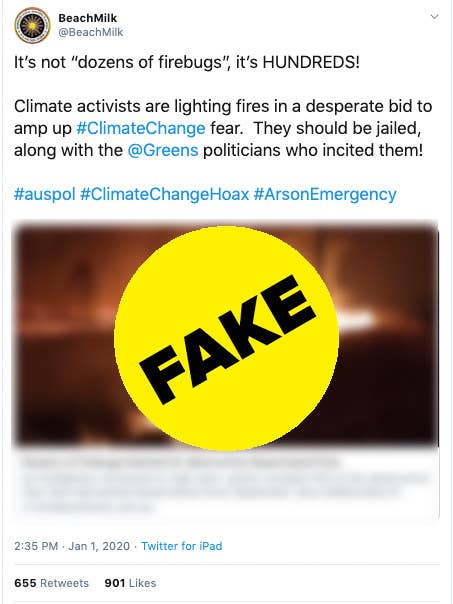 Posts on Twitter and Facebook have baselessly accused environmentalists of deliberately lighting bushfires to promote awareness about climate change. (In some cases, these posters have linked to real news stories that do not support their account.)
Similarly, posters on 4chan have made baseless allegations suggesting Australian Muslims are following ISIS's orders by starting bushfires.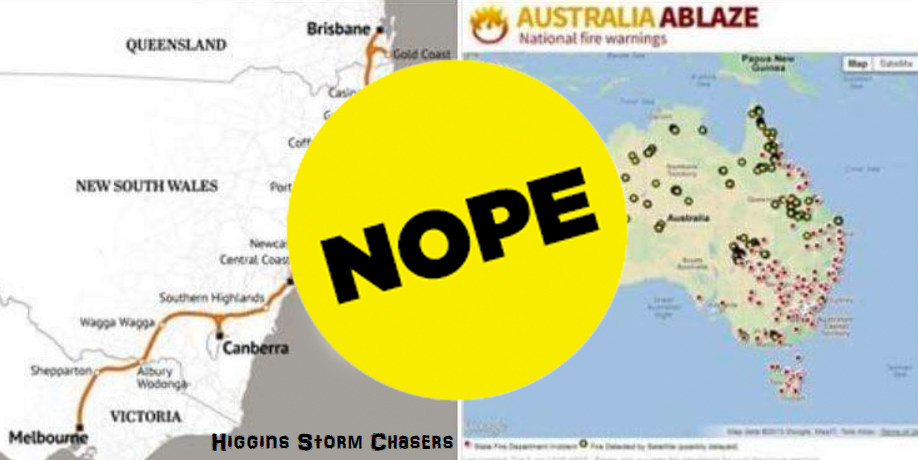 Posts alleging Australia's bushfires are an effort to clear a corridor for a high-speed rail track have been circulating Facebook and Twitter since November 2019. A similar theory was floated about the California bushfires in 2018.

This is not based on any evidence and is untrue. If you'd like to find out more, we wrote about how the high-speed rail conspiracy theory started and spread.
3. These – and some other – photographs are not from the 2019-2020 Australian bushfire season.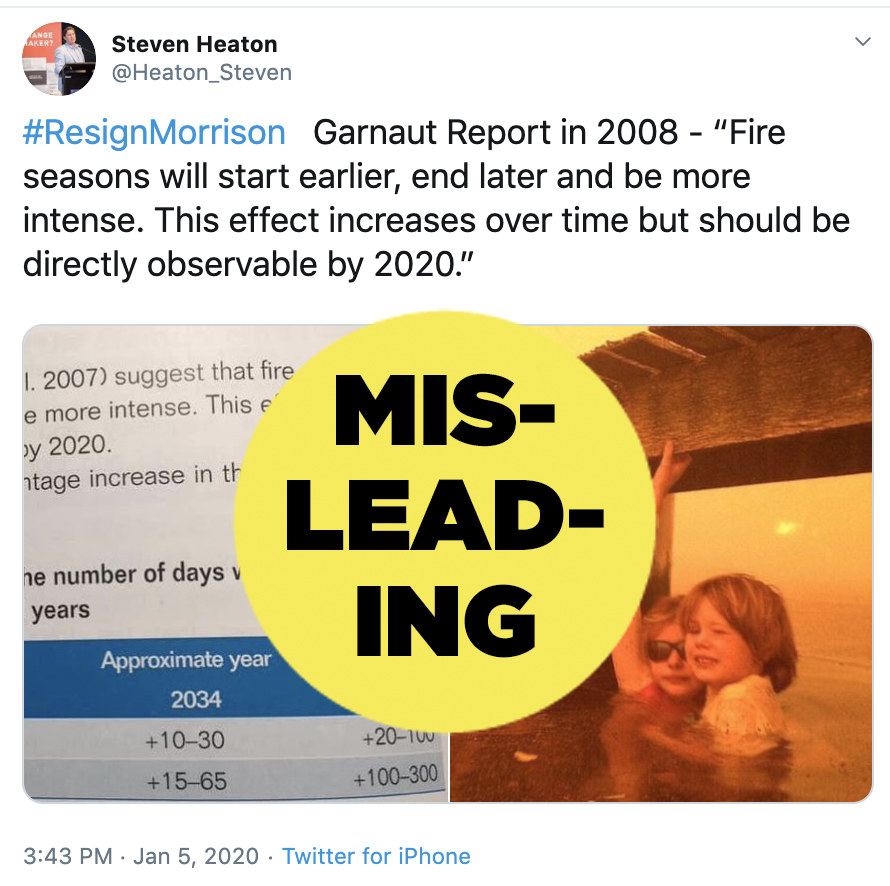 A 2013 AP image of a Tasmanian family clinging to a jetty to escape fires has been circulated as having been taken during the recent fires.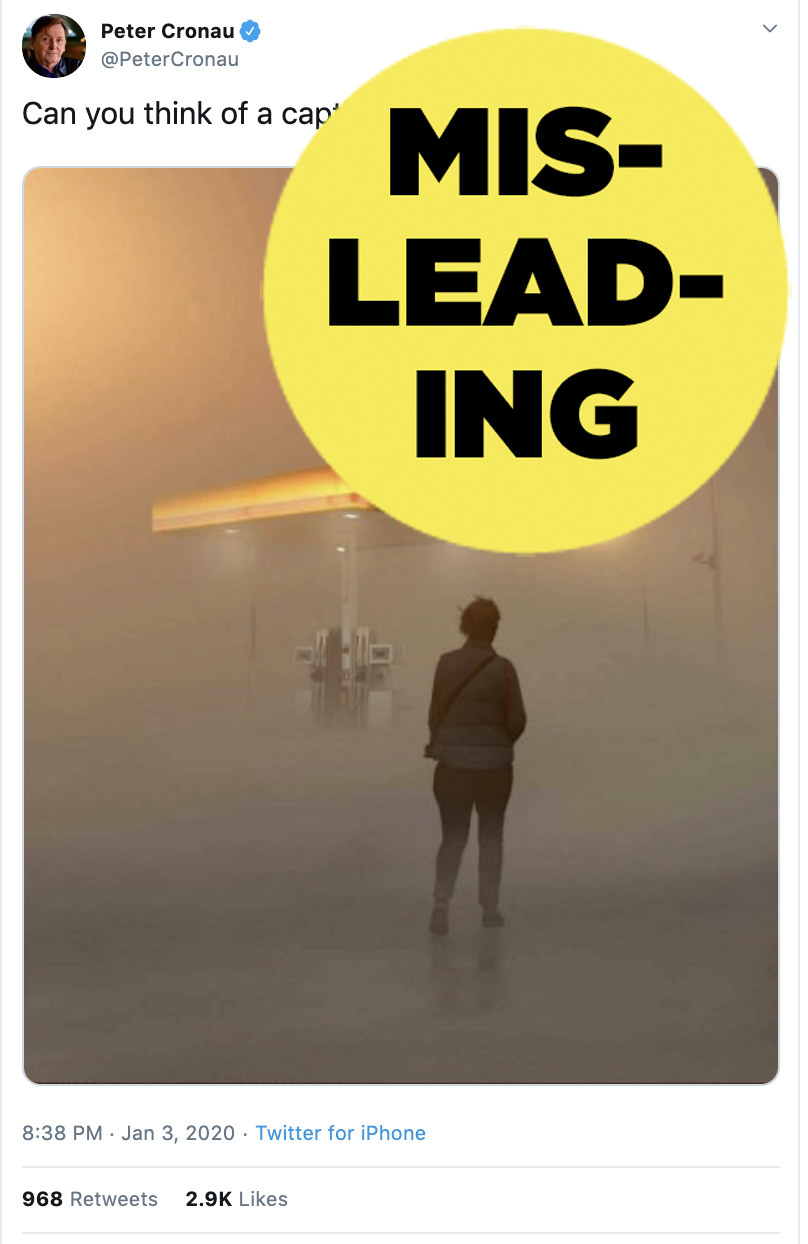 An image of a petrol station circulating on Twitter in early January was widely assumed to be from the Australian fires, but it was posted on Dec. 1, 2019 by Instagram user @george_natsioulis, who said it was taken in Greece.
A Change.org petition claiming that a firefighter who was filmed saying "tell the prime minister to go and get fucked from Nelligen" was "facing dismissal" from the NSW Rural Fire Service (RFS) has received more than 47,000 signatures.

But the RFS told BuzzFeed News the man is not facing disciplinary action. He has, however, been asked to temporarily step down from duties due to exhaustion.

The petition was later removed by Change.org
5. This graphic misrepresented the state of the blazes.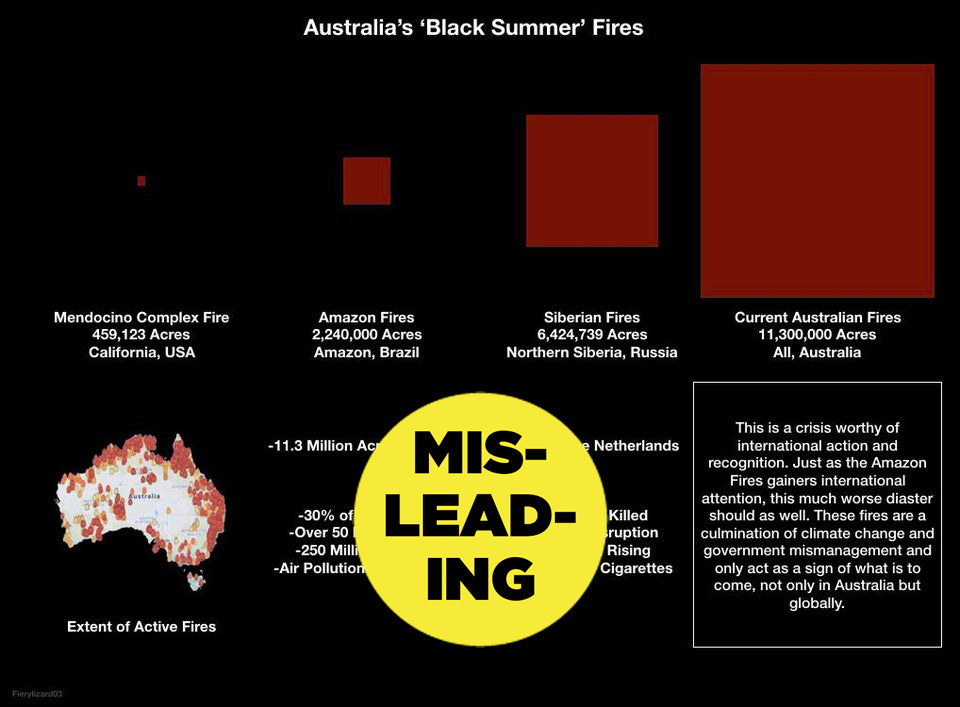 Redditor u/Fierylizard03 posted an image to r/Australia comparing the the scale of Australia's bushfires to the 2019 Amazon fires, which was subsequently shared to Facebook and Twitter.
The comparison graphics are not to scale and the "extent of active fires" map is not current.
6. This is a 3D visualisation of where fires have burned based on NASA data spanning a month, and not a satellite photo.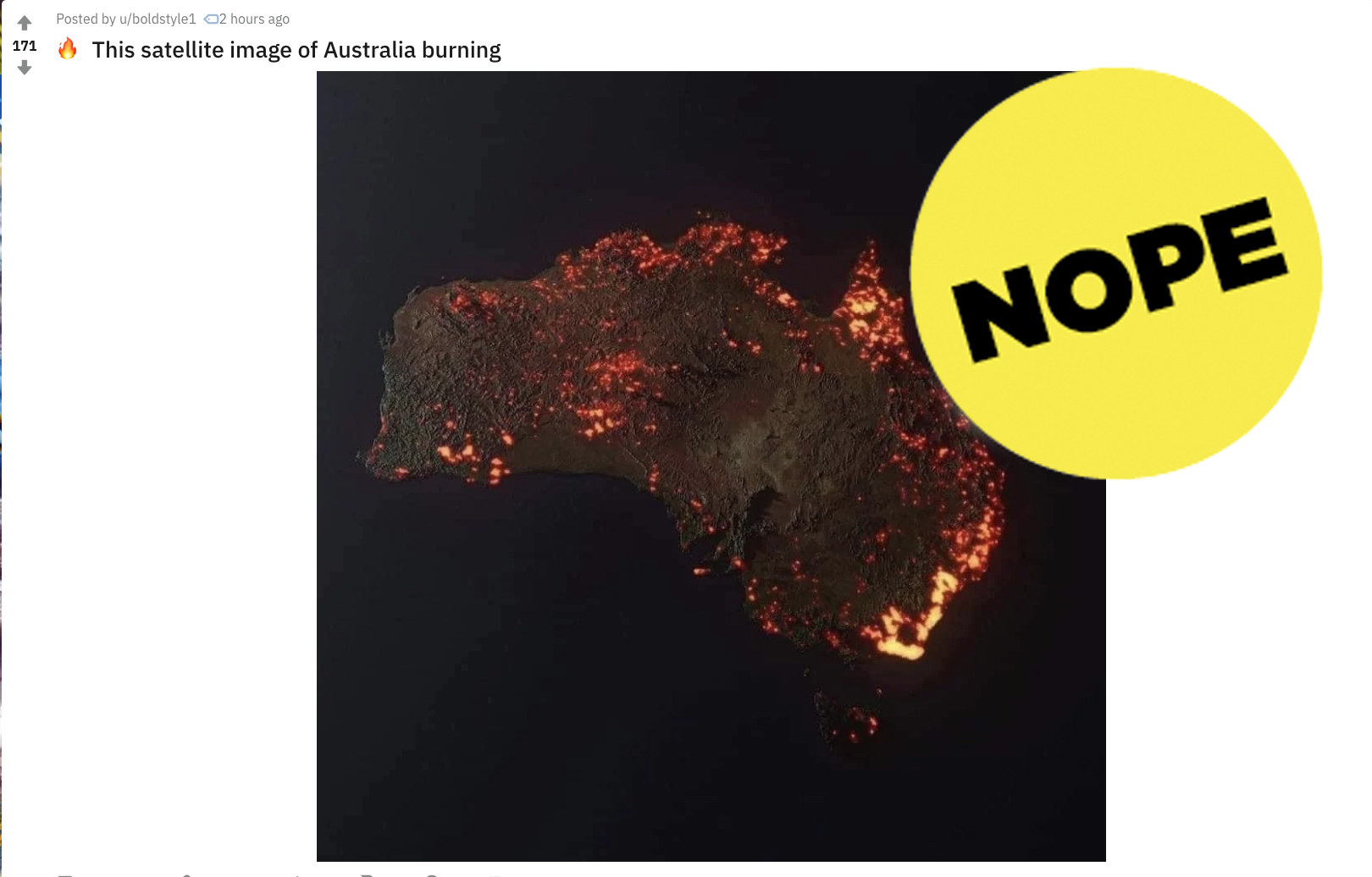 This 3D visualisation of the bushfires was described in posts on Reddit and Twitter as a satellite image, or a photo taken from the International Space Station.
The image's creator Anthony Hearsey wrote on Facebook that the image is a representation "made from data from NASA's FIRMS (Satellite data regarding fires) between 05/12/19 – 05/01/20".
Hearsey said it is a compilation of all the areas that had burnt, and not a current representation.
7. The Greens don't oppose hazard reduction burns or back-burning.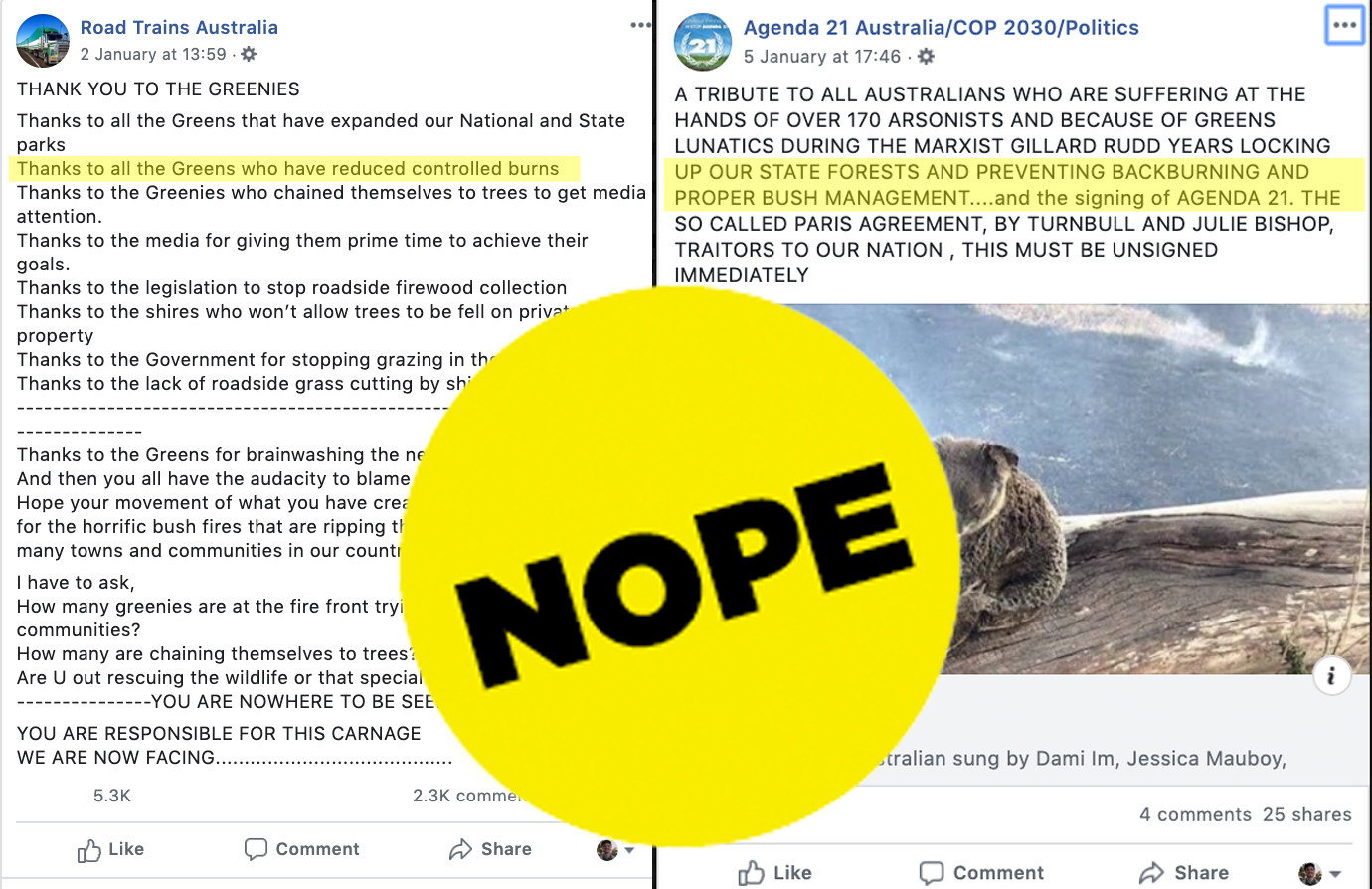 Untrue claims that hazard reduction burns and/or back-burning have been reduced or eliminated due to federal or state Greens party opposition have been widely circulated on social media and in traditional media outlets. A now-removed petition to "de-register the Greens" cited the political party as the cause of the "worst bushfires in Australian history".

These claims are false. The Australian Greens policy is to "support hazard reduction burns and back burning to reduce the impact of wildfire when guided by the best scientific, ecological and emergency service expertise".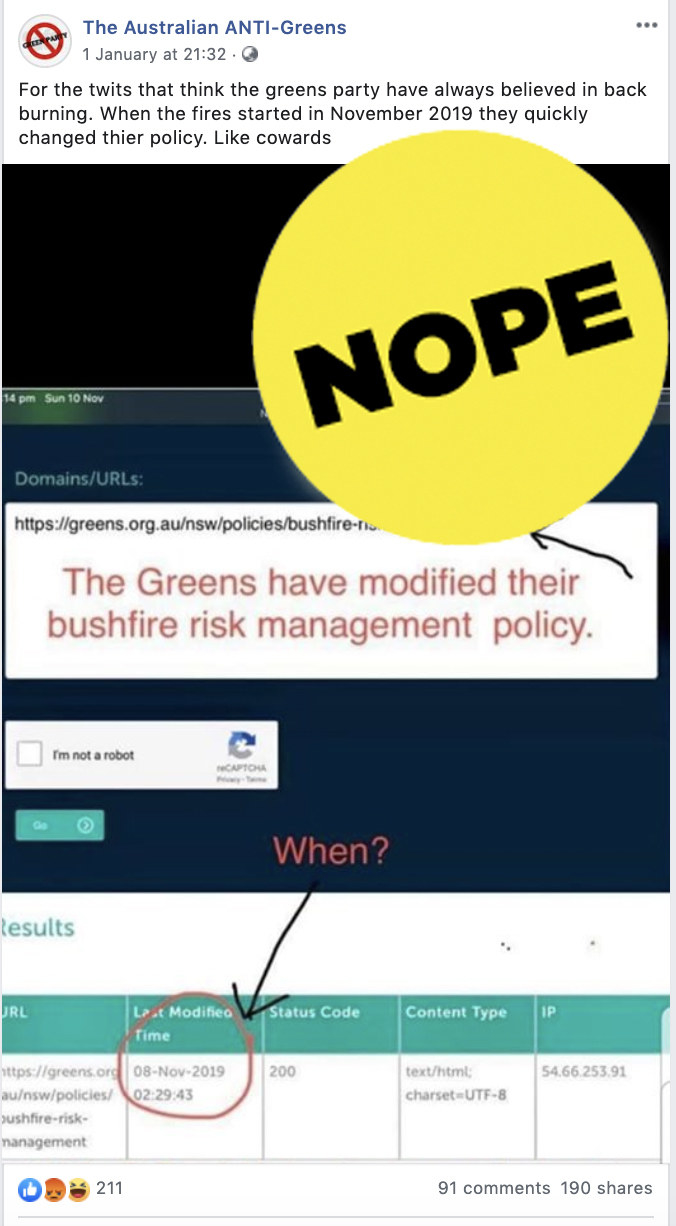 A popular Facebook post inaccurately claiming that the party changed its policies after the bushfires started uses a screenshot showing that the NSW Greens' bushfire webpage was modified in November 2019. But an archived version of the same page from March 2019 shows the policy has remained unchanged since then.

8. The claim that Selena Gomez donated $5 million to the bushfire relief effort is unverified.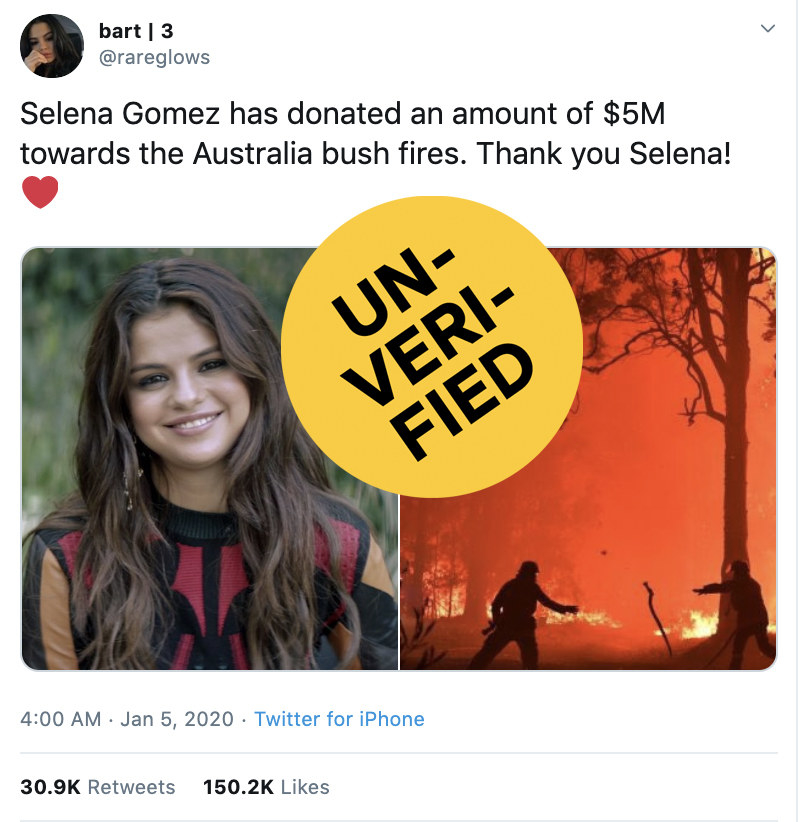 Viral tweets have congratulated artist Selena Gomez for making a $5 million donation to Australian bushfire charities. While Gomez has tweeted about donating, she has not commented publicly about the size of the donation. BuzzFeed News has contacted Gomez's representatives for confirmation but is yet to hear back.

9. This picture of a child in a gas mask holding a koala is an altered image.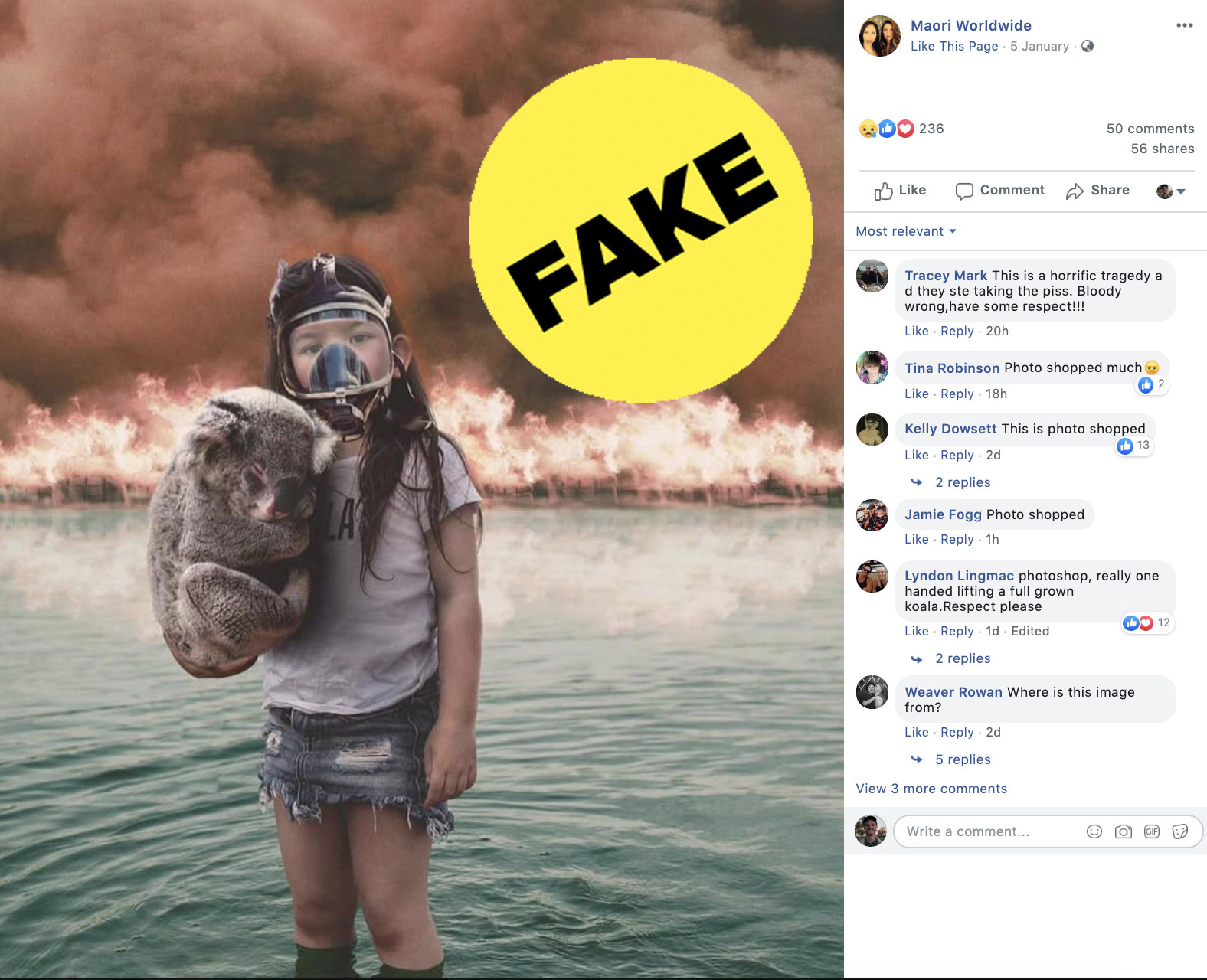 Photoshop artist @thuie posted an artwork to Instagram on Dec. 22, 2019 depicting a child knee-deep in water cradling a koala, with fires burning in the background.

The image has subsequently been shared to Facebook and Twitter without the context that it is a photoshopped image.
@thuie has subsequently updated the image's caption to include the text "This post has now gone viral please make sure that you mention it is a photoshop edit".
10. The Liberal National Party created its "I'm standing with Scott" Facebook profile picture frame prior to the bushfire crisis.
An AAP journalist tweeted on Jan. 4, 2020 that the Liberal National Party Facebook page had created a profile picture frame with the text "I'm standing with Scott'', referring to Australian prime minister Scott Morrison. The tweet did not specify when the frame was created.

It was picked up by other social media users and construed as a new campaign launched in response to criticism of Morrison's handling of the bushfire crisis. However, there are examples of Facebook profiles with the frame from as early as May 2019.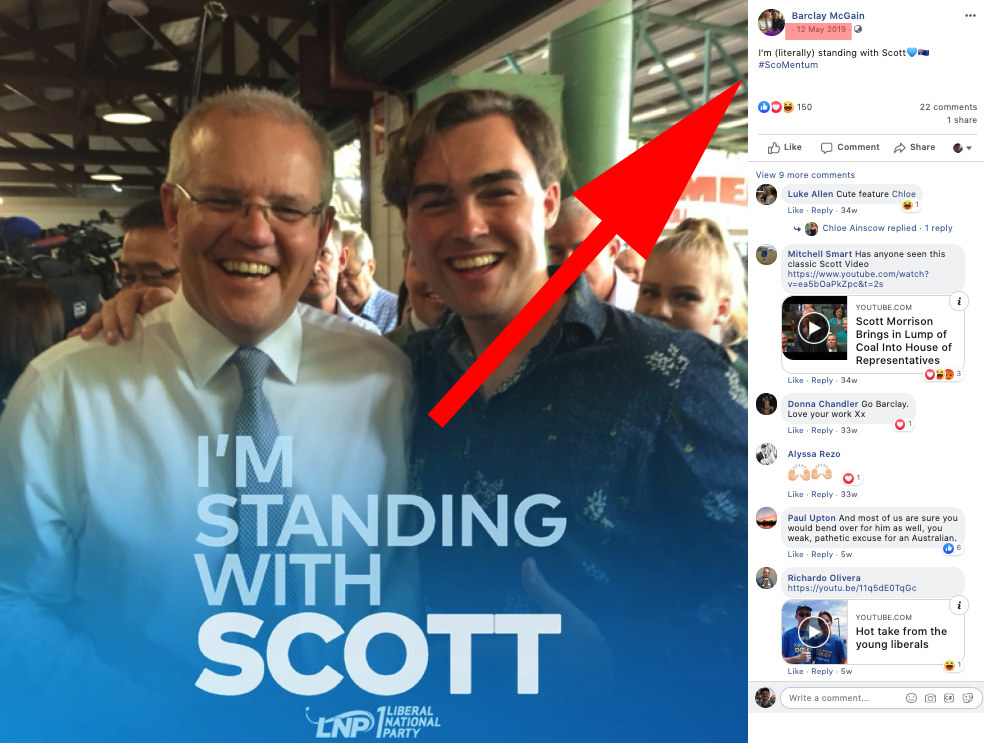 The journalist deleted the original tweet and said she was "unable to verify if [the frame] was made now or for the election".

11. A widely shared video of firefighters in heavy rain is from November 2018.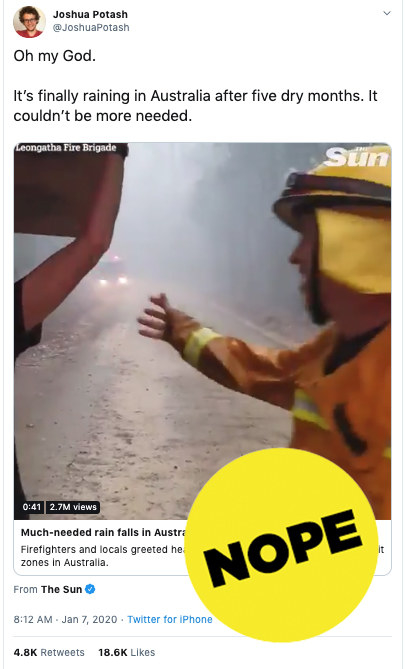 The video of a group of Australian firefighters standing undercover during heavy rainfall was shared on Twitter with the caption "Oh my God. It's finally raining in Australia after five dry months. It couldn't be more needed". The embedded video was posted by The Sun's Twitter account on Jan. 6, 2020.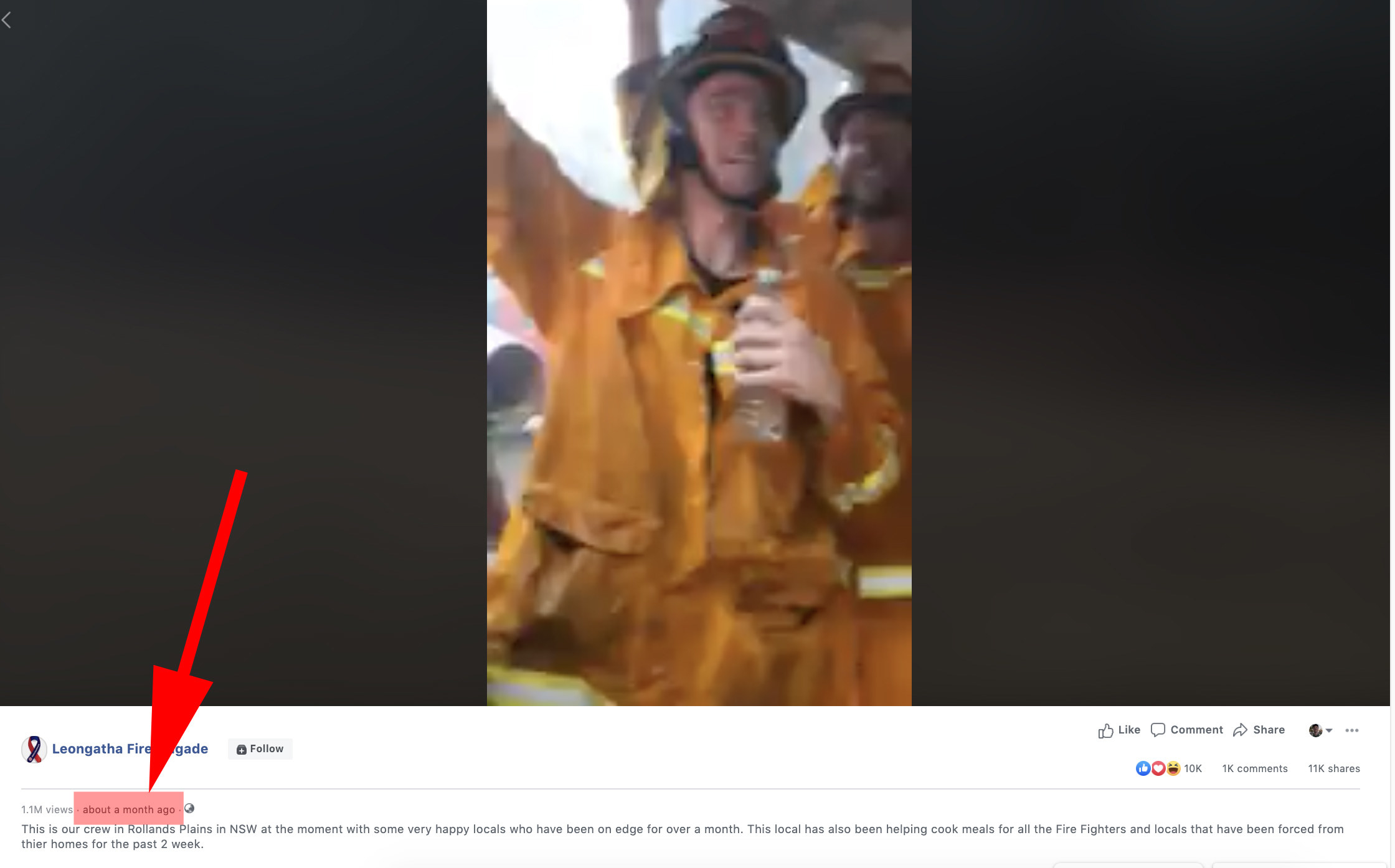 The footage was originally posted by the Leongatha Fire Brigade page on Nov. 25, 2019. There has been some rain in January, however not the amount depicted in the video.

12. These photographs of koalas are not from the current bushfire season.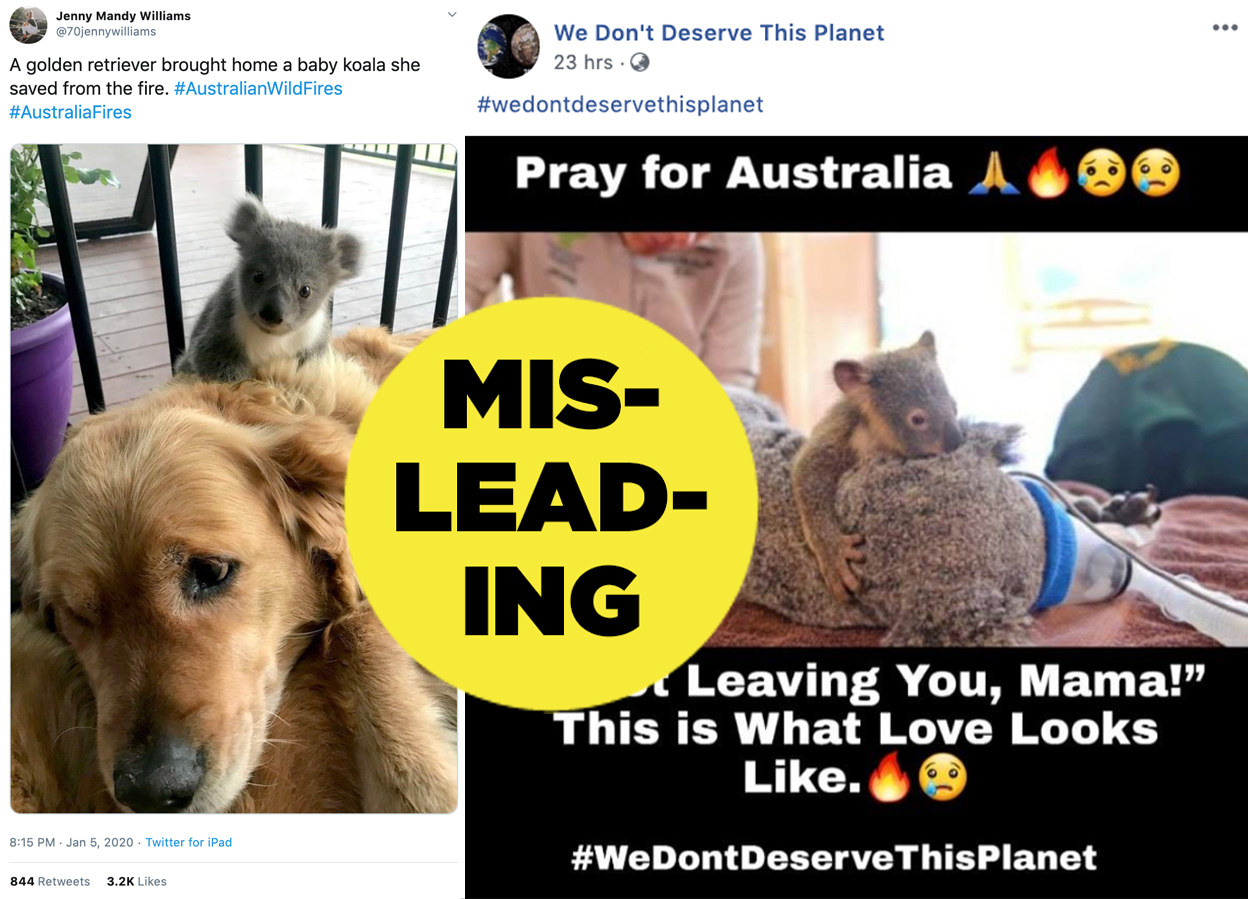 Many of the images of wildlife in the Australian bushfires being spread on social media are breathtaking photographs that would move anyone with a heart. Unfortunately, a lot of them are misleading.
Several images being shared are from different times and contexts. One image of a koala "saved from the fire" by a golden retriever circulating on Twitter is actually an abandoned koala found in 2018.
Another image being shared on Facebook is a 2015 photograph of a koala holding its mother during surgery after it was hit by a car.

13. The ABC deleted a Facebook post about a small protest against a local planned burn.
A local Facebook page for the ABC in Gippsland posted about a group of a dozen residents of Nowa Nowa, a small town in Australia's southeast, protesting a planned burn of about 900 acres on Sept. 5, 2019.

Claims circulating on social media that the ABC deleted this post are true. An ABC spokesperson told BuzzFeed News that the post was deleted because "we are unable to properly moderate comments on the Facebook post at this time".
14. This viral tweet of a kangaroo hugging a woman is not from the Australian bushfires.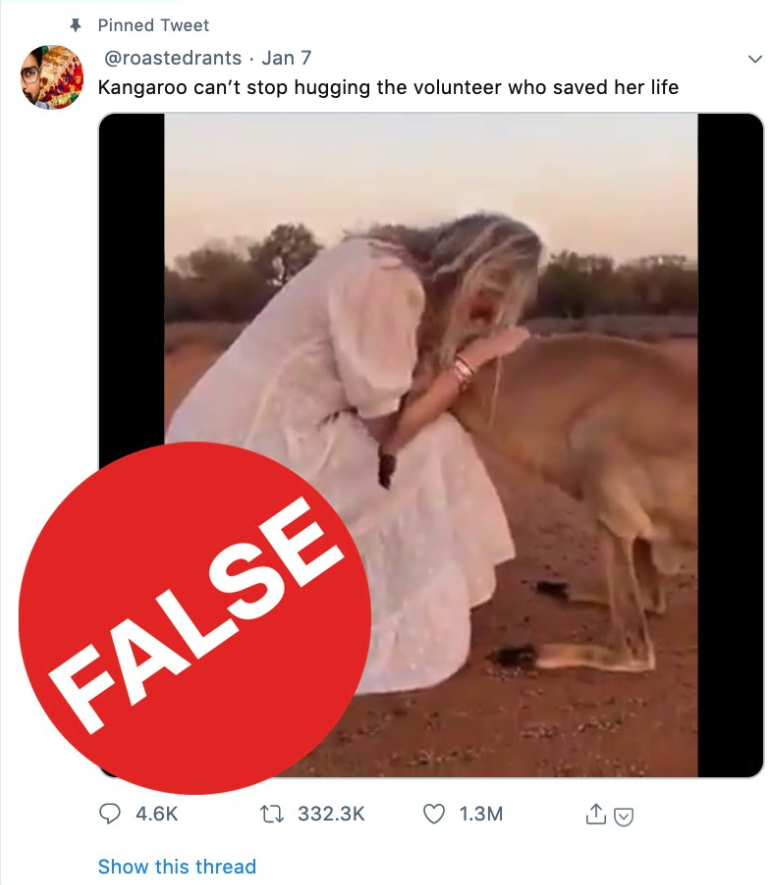 This viral tweet posted on Jan. 7, 2020 claims that the embedded video depicts a kangaroo hugging a volunteer who saved its life.

This is incorrect. The video in fact shows Laura Brown, the editor-in-chief of Instyle, hugging a kangaroo at a sanctuary in Australia's Northern Territory, outside of the area affected by the bushfires. The video was initially posted on Instagram on January 2 by @thekangaroosanctuary.
Brown confirmed on Twitter that she didn't save this kangaroo and that there were no fires near the sanctuary where it was filmed.
The tweet does not explicitly reference the bushfires but many who commented on and shared the video assumed it was connected, in the context of multiple Australian wildlife videos and rescue stories currently circulating.
15. This news story exaggerated the role of arson in the bushfires by using misleading figures.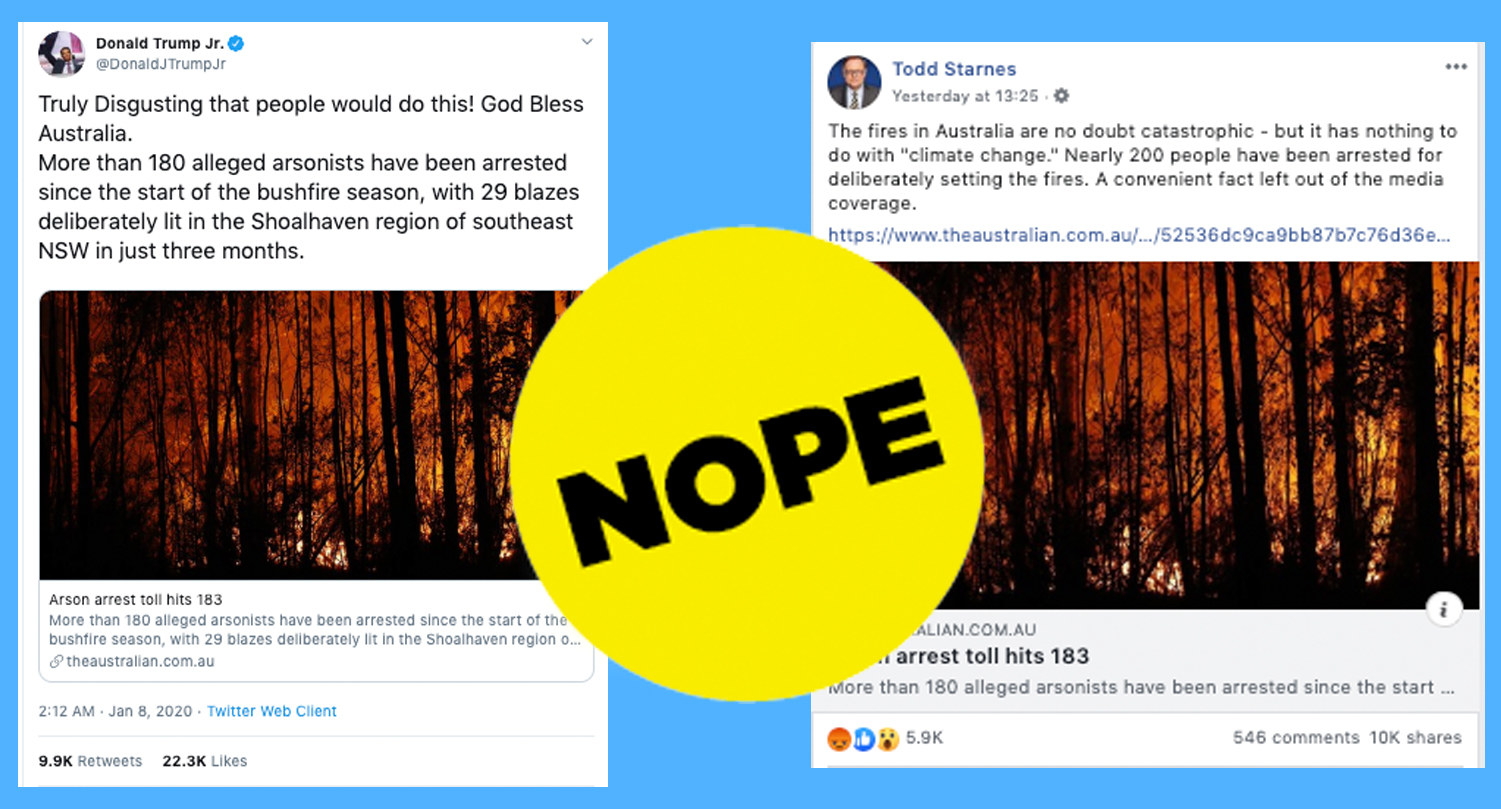 An article in The Australian newspaper originally stated that "183 alleged arsonists" had been arrested since the start of the bushfire season.

The story, titled "Firebugs fuelling crisis as national arson arrest toll hits 183" said 183 people had been arrested for lighting bushfires across Queensland, NSW, Victoria, South Australia and Tasmania "in the past few months". The article was picked up and shared widely by prominent social media users, including Donald Trump Jr.
But the initial version of the article was misleading in two ways: first, the figures from some states included times outside of the current bushfire season, and second, some of the figures encompassed a range of offences that included non-arson crimes.
It has since been edited to state that the 183 arrests figure is from the start of 2019, and to alter some of the other figures.
BuzzFeed News contacted the authorities to verify the numbers.
Queensland Police said 109 people had been charged with "recklessly and/or deliberately setting fires" since Sept. 10, 2019. This includes non-arson crimes (such as contravening a fire ban) but police declined to clarify how many of those charges were in relation to deliberate setting of fires.
NSW police have charged 24 people over "allegedly deliberately-lit bushfires" since Nov. 8, 2019.
The Australian article said "Victoria reported 43 charged for 2019". This figure appears to have come from the number of offences recorded in Victoria between October 2018 and September 2019, a period of time outside of the current bushfire season. Additionally, Victoria's Crime Statistics Agency told BuzzFeed News that 12 people were arrested or given a summons for causing a bushfire in this same period.
South Australia Police have charged 10 people for "intentionally or recklessly lighting bushfires" since Sept. 1, 2019. The article did not specify how many had been charged.
Since July 1, 2019 Tasmania Police have charged two people for "unlawfully setting fire to vegetation" and five for "arson". The Australian's article, however, initially said five had been charged for unlawfully setting fire to vegetation, and later revised that figure to four.
Have you seen false or misleading information about the bushfires circulating online? Email cameron.wilson@buzzfeed.com.