On Nov. 13, 2019, Facebook user Scarlet Glenn made a post that attempted to make sense of why Australia's bushfires were happening.
Her theory? The fires had been deliberately lit along the path of a proposed high-speed rail corridor down the country's East Coast.

In little over 100 words, Glenn's Facebook post links together a decades-old UN non-binding resolution, an Australian state premier and a company with no known office to make the case. Soon after posting, she added a map in the post's comments comparing a proposed high-speed rail route with a map of Australia's fires.
Glenn's post took off. It appears to be one of the first posts relating to the high-speed rail conspiracy theory, which has been shared and reposted thousands of time as the bushfires have continued to burn.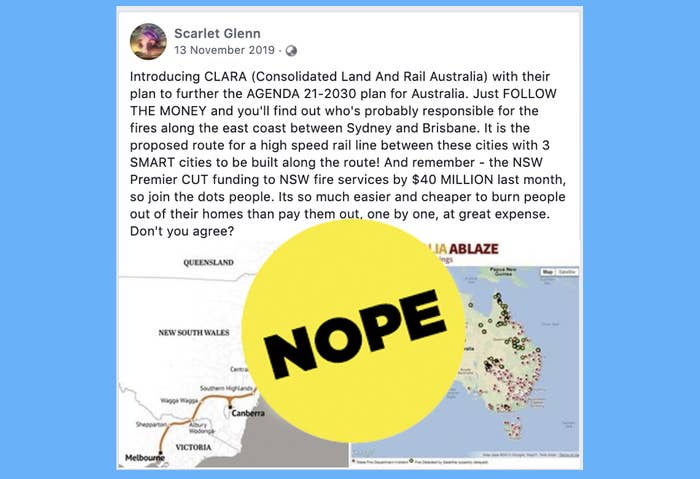 It's been most widely spread on Facebook and Twitter.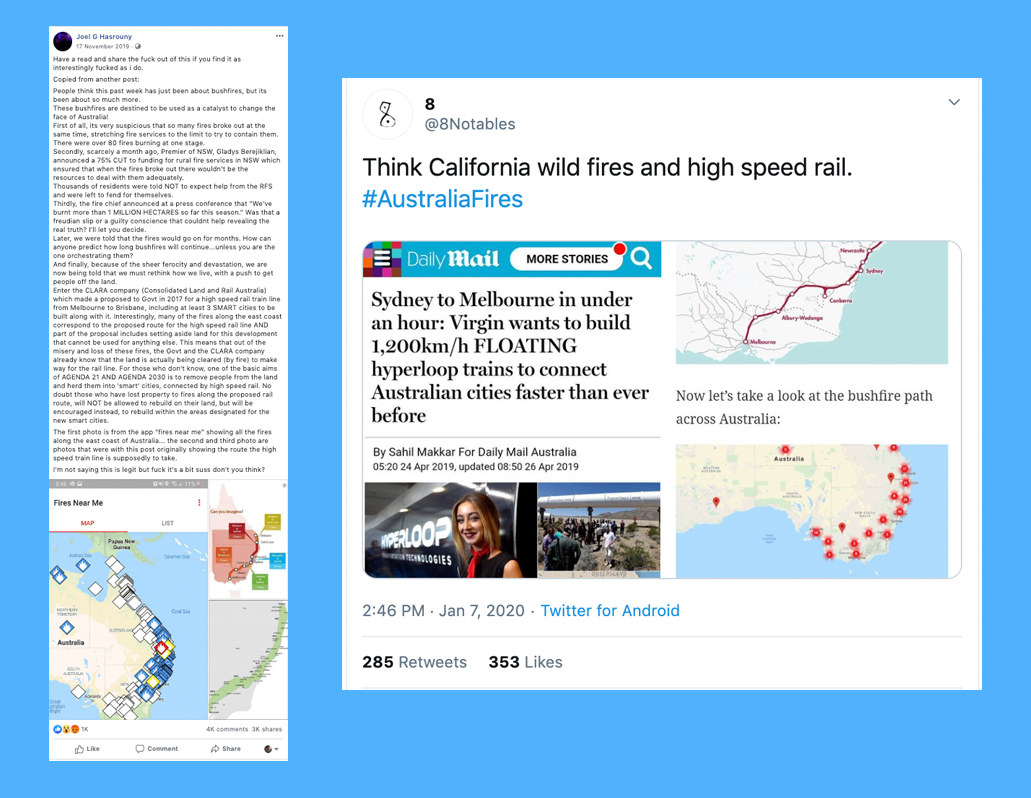 It's also been spread on Instagram, YouTube, LinkedIn, and 4chan.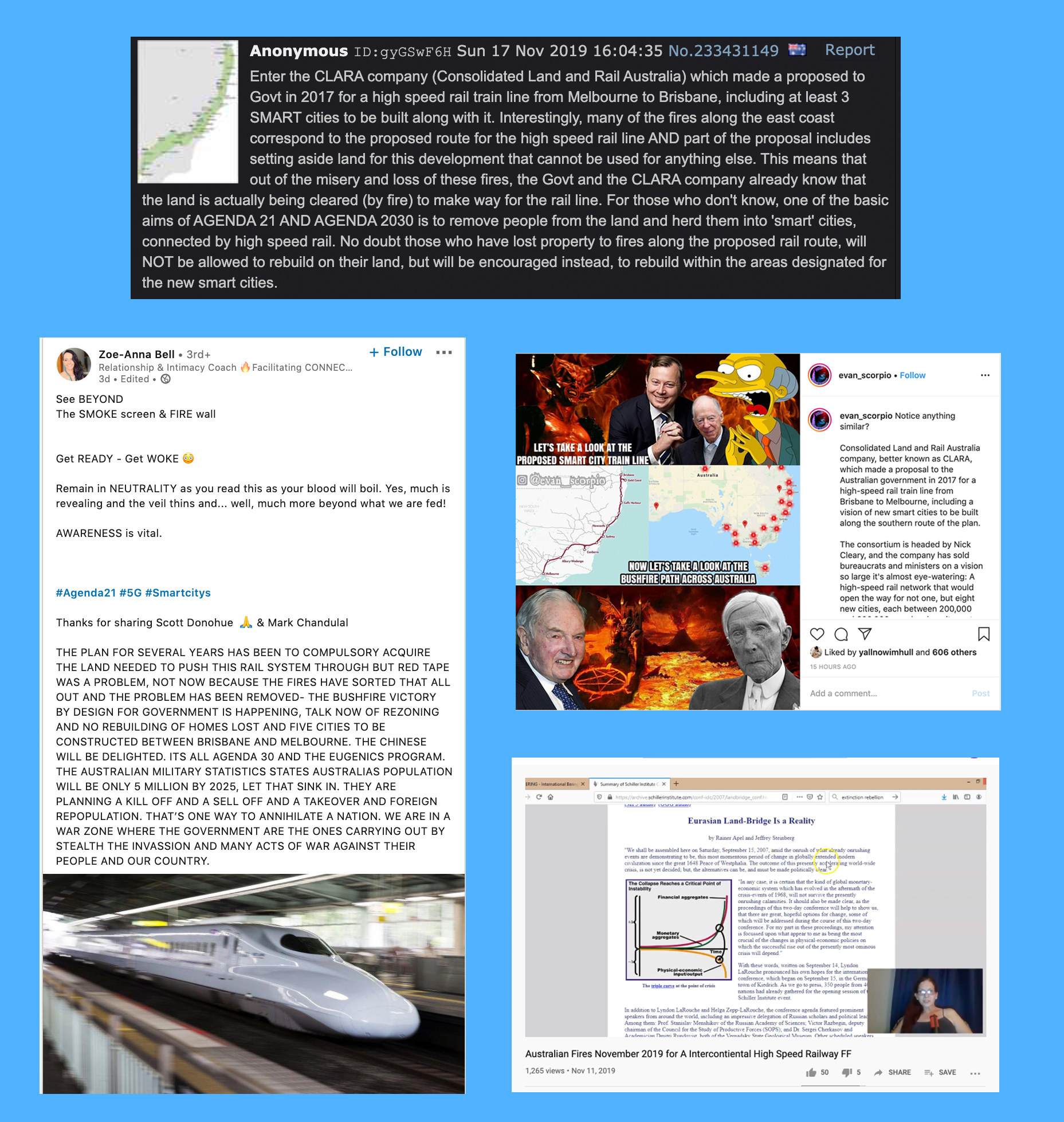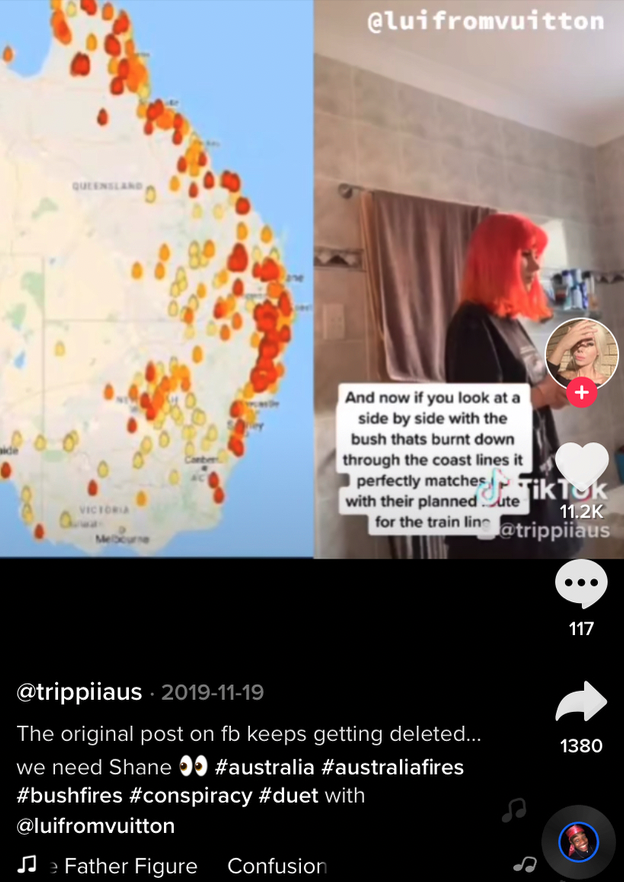 It's even on Pinterest, where a link to an article about the conspiracy theory is the first search result for "Australian bushfire cause".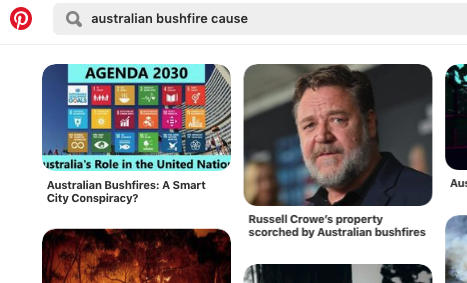 It was also mentioned by Infowars founder and infamous conspiracy theorist Alex Jones on his radio show on January 8.

The theory — which, let's just say it, is not true — alleges that the fires have been deliberately lit to force out land owners and clear the way for the construction of Australia's high-speed rail project, which has been wheeled out as a concept by politicians for decades, only to be promptly returned to the drawer to gather dust.
The theory has several similarities to one spread during the the 2018 wildfires in California claiming the fires were caused by lasers to clear way for their high-speed rail network.
Versions of the Australian theory vary, but most claim the high-speed rail private company consortium Consolidated Land & Rail Australia (CLARA) is working with an Australian government — sometimes federal, sometimes state — to light the bushfires. Some link foreign governments as well. CLARA didn't respond to an interview request from BuzzFeed News.
Many say the scheme is part of the UN's Agenda 21 — a declaration that conspiracy theorists claim without evidence is to create a new world government.
Purported proof of all this in the viral posts does not stand up to scrutiny.

A BuzzFeed News comparison of the federal government's proposed high-speed rail route and areas affected by bushfires during December 2019 show that there is almost no overlap between the two areas.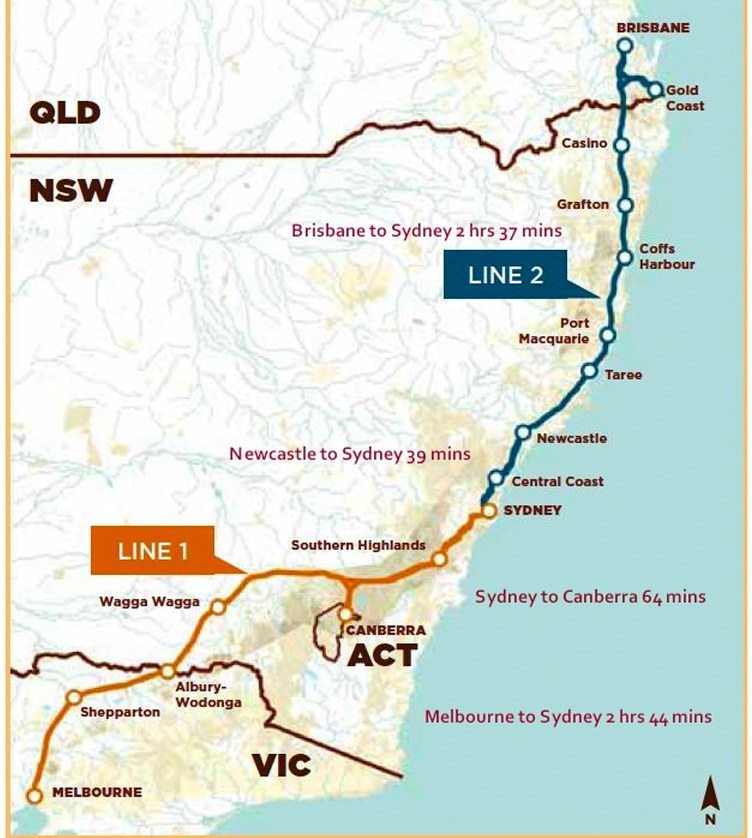 University of Sydney's chair in Transport and Supply Chain Management, professor Rico Merkert, says the theory is ridiculous.

"This is the biggest nonsense I have ever heard and quite possibly an insult to anyone affected by the fires," he told BuzzFeed News. "I am sorry but I don't have time for this."

ANU associate professor Dr Colin Klein has studied why people believe conspiracy theories. Klein says that the high-speed rail bushfire theory is similar to theories that explain why complicated events happened, like the global financial crisis.
"It's much easier to say it's the nefarious greens or high speed rail. It gives you a graspable answer when it's very complicated," Klein told BuzzFeed News.

Klein said conspiracy theories flourish when there's a kernel of truth.
"With many conspiracy theories, when you trace them back, you see why people believe that," Klein said. "One thing we do get in Australia is that state planning policy is fairly opaque. There's a perception that the state government is in the pocket of high paying developers. There's some people who look at this theory and think 'Well, this is the kind of thing that those bastards would do'."
Glenn — who frequently posts about other conspiracy theories such as chemtrails and the negative health effects of 5G networks — claims she came up with the conspiracy theory herself.
"I simply looked at the locations of the fires in NSW and then Victoria as well and saw that they corresponded with the proposed high speed rail corridor," she told BuzzFeed News in a message.
When BuzzFeed News offered to show Glenn a comparison between the high speed rail proposed route and fire-affected areas, she refused to see it.

"I suggest you get your eyes checked. Goodbye," Glenn wrote, before blocking the reporter.