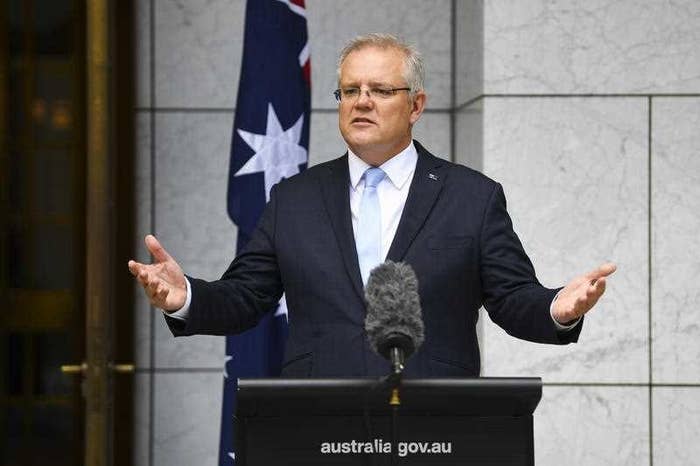 The journalists at BuzzFeed News are proud to bring you trustworthy and relevant reporting about the coronavirus. To help keep this news free, become a member and sign up for our newsletter, Outbreak Today.

In nine weeks, Australia has gone from zero to more than 4,000 cases of COVID-19, the disease caused by the novel coronavirus. In response, the Australian government has taken a range of increasingly severe steps to slow the spread of the virus and flatten Australia's curve.

Here's a timeline of the government's major travel and social distancing announcements since the first COVID-19 case was confirmed in Australia on January 25:
China travel ban — Feb. 1
Confirmed COVID-19 cases in Australia: 12.
The government bans Chinese foreign nationals from entering Australia — with exceptions for citizens, permanent residents, and their direct family members — and recommends no Australian travels to China. These same restrictions were extended to Iran on Feb. 29 and South Korea on March 5 in the weeks before global border controls and travel restrictions were implemented.
Morrison declares pandemic — Feb. 27
Confirmed cases: 15.

Scott Morrison declares that COVID-19 will become a global pandemic and initiates Australia's emergency health plan. Australia is "effectively operating now on the basis that there is ... a pandemic" in terms of its response to the novel coronavirus, he says.
WHO declares pandemic — March 11
Confirmed cases: 128.

Two weeks later, the World Health Organization follows suit. Director-general Tedros Adhanom Ghebreyesus declares COVID-19 a pandemic. "Pandemic is not a word to use lightly or carelessly. It is a word that, if misused, can cause unreasonable fear, or unjustified acceptance that the fight is over, leading to unnecessary suffering and death," he says.
Mass gathering ban — March 13
Confirmed cases: 200.

Australia convenes a national crisis cabinet to lead the country's response to COVID-19. As well, outdoor gatherings of 500 or more are banned, leading to the cancellation of numerous music festivals and concerts, and a brouhaha over whether Morrison should still be attending the rugby league.
Overseas arrivals to self-isolate — March 16
Confirmed cases: 377.

The government requires all overseas arrivals — citizens or otherwise — to self-isolate for 14 days. Cruise ships leaving from foreign ports are also banned from arriving in Australia for 30 days.
Do not travel — March 18
Confirmed cases: 568.

Morrison introduces a range of new measures aimed at stopping the spread of the coronavirus including banning nonessential gatherings of 100+ people. The government's travel advice is raised to Do Not Travel for all countries for the first time ever. Morrison says the crisis will probably last for six months or more.
Borders closed — March 19
Confirmed cases: 681.

Australia announces it will close its borders, denying entry unless someone is a citizen, resident or their direct family member.
Stay at home — March 24
Confirmed cases: 2,044.

Australians are told: stay at home, unless you need to go out. At a late-night press conference Morrison outlines a number of changes to daily life, among them a ban on congregating in large groups, a restriction on numbers at weddings to five and funerals to ten, and a (short-lived) rule that haircuts could be no longer than 30 minutes. Beauty services, cinemas, swimming pools and libraries are among the businesses told to close, and the advice not to travel escalates into a ban.
Quarantine for travellers — March 28
Confirmed cases: 3,640.

All people arriving from overseas are forcibly quarantined for two weeks. People will be quarantined in hotels and other accommodation in the city in which they arrive, regardless of where they live.
Two person limit — March 29
Confirmed cases: 3,984.

The government announces the most restrictive social distancing rules yet. Morrison says there are only four reasons why people are allowed to leave their house: shopping for necessities; medical care or compassionate visits; exercise; or going to work or education if you cannot do so from home. Gatherings outside of people's households are restricted to just two people, and those over 70, or with a chronic illness and over 60, or Indigenous and over 50, are urged to self-isolate.