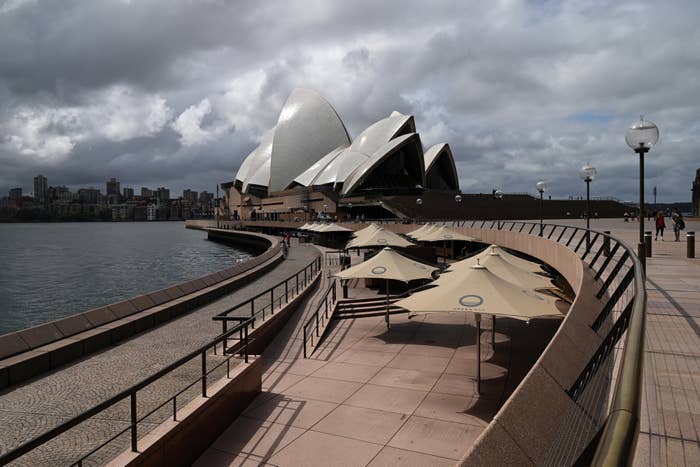 From midnight on Wednesday, Australians will have to abide by a number of further social distancing restrictions to try and protect against the spread of the coronavirus.
Prime minister Scott Morrison announced a long list of rules, restrictions and changes in a press conference on Tuesday night.
What's the 101?
Stay at home unless you have to go out for supplies or for a walk/jog. The "do not travel" advice on overseas trips is becoming an actual ban. The list of businesses that have to close is now much, much longer. You can have five people at weddings, 10 at funerals — and haircuts can only last 30 minutes.
What are the big changes in day-to-day life?
Stay at home unless it is absolutely necessary you go out. Morrison listed permitted activities as going to work, going out "for the basics", exercising, or going out in a small group e.g. with your partner or family members.
You should not congregate outside in large groups. "You should only go outside your home to go to those essential things I talked about, not to go and congregate in groups. We need you to stop doing that," Morrison said.
People are strongly encouraged to work from home where possible.
Home visits should be restricted to very small numbers of guests. No more big BBQs, birthday parties, or even large dinners with extended family, Morrison said.
Weddings are restricted to five people or fewer: just the couple, celebrant, witnesses.
Funerals are restricted to 10 people or fewer.
Hairdressers and barbers can remain open but customers must be in and out within 30 minutes.
Outdoors boot camps and personal training sessions are restricted to 10 people or fewer.
Shopping centres remain open, but the food courts within shopping centres are restricted to takeaway only.
Cafes and restaurants can continue to trade with takeaway only.
You definitely cannot travel now
Last week, Australia put in place a Level 4 warning — meaning "do not travel" — for the entire world for the first time. That warning is now escalating into an actual travel ban from midday Wednesday. There will be few exceptions.
What shops, services and activities have to close down?
- Real estate auctions and open house inspections
- Beauty therapy, tanning, waxing and nail salons; tattoo parlours
- Spas and massage parlours
- Cinemas, nightclubs, casinos, gambling venues, adult entertainment venues, concert venues, theatres, stadiums
- Amusement parks, arcades, play centres (both indoor and outdoor)
- Community and recreation centres (can only stay open for essential services e.g. food banks), health clubs, fitness centres, yoga, barre, spin class, saunas, wellness centres
- Social sporting activities (aka, do not get together with your mates to play soccer at the oval), swimming pools
- Galleries, museums, national institutions, historic sites, libraries, community centres
OK, what about schools?
The advice on schools has not changed. That is: kids can still attend.
Morrison said he would meet with the education minister and relevant unions tomorrow to talk about how to keep schools open while protecting teachers and other staff.
Pressed on the incongruity of the above restrictions with the advice that kids can continue going to school, Morrison said schools should remain open so parents who have jobs such as nurses, doctors, Centrelink officers, etc, can continue to go to work.
"What we don't need are arrangements we put in place which compromise society's ability to function and deliver important services, whether that is aged care, whether it is education, whether it's driving a tram or providing public transport," he said.