THE BUSINESS CHALLENGE
Agoda is one of the fastest-growing online travel booking platforms in the world. Between its headquarters in Singapore and offices in over 30 countries around the world, Agoda provides a network of over 1.8 million accommodation properties backed by over 22 million real traveler reviews. While Agoda is well-known in many Asian markets, the company is now focused on building awareness of its brand globally – no easy feat within such a competitive landscape. Agoda set out to reach and engage a mass audience within the US to further establish itself as the travel expert and go-to resource for experiencing the world.
GOAL
Drive mass awareness, virality, and engagement among travel-interested US consumers, ages 25-44.
STRATEGIC INSIGHT
A recent Agoda survey conducted by YouGov revealed the travel habits that consumers find most annoying around the world, with mobile device addiction towards the top of the list and second only to noisy travelers. A staggering 47% of the global respondents indicated their irritation with travelers glued to their mobile devices, and 21% found selfie-takers most annoying. Inspired to encourage travelers to pay attention and enjoy the moment, Agoda created a humorous highlights reel of the fails of people who are so focused on getting that Instagram shot or Snapchat video that they find themselves in avoidable accidents. This was narrated by 'Ozzy Man' - well known for his no bull#$% approach to telling it straight, namely how foolish the protagonists in the highlight reel were.
Agoda sought BuzzFeed's expertise to help amplify the asset to the right audiences, creating relevance around the footage curated through reasons you should 'put your phone away'.
MAIN IDEA
The strategic insight came to life in the form of two custom articles and four BuzzCuts. The custom articles used a list format featuring humorous examples of why you should put away your phone on your next trip, and different times that selfies almost ruined vacations. The BuzzCuts, which are client assets adapted for max performance across social and the BuzzFeed site, were short and entertaining videos that built on these concepts, using vacation wipeouts and train and bicycle mishaps that occurred during travel.
Custom Article 1: 9 Times A Selfie Almost Ruined Your Vacation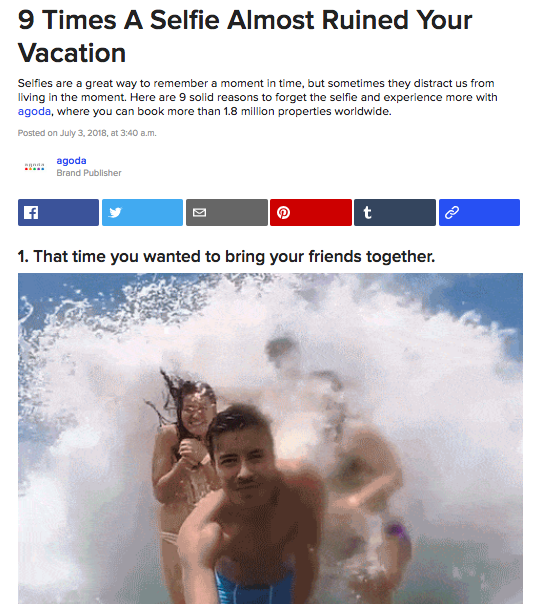 Custom Article 2: 10 Reasons To Put Away Your Phone On Your Next Trip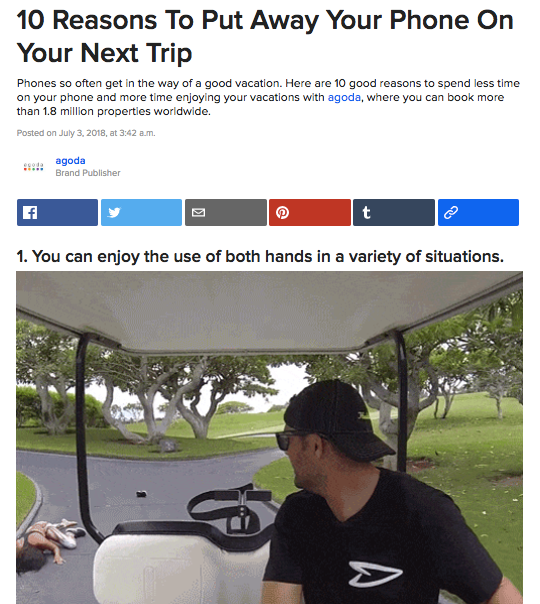 BuzzCuts: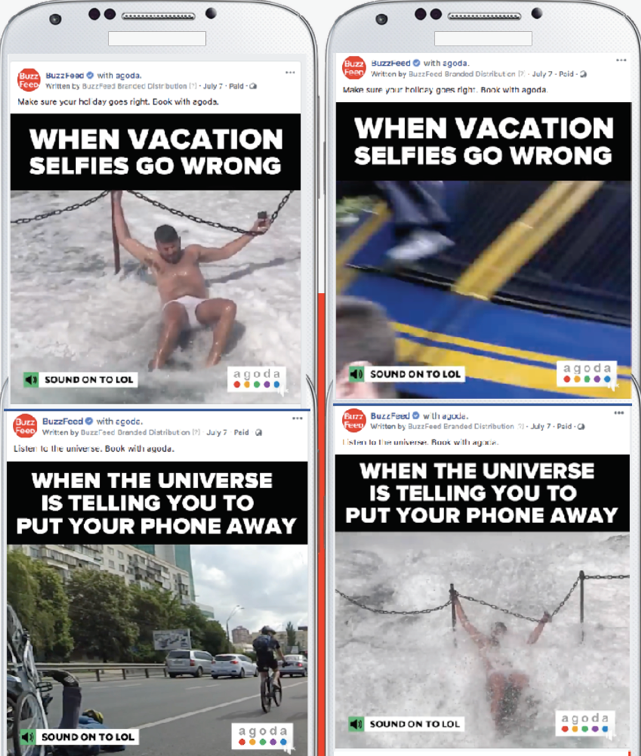 DISTRIBUTION STRATEGY
The audience owns the power in digital & social, so we prioritize the audience experience with our insights-driven content that is built intentionally based on audience interests and behaviors. The content is then distributed from trusted handles that the audience or their networks follow, and optimized towards the most engagements. For the Agoda campaign, we used a combination of BuzzFeed custom travel audiences and Facebook interest/behavioral targeting. We reached travelers across BuzzFeed, Facebook, Instagram, and Snapchat, and not only connected with these consumers, but also inspired them to take action. Viewers were highly engaged and spent time with the custom articles, often clicking through to the Agoda website or swiping up to learn more.
This strategy led to success, with click-through rates for BuzzCuts exceeding benchmarks by 10x on Facebook and by 45x on BuzzFeed! Additionally, the average engagement rate of 0.11% was double the benchmark, underscoring the creative relevance of these social assets.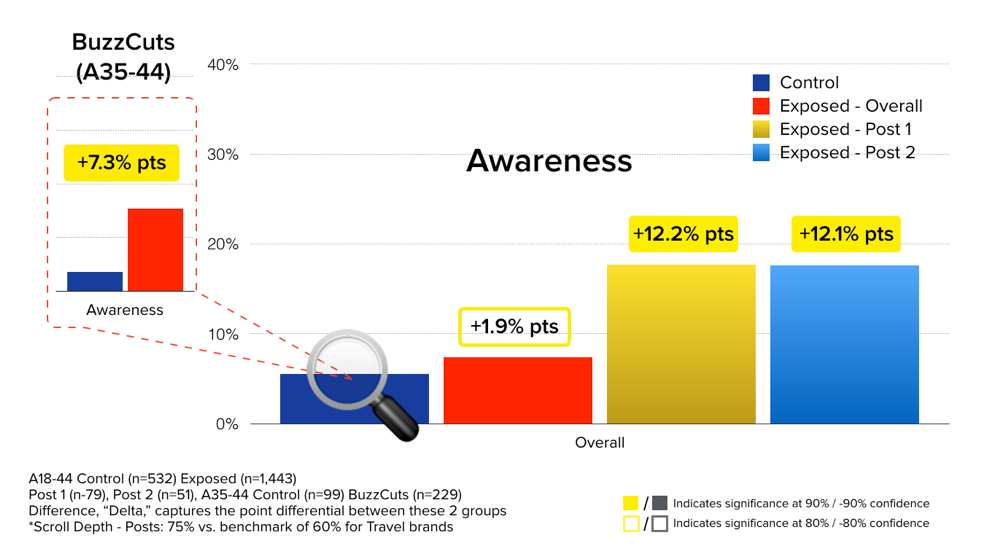 We also ran a Millward Brown live recruitment study to measure success of the campaign's main KPI of increasing awareness of Agoda. The results showed a 320% increase in awareness for those sampled.
KEY TAKEAWAYS
Agoda continues to connect with young travelers, by simply and authentically speaking to and encouraging them to see and experience the world around them. By partnering with BuzzFeed, Agoda was able to tap into and impact new audiences and encourage these consumers to get off their phones, and get on their holidays, unlocking for them a world filled with opportunity.
"We are excited to continue testing new approaches to content marketing with BuzzFeed, especially in markets where we are still relatively unknown."

– Mike Kost, Head of Global Media