Social Distancing Pioneer Oscar The Grouch Is Reminding Everyone To Stay Home
TV legend, icon, and voice of reason in these difficult times.
So in case you didn't know, Oscar the Grouch isn't just the most relatable muppet on Sesame Street.
And while he has been quiet on Twitter recently, he came back on earlier today to tweet an important message for everyone:
That's right: Oscar wants you to stay home and practice social distancing!!!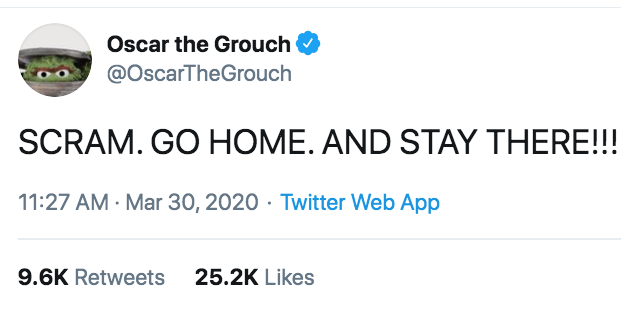 And of course, people were happy that Oscar was reminding people to stay home:
While others pointed out that Oscar has been an advocate of social distancing since, like, FOREVER:
All I have to say is, thank you, Oscar!!! And everyone scram and go self-isolate at home!!!