Why Are You Still Not Watching "The Good Wife"?
Season 6 starts January 29 on More4, and it's still The Best Thing on Telly™.
It's easy to get engulfed in the fog of hype around TV shows that fans assure you are The Best! Thing! Ever! Think of every HBO series ever – regardless of quality, duration or cultural impact – and consider how many of them actually changed your televisual life. Not that many, right?
Well, hold on to your hats.
Because The Good Wife – the smart, funny, heartbreaking, exciting, brilliant, and Peabody and Emmy award-winning The Good Wife – is amazing. It is – by some margin – the finest drama currently on the air. Indeed, It is one of the best TV dramas of all time. Yes, that is my final answer, and no, I am not taking any questions at this time.
If you're the kind of viewer for whom the word "wife" in a programme title makes you recoil in horror – first of all, what's wrong with you? Second, don't let that put you off. The Good Wife – with its starting point of a shamed politician and his loyal wife – soon mutates into something far more interesting. This is quality drama, with incredibly well-rounded and realised characters, full of whip-smart writing, genuine tension, and high stakes, and with showrunners who are unafraid to take big risks (that sometimes fail, but more often than not deliver BIG results). It is thrilling to watch television that treats you like a grown-up and offers you up morally ambiguous characters who are not all…straight white men (there are a few present, though).
In Alicia Florrick (Julianna Margulies), the titular wife, we see complexities not often afforded to women in "serious" dramas – yes, she's playing some powerful man's wife, but she's so much more than that. She's powerful too, and through the years and the seasons this power becomes increasingly consolidated. Her domains include the family home and the office, but there's also room for her love life and her sex life (often two separate things), as well as dilemmas that do not centre – or even include – the various men in her life (The Good Wife often passes the Bechdel Test with flying colours). She is "Saint Alicia", as the press call her, but she's also a real person, which means flaws and warts alongside the wine and roses.
And that's not all. In addition to the great male members of the cast (Chris Noth is consistently fantastic, Matt Czuchry is doing some awardworthy, career-best work this season, and Josh Charles co-created some of the most memorable lift-based television chemistry of the last 10 years), The Good Wife has amazing women. In addition to Alicia, there is Kalinda Sharma, an investigator with a pleasingly flexible moral code (played by Emmy-winning British actor Archie Panjabi) and wearer of the mythical Sexy Boots of Justice™. There's also Diane Lockhart (Christine Baranski), whose fine legal and political mind is equalled by her genius accessories game: There are Pinterest boards dedicated to her brooches and necklaces.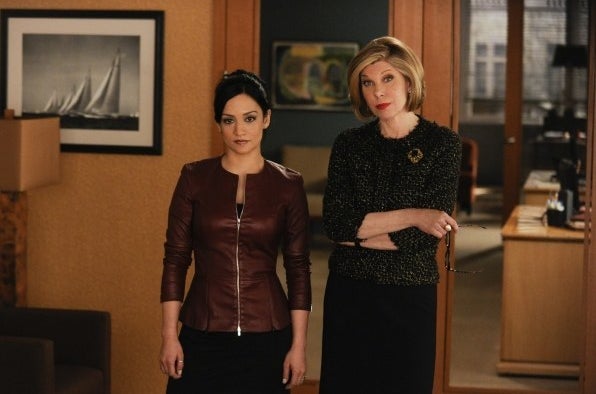 We heard you like women – here are some women: Kalinda Sharma (Archie Panjabi), Diane Lockhart (Christine Baranski), and Alicia Florrick (Juliana Marguiles).
And that's before we begin naming the incredible guest stars who have graced the show with their star power: Anika Noni Rose, Gloria Steinem, Michael J. Fox, Taye Diggs, Nathan Lane, America Ferrera, Stockard Channing, Michael Ealy... The list is impressive, and long.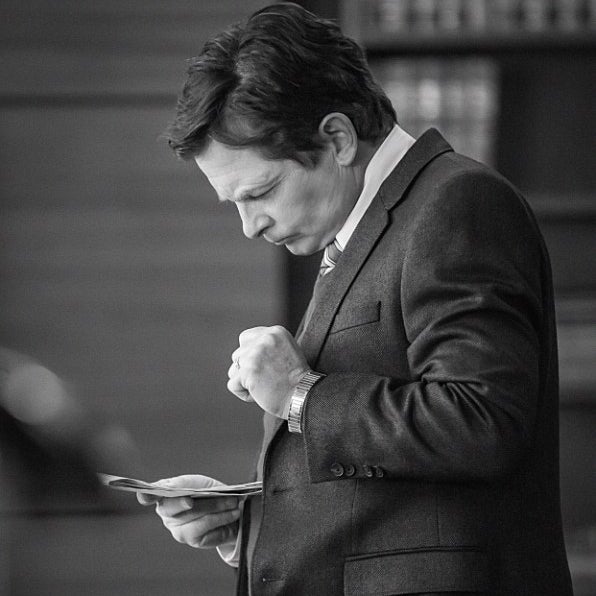 All of your guest stars are belong to us. Left to right: Michael J. Fox, Carrie Preston, Anika Noni Rose.
It bears noting that The Good Wife airs in the US on CBS, which is hardly the home of the edgy boxset dramas UK audiences are used to binging on. The last season on More4 was the channel's "highest rating acquisition of 2014", according to a Channel 4 press officer, attracting an average audience of 540,000 per episode, which is significantly higher (up 61%) than the average audience for the slot.
Even so, and despite my ongoing campaign to recruit viewers, there are people here in the UK who still don't know about The Good Wife. But it's not too late! The sixth season finally arrives on British telly tonight (9pm on More4), and the first four seasons are available on Netflix UK – with the fifth being added on 31 January. You can still turn this ship around. You won't regret it.