Kayode Ewumi knows he is going to be successful – it's a fact. "I don't see myself competing against anyone," he tells me on a warm October afternoon. We are sitting in a quiet corner of the Lyttelton Lounge on the first floor of the National Theatre, waiting for Ewumi's writing partner to turn up. "I'm running my own race," he says. "And by that I mean I have my own destiny. God has his own plan for me. So I have to stick with my plan and be committed."
On the internet, Ewumi is famous enough to have spawned memes: His face – captured, moon-like, in phases – has become a multipurpose reaction tool for when words simply aren't enough. There are Vines of him, and even fan art. It all comes down to one big bang moment: #HoodDocumentary, the mockumentary he co-created with lifelong friend Tyrell Williams.

#HoodDocumentary is kind of A Big Deal. While its central character was showing up in Vines as early as July 2015, it wasn't until August that Ewumi tweeted a 28-second clip with the hashtag "#HoodDocumentary". In the clip, dressed in a black leather jacket with no shirt, and a gold pendant in the shape of Africa glinting on his bare chest, Ewumi attempts (with a noticeable lisp) to deliver a freestyle rap. Nonsensical shoutouts to, variously, "the mandem", "slipster", "stampster", and "249" are pitch perfect – exactly the sort of low-budget grime video an up-and-coming MC would put out – and by the time he taps the pendant and raises a pseudo-solidarity black fist, you're sold. For those who haven't seen it, there follows a top notch visual gag I will not reveal but that, too, is perfect. It was the official birth of #HoodDocumentary, and the proper launch of its man-on-the-street star, Reece Simpson aka RS aka "Roll Safe".
A 22-minute episode dropped on YouTube on 11 October, picked up 100,000 views in less than a week, and today sits at just under 2 million hits. A second episode arrived in November before being yanked from YouTube (but more on that later) and gained fans like grime superstars Stormzy and Skepta (whose hit "Shutdown" was the soundtrack to an earlier trailer). Then in early December, just two episodes in, Ewumi and team announced a hiatus, in order to "pursue other projects in other genres and explore our creativity". Fans cried out. But as RS might say, roll safe.

Ewumi has plans that reach far beyond Reece and his famous leather jacket.
Kayode Ewumi, 22, was born and raised in Elephant and Castle in London, where he still lives. He is the middle child in a Nigerian-British family that laughed a lot – "My mum is the funniest," he says. "Like, she's got jokes. She has the most random stories."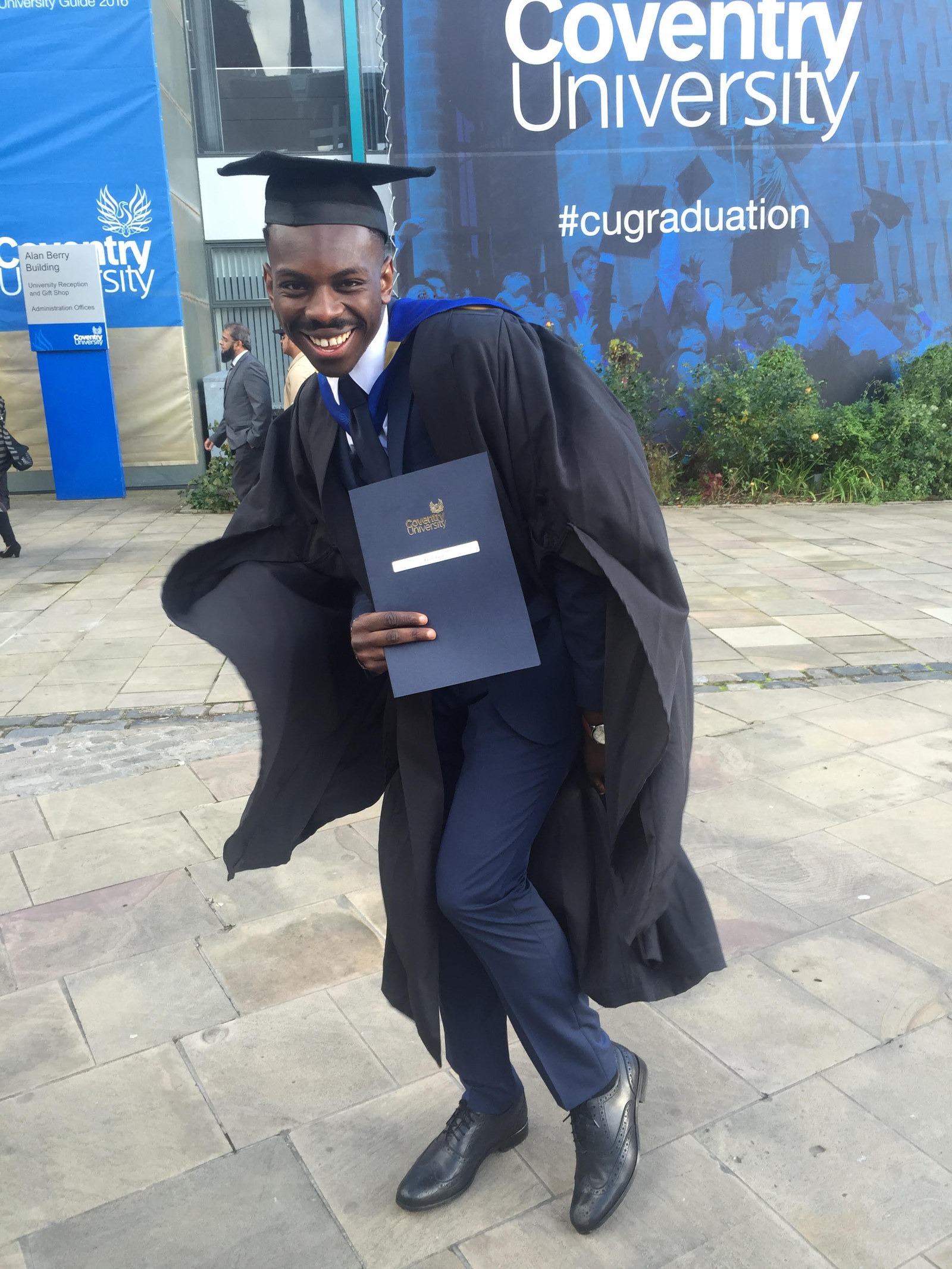 As a child, growing up on the Aylesbury Estate, he had a big imagination. "I enjoyed being in front of the mirror and making funny voices," he says. "I was always present – I wasn't away with the fairies – but I had my own world." In year 5 he met Tyrell Williams, co-creator and co-writer of #HoodDocumentary, whom he calls his brother ("He's a blessing from God. He speaks sense, and that's what I need around me.") At City and Islington College, he studied drama and theatre studies among other subjects, and has nothing but praise for his drama teacher there, Victoria Meager.
After winning a place at Coventry University to study journalism, he switched courses to theatre and professional practice within days, because "that's what my heart resonated with". He learned about practitioners like Bertolt Brecht and Steven Berkoff, and graduated with a first last summer (he discloses this with a wide, proud smile). He is again effusive about the talents of one of his lecturers there, Glenn Noble. "Glenn and Vicky [Meager] taught me how to conduct myself as a professional actor, but also as a human being – and what it was to be great." The course itself afforded Ewumi the chance to do "a lot of group work, a lot of collaboration. I enjoy collaborating with people who are just like, 'let's do it, let's go.'"
In the case of #HoodDocumentary, he joined forces with Williams (who also voices the unseen and bemused filmmaker of the mock documentary). The two had been messing about on Vine after uni ended in the summer, and RS came about very organically. "I did a Vine I wasn't happy with, and T was like, 'Why don't you just try you stalling the car?'" Ewumi complied. "And I said 'roll safe' to some imaginary youngers." Serendipitously, Ewumi had his dad's black leather jacket with him. "I took off my shirt, had the chain on, and it happened. We did another video with him, and this character was forming."
Around the same time, he attended a party and was chatting with spoken word artist Suli Breaks and another friend, Ayo Ogunjimi. They asked if Ewumi had seen the BBC Three comedy People Just Do Nothing. He hadn't – but when he did, he found it "hilarious, probably one of the funniest things I've watched. And I said, 'T, why don't we make a mockumentary?' And T said, 'Let's make it happen.'" Ewumi claps to punctuate the big bang of their project. By the time it had settled around the 22-minute mark, they decided their material was "captivating enough" to survive at that length.
This is the only time during our conversations that Ewumi sounds even vaguely cocky; it is apparent that he and Williams knew exactly what they had created – a singular and immediately memorable character of the type that inspires affection and picks up fans with ease. And so it came to be.
Their videographer and director of photography was fellow Coventry alum Rey Maunze, and they shot quickly, around the vagaries of a British summer. "We did it independently," says Ewumi. "A lot of people want it easy. They want it quick, but it takes time." He drags out the last word for emphasis.
The thing about RS is that he is sort of familiar, even as he is someone we're not used to seeing on TV every day. He is not a generic character, says Ewumi. "There's more to him, and that's what we were trying to show. With his dialect, his vernacular, you're thinking he's a typical..." he tails off. "But then you look at the way he dresses, and you're left thinking, What is this person?"
It's true: RS's sartorial choice is the most initially arresting element of the character – an instant classic, a tailor-made Halloween costume for internet kids. Is the jacket real leather? Ewumi has no idea. The whole look is reminiscent of a young Eddie Murphy, and, in conjunction with Ewumi's haircut, I have to ask: Is Murphy a strong influence? "You know what? To be honest, no." He laughs.
#HoodDocumentary is recognisably London in its interiors and exteriors, and in the character of RS, Williams and Ewumi challenge the idea of what it is to be a young black man in London. In a world of Dushanes and Sullys (from Channel 4's Top Boy), RS stands out as an alternative representation of onscreen black masculinity. Writing him was fun, Ewumi says. At his core, RS is just trying to figure out who he is. "He's got a good soul. He's a sweet guy, who's moved around a lot. He probably met LJ and Hannah in the youth club and wanted to make friends. He has high spirits and that vim to go and do things. And it's not about if you're good or not." He brings up RS's "triple threat" claim from the first episode – 'I can act, I can sing, I can dance.' "As young people, a lot of the time, we feel like if we're in a certain environment, we have to try and fit in. That's the thing Reece is trying to find: Do I have to talk like this to try and fit in? Or can I still be myself – wear my leather jacket, my chain, my haircut, keep my 'tache – and walk around?" In essence, the show and the character is a sort of inquiry into identity. "Really and truly, [RS] is not hood: That's the gag of #HoodDocumentary," says Ewumi. "No one in it is really hood. That's the whole underlying thing of it: What, exactly, is 'hood'?"

The beginning of the first episode looks like a very specific sort of documentary: a montage of urban council blocks, workmen wearing orange high-visibility vests, London buses whizzing past, and a series of shuttered shops filmed from a moving vehicle. It even sounds like one too: The voiceover informs us, "London youth are quickly leaving violence behind to embrace an emerging culture of artistry, creativity, and independence." If #HoodDocumentary were real, it's fair to say its primary audience would be white, looking to "learn something" about the urban youths of whom they've read so much. With that in mind, then, the show is a send-up on two fronts: a straight-up mockumentary with a fictional protagonist, but also a weighted nod and wink to the consumers of this sort of programming. Ewumi is aware of this. "I think it's beautiful," he says.
For RS "hood" is having big dreams and a pseudo-inspirational motto that matches his initials – the gently lisped catchphrase that has become shorthand for a specific brand of sweet and harmless ineptitude.

Back when he was producing Vines on a semi-regular basis, his uploads included smart and affectionate shots at specifically British things like soaps, gangster films, and low-budget grime videos. Ewumi is serious about being an actor. The first time we meet, in October 2015, he has just come from filming a project he wrote, and last summer he starred in a short film (co-written by Nicole Rachelle-Moore and Tyrell Williams), about a young man faced with an unexpected pregnancy. When he's not working on his own projects he's a part-time usher at the Young Vic theatre.
I ask if he thinks the current wave of creative young black Brits might be a minuscule counter to the much-reported brain drain to America of British talent. After a long pause and a deep breath, he speaks slowly. "It's picking up," he says finally, "especially for young black actors and actresses. A lot of people can now showcase their talent through social media, which is amazing, no matter what colour you are." He himself has had castings off the back of #HoodDocumentary. But he worries there's a downside to success on the web. "It could be detrimental – because it could just stay online. For people who want to be actors on that theatre stage, on TV..." he doesn't finish his sentence but his face expresses the rest of his sentiment clearly. The genre of web content that seems to do well is also worth noting. "Sometimes, it's the comedy that's received the best," he says wryly. "No one wants to see someone do no monologue, you know? Even if it's really good! You just wanna laugh, I guess." He sighs, then smiles. "The creative scene is improving, but there's much more that can be done." "I want to challenge and push myself. I'm 22 years old. I love making people laugh. But it's not the only thing I can do. I also want to make you cry." Ewumi throws back his head to laugh at his own earnestness.
It's the comedy that makes people stop him – and sometimes his dad – in the street. "I get approached literally every day when I'm out. Every single day. Someone will either take a picture, shout 'roll safe', give me a hug, stare at me for ages, or just literally laugh." What, people laugh in his face before even saying anything? He nods. "When people see me on the street, that's the first thing they do. A lot of people assume that I'm just so hilarious. I think I know how to make people laugh... But I don't think, like, I'm..." He chuckles, and enunciates slowly. "I'm not. That. Funny. I co-write a good joke, but some of it is improvised. But I think a lot people feel like, 'this guy is gonna make me laugh straight away' and when I'm talking, they're thinking, 'this guy doesn't have a lisp.'"
He's particularly pleased to note how many young black boys come up to him to congratulate him. "[These boys are] not giving me dirty looks or trying to be rude," he says. "They're laughing, smiling, motivating me, 'Bro, keep doing what you're doing. We love it.' And it's amazing. This work is touching so many people, especially young black boys out there who feel like they have to do this or that [to succeed]. Do it yourself. If it's good, it's good. If it's not – it's not." He laughs quietly, almost to himself. "It's that basic. That's it."
Ewumi has seen his profile explode over the last few months: YouTube is full of the seemingly unending interview tour he's undertaken. Last November, he attended the Mobo awards, having a good time on the red carpet. He also popped into the studio – in character as RS – on Charlie Sloth's BBC 1Xtra show. The result is a lot of fun: With Sloth as a natural foil, Ewumi plays RS entirely straight and with no vanity. But the truly fearless performance comes during his turn on Sloth's Fire in the Booth slot, when RS steps up to the mic and spits offensively inept rapping. "The lyrics were good, weren't they?" he says, smiling. "Charlie's nice. The majority of my friends were there and we had a ball." The clips are all over the internet, and Ewumi says he's even seen footage of DJs playing it in clubs. How does he feel about that? "I squint my eyes and I shake my head [he mimes this]. How? This is what we've done. I've seen some bizarre things.
"But it's all a blessing because these people have taken the time to watch it."
When we first spoke, in October 2015, the first episode of #HoodDocumentary had been out for less than a fortnight and Ewumi told me he and Williams had agreed to three episodes. In December they announced that they were taking a break from making the show, and then shortly after that the second episode mysteriously disappeared from YouTube. Fans are distraught – what on earth happened?

Ewumi is a little cagey in his response but assures me there were very good reasons behind pulling the episode. Here's the bad news: It doesn't look like it will be back any time soon. But good news: Something is en route. "Tyrell and I have done something which is really special," he says. "But it's not going to be episode two or three. And I guess when you see what we've done, you'll understand." He pauses for effect. "Just say there's a surprise in store. And that's all I can say on that."
In the meantime, the team behind #HoodDocumentary are working on another project, a sitcom this time. "I created it, and T and I are writing it together again. Tyrell will direct it, and Rey Maunze will again be head DoP." At this point, his grin is wide and very toothy. "I don't know why I'm smiling so much!" he says, unprompted. "You know when you can't say much, but you want to? I've never been able to hide smiles, ever since I was young. It's ridiculous. Can't stop smiling."

When he talks about his future, he is a mix of millennial energy and old-fashioned first-gen Nigerian. He's turned down a lot of offers ("I say no 80% of the time. If it's not right, it's not right") but says he tries to pass along opportunities where possible. What does success look like to him? His answer is immediate. "Just be happy. That's the plan: to be happy and to continue making work." I tell him it's a wildly romantic outlook. "It is, yeah!" he agrees. "I just want to be happy, and I'm happy making work – I enjoy the physical work, I enjoy writing the scenes that might never be published – so I'm going to do it. I'm happy having my friends around me.
"I just want to be happy. And that happiness came from me, performing on stage and having that round of applause, or writing with Tyrell, and going to work and watching theatre shows, you know? Are you writing so you can be famous? So you can get awards? Write because you love it. Don't make it a burden, you know?"