This Is Why People Are Mad At Omari Hardwick For Kissing Beyoncé At The NAACP Awards
"We women so often get touched, kissed, groped & poked in instances exactly like this. WE DON'T LIKE IT."
Despite usually being somewhat private and elusive, Beyoncé has shown face at a handful of award shows over the past month, for the first time since the Grammys in 2018. Last week, she attended the GLAAD Awards, where she and husband Jay-Z were honoured for their "LGBTQ allyship" and helping to "[accelerate] LGBTQ acceptance".
Then, over the weekend, Beyoncé popped up at the NAACP Image Awards, again alongside Jay. This time, she picked up the gong for Entertainer of the Year, beating the likes of Chadwick Boseman and Regina King.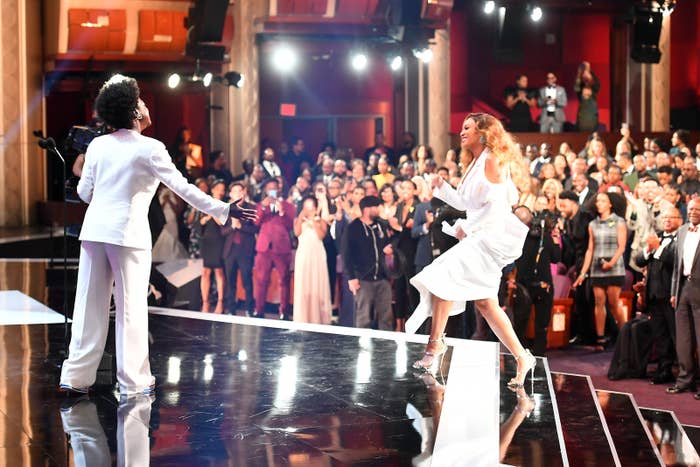 However, the appearance wasn't without its controversy. At the beginning of the night, videos emerged on Twitter of Beyoncé and Jay-Z arriving to take their seats. They were met with a round of applause as soon as they entered the room, with many people approaching the couple to greet them.
One of those people was Power actor Omari Hardwick. Videos show him first shaking hands with Jay-Z before he leans in to kiss Beyoncé's cheek. However, as he pulls away, he goes for another, which awkwardly lands pretty close to her mouth.
People immediately began voicing their opinion on the awkward encounter, calling it "unnecessary & uncomfortable".
The whole thing brought up a conversation about boundaries, which some believed Hardwick had crossed.
However, some people highlighted the fact that more focus was being placed on Jay-Z's reaction than on how Beyoncé might be feeling.
Others weren't so sure that the situation was anything more than an "awkward interaction" that just happened to be caught on video.
Some also wondered if it was a cultural thing that had been misconstrued.
BuzzFeed has reached out to reps for Omari Hardwick for comment.