7 Incredible Beauty Products That Are Actually Worth Your Money
Tried, tested, and loved by BuzzFeed editors!
by
,
,
,
,
,
,

1.
Wish Formula Squish-and-Bubble Mesh Pad — $7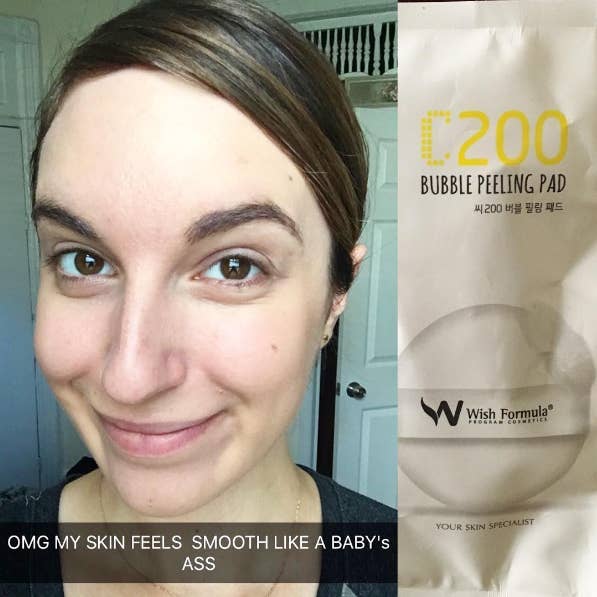 2.
Belly Bandit "Don't Sweat It" Bra Liners — $19.95
Everyone loves summer. The sun is out, the birds are chirping, and you can find a frozen version of your favorite alcoholic drink almost anywhere. My boobs, however, HATE summer. I grew up in Miami, where I experienced occasional boob sweat, but it wasn't until I moved to New York that it became a daily summer occurrence. It's gross and uncomfortable and it makes you feel like you have two kiddie pools under your breasts at all times. So this summer I decided to try something to control the sweat. I went on Amazon, typed "boob sweat," and the Belly Bandit bra liner came up, so I ordered it.
When I opened the box, I realized it was just a piece of fabric that kind of looked like a long bird, but hey, if this long bird can wipe my boob tears away, I will give it a try. I stuffed it under my bra and walked home one hot afternoon. My walk home is about 30 minutes, which = a lot of boob sweat.
When I got home, I didn't feel as sweaty and sticky as I usually do. I took out my bra liner and realized it had absorbed all the sweat, saving me from having to deal with a wet bra all day, so that was a nice surprise.
Pros: It does serve its purpose: It absorbs sweat and leaves you with a dry bra. It's also great for when you're wearing certain things, like silk or satin, that make boob sweat apparent and visible, like Katherine Heigl's boob sweat. It's also great because you can just buy a couple of these an throw them in the washer, without having to wash your sweaty bra every other day.
Cons: It is literally just a piece of fabric, so $20 is a bit much. If you're lazy like me, you're probably better off buying it online. But if you're crafty, you can make a DIY version for way less. —Daniela Cadena
3.
Tom Ford Eye Defining Liquid Liner — $57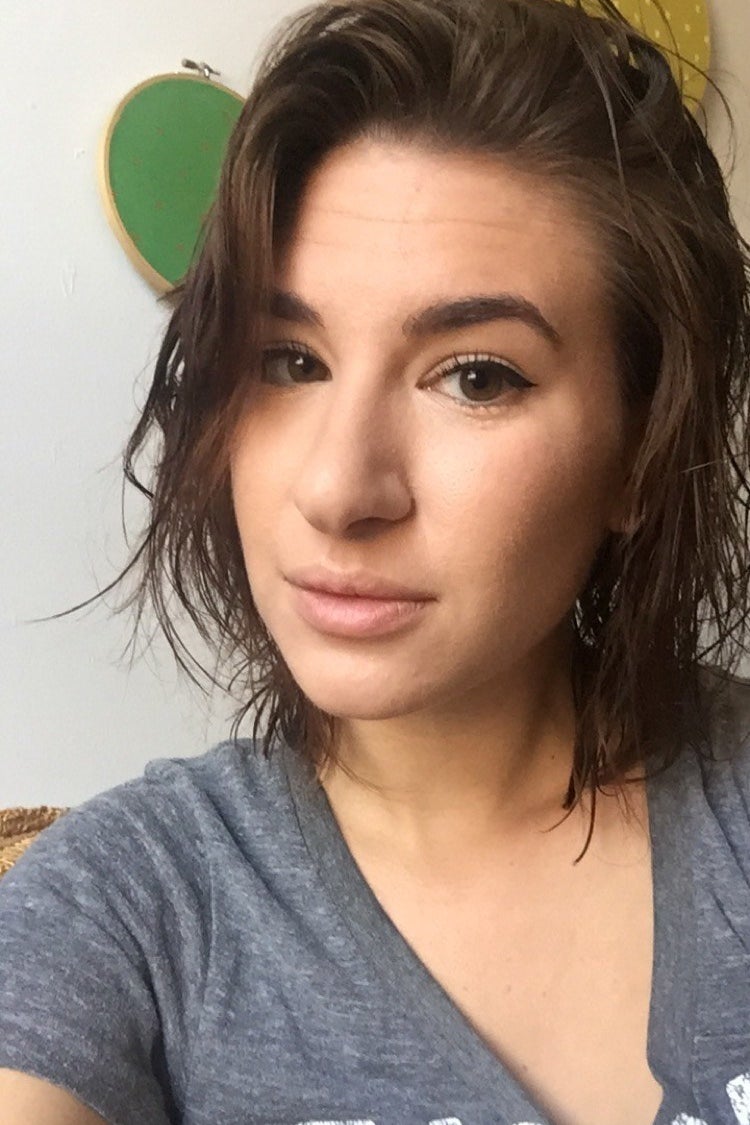 Hi, please come back, I know this single eyeliner costs more than a fairly nice dinner at a restaurant or ~5 bottles of okay wine, but I promise, it's worth it.
Okay, so: For most of my life, I was the type of person who would haphazardly buy a lot of different versions of a product in order to find the one I liked best. I couldn't make it out of CVS or Sephora without some new beauty product, usually a slight variant of something I already owned and liked just fine. Nothing was ever PERFECT, because I just hadn't found the right one yet.
But, of course, that kind of experimentation quickly saps you of all your money and leaves you with one of those under-bed storage containers full of barely used makeup, as well as a general gnawing sense of straining toward something you can't seem to reach. And then came this eyeliner. After reading a couple of glowing reviews, I figured I'd give it a shot — it was pricey, sure, but if I liked it I would save at least that much in trying and failing to find a better option over the next year.
That was in January, and I haven't even thought about buying a different brand. This thing WORKS — the color is just as dark as it was seven months ago, goes on incredibly smoothly, and lasts all day. (Once I took a shower without remembering to remove my makeup, and while the rest of my face looked super murdery afterward, my wings looked as sharp as ever.) The pen feels heavy and important in your hand, like a magic wand, and the two tips — one larger for more dramatic looks, and one more precise — have barely frayed at all, an issue I've had with lots of other felt-tipped liners. I'm sold.
I've started to feel this way about a lot of things — the clothes I buy, the home I live in, the people I date. And look, experimenting is fun and necessary! It helps you figure out what you do and don't want. But I am ready now to invest in things that work for me and are sure to last a long, long time. —Alanna Okun
4.
Lush Dark Angels Face and Body Cleanser — $12.95–$31.95 depending on size
I am very picky when it comes to face wash. I've tried pretty much every drugstore face wash you can think of, and I've never found one that I liked enough to buy twice. Until I tried this. The charcoal craze seems to have been around for a couple of years now, and at first I was hesitant to give it a try. But now I'll never look back. This stuff is like magic. It makes my face feel CLEAN. It's powerful. And I don't like putting a ton of chemicals into my pores, so I like that all of the ingredients are listed and I can pronounce them. I've now gone to Lush four different times to buy this, and that's a record with face wash and me.
The Pros: Deep clean, smells nice, actually keeps my skin looking pretty clear, affordable, doesn't make me gag. Also, the name is cool as fuck.
The Cons: Will leave a dark residue on your skin, so I usually use a very small amount of coconut oil to wash off the residue. It's super simple. But if you use it in the shower and think that just plain old water will remove all the stain from your skin, you're wrong. —Lara Parker
5.
Milk Makeup Eye Vinyl in Bridge — $20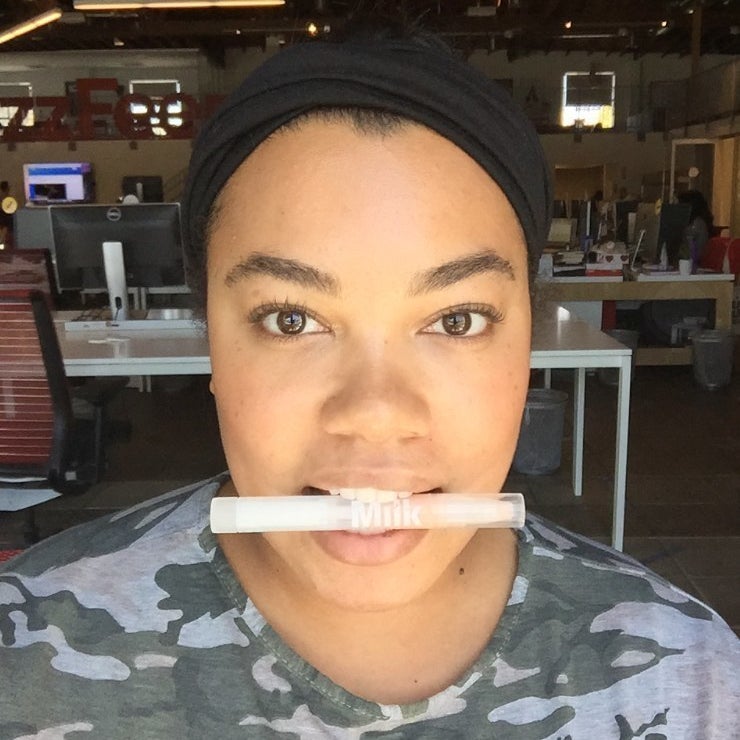 In my dreams, I'd leave the house with an easy, I-woke-up-like-this face of makeup perfection. Unfortunately, in reality my eyelids are so oily, they must've spilled from a BP prospect. Apparently the hot new thing in beauty is that glossy-eyelid look, but for someone with the eyelids of a napkin after it's been used to dab the oil off a piece of pizza, that's never been attainable.
I made the unfortunate decision of trying the look with some lip balm (don't attack me, the beauty blogs said I could, OK?), and that creased/came off/made my mascara look like I just swam against Ledecky in Rio. I had given up. But then my sister said she'd take me to Sephora for my birthday, and I gravitated toward Milk Makeup's Eye Vinyl. I had tried some of their products before and they were fine but definitely not stuff I became obsessed with but I was like hey, free thing, I'll bite.
AND I'M SO GLAD I DID. It is so easy to put on AND it does not crease, it does not disappear. Ever. And I don't even use primer with it! While a product like this should make mascara rain down my face, everything remained pretty flawless. This photo was taken at 2:30 in the afternoon, after I had walked 2 miles in the LA sun, and I still didn't need to reapply. Can we say magic? This is perfect for that on-the-go glow. Milk also makes it in a black color called Tunnel, which is already in my online shopping cart. —Sheridan Watson
6.
Benefit Ka-Brow Eyebrow Cream Gel Color, $24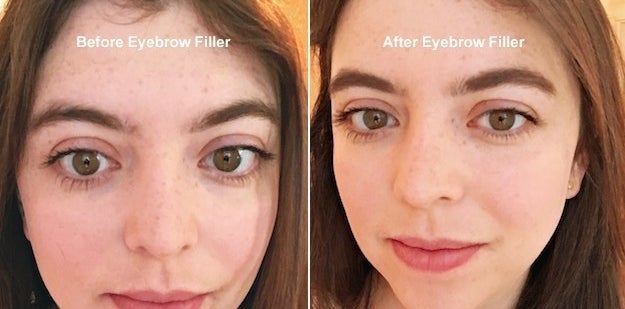 My eyebrows and I have struggled my whole life: They're dark, they want to grow into a unibrow and almost all the way down to my eyelid, and when I restrain them with my tweezers (or even have them done professionally), they end up a little patchy and with basically no shape. So over the past year I've tried all types of products with varying degrees of success — they usually end up darkening my brows too much for my vampirish skin — and when the Sephora checkout person handed me a sample size of one of Benefit's many new eyebrow fixers, it was a given that I'd try it.
The product itself is a little pot of the gel, with a small eyebrow brush neatly packaged with it. I dab a tiny bit of product onto the brush, then sweep over each brow a few times, gently shaping as I go. It takes only a few seconds at the end of my makeup routine, and it makes my brows look done but not too dark. I do clean the brush it comes with every couple of days because any gel that doesn't end up on my brows tends to build up, but that would be the case with any eyebrow brush that doesn't live in the product's tube. I've used the sample daily for a little over a month now, and I'm only one-third of the way through, so the full-size product would definitely last through use after use. —Natalie Brown
OK, first of all, this thing is expensive. I know that. But you know what, the skin on your face is pretty damn important, so when I see high-priced beauty items such as this, I'm always intrigued if they actually live up to their high sticker price/claims of helping your skin feel like butter. The device I received is specifically for people with combination/oily skin, so I figured it was the perfect thing to try.
I've been using Foreo's Luna 2 for Men for about two weeks now, and I will tell you this: It's like getting a face massage every morning and night. The intensity is fine-tuned, so if you can handle it, crank it up, and if you prefer a more gentle experience, you can turn it down. The one I got is special because it has two sides, one for exfoliating and one for anti-aging. You just put your favorite face wash on it and get to work. I don't shave, but if I did, Foreo says that the device primes your skin for shaving too because it raises the hairs, helping you get a closer cut.
I'm excited to continue to use it for a while longer and see what the long-term effects are. Overall, I look forward to using it in the morning, and I think that if you have the extra money to splurge on some skin technology, this is definitely worth checking out. —Kevin Smith
Kevin received the Foreo 2 Luna free of charge for review.