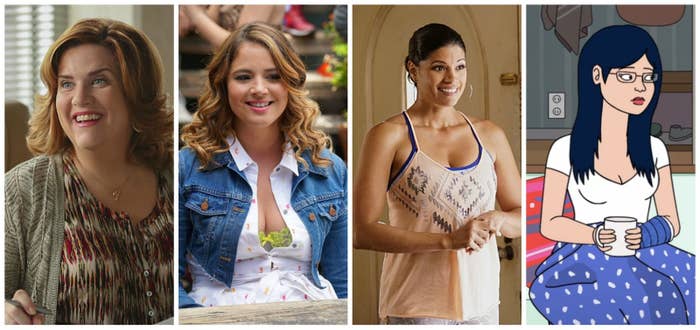 Although abortion has long been considered something of a taboo on television, four shows debuted normalized, even humorous abortion plotlines in 2016, making it a landmark year for unwavering abortions. Notably, all of these episodes were written by women who work in gender-balanced comedy writers rooms. That's particularly striking in a year when prominent male politicians weighed in on women's reproductive health care — often loudly and inaccurately.
BoJack Horseman, Jane the Virgin, You're the Worst, and Crazy Ex-Girlfriend all featured abortions that were not framed as tragic endings, but rather as hopeful beginnings. Women behind the shows all told BuzzFeed News that they wanted to portray a "different" type of abortion story — one where the female character knew exactly what she wanted and felt good about her decisions. These stories were told by women who could view abortion as a welcome option, not a burden. Two of the characters on the aforementioned shows didn't even consult their male partners. On You're the Worst, Lindsay (Kether Donohue) said with a shrug, "My body, my choice."
It's a clear break from the habitual equivocation around abortion on TV. Writers rooms tend to be liberal on many issues (see Orange Is the New Black for "the humanity of transgender people"); nonetheless, they've been remarkably skittish in the way they write about ending pregnancies. A mere two years ago, Mindy Project creator and star Mindy Kaling, whose show is literally about a female OB-GYN, told HuffPost Live that abortion "doesn't strike me — and I don't think this is controversial — as the funniest of areas." In 2010, Fox declined to air an episode of Family Guy that dealt with ending a pregnancy. Television has erred on the side of "let's keep the unplanned pregnancy": Recent examples include a 2006 episode of Scrubs that focused on the male protagonist J.D.'s (Zach Braff) feelings about what he calls the most difficult decision of his life (they decide to have a baby), and even Miranda Hobbes (Cynthia Nixon) on Sex and the City had a change of heart in the abortion clinic in 2001.
But in November 2015, Scandal set a new standard when its protagonist Olivia Pope (Kerry Washington) had a drama-free abortion. Showrunner Shonda Rhimes saw abortion as a simple fact of life: "A woman made a choice about her body that she legally has the right to make," she told an audience during a panel discussion in March. The dramatic series offered a preview of the equanimity to come.
In July, BoJack Horseman led the way for comedies with Diane Nguyen (Alison Brie) quickly and confidently deciding to terminate her accidental pregnancy in the cold open of "Brrap Brrap Pew Pew." In October, Jane the Virgin saw Xo (Andrea Navedo) worry that her Catholic mother would judge her for ending a pregnancy she didn't want; Xo stands by her decision anyway. In November, You're the Worst showed Lindsay finally nixing her very-bad-idea pregnancy, which allowed her to strike out on her own. And later that month, Crazy Ex-Girlfriend's Paula (Donna Lynne Champlin) decides an unintended pregnancy shouldn't derail her law school plans. Xo and Paula already have children and want to forge ahead without a baby; Diane and Lindsay have no children and want to keep it that way.
These characters are not making a difficult personal decision — a common way to characterize abortion that can undermine women's ability to make the choice without interference. Rather, Xo, Paula, Diane, and Lindsay are making clear-cut personal decisions with eyes trained on their futures. And as more women rise to positions of power in television, more female characters are seeking abortion with certainty — and without histrionics. Writers on the series intentionally tried to tell normalized stories about abortion that had been underrepresented in pop culture.

Aline Brosh McKenna, the showrunner and co-creator of Crazy Ex-Girlfriend, said Paula's abortion was "best for her happiness" and called her dilemma relatable. "Paula's closer to my age, and I know a lot of women who have gone through this," she said. Jane the Virgin showrunner Jennie Snyder Urman wrote in an email that guilt-inducing abortions are not "the only story that should be told." Alison Bennett, who wrote the You're the Worst episode in which Lindsay gets an abortion, said in an interview, "It's specifically important to the female writers of the show that it's done in a way where it's almost casual, and not this big dramatic decision that could potentially ruin people's lives." And Joanna Calo, who wrote the abortion episode of BoJack Horseman, hoped her work would speak directly to women in abortion-hostile situations. "I love the idea that someone who is going through something like this — thinking about getting an abortion in a town where it's hard to get, or not accepted, or in a family where that's not something they're supposed to talk about — that it might make them realize that there are other people that feel differently," she said.
On BoJack in particular, telling Diane's story meant "saying the word 'abortion' out loud a lot, and walking her through the procedure," said Calo. There is a long history of tiptoeing around the topic: A 1991 episode of Murphy Brown about a pregnancy dilemma discussed abortion without naming it; the show's creator told the New York Times at the time that the word itself was too "inflammatory," and she wanted the show to speak to everyone. (The character did not get an abortion in the end.) Now, You're the Worst calls them "abobos" — and the abortion plotline speaks directly to women.
The dour aversion that has long been tied to abortion also exists in the political sphere. In October 2016, then–Republican presidential candidate Donald Trump displayed a grave misunderstanding of late-term abortion but nonetheless expressed horror at what he imagined it might be. "In the ninth month, you can take the baby and rip the baby out of the womb of the mother," Trump incorrectly said, raising his eyelids in shock. Female TV writers resisted this national resurgence of ignorant revulsion: Where Trump saw unfathomable darkness, the writers saw something they recognized. McKenna, whose Crazy Ex-Girlfriend writers room has more women than men, noted, "Somebody said that our show was the most gynecologically in-depth TV series."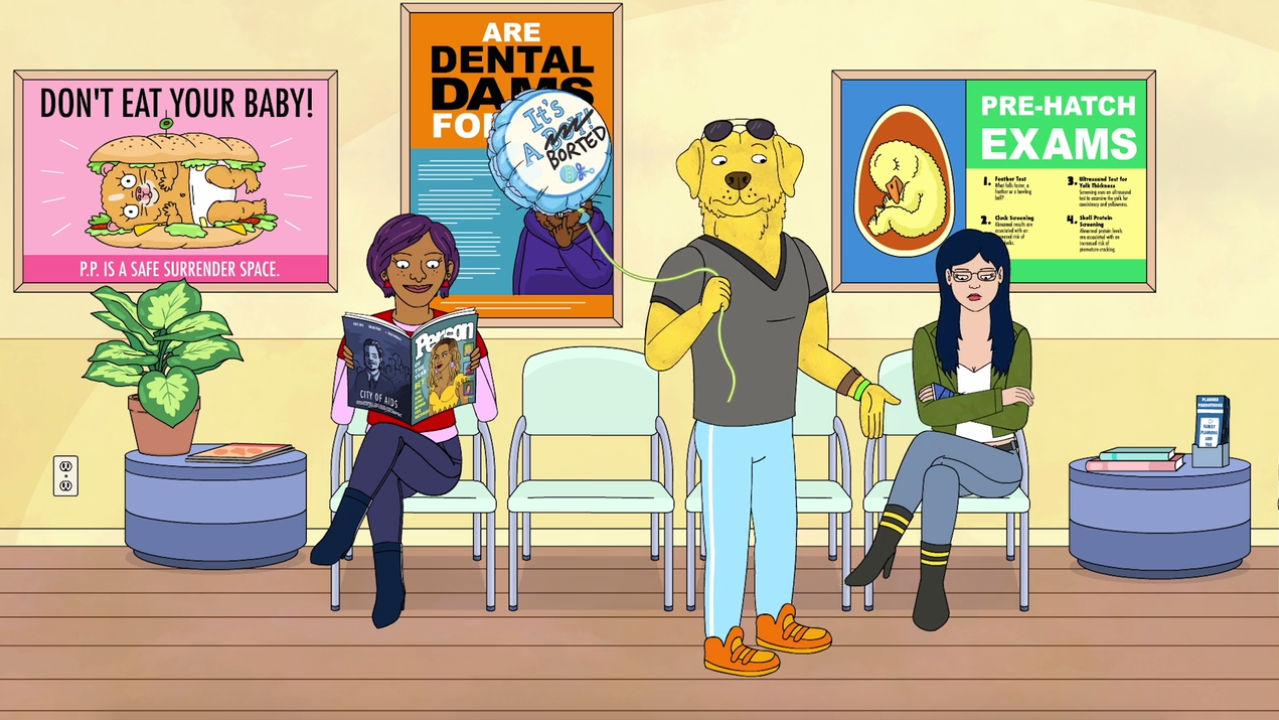 For these writers, their work is part of the opposition to politicians who want to limit — or eliminate — women's right to choose abortion. "The rhetoric, especially now, especially in that third debate, was so horrific, divisive, inflammatory, and false — that I feel like it's absolutely the right time to counterbalance that hate and fear," Urman wrote in October. Bennett said, "There's been such a backlash against abortion," referencing in particular Trump's vice president-elect, Mike Pence, who has a legislative track record of restricting decisions women can make about the contents of their uteruses.
"I think that once a woman's fundamental right to choose gets threatened, artistically, people are interested in addressing that," Bennett added. "For joke weirdos like ourselves, we're gonna do it in a comedic way."
The increasingly uncompromising depiction of bodily autonomy on TV spawned sputtering responses from conservatives online: One right-wing site said BoJack "grotesquely and callously advocates for unapologetic abortion on-demand while bashing pro-lifers." Another criticized Jane the Virgin for Xo's lack of remorse: "Any larger hurt — any guilt or fear or regret — associated with that decision was swept under the rug, in the name of tolerance, acceptance, and 'choice.'" The conservative Media Research Center's blog took issue with Crazy Ex-Girlfriend, saying the show was "working the subject into casual conversation like it is nothing unusual at all." Which is true. The Guttmacher Institute found in 2008 that one in three women would have an abortion, so abortion is nothing unusual at all. More than anything else, the hand-wringing is over the absence of hand-wringing for these characters. "What morally truncated human beings," a mystified LifeNews writer wrote, referring to Lindsay's abortion on You're the Worst and those who praised the depiction. The writer summed up Lindsay's decision sadly: "And she felt fine about it."
That's correct — Lindsay, Xo, Paula, and Diane all felt fine about getting abortions, because women controlled the narrative. And there was no room for moral panic.
With additional reporting by Alanna Bennett.