Happy Friday, ya freakin' nerds,* and HOLY HECK, do I have a rated-R treat for you!!!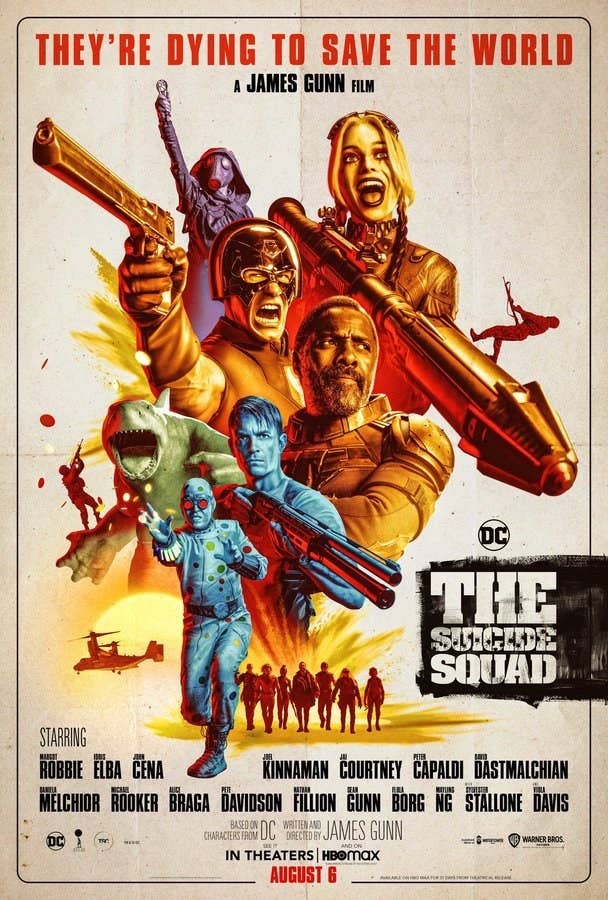 We just received our first official trailer — and a RED BAND trailer, nonetheless! — for James Gunn's The Suicide Squad reboot/sequel/movie/thing. I'm going to stop talking now and let you watch it. Here, just watch it:
While only being about three minutes long, the trailer gives us SO MUCH. It starts with the team on a mission to rescue Harley Quinn (Margot Robbie) — who, of course, has already rescued herself.
We then get some quick glimpses of our newest team members, who include the sexiest man alive,* Idris Elba, as Bloodsport:
David Dastmalchian as Polka-Dot Man, who's taking the whole "suicide" part of "the Suicide Squad" pretty literally:
Saturday Night Live's Pete Davidson as easily duped mercenary Blackguard:
And Daniela Melchior as rat-controlling badass Ratcatcher 2 — and that's just to name a few of them!
OH YEAH, I almost forgot about the giant shark — King Shark (Steve Agee), to be exact:
Now, this movie is NOT a direct sequel so much as a new story told in the same universe, with a few of the same actors returning to reprise the same characters, including (but not limited to) Margot Robbie as Harley Quinn, Joel Kinnaman as Rick Flag, Jai Courtney as Captain Boomerang, and Viola Davis as Amanda Waller.

The tone! The colors! The James Gunn–specific humor! This! Movie! Is! Going! To! Be! So! Much! FUN!
Seriously — Aug. 6 cannot come soon enough! Until then, catch me rewatching this trailer 500 more times.