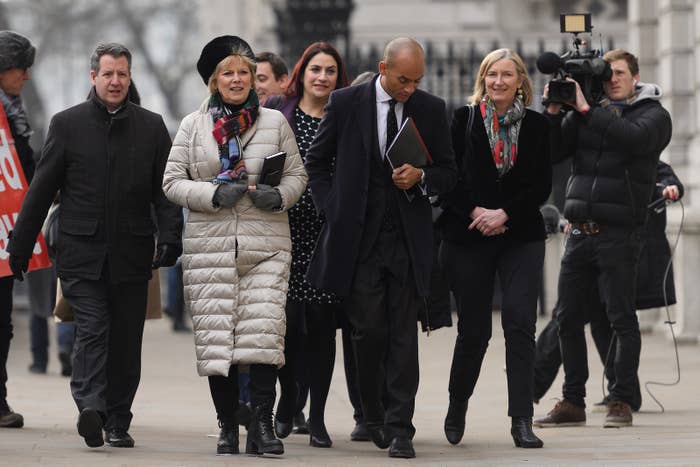 The threat of imminent deselections, the failure of the Conservative Party to combat right-wing entryism, and a major falling out between Remain-supporting Tories were instrumental to the decisions of the three Tory MPs to quit the party on Wednesday.
Several other Tory MPs are considering resigning and joining The Independent Group before they are deselected, BuzzFeed News has been told.
In a letter to prime minister Theresa May, Heidi Allen, Anna Soubry and Sarah Wollaston said "a purple momentum is subsuming the Conservative Party, just as the hard-left has been allowed to consume Labour".
Speaking at a press conference in Westminster this afternoon, Soubry told BuzzFeed News: "We have colleagues, we can't name them, who will not vote in the way they want to because they are frightened of being deselected". Describing the deselection threats as a "form of tyranny", she told journalists: "The majority of associations are being infiltrated by a nationally orchestrated entryism designed to remove rebel MPs who they call traitors".
Sources close to the three defectors said they had pleaded with Conservative headquarters (CCHQ) and the party's chairman Brandon Lewis for months to protect them from looming deselections. Their likely removal from the party meant they had nothing to lose from quitting, the sources said.
Soubry had fought off an attempt to deselect her last year and expected Brexit-supporting members to try to remove her again, but she received no support from the central Tory party, a source close to her said. Wollaston and Allen were also facing deselection campaigns against them.
Allen told a friend: "If they are deselecting me, I might as well go," according to a person familiar with the conversation.
Remain-voting cabinet ministers are appealing to CCHQ to take action to stop MPs from being deselected, a Whitehall source said. They noted that May's former chiefs of staff Nick Timothy and Fiona Hill intervened to protect Allen in 2017. "Nick and Fi blocked the effort to deselect Heidi last time round. This time, the party is doing nothing," the source said.
At least three remaining Tory MPs face live deselection attempts, with other MPs watching developments closely and considering resigning preemptively themselves if their colleagues are removed, BuzzFeed News has been told.
Nick Boles, who has led calls for a softer Brexit, is said to believe it is likely the attempt to remove him will succeed. Brexit opponent Dominic Grieve and Remain-voting minister Alan Duncan are currently facing deselection efforts.
A Conservative MP said: "This has been happening under the radar for months and has gone largely unreported. It is exactly the same as what has been happening in Labour. Conservative associations are being taken over by extremist entryists who are not Tories, and the party is nowhere near getting on top of it".
A second Tory MP said: "MPs facing deselection have repeatedly asked CCHQ and Brandon Lewis to help them with their associations, and they've had absolutely nothing from him. All the more remarkable given he's a Remain MP in a heavily Brexit-voting seat himself".
"MPs are waiting and watching to see what happens to Boles. If he is deselected, it will be clear which way the wind is blowing and colleagues will think, 'fuck it', and go," another senior Conservative said.
Some local Conservative associations have doubled in size in the last year as a wave of new Brexit-supporting members joined the party, BuzzFeed News has been told.
The centre-right Tory Reform Group, of which Soubry was a patron, joined the calls for the party to take action.
"We've got to stop threatening deselections in this way," a spokesperson said. "Many of those threatened are in the mainstream of British politics, where the public are, and hounding them out of our party will only lead us out of office.
Several MPs have expressed genuine concerns to us for months now about entryists in their local Associations who have joined specifically to deselect them. Debate in our party must be more tolerant and open to ideas if we are to be a party fit to govern."
The Conservative Party and Brandon Lewis were approached for comment but did not respond by the time of publication.
Sources close to the three departing MPs told BuzzFeed News a behind-the-scenes row between senior Tory Remain supporters was also key to the breakaway.
The three MPs, in particular Soubry, were close friends with fellow Remain voters Nicky Morgan and Stephen Hammond, and shared a WhatsApp group. But the group fell out after Morgan and Hammond aligned themselves with hardline Brexiteers backing the so-called Malthouse Compromise, which seeks to find alternative arrangements to the controversial Irish backstop.
By last week, the group were no longer on speaking terms, were refusing to sit together in the House of Commons, and Morgan was removed from the WhatsApp group.
"The realisation that even sensible Tory MPs are now facilitating a hard Brexit was the final straw," a source close to the MPs said.
UPDATE: Following publication of this story, a Conservative Party spokesperson said:
"People join the Conservative party having supported other parties and none. In fact, this morning we welcomed a longstanding Labour councillor to the Conservative Party who resigned in protest at the antisemitism rife in Jeremy Corbyn's Labour party.
"Conservative Party membership is open to those who support our aims and values. There is a process in place for local membership approval; we support local associations in this work and are confident they can and do take action where needed."