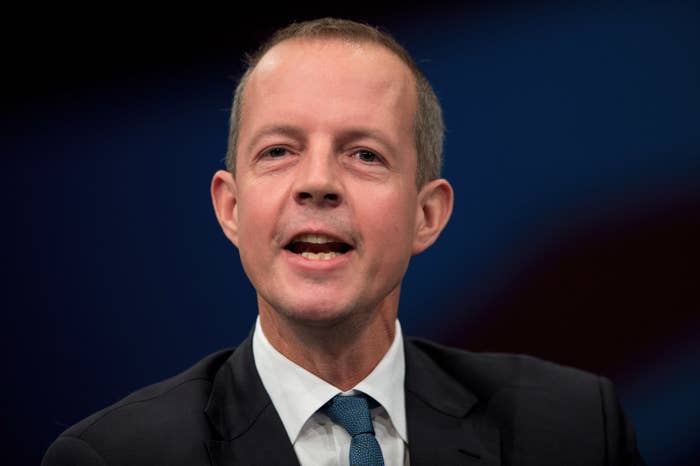 The MP in charge of efforts to secure a Norway-style "softer" Brexit is facing a fight for his career after more than 100 of his local members launched an attempt to deselect him.

Nick Boles, the chief proponent of the so-called "Norway Plus" plan to keep the UK in the single market, said he would fight for the best interests of his constituents as Brexit-supporting Conservatives moved to oust him as the MP for Grantham and Stamford.
In a letter leaked to BuzzFeed News, Boles' association chairman revealed that over 100 local Tory members had written to him in the last few weeks and that "over 99%" want him to be deselected.
The move came after Boles threatened to resign the Conservative whip to prevent a no-deal Brexit in December and this week voted for two amendments aimed at blocking no-deal.
Boles has been invited to meet local party members later this month ahead of a formal selection meeting.
In the letter to members, Philip Sagar wrote: "In all of my 4 years as your chairman I have never received so many emails and letters about Nick's actions. Over 99% of you are calling for his deselection as our MP; although in fairness there have been a few in support of his stance."
Outlining the process by which members could deselect Boles, Sagar said: "Let me start by saying it is not an easy matter to deselect a sitting Conservative MP. There will in any case have to be a selection meeting of the Association Executive Council in the next few months in readiness for a General election should it be called early".
He warned: "Nick's actions I fear, have unfortunately made that process much more difficult for him." Sagar then invited Boles to address his local party membership on Jan. 25.
Boles told BuzzFeed News: "He and Conservative members are entitled to their opinion. I am doing what I was elected to do, which is fighting for the best interests of my constituents." He said he would respond fully in a newspaper column tomorrow.
In December, Sagar told Boles he risked "an act of personal political suicide" by threatening to resign the Conservative whip to stop no-deal.
At the time, Boles responded that he was "not willing to countenance leaving the European Union without a deal" and that he supported Theresa May's Brexit deal.
Yesterday Boles revealed he had received a death threat following his vote against the government.
Read Sagar's email sent to local members yesterday below:
Dear Members,

Firstly, thank you to those of you who have written or called me about Nick's recent actions in relation to articles and twitter statements made by him in his determination not to allow a 'No Deal Brexit'. My apologies for not replying personally to you if you were one of over a hundred and rising who contacted me.

In all of my 4 years as your Chairman I have never received so many emails and letters about Nicks actions. Over 99% of you are calling for his deselection as our MP; although in fairness there have been a few in support of his stance. Let me start by saying it is not an easy matter to deselect a sitting Conservative MP. There will in any case have to be a selection meeting of the Association Executive Council in the next few months in readiness for a General election should it be called early and Nick's actions I fear, have unfortunately made that process much more difficult for him.

The comments I made in my letter to you before Xmas were not only reported by the local media but nationally as well. As to be expected of our media they were selective in what they reported having picked up my statement from the Conservative Home website. That is a shame as I was trying to be balanced in my comments having supported Nick's pragmatic approach to seeking a plan B for when the PM's unpopular deal is voted down. He has and still maintains he wants the UK to leave the UK but with a deal.

My problem with Nick's current actions is that Parliament with his help last night clearly indicated through amendment 7 to clause 89 of the Finance Bill that they will not allow a No Deal Brexit. The EU sees no reason therefore to offer last minute legal assurances on the unpopular back stop or anything else as they can see that MPs like Nick will continue to block a No deal Brexit. The Government's ability to play hard ball and walk away is therefore undermined. I still believe the EU believe the British press that the public mood has changed, a people's vote offering the possibility of the U.K. withdrawing Article 50; made possible now by the unusually speedy ruling by the ECJ that the U.K. alone can change its mind.

It was never going to be as easy to leave as some made out but our media, our government and the majority of MP's seem to have unwittingly colluded in making a sensible Brexit deal with a belligerent E.U. totally impossible. We should as Oliver Letwin and Nick said last night have started making serious plans for a No deal Brexit two years ago. The EU may then have taken the option seriously but its too late now. However even Oliver Letwin does not think leaving on WTO terms would be as catastrophic as many are saying.

I recommend that you watch Nick's speech and that of Oliver Letwin before him.

Nick's final words were "It is therefore reasonable for us to say that, at this late stage, with the Government having prepared as woefully as they have for no deal, we will on no account countenance a no-deal Brexit. Finally I join my right hon. Friend the Member for West Dorset in very clearly saying this: I will vote on any motion, on any amendment, on any piece of legislation, proposed by whomsoever in this House to ensure that we leave the European Union on the 29th March with a deal or not at all.

So Nick is supporting the PM's deal as flawed as it is. However No Brexit is potentially looking likely as for all their different reasons a majority of MP's seem determined to vote down the PM's deal and another majority not to allow a No Deal. What a mess and we all know that the Conservative party will be the long term looser.

Nick has accepted my invitation to address the membership again on Friday 25th January, venue to be confirmed but likely to be nearer to Stamford as that had the largest turn out of the 3 previous meetings. I hope that as many of you as possible will be able to attend.

Yours sincerely,

Philip

Philip Sagar

Association Chairman

Grantham & Stamford Conservative Association