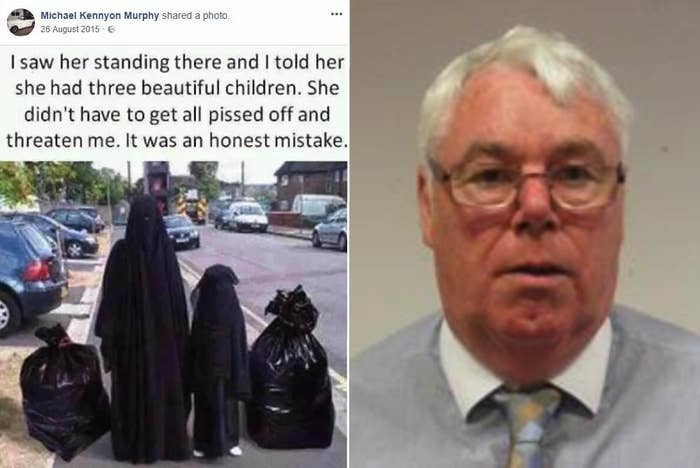 The Conservative Party has reinstated a councillor who was suspended last year for posting a string of anti-Muslim memes on Facebook, BuzzFeed News can reveal.

Mick Murphy, who represents the Hucknall North ward in Ashfield, was suspended by Conservative headquarters and placed under investigation in June 2018 after it emerged he had shared an image in 2015 which showed a woman and child in burqas flanked by black rubbish bags.
The caption read: "I saw her standing there and I told her she had three beautiful children. She didn't have to get all pissed off and threaten me. It was an honest mistake."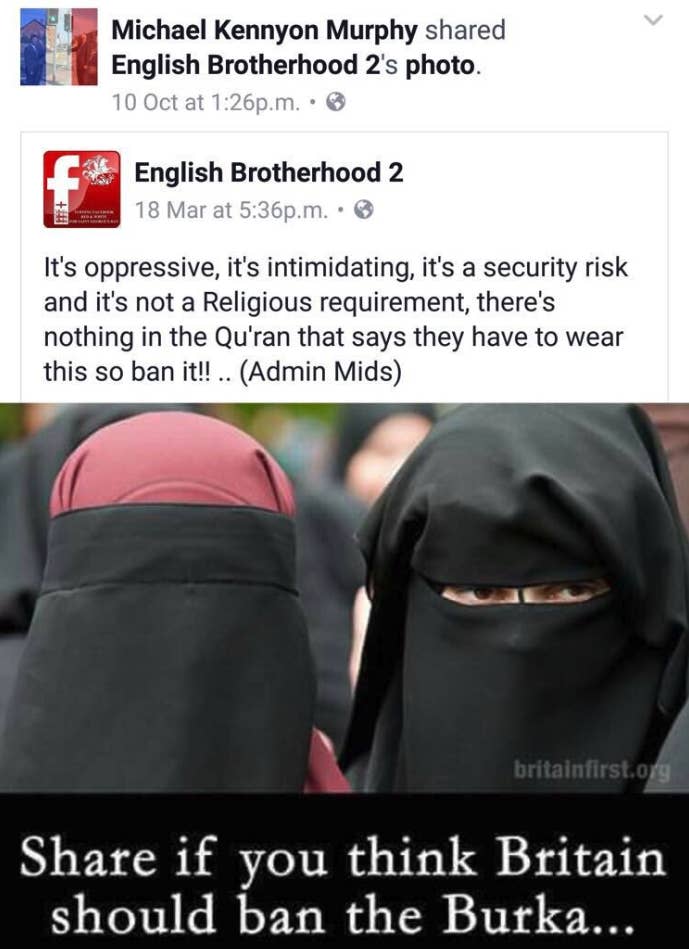 Murphy also shared another Facebook image that had a watermark with the web address for the far-right group Britain First, and another image showing the hashtag #PegidaSupporters.
Both Murphy and the Conservative Party confirmed to BuzzFeed News that he has now been reinstated as a Tory councillor.
A party source said he had served his suspension and that it was now complete, and that he is now sitting again as a Conservative.
A Conservative spokesperson said: "When CCHQ was made aware of these posts, an immediate investigation was launched.
"As a result, Mr. Murphy accepted his conduct was not acceptable and he was served with a suspension from the party."
Asked by BuzzFeed News if he was a Conservative councillor, Murphy replied: "Yes."
Yet Murphy's ongoing Facebook activity will raise further questions about the Tory Party's handling of such complaints.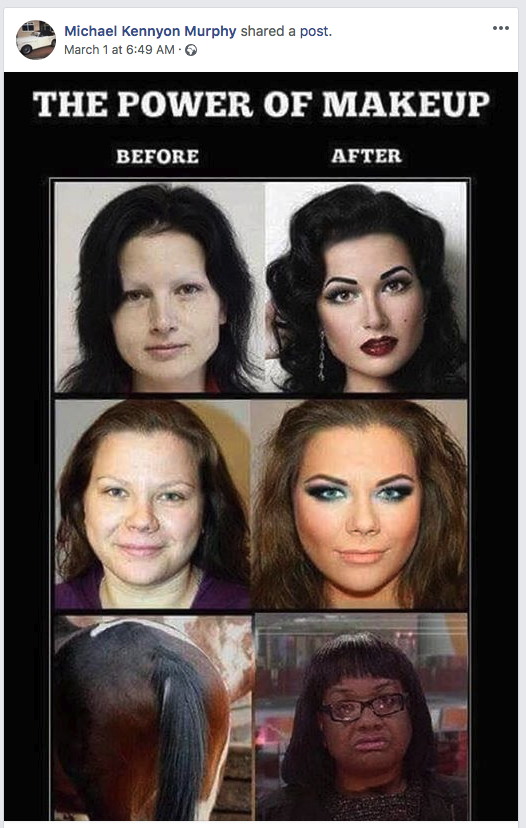 On March 1, five days ago, the Tory councillor shared another Facebook meme comparing Labour's Diane Abbott to the backside of a horse.
BuzzFeed News contacted Murphy to ask if he stands by the post, but he did not respond.
On Wednesday, the Conservative Party chair Brandon Lewis wrote to members insisting he has taken a "zero tolerance approach to any form of discrimination and abuse within our party and have taken swift action to suspend members or refer cases to the Code of Conduct for investigation when I see fit".
Former Tory chair Sayeeda Warsi condemned the party's handling of anti-Muslim cases. Speaking to TalkRadio today, Warsi said: "There's no sense of what happens, no sense of what the process is, no detail on how long those people are expelled or how they are brought back. The party has only acted on cases when there has been a public awful spat."
Update: Responding to this story, Warsi tweeted demanding answers from Lewis:
A spokesperson for the Muslim Council of Britain commented: "It is disappointing, but sadly not surprising, to learn that a Conservative councillor who shared disturbing images comparing Muslim women and children to rubbish, directly from Britain First and Pegida supporters, has been reinstated.

"Despite having served a suspension, the councillor has continued to share deeply sexist imagery as recently as last week. This raises concerns about the efficacy of the disciplinary process and only intensifies the necessity of an independent inquiry into Islamophobia in the Conservative party. What zero tolerance approach encourages lip service to equality and does nothing to change prejudiced behaviour?"
Iman Atta, director of the anti-Muslim–monitoring group TellMAMA, told BuzzFeed News: "The re-instatement of the councillor is concerning because we simply do not know what process they went through to rehabilitate them. There is no transparency in this process and it seems that councillors who have circulated anti-Muslim memes, statements and graphics have been magically rehabilitated. Who, how and where they were rehabilitated to change their views, we simply do not know about."