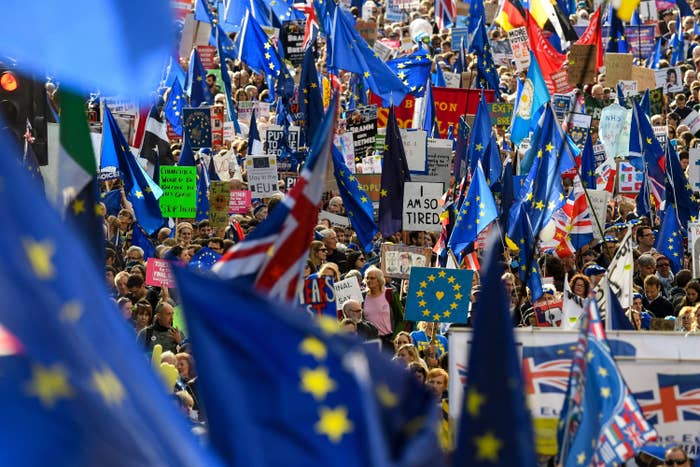 An independent report commissioned by the People's Vote campaign last month found that it needed "a clean slate on key roles" to end a "culture of mistrust", "patronage", and "cronyism" at the organisation, with "repeat offenders" accused of being "continually disruptive and eroding trust".
People's Vote descended into a full-blown public civil war on Monday after its chair, Roland Rudd, dismissed its campaign director, James McGrory, and head of communications, Tom Baldwin. In an interview on Sky News, Baldwin claimed he was the victim of a "boardroom coup" at the hands of Rudd, who in turn called the suggestion "absurd".
But a confidential report seen by BuzzFeed News delivered a scathing assessment of the campaign's current management and leadership. It echoed the concerns raised by Rudd on the airwaves this morning about the need for People's Vote to be restructured if it is to achieve its core objectives.
The 83-page report — titled "Project Root", dated Sept. 3, and marked "do not circulate" — was carried out externally by the firm OC&C Strategy Consultants, which was hired by the campaign.
It was tasked with establishing how to best ensure that People's Vote could win a future referendum for Remain, conducting one-on-one interviews with People's Vote staffers and other stakeholders and analysing campaign spending and materials.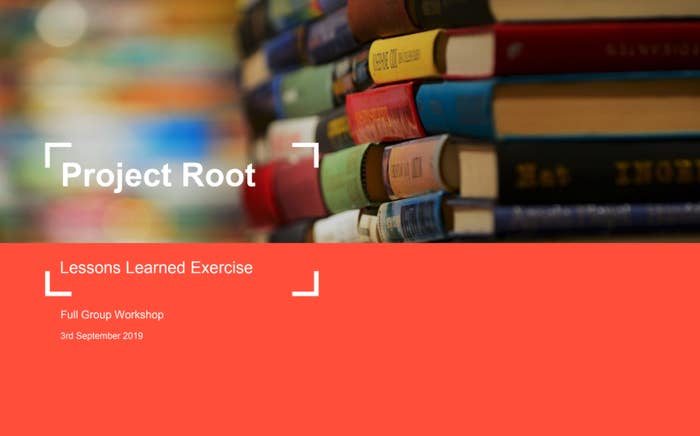 The report was highly critical of the management of People's Vote under McGrory and Baldwin, and the toxic culture fostered on the campaign by its extreme factional infighting.

It also found that the campaign was hampered by a "culture of mistrust" and did not have appropriate processes in place to properly deal with bullying and harassment. It recommended "decisive action to deal with 'Repeat offenders' who have been continually disruptive and eroded trust".
"Proper disciplinary processes should be established for underperformance, inappropriate behaviour, bullying, harassment etc and communicated to staff," the report said.
The analysis used a traffic light system to compare the performance of People's Vote on various governance, management, and culture criteria to that of the successful Vote Leave campaign of the 2016 referendum. Out of 18 criteria, Vote Leave scored 13 green lights, meaning "strong evidence" of that specific competence. People's Vote scored 12 red lights, meaning "strong evidence against" and six amber lights for "mixed evidence". It scored zero green lights.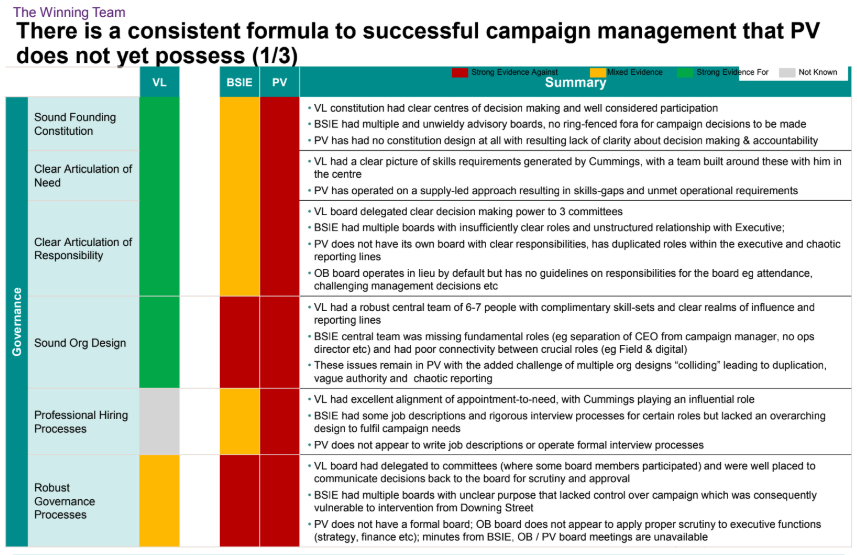 The report also criticised the campaign's "chaotic governance" under Rudd's position as chair, warning that there was a potential for a conflict of interest between him being in charge of both People's Vote and Open Britain, the principal pro-Remain campaign group.

It found that "the current governance model, team and culture within PV" would need "a fundamental reboot in order to win a second referendum".
"The right campaign strategy is futile without the right governance, organisation and culture," the report said, warning: "There is a consistent formula to successful campaign management that PV does not yet possess."
Following the report's findings, Rudd announced earlier this month that he would be stepping down as chair of Open Britain.
Among a litany of criticisms concerning how the People's Vote campaign is run, the report found: "PV has been beset with warring personalities and uncooperative behaviour", which has created a climate where a "culture of patronage … undermines individual empowerment and encourages cronyism." People's Vote "operates within a culture of patronage where the executive is ultimately subordinated to the patron," it added.
"Corrective measures to stop a 'culture of patronage' may require a clean slate on key roles with proper hiring and interview process," it went on to say.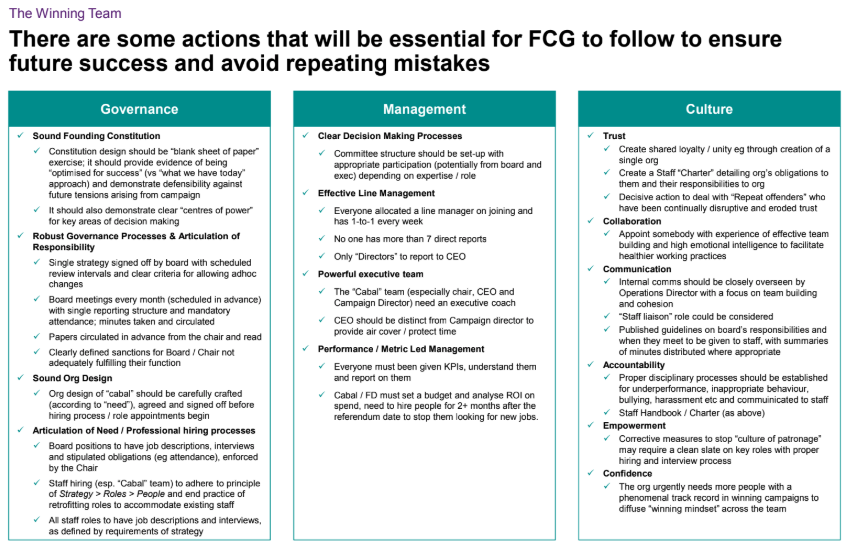 "Recent factionalism and strategic drift has been culturally debilitating," the report said, noting: "PV has suffered from cloak-and-dagger factionalism and staff have reported feeling excluded from decision making and confused by governance and strategic decisions."
It added: "Factionalism has further engendered a culture of suspicion."

BuzzFeed News has previously reported on how People's Vote was split on whether it should campaign on whether to remain in the EU or simply secure another referendum.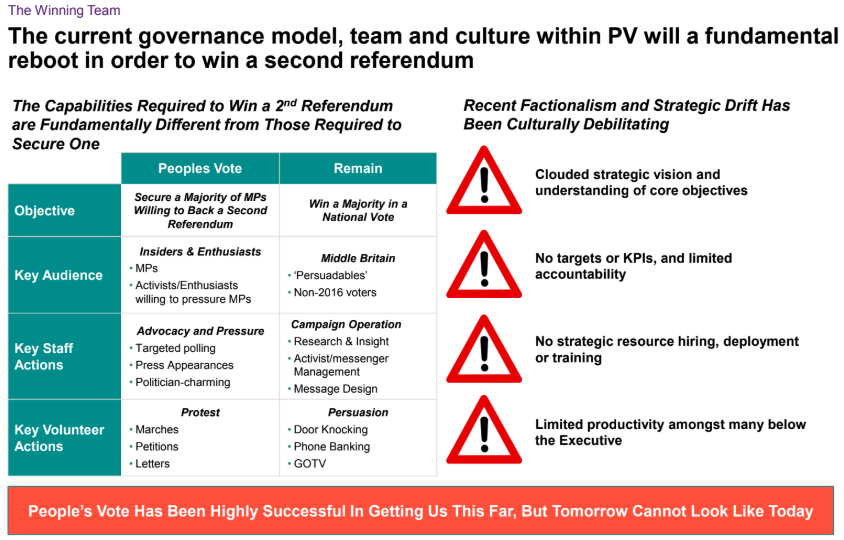 The report was damning of the campaign's day-to-day direction under leadership by McGrory and Baldwin.

"PV's weak and chaotic reporting lines reduce accountability from the top down," it found, adding: "PV does not appear to have processes for resolving conflicts and making decisions", "PV does not appear to write job descriptions or operate formal interview processes" and "has failed to introduce needs-based hiring".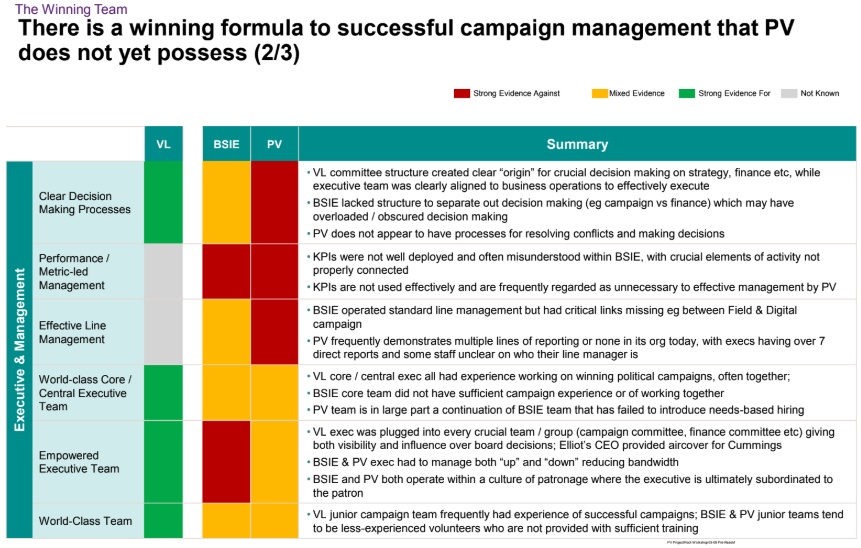 It found the digital campaign content produced by People's Vote lacking: "Remain lags firmly behind Leave in the online messaging proxy war. Although on an upward trajectory, Remain digital content lags Leave for impact and share-ability." It concluded: "We cannot afford to continue to lose on digital – we must invest in the fundamental assets and capabilities immediately."

The report was also highly critical of the campaign's messaging and communications. "Currently, the PV campaign falls short of best practice on messaging," it said, finding there was "limited evidence behind messaging", "too few messengers and too few messages, too focused on high-level air war and existing supporters".
In what will be seen as an implicit criticism of Baldwin and McGrory, the report found that People's Vote was too reliant on the use of politicians to communicate the campaign's messages.
"There is no obvious 'big beast' to champion Remain today – most politicians are unpopular or unknown beyond their core support," the report claimed. New Labour politicians Tony Blair and Peter Mandelson, supporters of Baldwin and his People's Vote ally Alastair Campbell, were seen as some of the least popular pro-Remain politicians.
The most popular Remain campaigners were Labour MPs Liz Kendall and Jess Phillips, the Green party's Caroline Lucas, Lib Dem leader Jo Swinson, and Ruth Davidson, the former leader of the Scottish Conservatives, according to an analysis by the report's authors.
Former Conservative chancellor George Osborne was the second least popular Remain campaigner with voters, trailing only Sinn Féin's Gerry Adams.
A spokesperson for the People's Vote campaign said: "The Project Root report was commissioned by us to discover what has gone wrong in 2016 and how far we had learnt lessons since.
"It rightly criticises messaging and strategy from Stronger In, acknowledges that some smaller groups who have since left the campaign has created difficulties, and that a pro-referendum message is inevitably different from one to persuade people to back Remain.
"This early draft of the report also contains criticism of different pro-referendum campaigns that were removed after the authors decided they were unfair or inaccurate."