Theresa May Says Brexit Will Be Delayed After MPs Voted To Reject No-Deal Under Any Circumstances
The prime minister suffered two more humiliating defeats in the House of Commons, but no-deal remains the legal default option until Parliament backs an alternative.
by
,
,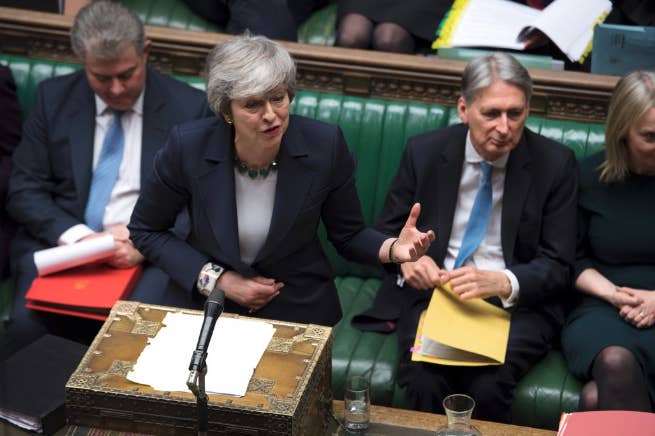 Parliament has voted to reject a no-deal Brexit for good by a majority of 43, although leaving the European Union without a deal remains the legal default option unless MPs approve an alternative.
On another extraordinary night in Westminster, Theresa May suffered two more humiliating defeats and saw her own ministers, including some in the cabinet, abstain in defiance of the party whip.
The prime minister had tabled a motion rejecting a no-deal Brexit on March 29 but acknowledging that that was the default as the law stands. But MPs narrowly passed an amendment to that motion by just four votes which indicated there was no parliamentary support for a no-deal under any circumstances.
That unleashed chaos as the government scrambled to block that passing by whipping against the amended motion, but it passed with a majority of 321 to 278.
Minister Sarah Newton voted for the amended motion and resigned, while cabinet ministers Amber Rudd, Greg Clark, David Gauke, and David Mundell broke a three-line whip to abstain, further undermining the prime minister's rapidly deteriorating authority.
Other ministers Bim Afolami, Robert Buckland, Alistair Burt, Tobias Ellwood, Richard Harrington, Stephen Hammond, Margot James, and Claire Perry also defied the whip to abstain.
The prime minister's spokesperson said that ministers who had voted against the government would be expected to resign, but suggested that those who had abstained would not.
"I think if you're walking through the opposite division lobby to the prime minister that's a resigning matter," the spokesperson said.
Addressing the Commons immediately after the final vote, May signalled Brexit would now have to be delayed, warning MPs now have a choice between voting for her Brexit deal and accepting a technical extension so it can be ratified, or backing a long extension to Article 50. Parliament will be voting on a delay tomorrow.

Earlier in the evening May lost by 312–308 on the first vote on the amendment opposing no-deal put forward by Labour MP Yvette Cooper.

But a no-deal cannot be legally ruled out unless the Commons either votes for a deal, revokes Article 50, or agrees a Brexit delay with Brussels.
Attention in Westminster will now be focussed on the third "meaningful vote" due next week, as Brexiteers come under pressure to back her deal or face a long delay to Brexit.
Hardline Brexiteer MPs in the European Research Group indicated that they may now vote for the deal if it is brought back for a third vote. Senior Brexit supporter Simon Clarke said: "I'm left with a choice between a deal I hate or no Brexit at all."
Other ERG MPs told BuzzFeed News they would now vote for the deal on the condition that May resigned afterwards and allowed a different prime minister to handle the future relationship negotiations with the EU.
The so-called Malthouse plan, which sought to extend Article 50 until May 22 and then leave the EU without a withdrawal agreement and secure a "standstill" arrangement with Brussels, was resoundingly rejected by 374 votes to 164.
Cabinet ministers Gavin Williamson, Sajid Javid, Jeremy Hunt, Penny Mordaunt, Andrea Leadsom, and Alun Cairns voted for the Malthouse proposal, while Rudd, Gauke, and Clark voted against in what was a free vote.
May told the Commons: "The House has to understand and accept that, if it is not willing to support a deal in the coming days, and as it is not willing to support leaving without a deal on 29 March, then it is suggesting that there will need to be a much longer extension to Article 50.
"Such an extension would undoubtedly require the United Kingdom to hold European Parliament elections in May 2019."
Labour leader Jeremy Corbyn said he would meet with MPs from across the House to attempt to "search for a consensus on the way forward".
A European Commission spokesperson said: "We take note of the votes in the House of Commons this evening. There are only two ways to leave the EU: with or without a deal. The EU is prepared for both.
"To take no-deal off the table, it is not enough to vote against no deal — you have to agree to a deal. We have agreed a deal with the Prime Minister and the EU is ready to sign it."
This is a developing story. Check back for updates and follow BuzzFeed News on Twitter.‏