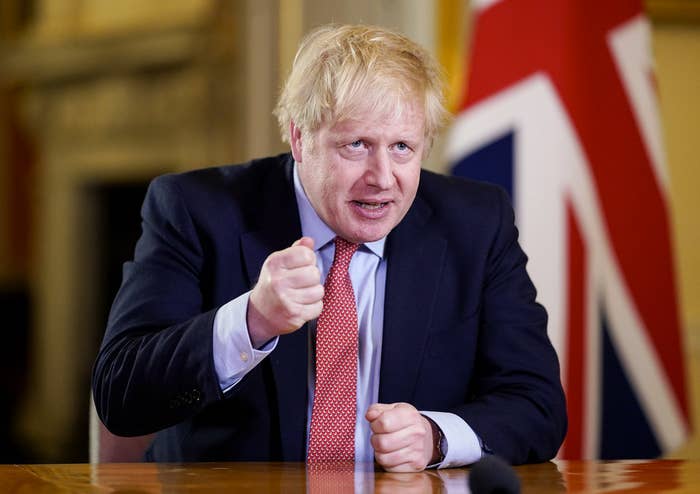 Boris Johnson has ordered a full lockdown of the UK in a dramatic escalation of the government's fight against the coronavirus outbreak — authorising police to fine Britons who leave their homes for nonessential reasons, closing all shops selling nonessential goods, and banning weddings and all other public gatherings of more than two people.

In a historic address to the nation from Downing Street on Monday night, the prime minister said: "From this evening I must give the British people a very simple instruction: You must stay at home."
People will only be allowed to leave their homes for one of four reasons: to shop for basic necessities, to take one form of exercise a day, for any medical need, such as providing care for a vulnerable person, or to travel to and from work "if absolutely necessary".
Johnson said the government was closing all shops selling nonessential goods,​ including clothing and electronic stores and other premises, including libraries and playgrounds.
Gatherings of more than two people in public — excluding people you live with — will be prohibited, as will all social events​, including weddings, baptisms, and other ceremonies, but excluding funerals.
"You should not be meeting friends," Johnson said. "If your friends ask you to meet, you should say no."
Parks will remain open for exercise, but gatherings will be dispersed. People will be allowed to run, walk, or cycle — alone or with members of your household — but only once a day.
"If you don't follow the rules, the police will have the powers to enforce them, including through fines and dispersing gatherings," Johnson said, adding that the measures will be reviewed in three weeks and relaxed if the evidence shows the government can do so.

Explaining his decision to impose unprecedented restrictions on the British public, the prime minister told the nation: "Without a huge national effort to halt the growth of this virus, there will come a moment when no health service in the world could possibly cope — because there won't be enough ventilators, enough intensive care beds, enough doctors and nurses.
"And as we have seen elsewhere, in other countries that also have fantastic health care systems, that is the moment of real danger.
"To put it simply, if too many people become seriously unwell at one time, the NHS will be unable to handle it — meaning more people are likely to die, not just from coronavirus but from other illnesses as well. So it's vital to slow the spread of the disease."
He added: "No prime minister wants to enact measures like this. I know the damage that this disruption is doing and will do to people's lives, to their businesses, and to their jobs."

He concluded: "We will beat the coronavirus, and we will beat it together. And therefore I urge you at this moment of national emergency to stay at home, protect our NHS, and save lives."
The escalation of restrictions followed pressure from cabinet ministers and senior aides to implement a more drastic lockdown of the capital, as well as demands from opposition MPs and lobbying from the mayor of London. At a press conference on Sunday, Johnson faced repeated questioning on why he was not moving faster to introduce tougher measures.
London tube trains were still packed on Monday morning despite people being told to stay home and avoid nonessential travel. Transport for London is operating a reduced service — which means that although fewer people are travelling, services are still busy.
A further 54 people who had tested positive for the coronavirus have died in the UK, it was announced on Monday afternoon, bringing the total number of confirmed deaths to 335.