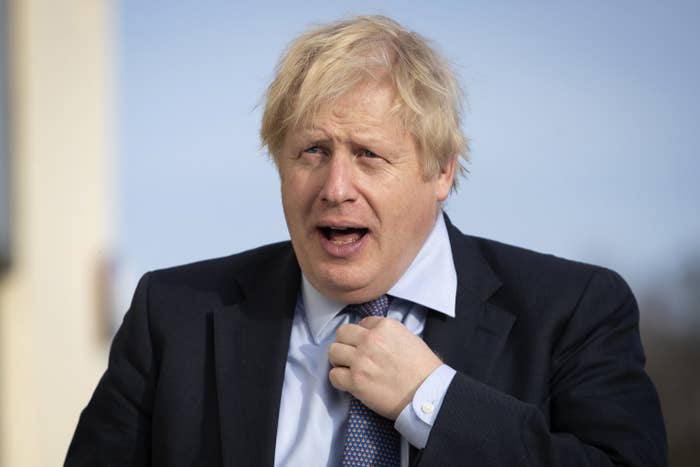 The Conservative party is threatening to review Channel 4's public service broadcasting obligations after the network replaced Boris Johnson with an ice sculpture at Thursday night's election debate.

In a dramatic escalation of the war of words between the Tories and Channel 4 that will likely provoke outcry, a Conservative source told BuzzFeed News that if they win the coming election they will reassess the channel's public service broadcasting licence.
"If we are re-elected we will have to review Channel 4's Public Services Broadcasting obligations," the source said. "Broadcasting organisations are rightly held to a higher standard — and particularly Channel 4 which has a special role enshrined in legislation. Any review would of course look at whether its remit should be better focused so it is serving the public in the best way possible."
The inflammatory move came after Channel 4 said it would "empty chair" the prime minister and Brexit party leader Nigel Farage at its climate change debate — after the two leaders declined to take part.
Ben de Pear, the editor of Channel 4 News, said: "These two ice sculptures represent the emergency on planet earth, not in any human form but are a visual metaphor for the Conservative & Brexit parties after their leaders declined our repeated invitations to attend tonight's vital climate debate."

The decision by Johnson's team to announce a review of Channel 4's licence seemingly in response to the decision to leave an empty chair for Johnson will be highly controversial.
Channel 4 is unique among UK broadcasters in that it is a publicly owned "public service broadcaster", which means it has licensing obligations imposed on it by the regulator Ofcom including requirements for impartial news, current affairs, original programming, and production outside London. The remit of Channel 4 is underpinned by legislation.
In 2014, Ofcom renewed Channel 4's main public service broadcasting licence until the end of 2024. The Tories say that means its place as a public service broadcaster will need to be reevaluated in the next Parliament.
Labour's Clive Lewis, speaking from the climate emergency debate, said in response to this story: "Boris Johnson is a coward and a bully. He thinks he is born to rule and is so used to getting his own way that he turns nasty when anyone dares challenge him.
"Britain deserves a prime minister that has enough of a backbone to face up to scrutiny."
The threat comes after a series of public spats between senior Tories and Channel 4 news managers and editors over access to politicians. During the Conservative party leadership campaign, Johnson snubbed the broadcaster's debate.
In August, Dorothy Byrne, Channel 4's head of news and current affairs, then used the annual Edinburgh TV festival's MacTaggart lecture to deliver a scathing critique of modern political leaders, including particularly harsh words for the new prime minister.
Byrne called Johnson a "known liar" and likened his approach to broadcasting statements on social media to that of Russian president Vladimir Putin, "who also likes to talk directly to the nation".
"Here is what we all need to decide: What do we do when a known liar becomes our prime minister?" Byrne said.
She added: "Is it time for us to start using the L word? I believe that we need to start calling politicians out as liars when they lie. If we continue to be so polite, how will our viewers know that politicians ARE lying?"
The move is reminiscent of the Vote Leave campaign threatening ITV with "consequences" during the 2016 EU referendum after it accused the broadcaster of bias.
The standoff between Johnson and Channel 4 will also inevitably draw comparisons with US President Donald Trump's constant threats against the US media.
In late 2017, Trump used Twitter to ask whether it would be "appropriate" for him to ban broadcast networks like NBC.