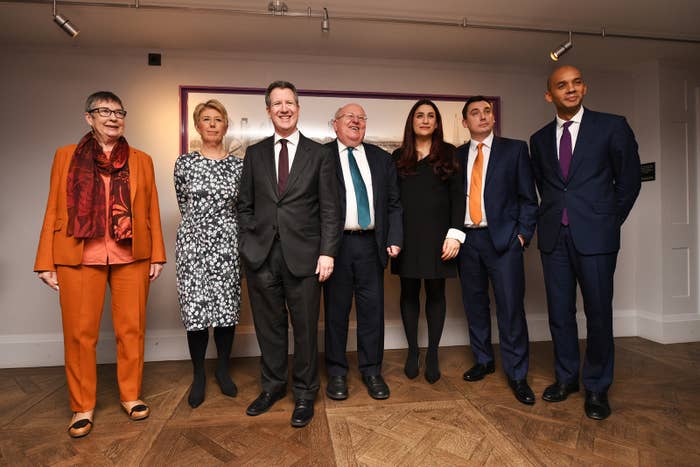 Around 30 Labour MPs held talks about leaving the party and joining the new Independent Group in what would have been a far more damaging assault on Jeremy Corbyn's leadership, but most decided against amid chaotic disagreements between the plotters over strategy, organisation and personalities, BuzzFeed News can reveal.
Senior Labour figures involved in the breakaway plot confirmed that the original plan, conceived at a series of meetings last year, was for several dozen MPs to quit in one go. Only seven went ahead with the plan on Monday.
The mass departures didn't happen, they told BuzzFeed News, after a series of behind-the-scenes differences of opinion between rebel MPs, on everything from the overarching strategy of the movement to more specific questions like the need to fight by-elections and whether ex-Labour MPs who left the party amid sexual harassment allegations should be allowed to join them.
However, divisions within Labour are also mirrored in the Conservative party, and speculation is mounting that despite the chaos of its launch, the Independent Group could soon be joined by a number of Tories who are thinking about leaving the party over Brexit.
One source involved in the talks conceded that the Independent Group had "fallen short" of the numbers they originally hoped would join, pointing to a series of fundamental differences between key personnel. A second source insisted that today's resignations were only the "first wave" and promised "there are more to come".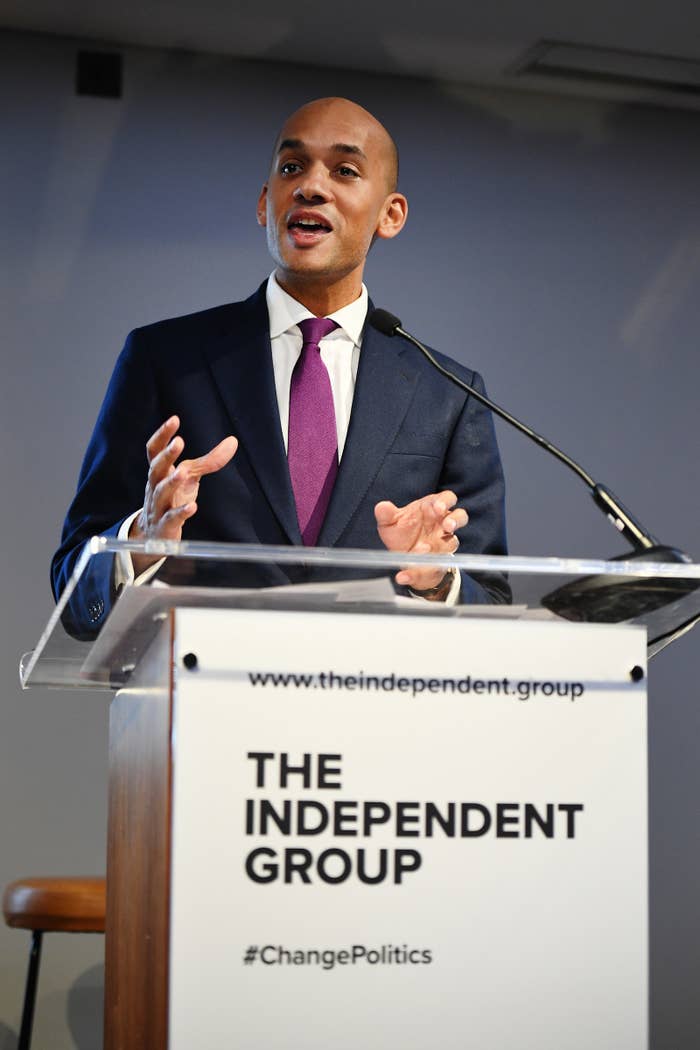 The fundamental divide between the Labour splitters is over the new party that will emerge, the sources said. Several MPs including Chris Leslie and ringleader Chuka Umunna hope to be at the forefront of a new "centrist" party modelled on Angela Merkel's Christian Democratic Union and Emmanuel Macron's En Marche.
The Leslie-Umunna faction is being challenged by a rival splinter group led by a number of former advisers to Tony Blair, including his former chief of staff Jonathan Powell and speechwriter Philip Collins, who have been holding meetings with the aim of forming their own party.
According to several sources familiar with the workings of the two groups, there have been clashes over personality and image. The Leslie-Umunna faction has alienated MPs because of the determination of its two figureheads to be the faces of the new party, a direction opposed by others thinking of quitting Labour, according to one source.
A second source said the Powell initiative, which has been linked to Countdown presenter Rachel Riley and Harry Potter author JK Rowling, has been ridiculed as "Cool Britannia 2019", a reference to New Labour's wooing of celebrities in the nineties.
A third source who has attended presentations by both factions said: "They are both a shitshow but Powell's party is even more of a mess".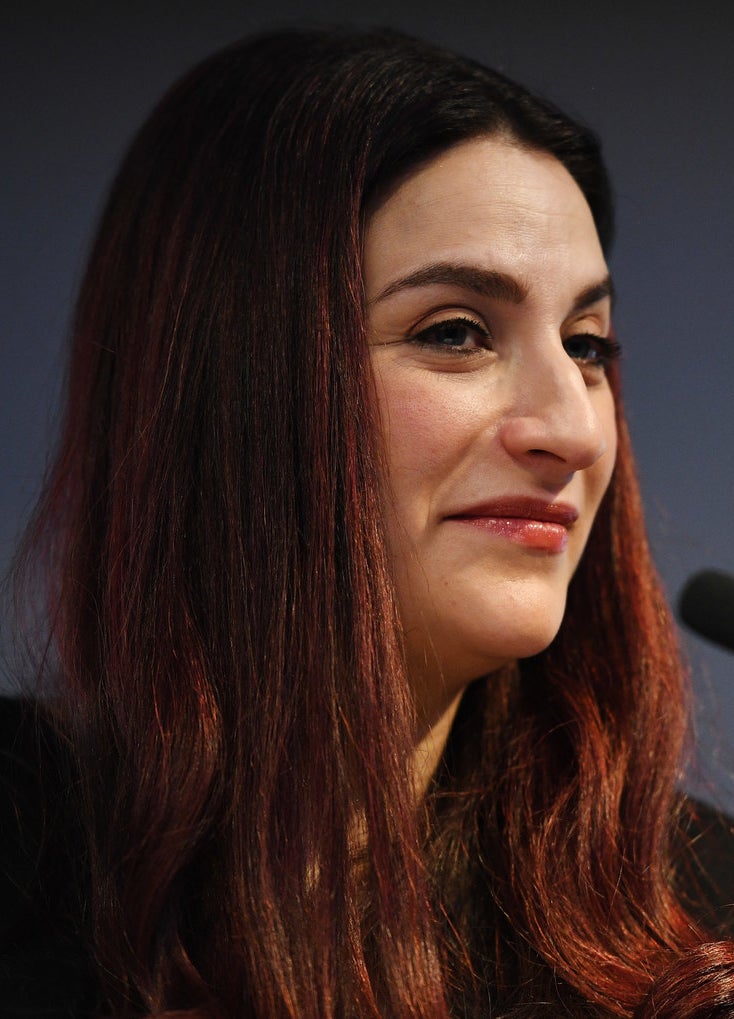 Another group of anti-Corbyn MPs does not agree with either faction that forming a new party is the way forward. This view is said to be held by Luciana Berger, who appeared at the Independent Group event on Monday. "Luciana is not one of Leslie's guys," said a source. Berger told BuzzFeed News: "We are all in complete agreement".
Another major difference between rebel MPs is over whether they should fight by-elections after resigning the Labour whip. Some involved in the talks have argued that defeating a Labour candidate in a by-election fought over Brexit would give a new party a strong mandate and see them recognised as a major political force. Umunna, who has strong personal support in his Streatham constituency, which voted 79% Remain in the referendum, is seen as the most likely to succeed.
Other MPs have expressed vocal opposition to calling by-elections, fearing they would lose their seats. They want to instead stand in marginal constituencies at the next general election.
The MPs are also unclear on whether a new party should contest any upcoming by-elections in Peterborough and Newport West. Some believe it is important to run and set an early marker, but others fear that would mean turning both seats into Tory gains, spooking other rebels thinking about joining and making it easier for Labour to paint them as facilitating a Conservative government.
MPs considering leaving Labour have also disagreed on when is the best time to make their move. The party's deputy leader Tom Watson is being credited from talking several anti-Corbyn MPs down from the ledge in recent days, asking them to delay their departures and make their case against the leadership from within. A Labour MP told BuzzFeed News: "Tom has been instrumental in keeping the numbers down and convincing MPs to stay".
Some Labour MPs who did not resign today have privately committed to leaving the party and will stagger their announcements over the coming weeks, two sources said. These MPs felt that a "drip" of resignations would inflict maximum damage on Corbyn and that timing their departures for the next round of major Brexit votes on February 27 would be more effective, as it would clearly show the Labour leadership's opposition to a second referendum.
Former leadership contender Owen Smith has already suggested he may quit the party over its Brexit stance and was notably quiet on Monday. Other names that have been floated include Ian Austin and Peter Kyle, although they both told BuzzFeed News they would not be leaving.
A senior Labour MP told BuzzFeed News: "I think more are already lined up to go, and haven't gone today to try and give a sense of momentum over the next few weeks. I think some have deliberately been left behind on day one".
Another Labour MP told BuzzFeed News that for some, their decision on whether they still have a place in Labour will depend on how the party deals with Monday's breakaway. It "very much depends on how our leadership and their outriders behave," they said.
However, there is similar uncertainty within the Tory Party. Anna Soubry, who is close to Umunna, is seen internally as the most likely to resign the Tory whip.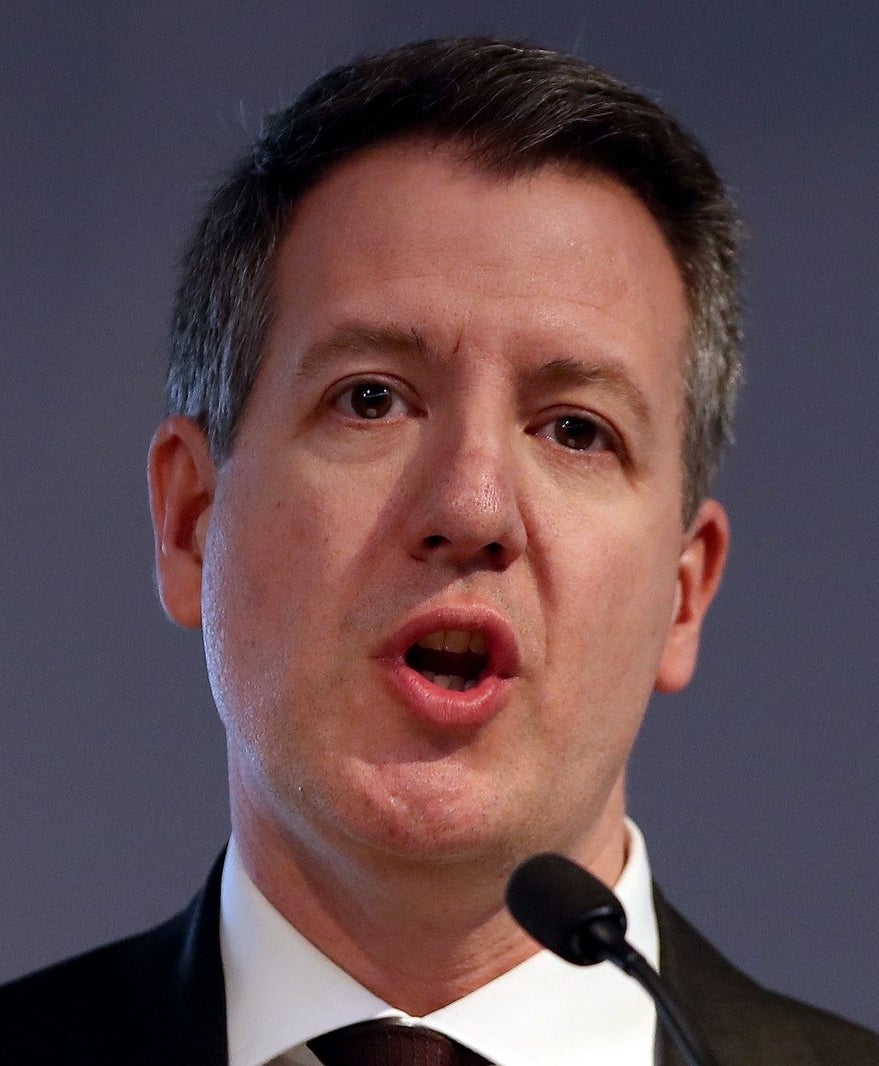 Backbenchers Sarah Wollaston and Nick Boles and Business minister Richard Harrington are also being monitored closely by government whips. MPs like Boles and Soubry, who are facing deselection by their local Conservative associations, are the most likely to jump, the source said.
Asked by BuzzFeed News if he could join the Independent Group, Boles did not directly address the question: "I have not spoken with any of them about their plans and am totally focused on working with MPs of all parties to stop a no-deal Brexit on March 29".
Harrington also did not rule it out, replying: "Good for them! But they are Labour and we are Cons". Soubry and Wollaston did not respond to requests for comment. Remain-voting backbencher Ed Vaizey said he would not be joining the group.
Other anti-Corbyn MPs are considering their positions in the Labour Party but were unconvinced by the plans they saw from the nascent Independent Group. These MPs want to see how the group is received before deciding whether to jump and are adopting a "wait and see" strategy, a source said.
The most hardline MPs, including Leslie, originally wanted to announce the resignations around the the Valentine's Day Brexit votes last week, a source familiar with the plan said. Arguments in favour of doing so included utilising Labour's anti-Semitism scandal, which reared its head again last week, to attack the leadership. A source said members of this faction had also held "positive" discussions with Commons Speaker John Bercow about access to Short money and tabling amendments at upcoming Brexit votes in parliament.
Leslie and Umunna booked several rooms on the parliamentary estate with the intention of holding a press conference on Friday, before cancelling the plan. A separate source said several MPs had wanted Leslie and Umunna to tone down the Friday press conference to merely threaten a breakaway if Corbyn did not endorse a People's Vote, though this idea was also rejected. A spokesperson for Umunna insisted the rooms were booked weeks ago because they thought they might want to hold a "Brexit-related" press briefing. They then forget to cancel the bookings, the spokesperson said.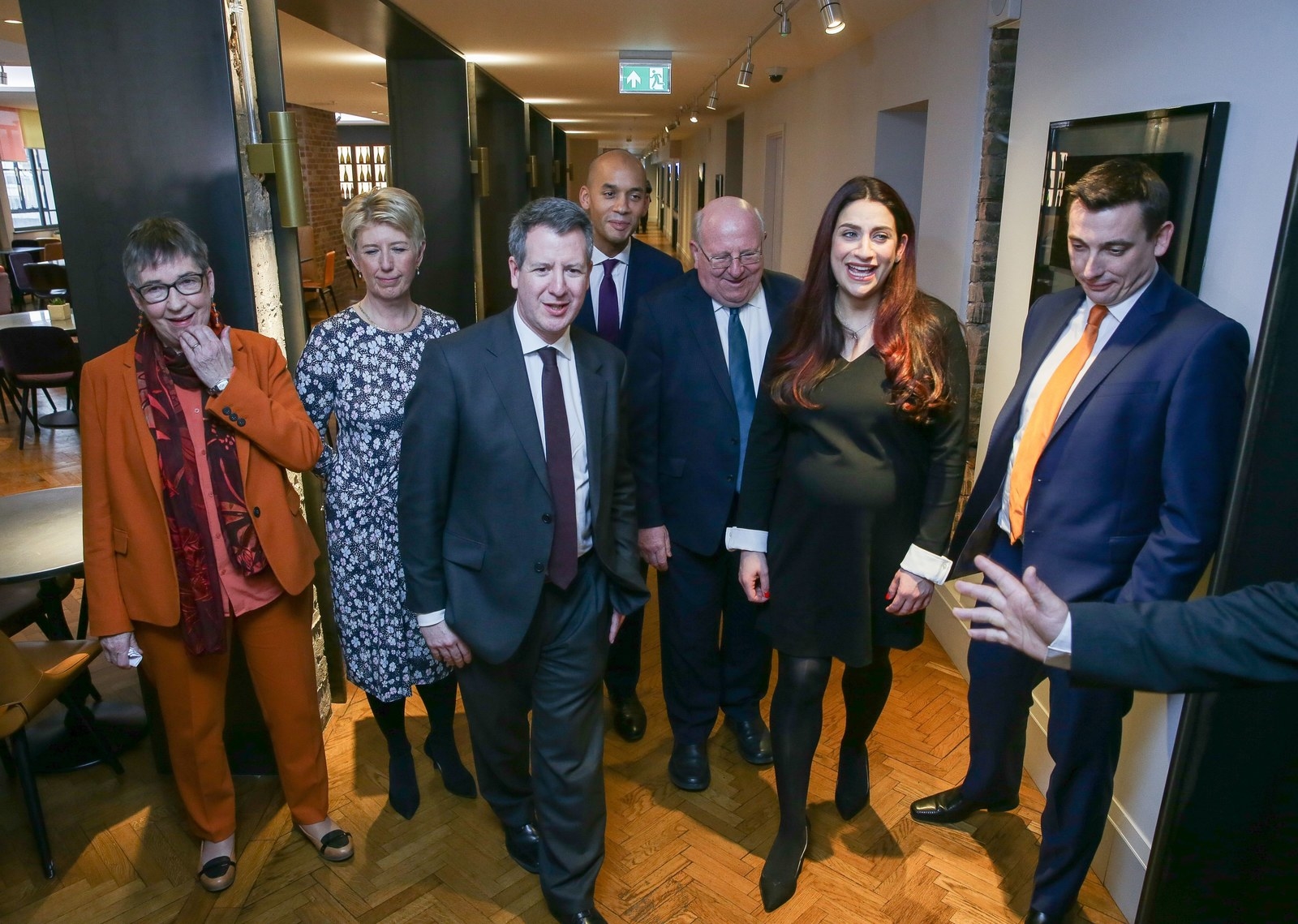 A further source of conflict has been over whether the Independent Group should allow ex-Labour MPs who left the party amid sexual harassment allegations to sit with them. Ivan Lewis and John Woodcock currently sit as independents after facing harassment claims last year, and while some in the Independent Group want to welcome them to bolster their numbers, others feel it would be a bad look.
Lewis intimated to BuzzFeed News that he wanted to help the new grouping: "I look forward to engaging with my independent colleagues about how we can work together". Woodcock did not respond to a request for comment. In a sign of the ongoing deliberations, Independent Group MPs would not be drawn today on whether Lewis and Woodcock would be allowed to sit with them.
A spokesperson for the Independent Group told BuzzFeed News: "It's Day 1 and we'll be meeting as a group for the first time in the coming days to settle our rules on how we admit new members. We've said that we are open to those who share our values, and will welcome those who agree with us that our politics is broken and needs to change."
The spokesperson later added: "It's for them to clarify the current situation about any complaint before we could consider it."
MPs thinking about their positions within Labour have raised concerns about the lack of clarity on these issues and the overall competence of the whole operation. The closely-guarded plan leaked out in stages over the last few days, creating the impression of multiple false starts and culminating in a chaotic situation on Sunday in which the splitters refused to respond to journalists all day. There was also frustration that the group's website fell over within minutes of its launch. "They do not get on, they do not agree on fundamentals, there are personality clashes and they cannot do the basics," a figure who has worked with the group complained.
On Monday afternoon, the Independent Group became embroiled in controversy of its own after Angela Smith, one it its founding members, appeared to tell BBC Politics Live that members of the "BAME community" have a "funny tinge". She was later forced to apologise, saying in a video statement: "I am very upset that I misspoke so badly. It's not what I am".
Labour MPs said the mood among the parliamentary Labour Party was one of "sadness" and "disappointment."
"People are really disappointed that our former colleagues felt that they had no option but to do this," Heywood and Middleton MP Liz McInnes told BuzzFeed News. "The feeling is that it's far better to stay in and fight. That's those of us who have the Labour Party in our blood."
Another MP said they felt "numb and sad," adding that MPs were feeling anxious that the splinter group had increased the chances of the Tories calling an early election. "Imagine if you have small majority," they said.