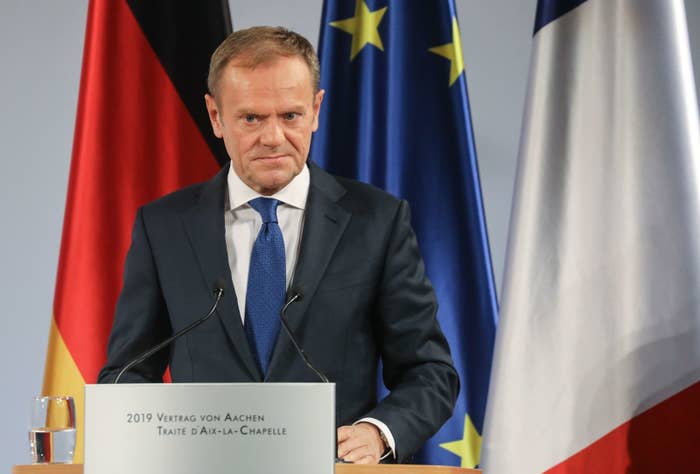 Donald Tusk told Theresa May that Jeremy Corbyn's Brexit plan could be a way out of the current Brexit impasse, BuzzFeed News has learned.
An EU source with knowledge of today's meeting said: "Tusk suggested that the Corbyn plan could be a promising way out of the impasse."
EU officials who have looked at the letter the Labour leader sent the prime minister on Wednesday believe that it is broadly compliant with the guidelines set out by the EU's remaining 27 member states.
In a letter to the prime minister on Wednesday night, Corbyn offered new terms for a deal that he said the Labour party would be willing to accept.
Dropping Labour's previous demand that the government secures the "exact same benefits" as the membership of the EU's single market after Brexit, Corbyn indicated he would back a deal if it delivered a permanent customs union, "close alignment" with the single market, protections for workers' rights, participation in EU agencies and funding programmes, and agreements on future security arrangements.
During Thursday's meeting with May, Tusk reiterated that the withdrawal agreement was not open for renegotiation.

The source said that "May did not offer any new concrete proposals on the way forward."
The president of the European Council also insisted that it would need to be clear that any new solution proposed by May was backed by a majority in the House of Commons.

Tusk asked May for a timeline of next steps, but "got no clear answer," said the official.
At the end of the meeting the prime minister raised remarks Tusk had made the previous day saying that there was a "special place in hell" for Brexiteer politicians who did not have "even a sketch of a plan how to carry it out safely".

After the meeting May told reporters: "I've raised with President Tusk the language that he used yesterday, which was not helpful and caused widespread dismay in the United Kingdom. The point I made to him was that we should both be working to ensure that we can deliver a closer relationship between the United Kingdom and the European Union in the future, and that's what he should be focusing on."
A source close to the president of the European Council told BuzzFeed News that Tusk stood by his statement, and did not regret it.
"He remains of the view that while the truth may be more painful, it is always more useful," the EU official said.