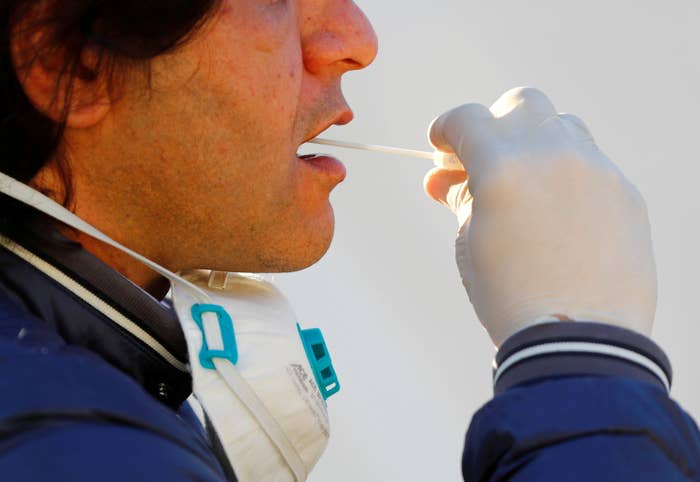 BuzzFeed News has reporters across five continents bringing you trustworthy stories about the impact of the coronavirus. To help keep this news free, become a member and sign up for our newsletter, Outbreak Today.

On paper, the UK's plan to conduct coronavirus contact tracing is every bit as ambitious as Germany's. The UK government has said it will recruit 18,000 people by the middle of May — a number broadly similar per capita to the German government's own targets.

But Germany's contact tracing program is already solidly in place, data analysed by BuzzFeed News shows, while crucial questions about the UK's effort remain unanswered.
The comparison tells a story that is eerily similar to the UK's approach to testing. As the outbreak intensified in March and other countries ramped up capacity, Britain scaled back and is now scrambling to catch up. With the UK's death toll for now among the highest in Europe, the consequences of those decisions are being closely scrutinised.
Contact tracing is a pillar of the government's plans to ease the country out of lockdown without igniting a massive new wave of infections. When someone becomes ill, tracers move as quickly as possible to find everyone the person came into recent contact with and ask them to self-isolate when necessary. Combined with mass testing, it is seen as the key to limiting the chain of transmission.
In Germany, contact tracing is implemented by local health authorities. On March 25 — six weeks ago — the federal government announced that each state was expected to have at least one team of 5 contact tracers for every 20,000 people.
Eleven of the country's 16 states sent BuzzFeed News their figures. Most have already met the target, while a few others are still working towards it. North-Rhine Westphalia, the country's largest state and one of the worst affected by the coronavirus outbreak, currently has 3,385 people employed in contact tracing, a spokesperson for the state government told BuzzFeed News. That is about 5 contact tracers for every 25,000 residents.
Bavaria, the first state to record a COVID-19 case, has 5 contact tracers for about every 33,000 people, while Germany's third-largest state, Baden-Württemberg, was on course to exceed the target this week with 5 contact tracers for every 18,000 people. All the other regions that provided data are broadly on a par with the target.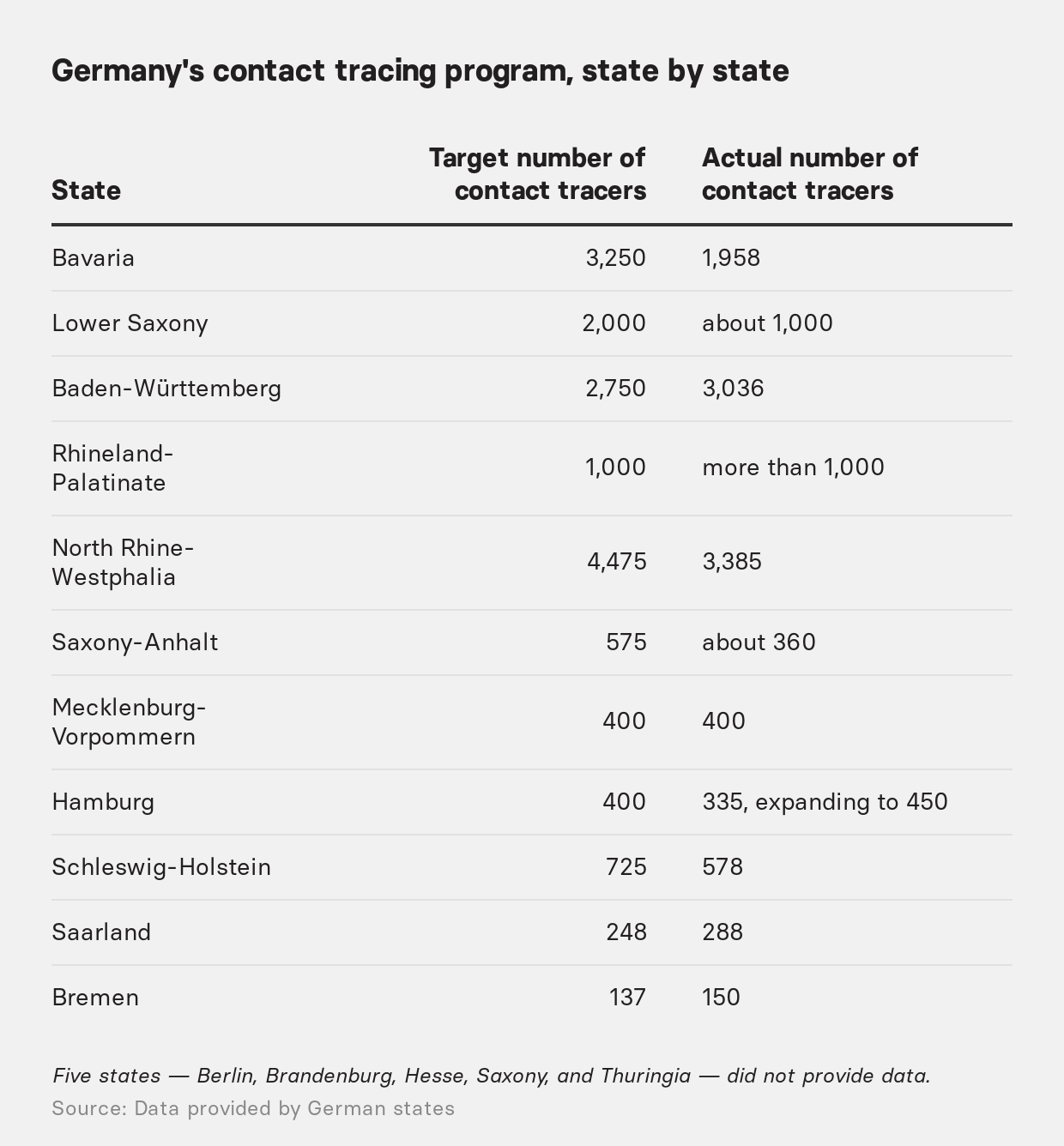 A spokesperson for the state of Schleswig-Holstein, which has a population of 2.9 million, said that its contact tracers were working full time for the 15 health authorities in the state's districts and cities. The health authorities also trace "all the contacts" of people confirmed to have the virus, and they "are also responsible for checking on the people quarantined/confined, in order to ensure compliance and to check on their state of health," the spokesperson said.

Contact tracing has remained central to Germany's strategy to tackle COVID-19. Even as the country prepared to go into lockdown, it moved quickly to scale up capacity. A spokesperson for the state of Baden-Württemberg shared data showing that the region had 549 contact tracers on March 1. By May 7, that figure had risen to 3,036.
By contrast, the UK moved away from contact tracing and focussed its testing only on the most ill. Up until mid-March, Public Health England's contact tracing response team consisted of just under 300 staffers, who had traced a total of 3,500 people.
After an outcry over a lack of available tests, the UK government spent April in a race to boost its testing capacity, reaching adequate capacity only at the very end of the month. Now something similar appears to be happening with contact tracing.
A UK Department of Health and Social Care spokesperson said: "We are making very rapid progress to recruit thousands of contact tracers. Recruitment has already started and we are confident we will have hired the 18,000 by the middle of May."
Considering the UK's population, this figure roughly translates to about 5 contact tracers for every 18,000 people. However, while the German numbers are real, Britain's figure is a target. The department of health spokesperson declined to say how many people have been recruited so far, and declined to provide detail about how these recruits will be spread out across the country and distributed between centralised call centres and local authorities.
About 15,000 of the people recruited will be "call handlers", and 3,000 will be "health workers", but the government has not given any further specifics about what those jobs will look like and where they will be based. The government has also declined to provide the kind of data that German authorities shared with BuzzFeed News.
Germany has been hashing out those specifics since mid-March, which is around the time when the UK rolled back its contact tracing operation. Local media reported that the Robert Koch Institute (RKI), Germany's public health institute, received 11,000 applications for "containment scouts" to support contact tracing efforts. The RKI told BuzzFeed News that 362 containment scouts have been deployed across Germany's 16 states so far and about 130 more are being trained and recruited among the pool of candidates. The containment scouts operate alongside contact tracers in about 400 local health authorities spread across the country.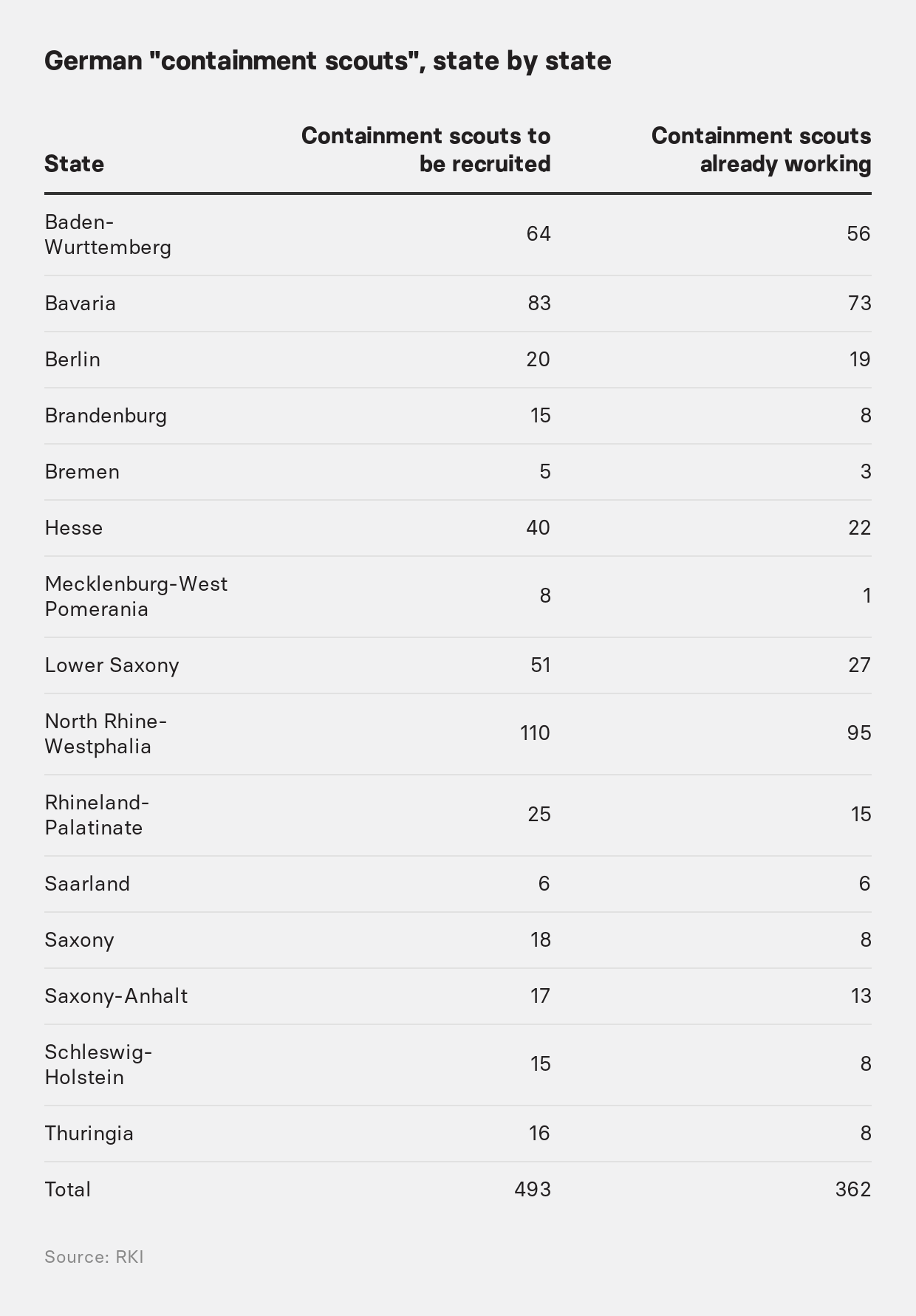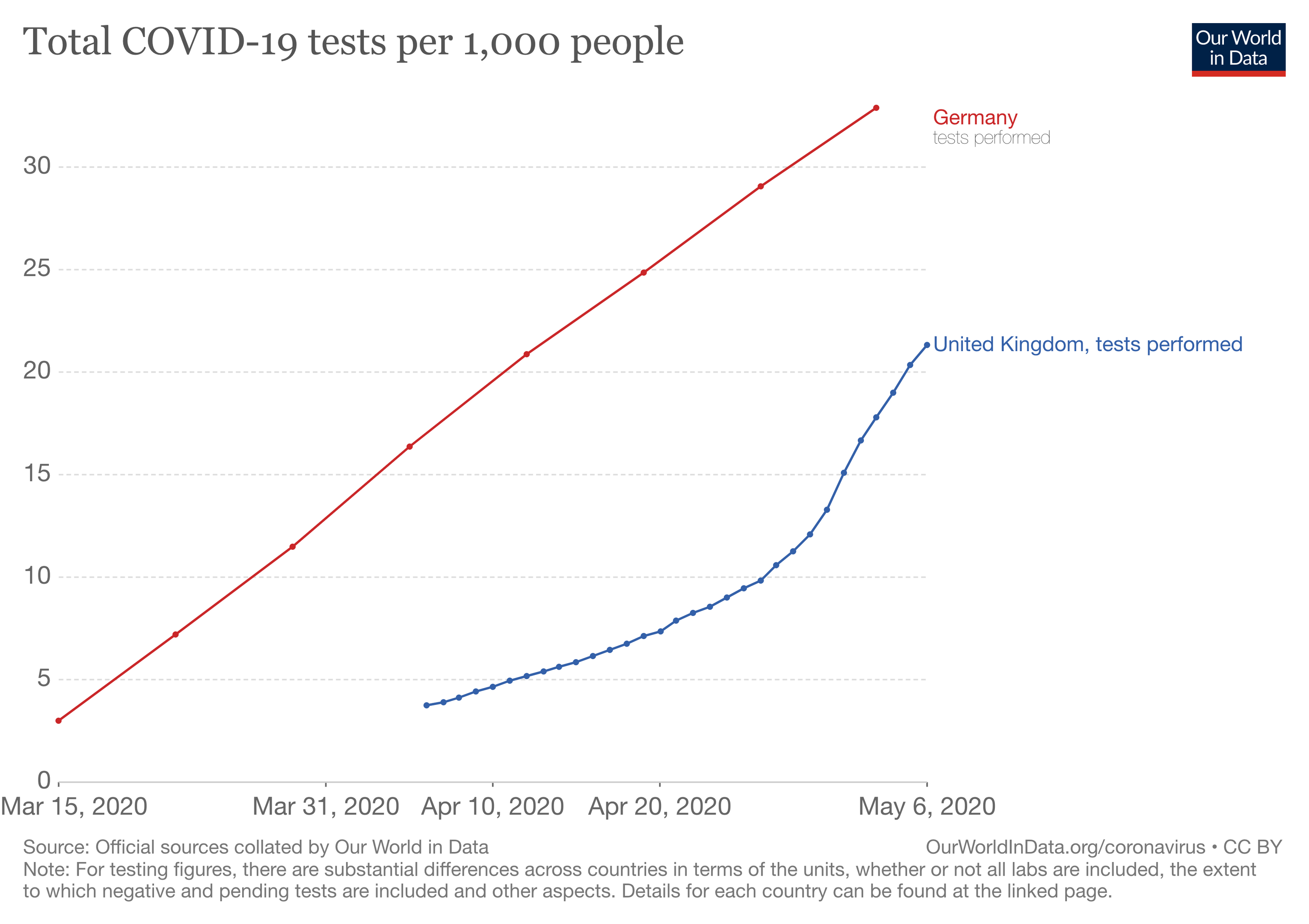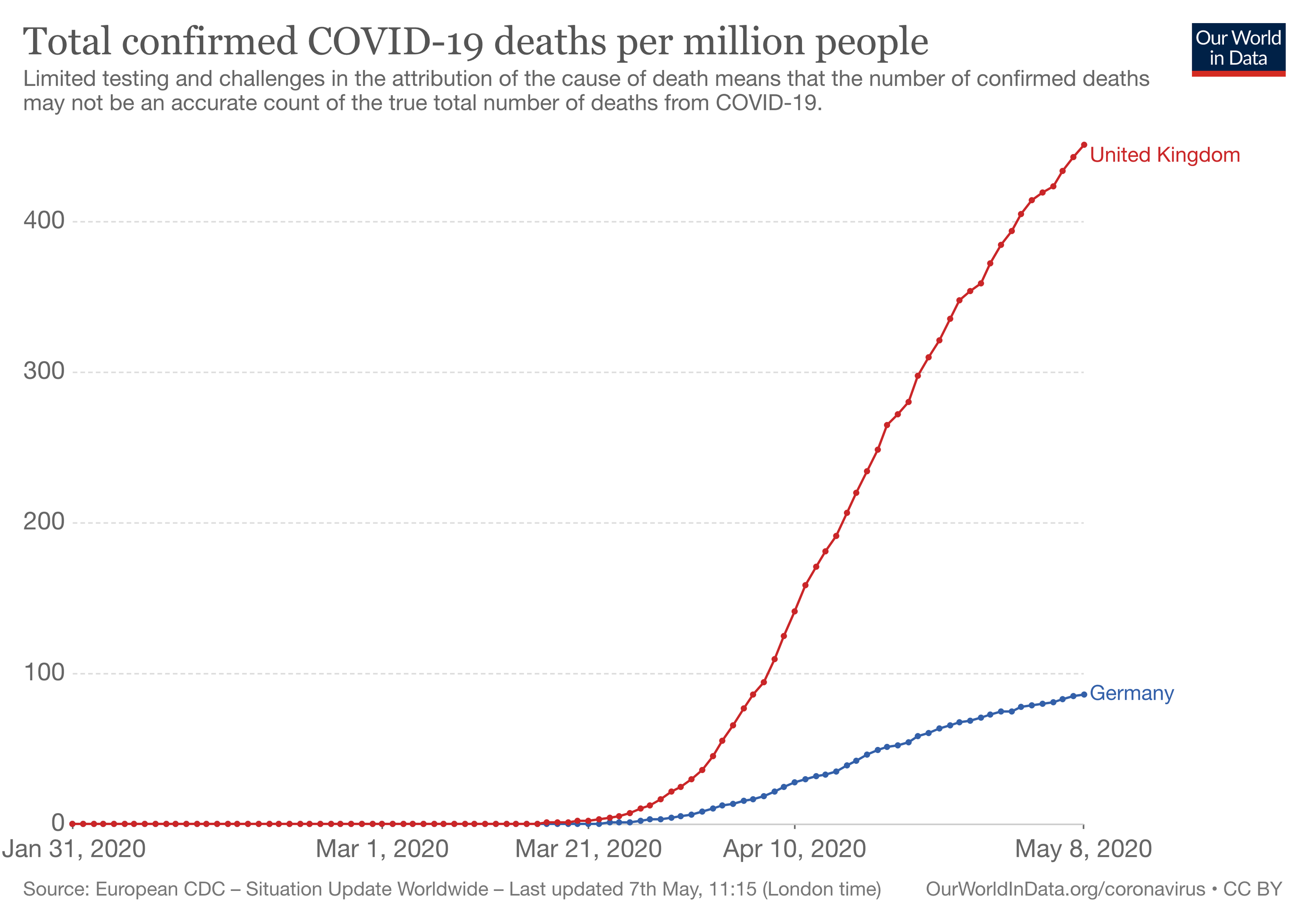 Both the UK and Germany are developing apps to support their contact tracing efforts. But the two countries have adopted different approaches. Germany has opted for a "decentralised" approach while the UK for a "centralised" approach.
Both apps will work by exchanging short-distance Bluetooth signals between phones to detect other nearby app users, recording those encounters over time so that when someone tests positive for the virus, that information can be used to alert app users who have been in close proximity. The apps aim to complement, not replace, human-led contact tracing by speeding up the process of identifying people.

In the decentralised approach, contacts are logged on individual devices and in the centralised approach on a central server. While the centralised approach gives health authorities more insight and more control over the data, it isn't supported by Apple and Google and there are concerns this could lead to apps that don't work properly on iPhones and the latest Android devices. Experts in both countries have estimated that about 60% of the population would need to use a contact tracing app for it to be effective.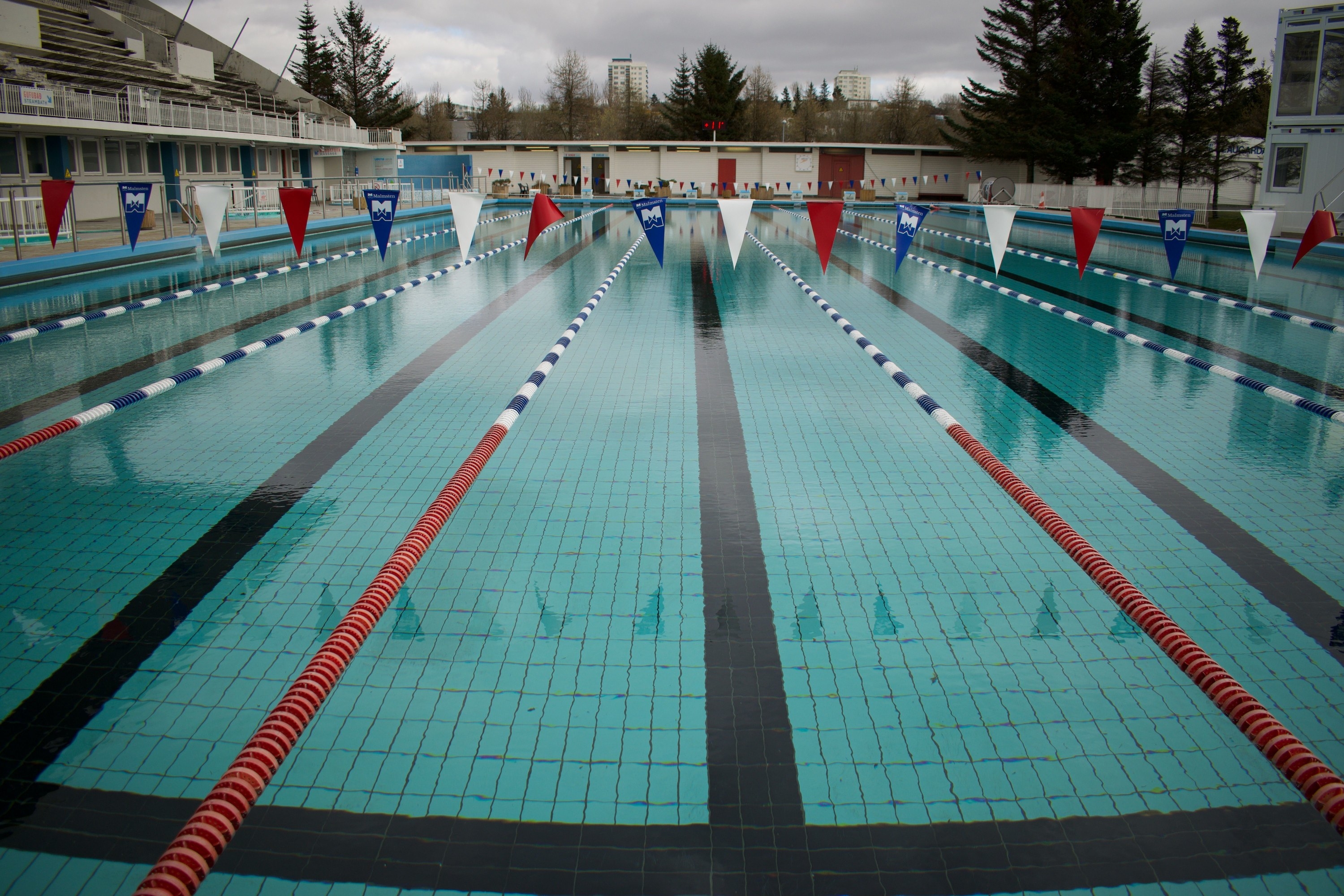 Germany is not only the country that maintained mass testing and contact tracing at scale.

Like Germany, Iceland is gradually starting to ease lockdown and social distancing measures that have been in place since mid-March.
Iceland's government believes that its mass testing and contact tracing policy, as well as a decision to quickly shut nursing homes, have been crucial to its handling of the pandemic. Per capita, the small island nation of 364,000 people has tested more than any other country except the Faroe Islands, including those who have no or mild symptoms.
Since the beginning of the outbreak, Iceland has had a policy of quarantining individuals who have been in contact with infected individuals. More than 5% of the population has completed a quarantine period of up to 14 days. And in a clear indication of how aggressively it has traced contacts, 57% of those who have tested positive for COVID-19 were already self-isolating when they were diagnosed.
A government spokesperson told BuzzFeed News that the country has a contact tracing unit of 60 people supported by 100 students in health sciences.
About 1,800 people have tested positive for COVID-19 in Iceland and 10 have died.
Alongside the lifting of some lockdown measures, Germany has introduced an emergency mechanism designed to stop a local COVID-19 outbreak before it spreads further by temporarily reintroducing restrictions in the affected area. The "emergency brake" is triggered if 50 new infections per 100,000 inhabitants are detected in a district or city. Over the weekend, Coesfeld, a district in North Rhine-Westphalia, became the first to activate the mechanism following an outbreak at a meat processing plant.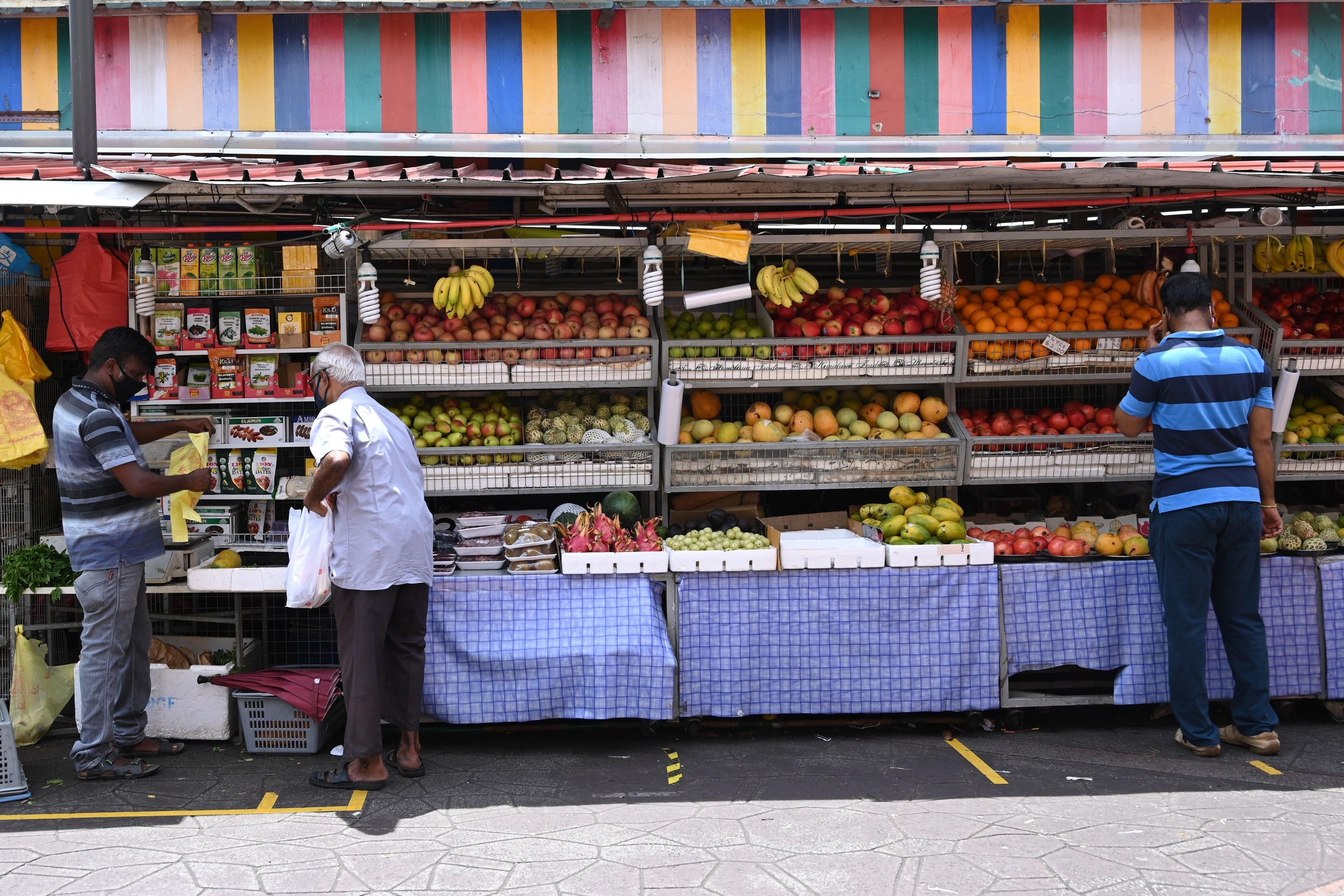 Another island that has implemented an aggressive approach to contact tracing is Singapore. A Singaporean government spokesperson previously told BuzzFeed News that up to 4,000 contacts can be traced each day on the island, which has a population of 5.7 million, and that its capacity had grown from three to 20 teams.

Singapore has had 21,000 coronavirus cases and 20 people have died, according to data collected by John Hopkins University.