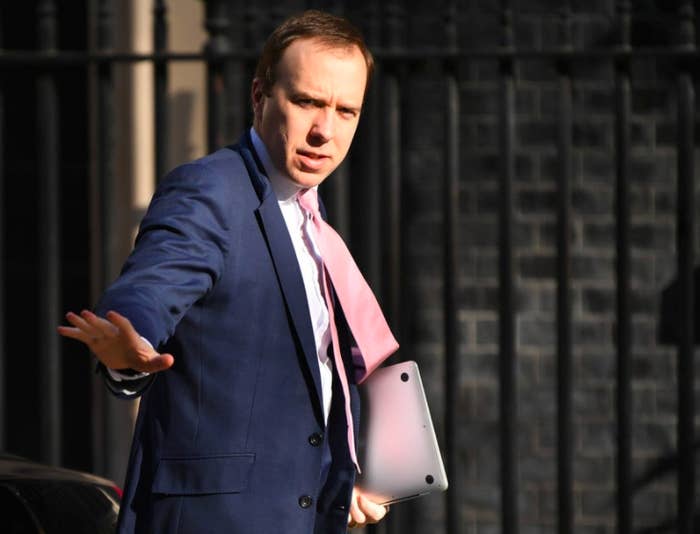 BuzzFeed News has reporters across five continents bringing you trustworthy stories about the impact of the coronavirus. To help keep this news free, become a member and sign up for our newsletter, Outbreak Today.
Countdown clocks have had mixed results in British politics recently. The one at Conservative HQ ticking down to Brexit day last year embarrassingly ticked back up again when Boris Johnson missed his Oct. 31 deadline.
That didn't deter Matt Hancock's team at the Department of Health from installing their own clock counting down to today, April 30: the date the health secretary boldly promised at the start of the month that the UK would carry out 100,000 coronavirus tests in a single day.
As the hours and minutes dropped down to zero, those involved in the unlikely race against time told BuzzFeed News that Hancock could still pull it off, but cautioned that it is possible he may miss his target by a few days. They insisted the government was approaching capacity for 100,000 tests per day and would come close to conducting that number of tests on Thursday. The health secretary will announce whether or not he has succeeded at a press conference on Friday, after the numbers are counted.
In the last internal meeting before target day, Hancock told his team that even if they missed their target, they had still put the UK in a strong position on testing: "Whatever happens tomorrow, we've done what we needed to do — we've ramped up our testing capacity more than anyone believed we could, and given the UK the testing capacity it needs to beat this virus."
But others are more sceptical. On Tuesday, only 52,000 tests were carried out in Britain, leaving a monumental uphill battle in the last 48 hours. NHS Providers — the association for NHS trusts in England — criticised the government on Wednesday for a "lack of clarity on the testing regime". They accused ministers of making "a series of frequent tactical announcements" to expand testing criteria, and claimed the 100,000 target was a "red herring".
"A vast amount still remains to be done to reach a testing regime that can be described as fit for purpose," their report warned.

Hancock believes, even if he does miss that number by a few days, that his 100,000 target has accelerated the ability of Britain to be able to ease some lockdown measures, by putting in place South Korean–style test and trace capabilities that will be central to the UK's exit strategy.
The logic is simple: If the number of new COVID-19 cases per day falls below the government's capacity to test new sufferers and those they've been in contact with, then theoretically those with the disease can be isolated, the outbreak can be brought under control, and some lockdown measures can start to be lifted.
The monthlong mad dash to "ramp up" testing was described by those working on it as at times "like a French farce", at others "surreal" as a former senior military commander and executives from Amazon tried to solve logistical nightmares via Zoom, and like a game of "whack-a-mole" as new problem after problem cropped up.
Hancock and his team have privately compared April 30 to polling day, with a massive "Get Out the Vote"–style operation taking place to encourage people to leave their homes to get tested, and a time lag as the numbers are counted, compared by insiders to waiting for an exit poll to drop.
In a frenzied final drive to get people to testing sites or have kits sent to their homes, eligibility for testing was expanded massively to symptomatic over-65s and key workers. Tory MPs and ministers were ordered to tweet out links to the testing application page, Conservative HQ sent out a mailshot to its members urging them to get tested, as Hancock, testing minister James Bethell, and their team anxiously studied the data coming in to track demand across the country.
"We are handing out tests to everyone and their mum to try and get demand up," one Conservative said. There has been a "massive ramp-up" in the final hours, Whitehall sources claimed.
But NHS Providers have warned that this rapid expansion of testing eligibility in an attempt to hit the target meant there was no clear sense of who was getting tested, and whether NHS and care workers were being prioritised.
Hancock's aides are also worried about the effect the weather might have on their hopes of hitting the target. Just as a rainy forecast raises fears of lower turnout on election day, Department of Health officials became concerned that the poor weather this week would suppress the number of people willing to leave their homes for the regional test centres.
The health secretary has staked his political reputation on meeting the target, having to bat away questions over whether he would resign if he comes up short, and clashing with the prime minister's aides behind the scenes and in the newspapers over his apparent "grandstanding".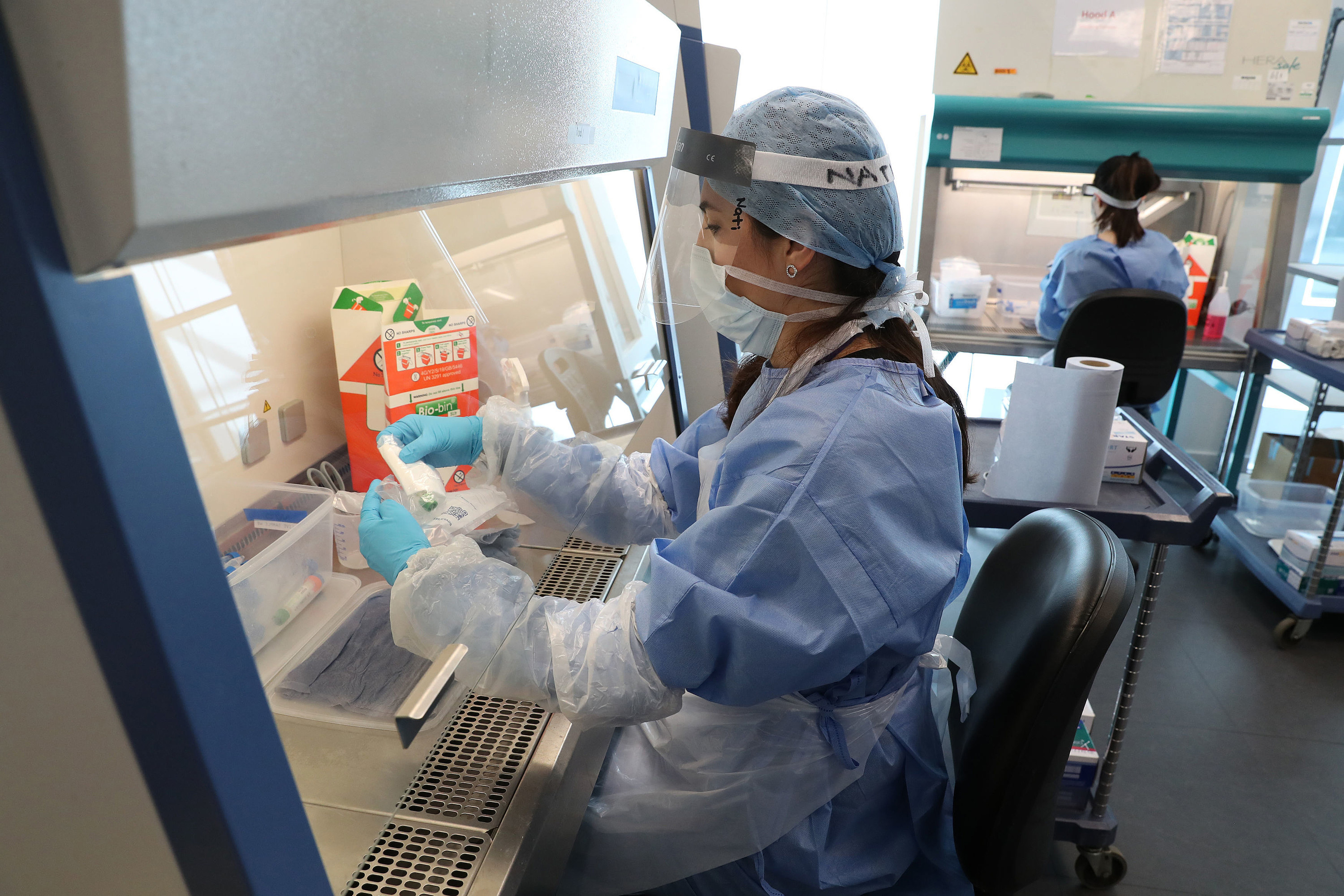 A month ago, the government's comparatively poor record on testing was making dire media headlines — at the time BuzzFeed News noted that even Donald Trump's America was carrying out more tests.
The initial problems were clear: nations like Germany started off with fully fledged diagnostics industries and took advantage of their existing technology, infrastructure, and decentralised testing regimes. The UK, with its extremely limited diagnostics resources, and cumbersome, highly centralised NHS and Public Health England, was in a much worse state.
Britain's modest pathology laboratories were used to processing half a dozen samples a day and looked more like your chemistry lab at school than a fully digitised German lab with industrial-sized machines, insiders told BuzzFeed News. Asking the labs to triple or quadruple their output was too much for them to handle. One figure involved in the exercise said it was "like asking a Savile Row tailor to make you a million suits in a month".
As former health secretary Jeremy Hunt, who now chairs the House of Commons health select committee, toured the television studios critiquing the government's response to the pandemic, some of those working on the plan shouted at their television screens that the lack of planning during his tenure in office had helped get them into this mess. Exercise Cygnus, a drill that exposed huge flaws in the UK's pandemic preparedness back in October 2016, took place on Hunt's watch.
But the problems have not just been in the practicalities. Crucial decisions were made by current government ministers on the basis of an approach in which testing was not prioritised, with procuring ventilators and keeping the NHS below capacity regarded by the scientific and medical experts as a much more important priority.
Questions have been asked within government as to why their initial testing and tracing of the first coronavirus cases in Britain was not continued, and if this early "herd immunity" approach was a factor as well as testing capability.
Late in March, deputy chief medical officer Jenny Harries caused controversy when she claimed mass testing was "not appropriate" for the UK. But by the beginning of April, chief scientific adviser Patrick Vallance was arguing the opposite: "Testing is an incredibly important part of how we need to manage this going forward."
Achieving automation in three "megalabs" kitted out with pipette-holding robots "like something out of a science fiction movie" was fundamental to increasing capacity. But then came the next complication: logistics.
Getting the swabs from the testing centres to labs to analyse, and then getting results back to people was proving extraordinarily difficult. Lab volunteers told BuzzFeed News they were often sitting on their hands waiting for samples to come in, as NHS workers expressed their desperation to get tested. Things weren't helped by a global supply shortage of chemical reagents and equipment, with weekly conference calls between G7 health ministers descending into them asking each other wearily: "Have you got enough swabs?"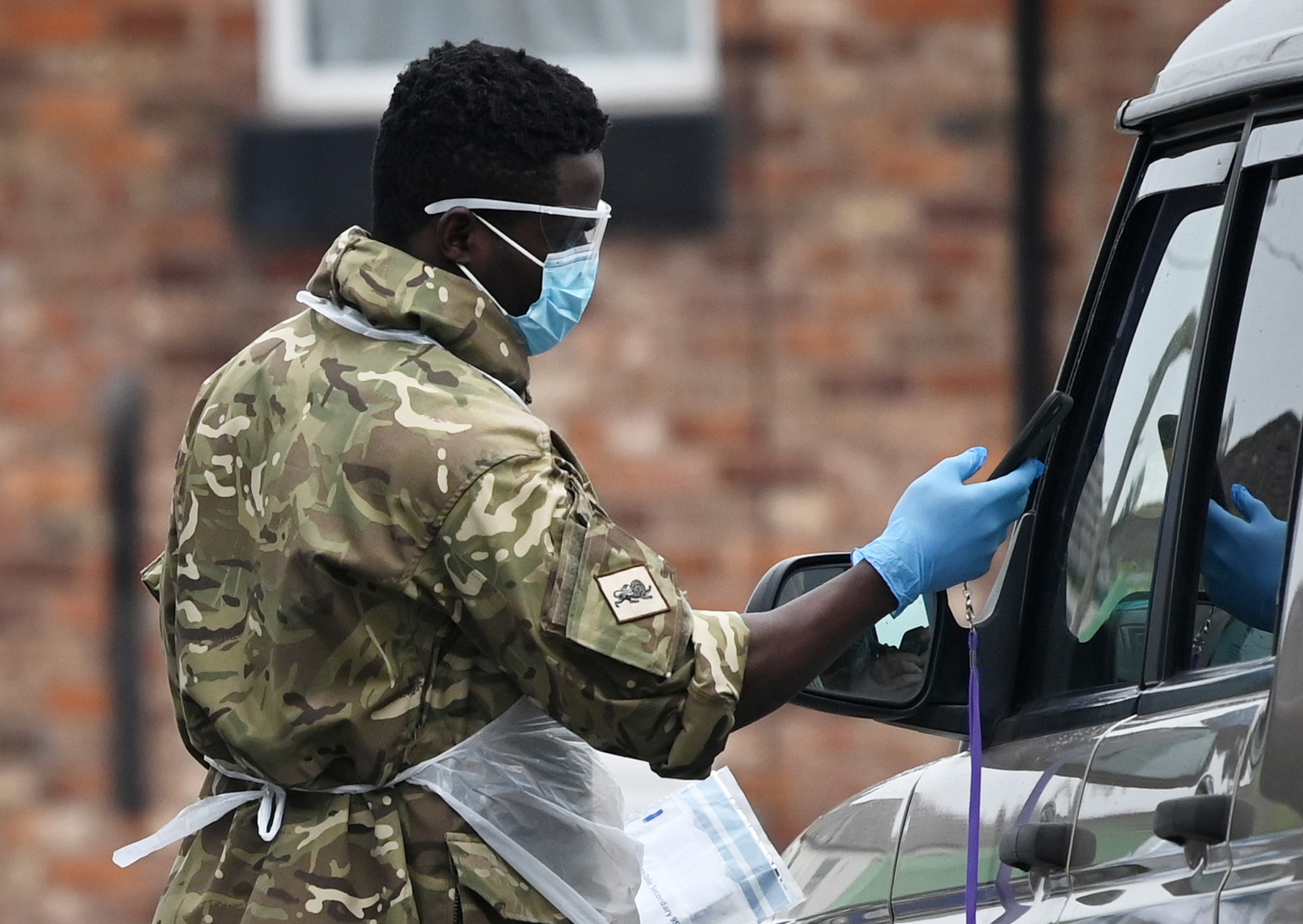 The lack of organisation caused Hancock to send for the army. The second floor of the Department of Health, usually home to its communications team, was requisitioned, with press officers replaced by military officers in camouflage gear, and maps and Gantt charts setting out the delivery dates for the various testing capacity targets were set up around the floor. In their first days in the department, the military headed out to labs early in the morning, then delivered conference call sitreps to ministers about everything that was going wrong.
Sources described "surreal" Zoom meetings between Hancock and executives from Amazon, the CEO of Boots, a former senior military commander, and an Oxford don coming up with ways to boost capacity. Specialists from Boots were drafted in to teach military personnel how to conduct COVID-19 testing at Edgbaston cricket ground.
Just as capacity started to pick up, then came the next problem: it wasn't being met by demand. The gap between capacity and the actual number of tests carried out each day reached as high as 30,000 at some points. This was seen by some as a good problem to have for the country, if not Hancock's target. "It meant the number of staff forced off work with symptoms wasn't as high as people feared," said one source.
But NHS and care workers complained that the problem was not a lack of demand, it was the difficulty in accessing tests, with testing centres often located long distances from their homes. And some NHS staff who were following the advice to isolate at home because somebody in their household had symptoms were turned away from testing centres because they did not have symptoms themselves.
Despite the numbers looking tricky, Hancock continued to insist internally that he was expecting what was described as a "hockey stick" — incremental increases at first, then a sudden rise in the final few days.
Crucial to whether the target is hit will be a major increase in home-testing capabilities this week. Last Thursday, the UK was managing just 5,000 home tests per day. This Thursday, following efforts by Amazon, Boots, Deloitte, and the Post Office, the Department of Health hopes to offer 25,000 home-testing kits. The plan is that anyone applying for a kit on the government's website in the morning will have one couriered to them that same afternoon, and get the results back via text message within 48 hours.
Hancock's allies told BuzzFeed News that a slower ascent to 100,000 tests per day would have been far easier for him politically, but would have delayed the start of the track and trace programme that the government's scientists see as crucial to have ready before any easing of the lockdown can take place.
They noted comments by the German virologist Christian Drosten, who has been advising Angela Merkel's government throughout the crisis. "It's clear that testing was implemented a little bit too late in the UK," he said this week.
"Public Health England was in a position to diagnose the disease very early on — we worked with them to make the diagnostic test — but rollout in Germany was driven in part by market forces, which made it fast, and that wasn't the case in the UK. Now, though, I have the impression that the UK is really gaining momentum in this regard, and that it is coordinating testing efforts better than Germany."
This is an argument you can expect to hear repeatedly from ministers in the coming days as they aim to focus attention on the current situation and not missed opportunities at the start.