This Sixth Former Is A Star Student And Fleeing Domestic Violence, So Why Does The Home Office Want To Deport Her?
As the Yashika Bageerathi storm continues to grow, Whitehall insiders suggest the department is motivated by a desire to hit targets.
Yashika Bageerathi, 19, is a promising student preparing to take her A levels.
Last week she was detained by the Home Office at Yarl's Wood immigration removal centre and was set to be deported on Tuesday. At the weekend, campaigners, including many students from her school, took to Whitehall to protest the decision.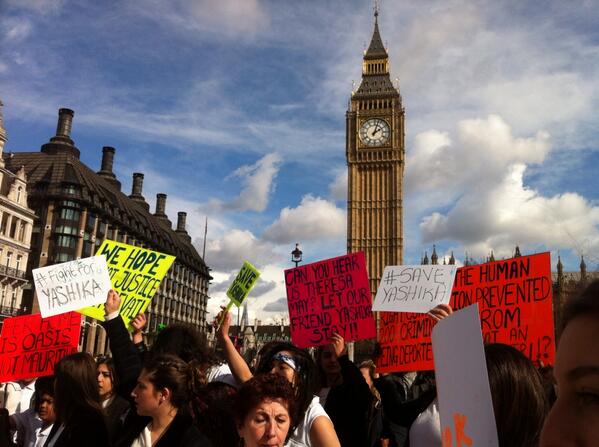 An online petition has garnered over 100,000 signatures. The protest attracted so much attention that even Cara Delevingne was moved to add her support.
On Tuesday it appeared the campaign had succeeded. But a twist followed. Yashika has got the support of everyone in her academy because she adds so much. But we are hearing a lot of other cases of teenagers who are fearful that when they turn 18 they will be removed, and cases of people who have already been removed.Even if this is no longer about her right to a family life, Yashika is about to do her A-levels and her sister has her GCSEs coming up this summer - if they are removed it will ruin their education.
So what's going on behind the scenes?
First, is the Home Office determined to stick by its decision, in the face of growing discontent? It's hard to give a definite picture, because the department will not give commentary on individual cases, but it certainly seems that way.
However, Whitehall insiders point towards one motivation being a massive immigration backlog which is putting the department's civil servants under intense pressure to hit targets. At present the backlog could take over 30 years to clear: and when last-minute appeals are successful, they essentially rejoin the back of this huge queue. One parliamentary source claims that ministers are keen to encourage the success of a case such as this, because it has the potential to create case law that could be useful when further appeals happen down the line.
There's also the political angle. A Labour advisor has told BuzzFeed he believes ministers are keen to stand firm on such potential flashpoints as a way of "showing they can take tough but necessary decisions ahead of the European Elections, as a way of neutering the Ukip threat".
And there might be another motivation.
Guy Taylor of the Joint Council for the Welfare of Immigrants, a campaigning charity, claims it's all a part of the department's "hostile environment" strategy:
"If you show that immigrants like Yashika aren't welcome, then anyone whose status is slightly dodgy will be compelled to leave. Essentially, I think they're trying to make an example of her."
It seems there may be further delays in the case: Yashika's MP has now made representations to the Home Office in a bid to delay the decision.