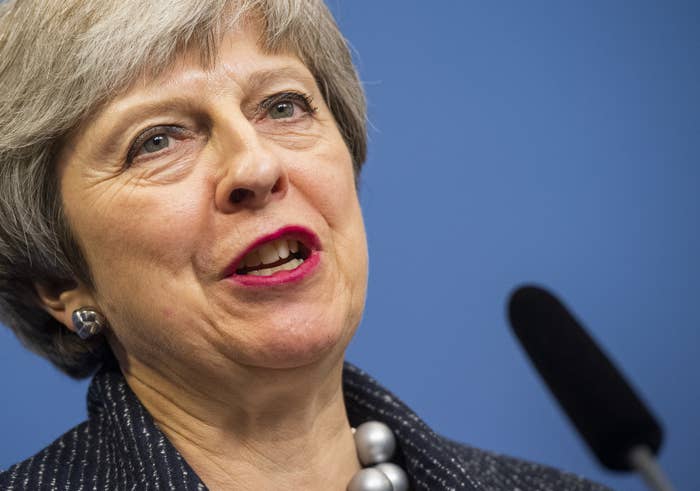 The UK has joined the United States and France in carrying out airstrikes on Syrian chemical weapons facilities near Damascus and Homs, with Theresa May linking the decision to the poisoning of a former Russian spy and his daughter with a nerve agent in Salisbury last month.
The prime minister said in a press conference on Saturday that the strikes were the "right thing to do", as diplomatic efforts to investigate the regime's use of chemical weapons have been "repeatedly thwarted both on the ground and in the United Nations" by Russian vetoes.
However, she was criticised by Labour leader Jeremy Corbyn, who said the action was "legally questionable". Labour released a letter Corbyn had sent May, asking her to publish the legal advice on bombing that she had received from the attorney general.
Number 10 later released a summary of its legal position – which said that grounds had been met that allowed the UK "to take measures in order to alleviate overwhelming humanitarian suffering".
The Ministry of Defence confirmed that four RAF Tornados launched missiles at a base near Homs, where it thought the Assad regime is stockpiling items to make chemical weapons. A spokesperson told the BBC the facility was "located some distance from any known concentrations of civilian habitation".

"My message to people about this is that this is about the use of chemical weapons. We have for nearly 100 years now had a generally accepted position in the international community, because chemical weapons are illegal, their use is illegal, they're banned, and that has generally been accepted," May said in response to a question at the end of the press conference.
"We have seen that international norm being eroded. It's been eroded in a number of ways; as I say, we've seen a nerve agent used on the streets of a city here in the United Kingdom, but we have seen the Syrian regime continuing to use chemical weapons," she added.
May pointed out that Syrian president Bashar al-Assad's regime said it would dismantle its chemical weapons after international condemnation of a chemical attack on civilians in August 2013, and that Russia had guaranteed this was taking place. "That commitment has not been met," she said.
She declined to say whether she would order further strikes if this were to happen again, saying "nobody should be of any doubt of our resolve on
this issue".
When asked why she did not seek parliamentary approval, May said that the UK acted in a time scale that would give a "very clear message" to the Syrian regime, adding that "for operational security reasons, it was right that we acted in the way that we did".

She will deliver a statement in parliament on Monday, and will invite MPs to ask questions.
Defence secretary Gavin Williamson described the strikes as "highly successful", telling Radio 4: "Our service personnel have played an important role in terms of degrading the ability of the Syrian regime to use chemical weapons in the future, but also it sends a clear message to the Syrian regime that they cannot continue to use chemical weapons with impunity."

In an earlier statement, May said it was not a decision she had taken "lightly".

She said: "This is not about intervening in a civil war. It is not about regime change.
"It is about a limited and targeted strike that does not further escalate tensions in the region and that does everything possible to prevent civilian casualties.
"And while this action is specifically about deterring the Syrian Regime, it will also send a clear signal to anyone else who believes they can use chemical weapons with impunity."
May's statement was welcomed on Twitter by foreign secretary Boris Johnson and some other Conservative MPs.

However, Labour leader Jeremy Corbyn said: "Bombs won't save lives or bring about peace. This legally questionable action risks escalating further, as US defence secretary James Mattis has admitted, an already devastating conflict and therefore makes real accountability for war crimes and use of chemical weapons less, not more likely.
"Britain should be playing a leadership role to bring about a ceasefire in the conflict, not taking instructions from Washington and putting British military personnel in harm's way.
"Theresa May should have sought parliamentary approval, not trailed after Donald Trump. The Government should do whatever possible to push Russia and the United States to agree to an independent UN-led investigation of last weekend's horrific chemical weapons attack so that those responsible can be held to account."

BuzzFeed News understands that Corbyn yesterday received a briefing on privy council terms on intelligence around the Douma attack.

His words were echoed by the Liberal Democrat leader Vince Cable, who said: "Riding the coattails of an erratic US President is no substitute for a mandate from the House of Commons.
"The Prime Minister could and should have recalled Parliament this week and sought the approval of MPs before proceeding."

He added: "Liberal Democrats stood ready to assess the evidence and objectives for any action and, if it were properly planned and justified, to support a military response.

"At this moment our thoughts are with British and allied troops. But the Government's decision fatally undermines the integrity of this mission. It shows a weak Government putting short term political expediency before democracy and in so doing further diminishing the standing of Britain in the world."
Initial responses from some Labour and SNP MPs also criticised May for not seeking parliamentary approval for the strikes.
The Syrian regime later showed a video of its leader, Bashar al-Assad, walking into his offices. The caption said: "A morning of steadfastness."