1.
Facebook took down Tory adverts which used edited versions of BBC content.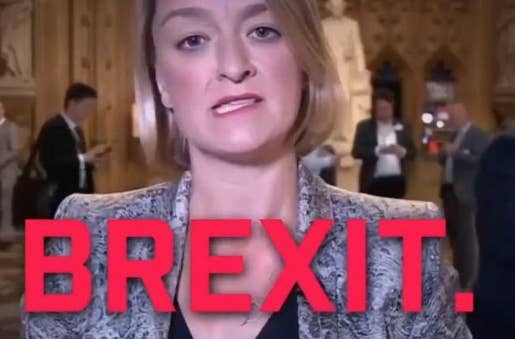 They included the BBC political editor Laura Kuenssberg describing a "pointless delay to Brexit" and Huw Edwards saying "another Brexit delay".
The corporation complained to Facebook, saying that intellectual property rights had been infringed, and Facebook agreed.
2.
Google also removed eight different Tory adverts.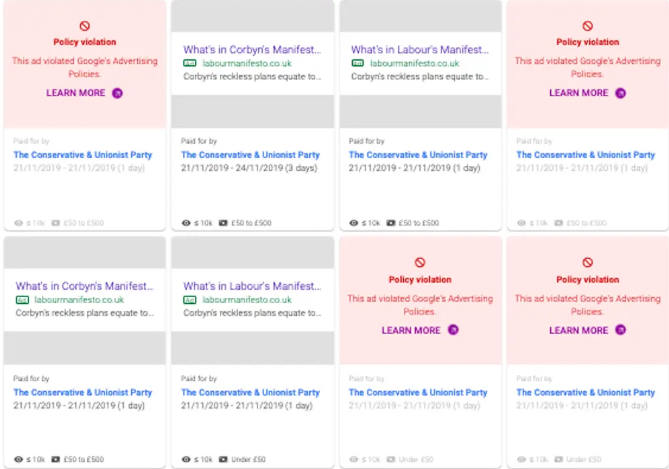 Transparency data from Google revealed the Tories had broken the search engine giant's rules, though the exact nature of the adverts' content was not disclosed. Six of the eight adverts were put up on the day of the Labour manifesto launch.
3.
The BBC apologised for shortening a clip of Boris Johnson on Question Time so that the audience laughter that followed a question on trust was not included.
Some people felt this was a significant misrepresentation; others thought that what the studio audience makes of a discussion may not be a matter of great importance. 🤷‍♂️
5.
Also on the subject of the attack — this is not a real Guardian writer.
6.
This Conservative claim about the London Bridge terrorist is somewhat misleading.
It is a complicated legal situation, but the fact is that different sentences were available to the judges. The Conservative defence of this framing of the argument is that the court was applying the law as made by Parliament (under a Labour government at the time).
7.
A letter to the Financial Times was shared on Facebook as evidence the newspaper was backing Labour.
8.
Labour's leaked documents did not really reveal the NHS is "up for sale" as claimed. At least not yet. However, they certainly did reveal some significant concerns with regards to a post-Brexit trade deal with the US.
9.
The Lib Dems have been publishing fake election newspapers, which made one local newspaper group threaten to stop covering the party.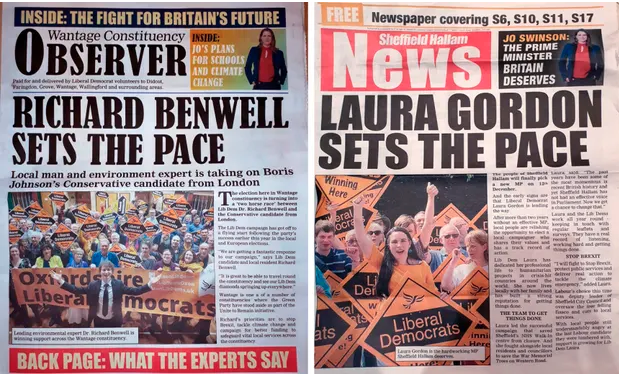 10.
Here's yet another misleading Lib Dem bar chart (if you're not paying attention). This doesn't show the votes at the last general election; it's based on the results of a police and crime commissioner election.
11.
This Tory MP prepped one of his own contacts before he doorstepped him with a news crew, and the result might be one of the funniest political videos of all time.
12.
Johnson did not wear a hidden earpiece on Question Time.
13.
Labour's claims about savings under its policies aren't plausible.
The claim that Labour could save you £6,716, made here, is predominantly based on rail season tickets and childcare — both of which are relevant to a minority of people in the UK, as Full Fact explains here.
While we're on the topic, a former Labour adviser made a joke on Twitter about that Mirror headline, which was misinterpreted — perhaps deliberately — by both the right-wing press and the Tory party.
14.
This is not a tweet by a journalist and there's no evidence this happened.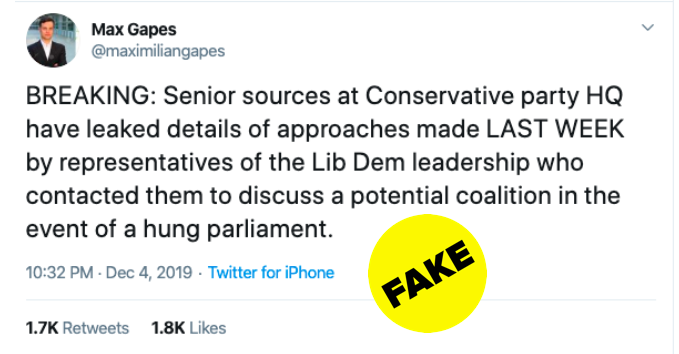 15.
Sajid Javid's claim about homelessness rising under Labour is complete nonsense.
As C4 Factcheck has pointed out, even if he got his dates mixed up, he's still wrong. Labour oversaw the decline in statutory homelessness to which he was referring.
16.
And, finally, Johnson did not talk about "people of colour", contrary to an incorrect Channel 4 News caption on a video.