Boris Johnson Ignored Crucial Facts About The London Bridge Attacker To Blame Labour
Boris Johnson told Andrew Marr that judges had "no option" but to give him a fixed term under rules brought in by Labour — which is not correct.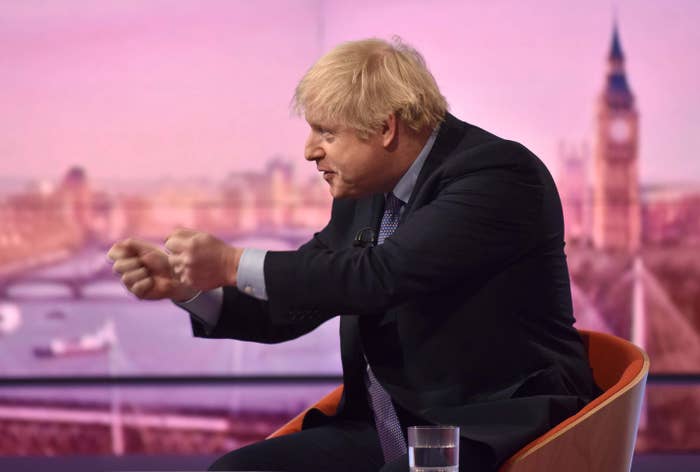 Boris Johnson has ignored crucial facts about the case of London Bridge terrorist Usman Khan to blame Labour for the attack. The prime minister appeared on The Andrew Marr Show on Sunday where he claimed that Khan was released early from prison because judges had "no option" but to give him a fixed term under rules brought in by Labour — a statement that was not strictly correct.

"He was out because he was on automatic early release," Johnson told Marr. "When the judges reviewed his sentence in 2012, they had no option but to comply with the law that Labour brought in in 2008, which meant effectively...he was out in eight years," he said.
He later added: "It was because of automatic early release that this individual was out on the streets.
"He was sentenced under Labour's system that allowed him to be released automatically having served only eight years and the judges, judge [Lord Justice] Leveson and others, when they reviewed his case in 2012 determined that he could come out effectively after only eight years."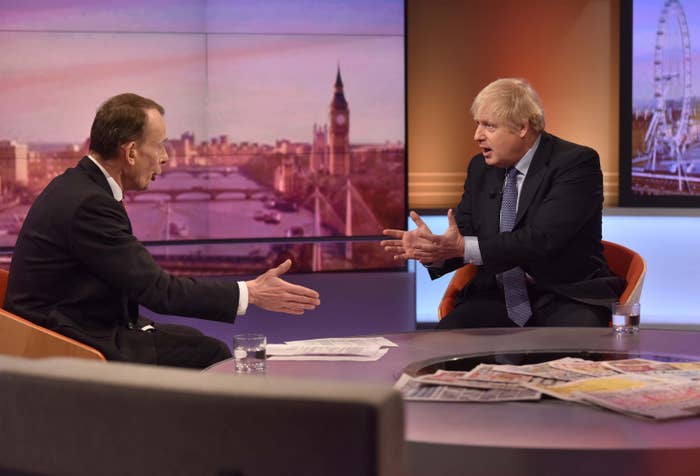 In fact, judges could have kept Khan in prison until a parole board felt he was safe to release — under a tough sentencing regime brought in by Labour when David Blunkett was home secretary — but decided to impose a fixed term on him instead.

Khan was sentenced in February 2012, after pleading guilty to engaging in conduct in preparation for acts of terrorism, for his part in a plot which involved building a terrorist training camp in Kashmir.

He was sentenced to an indeterminate sentence for public protection, which meant he would not be released until he was deemed no longer dangerous — a measure that was brought in by the previous Labour government in the Criminal Justice Act 2003, and scrapped by the coalition. Although the sentences are no longer handed out by the courts, they were not abolished for prisoners still serving IPPs.
However, Khan's sentence was reviewed by the Court of Appeal in 2013, which decided that he should serve a 16-year-fixed term, with half of that time spent in prison, plus an extended five years on license. The court could have decided to uphold the IPP sentence if it wished.
A Conservative source said that Johnson's framing of the situation was intended to demonstrate that the court was applying the law as made by Parliament. Because Khan was deemed dangerous, the "only option" — in terms of a decision to be made by the Court of Appeal, was to issue him with a sentence that had an automatic release.

The court decided that the lower court should not have distinguished between the groups of men sentenced at the same time — Khan's from Stoke-on-Trent, and another from Cardiff and London who had plotted to blow up the London Stock Exchange. The second group received extended sentences, and the court decided that both should have been regarded as "equally serious."
"The risk posed to the public could not be greater from those who were very much further away from realising their apparent goal than those who were far closer to doing so," their judgment said.
Marr pointed out that the Conservatives have been in power for almost a decade, and, as the party of government, had the ability to change a sentencing framework if they believed to be too lenient.
Marr said: "Under the Conservative he was let out... this was a Conservative decision... for ten years you've done nothing about it."
Johnson also tried to claim that he has he wanted to bring in provisions to stop serious and violent offenders being released early. "When I stood on the steps of Downing Street I said we were putting more money into policing," he told Marr, "but I also said in August that we no longer allow the automatic autorelease of serious and violent offenders, and what we're doing now, there was a bill that was in the Queen's Speech to prevent the use of automatic early release."
However, these would only apply to around 3,000 criminals who are not already sentenced to life or an EDS, and would not to apply in terror cases, as terrorists are classed as "offenders of particular concern" who already need the parole board to agree that they no longer pose a risk to the public before they can be released.

Johnson has spent the weekend trying to pin the blame on the previous Labour government for Friday's attack, and pledging he will be tough on terrorists — despite Jack Merritt's father saying that his son "would not wish his death to be used as the pretext for more draconian sentences."

The prime minister was also criticised by lawyer and legal blogger the Secret Barrister, who accused him of plagarising a blog post intended to debunk Johnson's claims, to spin the facts in his favour. A Conservative source said that claims of plagiarism were "completely false".
In the blog post, they wrote: "Labour introduced automatic release for EPP [Extended Sentences for Public Protection] prisoners in response to its own prisons crisis (caused by its own 'tough on crime' rhetoric), but the coalition government was responsible for the statutory regime at the time of Khan's case.
"It's nonsense to suggest that Labour's changes in 2005 prevented judges from passing adequate sentences on dangerous offenders; for one, the government had plenty of time until 2012 to amend the sentencing regime it inherited from Labour if it considered it to be so inadequate."

The Secret Barrister told BuzzFeed News that they find it "utterly fascinating" that the prime minister's Twitter account had produced the 16-tweet legal thread using the same sources as the blog post, despite "having never previously shown any interest in explaining complex areas of law to the public."