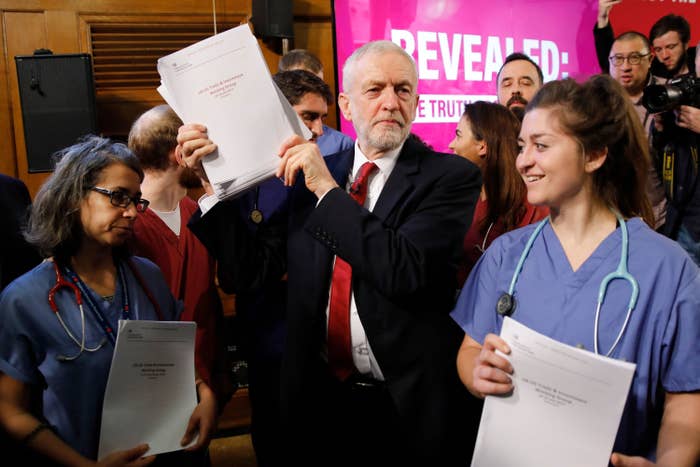 Jeremy Corbyn held a press conference on Wednesday morning where he unveiled a dossier he said was proof the NHS was up for sale in secret negotiations between the UK and US.

Doctors wearing scrubs sat at the front of the London venue as the Labour leader revealed 451 pages of documents that he said confirmed "the US is demanding the NHS is on the table" in talks about a trade deal after Brexit.
Prime minister Boris Johnson promptly dismissed the claims as "total nonsense", saying it was a "diversionary tactic" from Labour.
But there was no doubt that the documents, first leaked on Reddit last month but brought to national attention by Corbyn, include some uncomfortable snippets for the Conservatives during the general election campaign.
The sheaf of documents from the UK–US Trade Investment Group cover six rounds of talks in London and Washington, DC, from July 2017 until a few months ago. The most interesting parts are arguably not even about the issue Corbyn focussed on, NHS — in fact, as the Tories point out, the NHS is only mentioned four times in 451 pages.
There are, however, eyebrow-raising demands from Donald Trump's administration ahead of any trade deal, including on climate change, food safety, and Brexit.
Here's what the documents say:
1. So what about the actual claim the NHS could be sold off — as Corbyn put it, "total market access" for US companies?

Well, that's not really what we see here.
The highlighted section notes that while that it is the default position of the US for "total market access" to be an assumption, countries are "required to identify exclusions" — and according to Boris Johnson's previous pronouncements, one of these would be the NHS.

"Surely you can't believe that British officials would demand the NHS be excluded? Apparently not," Corbyn said.

"In fact, on behalf of the Conservative government, officials reassured their counterparts that 'the US should expect the UK to be a liberalising influence' and that together they could 'fly the good flag for services liberalisation'.
"That's a green light for breaking open Britain's public services so corporations can profit from," he added.

But crucially, the documents do not show negotiations taking place. They are working groups in which positions are stated, and are "preliminary conversations" because formal trade negotiations cannot begin until the UK has left the EU. So it all comes down to who you believe, as this former trade negotiator says.
2. A rather more concerning line, in fact, was on drug pricing. Corbyn said US officials were pushing hard for longer patents on medicines. "Longer patents mean only one thing: more expensive drugs," he said. "Lives will be put at risk as a result of this."

"Many out-of-patent medicines available cheaply here are vastly more expensive under patent law in the US," Corbyn said. "The drug Humira for Crohn's disease and rheumatoid arthritis costs our NHS £1,409 a packet.

"In the US, the same packet costs £8,115. Get the difference — £1,409 in our NHS, £8,115 in the USA. One of the reasons for US drug prices being on average 250% of those here is a patent regime rigged for the big pharmaceutical companies."

Health commentators were quick to point out that, in the context of a trade deal, this was arguably the most concerning issue highlighted in the documents.
But again, as trade experts noted, while issues have been identified in this area, it all ultimately will have to be resolved when the negotiations actually take place.
3. There were a number of other hugely significant issues highlighted by the documents, not least how the US refused to include a reference to climate change in the deal.

In a meeting in November 2017 in London, a UK official asked whether a reference to climate change could be included in a future UK–US trade agreement. The US official "responded emphatically that climate change is the most political (sensitive) question for the US". As of 2015, the US government is banned from mentioning greenhouse gas emission reductions in trade agreements and this ban "will not be lifted anytime soon".
This is not a good look for Johnson, who vowed to tackle climate change in his Conservative manifesto. "We will lead the global fight against climate change by delivering on our world-leading target of net zero greenhouse gas emissions by 2050, as advised by the independent Committee on Climate Change," it says.
4. On food safety, the US also asked whether the UK would consider bringing back "pathogen reduction treatments" (rinses on food to remove bacteria) after Brexit.

The document adds: "US to share their public lines on chlorine-washed chicken to help inform the media narrative around the issue." Corbyn warned this could mean "chlorine-washed chicken on our dinner tables" after Brexit. But, crucially, UK officials have not agreed to anything yet.
5. More generally, US officials are also not keen on food safety labels.

This is a glaring line from a meeting in November 2017, which highlights the differences in the UK and US approaches to food safety labelling.
6. And, unsurprisingly, US officials believe "there would be all to play for" with a no-deal Brexit, but a UK commitment to the customs union and single market would make a US trade deal a "non-starter".

The document from a meeting in London in July this year sets out the US preference for a hard no-deal Brexit.
"We are talking here about secret talks for a deal with Donald Trump after Brexit," Corbyn said. "A deal that will shape our country's future.
"These reports pull back the curtain on the secrecy that's being plotted for us all, behind closed doors, by the Conservative government. This is what they didn't want you to know."
But the government hit back, saying there had been no discussion with US officials about privatising the NHS. International trade secretary Liz Truss dismissed Corbyn's claims as a "conspiracy theory".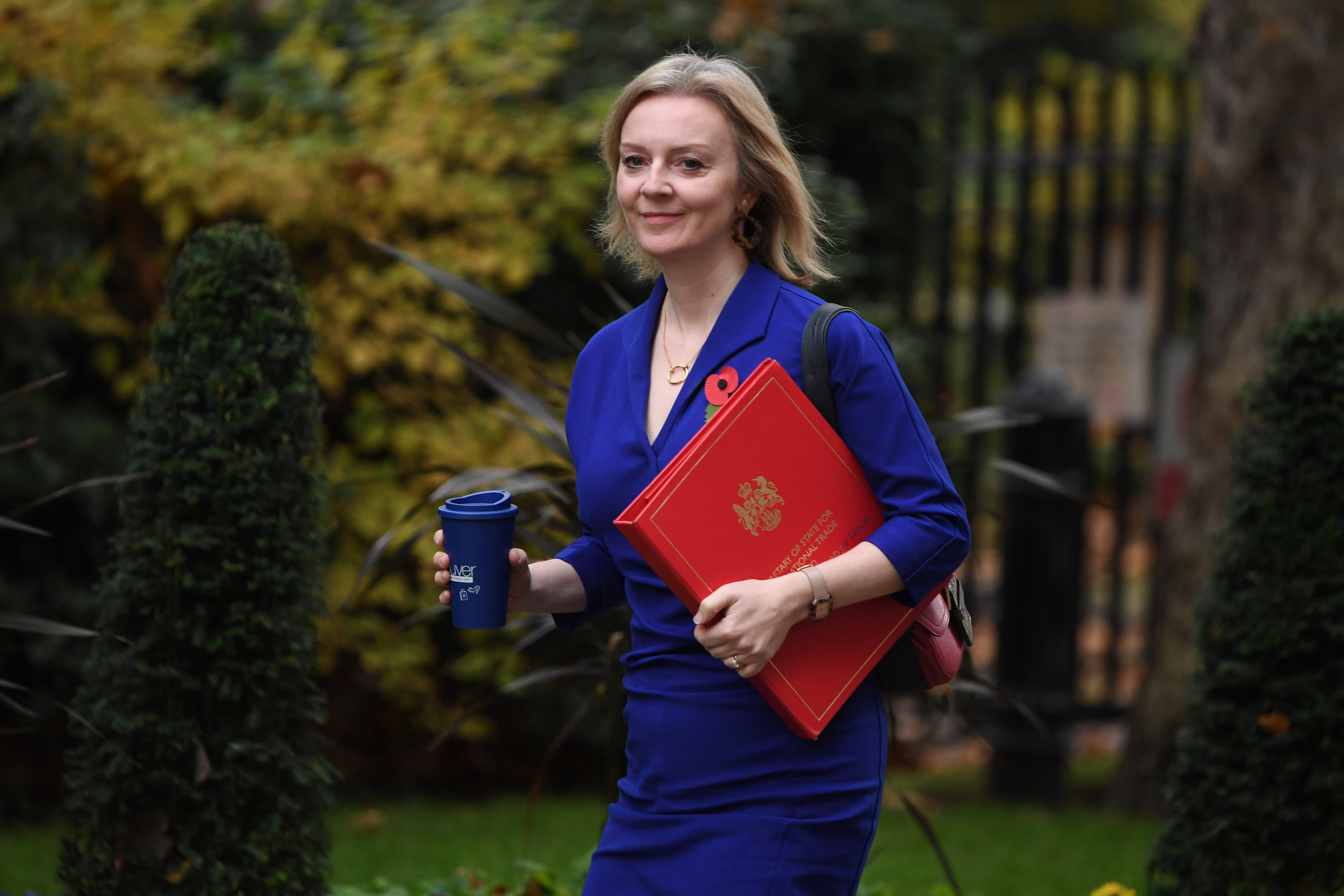 "Jeremy Corbyn is getting desperate and is out-and-out lying to the public about what these documents contain," she said. "He has always believed in conspiracy theories — which is why he has failed to crack down on the scourge of anti-Semitism in his party.
"As we have consistently made clear: The NHS will not be on the table in any future trade deal and the price that the NHS pays for drugs will not be on the table. This sort of conspiracy theory fuelled nonsense is not befitting of the leader of a major political party."
The government completely rejected Corbyn's claim that medicine prices were going to rise, saying this was a "lie" and that the passage about patenting drugs had been taken out of context.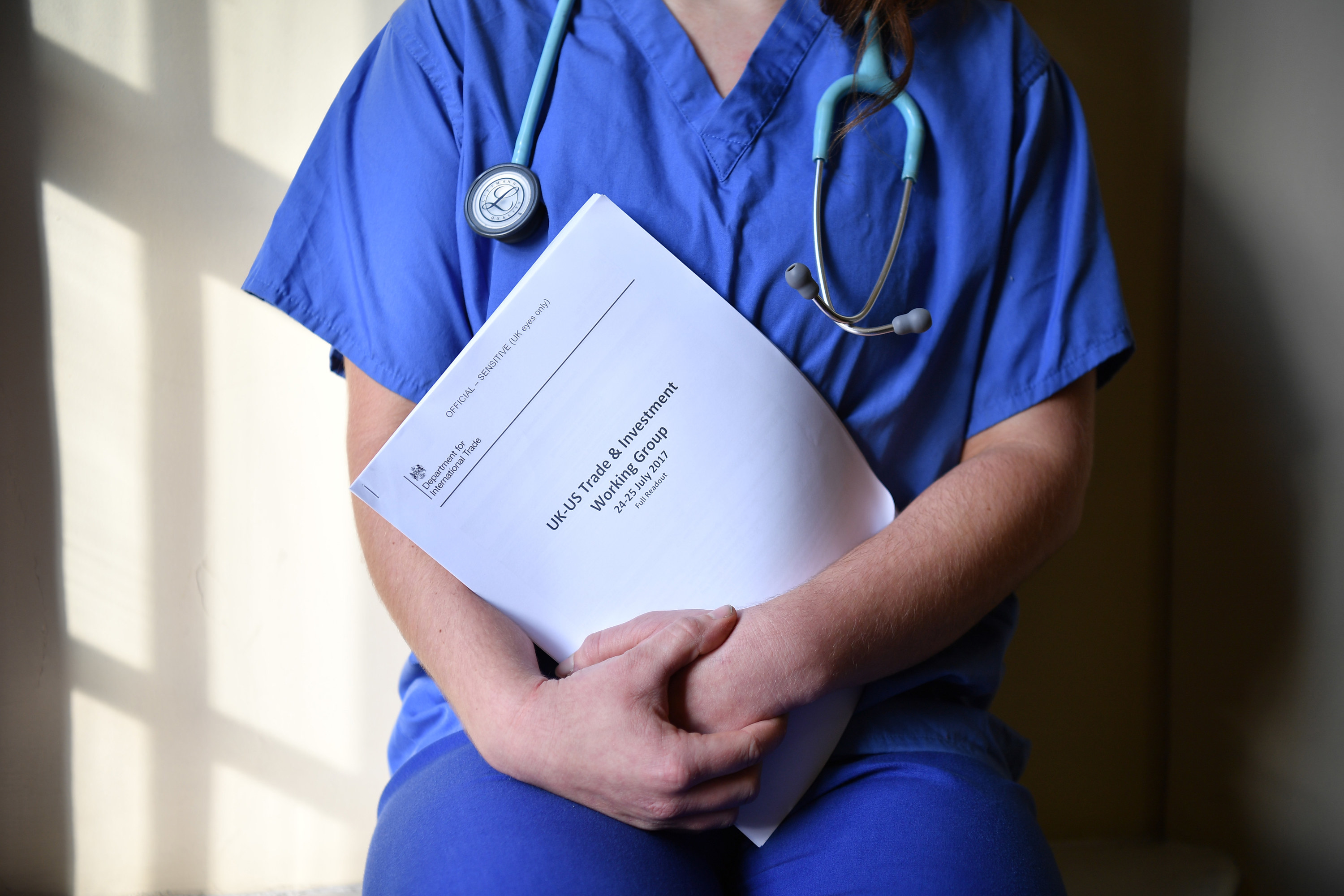 They also said it was misleading to claim that the UK had agreed the US should have "full market access" to its public services. "It was simply the US setting a pitch for its approach," a spokesperson said. "To attempt to present it in any other way is a desperate attempt to peddle conspiracy theories."
Some politicians and campaigners, including the Green Party's Caroline Lucas, said the documents proved that the NHS was at risk under a UK–US trade deal post-Brexit.
Campaign group Keep Our NHS Public also said it proved that a future trade deal with Trump could take "large parts of the health service out of public hands".
Cochair Dr Tony O'Sullivan said: "Today's revelation confirms our long-held suspicions that despite Johnson's protestations, the NHS is indeed on the table in future trade negotiations. This should be a source of huge anxiety to us all and demolishes the Conservative's 'party of the NHS' claim in one fell swoop."
But doorstepped on the campaign trail, Johnson insisted this was simply a "diversionary tactic" by Labour.