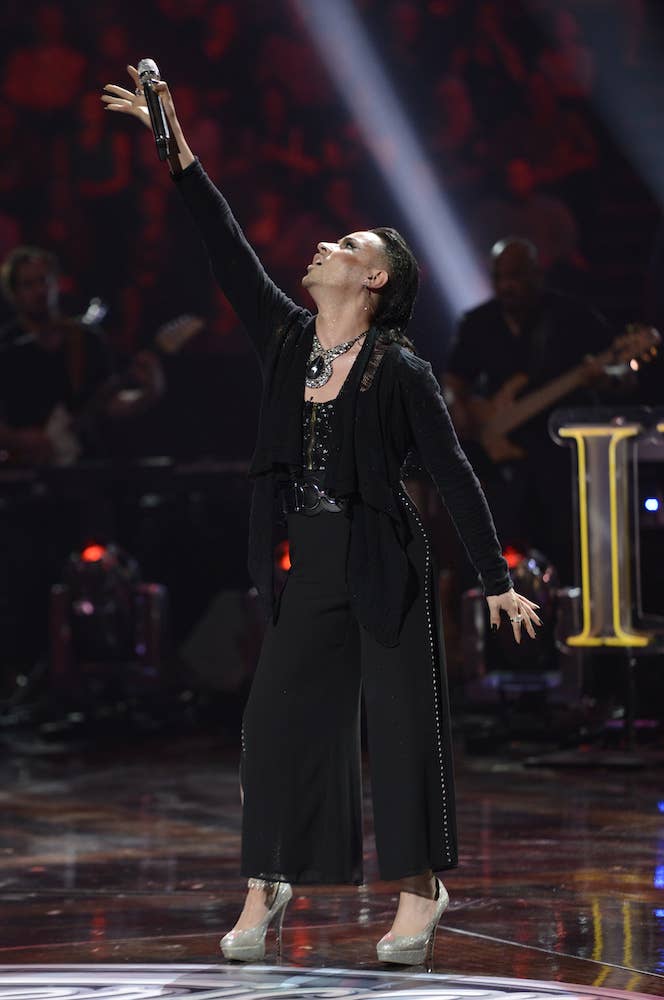 When American Idol contestant JDA first took to the stage during the Wednesday night taping of tonight's Las Vegas "Sudden Death" round along with the other nine male contestants — BuzzFeed had a ticket to the show — there was a clear murmur running through the audience. The 27-year-old is so bracingly new to the Idol experience, even the show's most open-minded fans were left to wonder (and worry) how the 1,500 people packed into the theater that normally houses Cirque du Soleil's show Beatles LOVE would react.
But from the first beats of JDA's high-energy rendition of Adele's "Rumour Has It," the audience was in the palm of his well-manicured hand. They hollered and whooped and applauded and smiled. They took to their feet when JDA ripped off his jacket, revealing a black, backless quasi-bustier. They cheered when the judges praised his originality and booed when they questioned his vocal chops and choreography. If there was a question of whether an Idol audience was ready for someone as outré as JDA, this Idol audience clearly was. And the judges clearly knew it.
"I was like, 'Wow!'" Keith Urban told BuzzFeed backstage after the show. "I mean JDA came out, and the crowd went crazy! Who knew?!"
And yet the judges cut him anyway.
Despite all the attempts to make it appeal to a more urban, younger audience, apparently, gender-bending is a bridge Idol still isn't ready to cross. Blame Idol's legacy in the music industry.
For music exec and Idol's official mentor Jimmy Iovine, the issue wasn't JDA's ability, but his refinement. "The culture's come a long way," Iovine said backstage. "Androgyny has always had a spot in popular music: Little Richard, David Bowie, to a certain extent Gaga and Freddie Mercury. But I think [JDA's performance] was a little too camp for the judges. Camp is not going to do it here. You have to put a little more thought and originality to it."
More to the point, American Idol remains the only singing competition show to produce viable music careers, from Kelly Clarkson to its most recent winner, Phillip Phillips, and the ones who have done the best have been able to at least partially be the masters of their own creative destiny. For the judges, JDA just didn't give off that impression.
"What you saw tonight is exactly what's going on in the music business now," Randy Jackson said after the show. "If you watched the Grammys, you saw artists like the Lumineers that don't dance or whatever, and Mumford [& Sons] win." Even Taylor Swift and Justin Timberlake, who performed in bigger production numbers, are the architects of their music. "That's what the business is now. To me, you have pop stars, and you have artists. Hopefully you have artists like him [points to Keith] that also have the commercial viability. That's always the holy grail to me. If you've got an artist that can be commercially viable, oh my god, you can have a career like Keith Urban, or Nicki Minaj, or Mariah Carey. When it's just a pop star, it's all to me just about a song. If you don't have a hit song again, nobody's showing up at your show."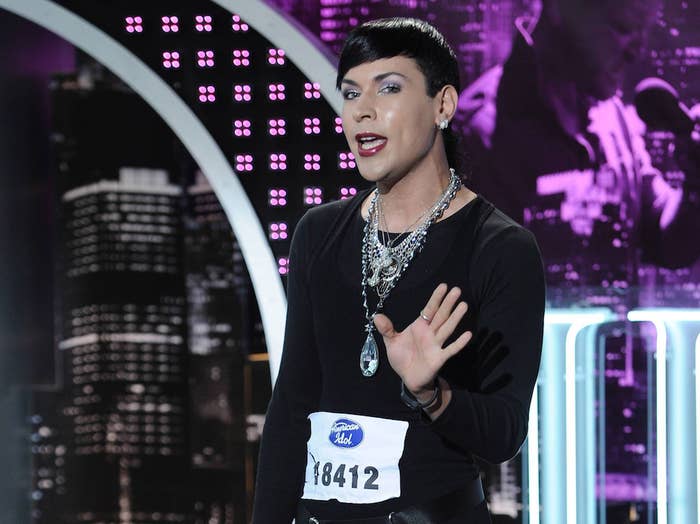 Granted, Urban, Jackson, Minaj, and Carey had to eliminate half of the 10 contestants that performed that night, and they made clear that their decisions were guided more by vocal ability than prowess as a performer. "The thing we worked the most with all night tonight, more than any other night, was weighing the validity of the performer versus the vocalist," Urban said backstage. "Hopefully somebody's got all of it. In some cases, they've got one without the other. Is it enough? The one thing they've got, is it enough to make up for the fact that they don't got that other part going on? We went back and forth on all that."
Idol has a long and happy history of milking every last scrap of its contestants' backstories and circumstances for maximum dramatic impact. Yet, until this season, its 12th, the show has never featured a contestant who was openly gay while on the show — let alone a contestant who was openly gay and sang love songs about men without changing the lyrics while dancing in heels, five pounds of glitter makeup, and wide pants with slits up both sides.
The show is ultimately about connecting with the audience to win votes, and there is no escaping that JDA connected with the audience in a way that a couple of the men who did make it through (looking at you, Elijah Liu and Paul Jolley) clearly did not. (The other contestants who made it through: Charlie Askew, Curtis Finch Jr., and Devin Velez.)
Minaj certainly thought attention must be paid to JDA. "You know what, the performance that JDA gave was really a star power performance," she said backstage, "and I do think those things should be rewarded."