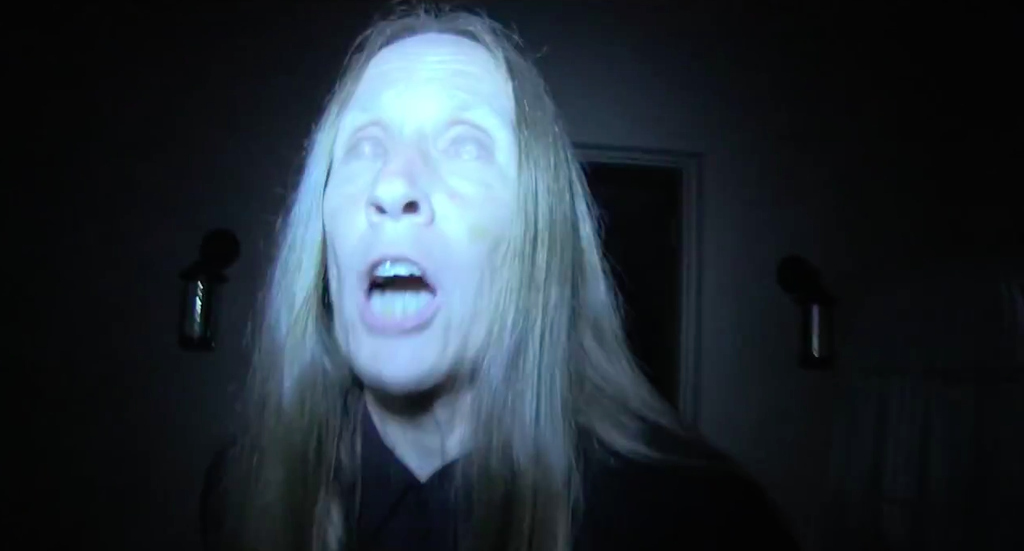 The sad, slow box office decline is an inevitable part of the life of a long-lived horror franchise. Paranormal Activity: The Marked Ones, the fifth film in the found-footage horror flick series, opened this weekend with an estimated $18.2 million, a number lower than the original Paranormal Activity's first weekend in wide release in 2009.
Granted, frigid weather and holdover competition from the Christmas holiday often keep studios from opening any movie on the first weekend of the year, but Paranormal Activity: The Marked Ones also debuted lower than the last two horror films that opened in the same period — Texas Chainsaw 3D (released Jan. 4, 2013, with $21.7 million its debut weekend) and The Devil Inside (released Jan. 6, 2012, with $33.7 million its debut weekend). The Marked Ones' opening weekend box office sales are also significantly lower than the equivalent fifth film in the Saw franchise ($30.1 million its opening weekend in October 2008). That franchise didn't begin to die off until the sixth film in 2009 — the same month, in fact, that Paranormal Activity rose to take its place as the biggest thing in the horror genre.
On the bright side, Paranormal Activity: The Marked Ones was expressly made as a spin-off film to court Latino moviegoers, a growing and vital demographic for Hollywood, and with only a reported $5 million budget, and another $16.2 million from overseas markets, the movie is already circling profitability. Besides, Paramount has already set the confusingly titled Paranormal Activity 5 for release on Oct. 24 of this year.
Meanwhile, in its sixth weekend in wide release, Frozen jumped back on top of the box office with an estimated $20.7 million — five weekends since the last time it was No. 1 at the box office. The accomplishment puts the animated Disney musical in some rarefied company; the last films to reach No. 1 at the box office five weeks after first hitting the No. 1 spot were 2012's Skyfall, 2010's How to Train Your Dragon, and 2009's Avatar.
Here are the estimated top 10 box office figures for Friday to Sunday, courtesy of Box Office Mojo:
1. Frozen — $20.7 million
2. Paranormal Activity: The Marked Ones* — $18.2 million
3. The Hobbit: The Desolation of Smaug — $16.3 million
4. The Wolf of Wall Street — $13.4 million
5. American Hustle — $13.2 million
6. Anchorman 2: The Legend Continues — $11.1 million
7. Saving Mr. Banks — $9.1 million
8. The Secret Life of Walter Mitty — $8.2 million
9. The Hunger Games: Catching Fire — $7.4 million
10. Grudge Match — $5.4 million
*Opening weekend
Correction: Frozen has been in wide release for six weeks. An earlier version of this post misstated the length of the film's theatrical run to date.