The new trailer for Disney's adaptation of Stephen Sondheim and James Lapine's musical Into the Woods debuted on Thursday, and unlike the nearly wordless teaser, it finally featured some singing.
For those unfamiliar with the musical (which is most people, alas!), the trailer also outlines the central plot, i.e., The Witch sending The Baker (James Cordon) and The Baker's Wife (Emily Blunt) on a quest to break a curse.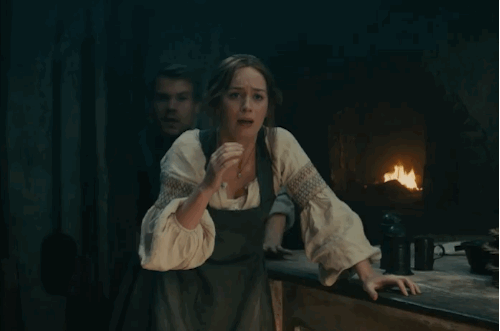 The entire musical builds on our collective understanding of fairy tales and how they operate, with curses, wishes, witches, and, yes, woods.
The Witch's demands seems simple enough: Find a cow as white as milk — like the one owned by Jack (Daniel Huttlestone). And a cape as red as blood — like the one worn by Red Riding Hood (Lilla Crawford).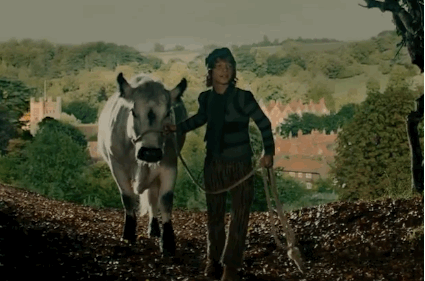 And hair as yellow as corn — like that on the head of Rapunzel (MacKenzie Mauzy). And a slipper as pure as gold — like the one adorning the foot of Cinderella (Anna Kendrick).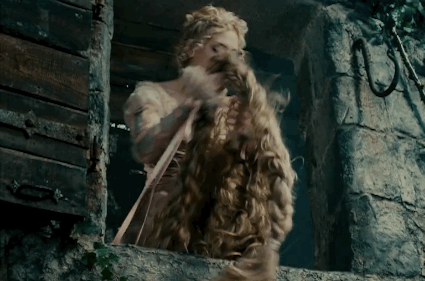 On their quest to find these items, The Baker and his Wife — not to mention almost everyone they encounter — come to understand that blindly chasing your dreams seldom if ever leads to where you thought you would be.
The trailer also allows us a glimpse at a few other elements of the film, including Johnny Depp with a very creepy mustache as The Wolf…
…Cinderella's stepsisters Lucinda (Lucy Punch) and Florinda (Tammy Blanchard), laughing on either side of Cinderella's Stepmother (Christine Baranski)…
…Cinderella's Prince (Chris Pine), sporting a seriously deep v-neck shirt…
…what looks like a giant attacking young Jack…
…and The Witch, mysteriously and glamorously transformed.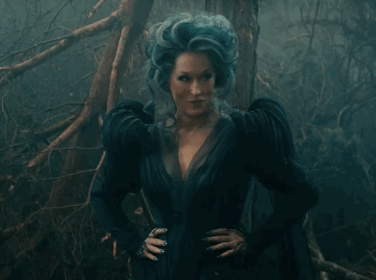 And, of course, we get to hear Meryl Streep singing…
…but you'll have to watch the trailer again to hear that.
Into the Woods opens on Dec. 25.