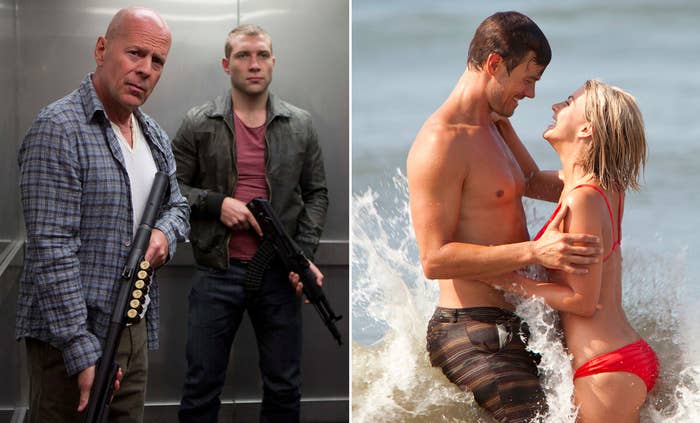 John McClane is certainly familiar with surviving close scrapes, but this one was maybe a little too close for comfort. A Good Day to Die Hard, the fifth film in Bruce Willis' long-lived action franchise, topped the box office this Valentine's Day weekend with an estimated four-day debut of $33.2 million, but two other films were right on its heels. The Nicolas Sparks adaptation Safe Haven opened with $30.2 million over the four-day holiday weekend, and the Melissa McCarthy-Jason Bateman comedy Identity Thief pulled in roughly $28.8 million since Thursday for $70 million total, a better result than Bateman's Horrible Bosses and McCarthy's Bridesmaids had achieved in the same time frame.
Perhaps due to the strong competition, adjusting for inflation, A Good Day to Die Hard weathered the lowest debut weekend for a Die Hard movie since the first film opened in 1988 (in less than half of Die Hard 5's theater count). Willis can take at least some comfort in knowing that figure is still much better than most of his non-Die Hard debuts — and, as commenter "evilito" rightly points out below, the film is cleaning up internationally, bringing in nearly $80 million overseas.
There is no silver lining, however, for Beautiful Creatures. The adaptation of the YA supernatural romance novel aimed for the Twilight crowd and missed, banking only $10 million over the four-day weekend and coming in just under the similarly targeted zombie rom-com Warm Bodies, now in its third weekend of release.
Here are the full top 10 figures for Friday to Sunday (but not including Valentine's Day), courtesy of Box Office Mojo.
1. A Good Day to Die Hard* — $25 million
2. Identity Thief — $23.4 million
3. Safe Haven* — $21.4 million
4. Escape from Planet Earth* — $16.1 million
5. Warm Bodies — $9 million
6. Beautiful Creatures* — $7.5 million
7. Side Effects — $6.3 million
8. Silver Linings Playbook — $6.1 million
9. Hansel and Gretel: Witch Hunters — $3.5 million
10. Zero Dark Thirty — $3.1 million
*Opening weekend