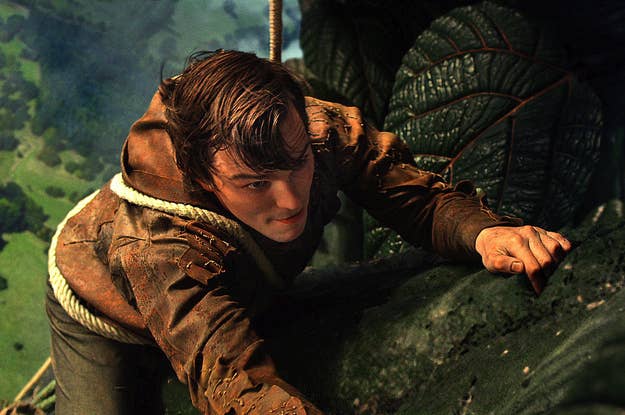 There was a time not too long ago in Hollywood when an estimated $28 million opening weekend was cause for celebration. But for Jack the Giant Slayer, it won't even buy a bag of magic beans. The fairy tale epic — starring Warm Bodies' Nicholas Hoult and directed by Bryan Singer (Superman Returns, X2) — amassed a reported budget between $185 million and $200 million, but its debut failed to bring in more money than last year's John Carter. That film forced Walt Disney Pictures to take a $200 million write-down against its $250 million budget.
Jack is yet another casualty in Hollywood's unending bender of mega-budgeted sci-fi/fantasy films based on nominally familiar pre-existing material that sport Brobdingnagian visual effects but seem far less interested in delivering a surprising, human-scaled story. The Hollywood Reporter's Todd McCarthy put it brilliantly in his review of Jack, asking, "When will all the dead-serious $200 million battle-centered giant-infested similarly cast rousingly scored fabulously rendered 3D fairy-tale reimaginings all finally merge together into one enormous Anglophilic fantasmagoria of monarchical order and virtue so we can all be done with this for the time being?" Alas, likely not any time soon: Disney's Oz: The Great and Powerful opens next weekend, and it's reportedly tracking for a far more robust debut.
At least Singer and Co. can take some solace knowing the other two new wide releases this weekend didn't fare any better. The doofus college-boy comedy 21 and Over guzzled only $9 million, and the horror sequel The Last Exorcism Part II scared up just $8 million, less than half the first part of The Last Exorcism unleashed in August 2010, when it opened to $20.4 million. Neither film will lose their respective studios the amounts Jack the Giant Slayer stands to lose Warner Bros. and New Line Cinema, but even by the standards of the micro-budgeted comedy or fright flick, these aren't happy debuts.
In fact, the only unabashedly positive story in the top 10 this weekend was Identity Thief's continued success. It passed $100 million this weekend, at roughly the same time Melissa McCarthy's Bridesmaids reached that milestone two years ago.
Here are the full top 10 figures for Friday to Sunday, courtesy of Box Office Mojo.
1. Jack the Giant Slayer* — $28 million
2. Identity Thief — $9.7 million
3. 21 and Over* — $9 million
4. The Last Exorcism Part II* — $8 million
5. Snitch — $7.7 million
6. Safe Haven — $6.3 million
7. Escape From Planet Earth — $6.28 million
8. Silver Linings Playbook — $5.9 million
9. A Good Day to Die Hard — $4.5 million
10. Dark Skies — $3.6 million
*Opening weekend