Benedict Cumberbatch To Play Doctor Strange For Marvel Studios
Sorcerer Supreme, indeed.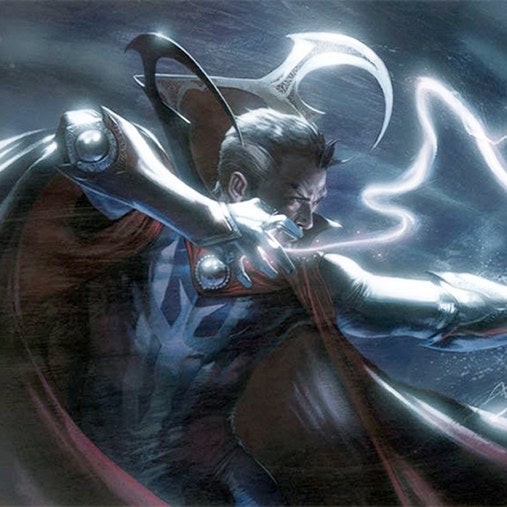 Benedict Cumberbatch has officially closed his deal to play Doctor Strange, Marvel Studios announced on Thurs., Dec. 4.
"Stephen Strange's story requires an actor capable of great depth and sincerity," producer Kevin Feige said in a statement. "In 2016, Benedict will show audiences what makes Doctor Strange such a unique and compelling character." The film is scheduled to open on Nov. 4, 2016.
The earlier story about Cumberbatch's negotiations for the role follows below.
Benedict Cumberbatch has closed his deal to star in Marvel Studios' Doctor Strange as the titular mystical hero, according to multiple trade reports on Monday.
The news comes just less than 24 hours before a mystery Marvel Studios' event in Los Angeles, in which the company is expected to make some significant announcements about its upcoming slate of films. (Reps for Marvel and Cumberbatch did not immediately respond to requests for comment from BuzzFeed News.)
If that sounds weirdly familiar, it's because the last time casting news broke about who would play Stephen Strange, it was just about 24 hours before Marvel Studios' panel at San Diego Comic-Con in July, and the actor in line to play the role was Oscar nominee Joaquin Phoenix. Those talks obviously came to naught, and Cumberbatch — whose name had long been bandied about as a possibility for the role — apparently became Marvel's ultimate choice.
And as choices go, it makes a great deal of sense given Cumberbatch's forte for playing brilliant, imperious loners (Sherlock, Star Trek Into Darkness, The Imitation Game). In the Marvel Comics, Strange starts out as a neurosurgeon who enters into the world of the supernatural after a car accident cripples his hands. He eventually becomes the Sorcerer Supreme for Earth, and uses mystical objects like the Book of the Vishanti and Eye of Agamotto to wield his powers. Because comic books.
Scott Derrickson (Deliver Us From Evil) will direct Doctor Strange from a script by Jon Spaihts (Prometheus). It is expected to open in 2016, although Marvel has yet to officially date the film.