This post features a mix of items that we purchased with our own money and those that were provided to us at no cost for the sake of review. (But! We're under no obligation to write a review of those things, let alone a positive review.)

1.
An electric mug warmer that regulates the temperature of your coffee or tea so you can nurse your drink for hours without sipping an ice-cold beverage. If you're someone who gets easily distracted or just prefers to have a hot cup next to them all day, this little gadget will make that experience even better for ya.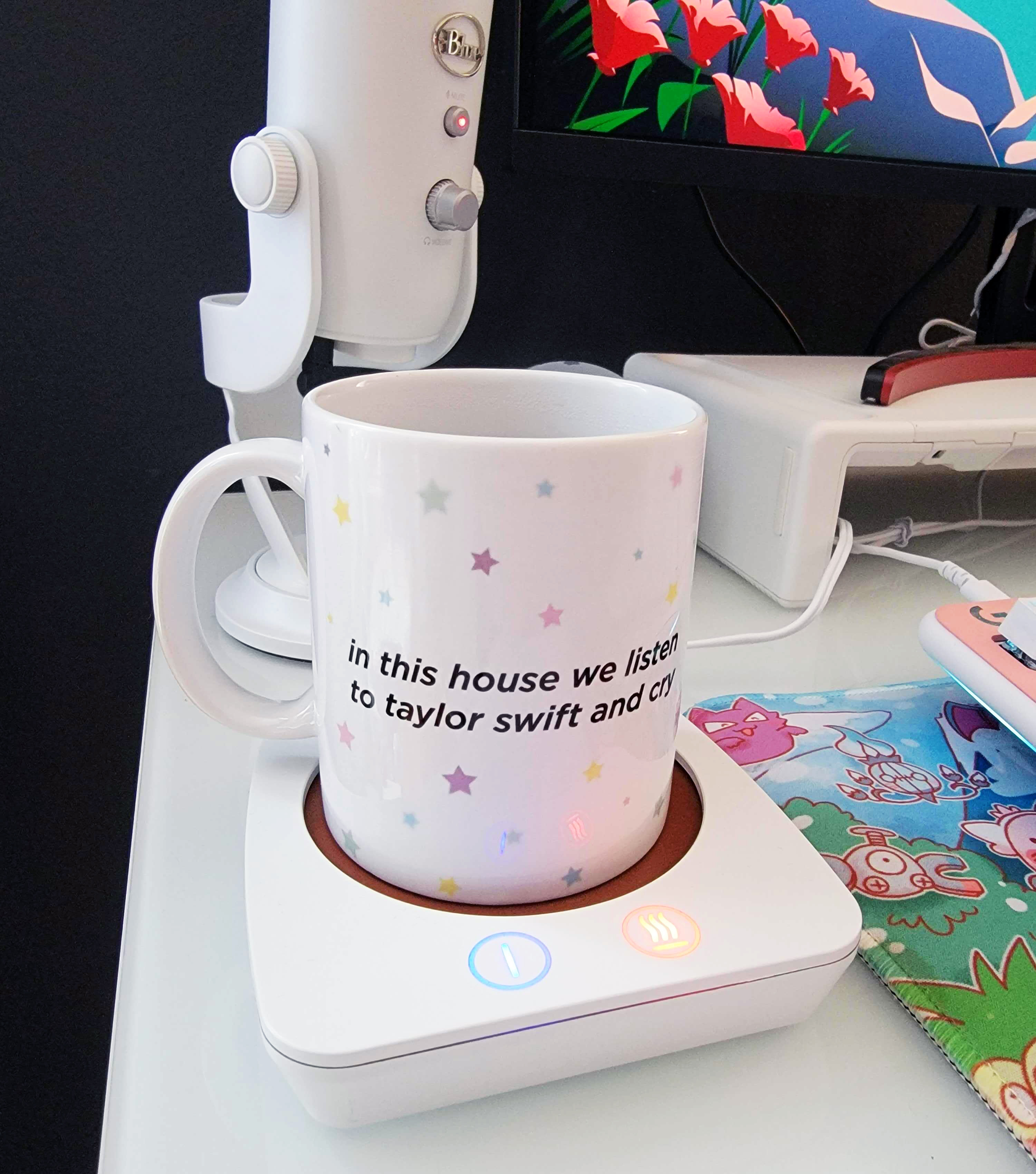 "After seeing this coffee warmer all over BuzzFeed Shopping and even gifting my dad one for Christmas, I finally decided to buy one for myself. Based on all the reviews, I was pretty confident I'd soon be kicking myself for not getting it sooner, and that proved to be true: This thing not only looks good, but works great for keeping my coffee warm all day long (because yes, I'm one of those people that'll sip on coffee until 5 p.m., all right!!). I was kind of worried it'd be too small for some of my larger mugs, but the center plate is bigger than expected and accommodated every mug in my (very eclectic) collection perfectly. 
I can confirm that flat-bottomed mugs are the best option for using with this warmer as they do stay hotter, but it still keeps my concave-bottom mugs warm enough for my taste. Also, I looove how sleek the white version looks on my white desk, and the auto-shutoff function is a nice safety feature as an absent-minded person." —Jenae Sitzes

Get it from Amazon for $23.29+ (available in eight colors). 
And if you're as obsessed with Jenae's mug as I am, you can get it from Dipped In Rose on Etsy for $15.99. 
2.
A fidget ring small enough wear all the time (or even keep in a pocket) so you can use it when you're feeling anxious and need something to help ground you. By playing with the ring, you can focus on something else that can help distract you. One BuzzFeeder swears by this method for helping during anxiety attacks.

"I was diagnosed with chronic anxiety in 2021, and oh, was it chronic. I'm talking couldn't sleep, waking up in the middle of the night in a panic, being sent home from work because I couldn't breathe, standing out in 20 degree weather without a coat just to feel cold air on my face hoping it'd calm me down — it was so so bad. And everything gives me anxiety — texting, talking in person, eye contact, people staring at me, social media, the pressure of having my life together, checking the mail, asking questions, EVERYTHING. My mom ended up buying me these rings to give me something to focus on when I'm on the verge of an attack.
If you have anxiety, you know about grounding (taking notice of the things around you, what you see, what you feel to try to calm your body down and keep you present), and this was a tactic to help ground myself. Obvi, these don't completely cure my anxiety, but idk that my anxiety is something that'll ever go away, so I have to learn to deal with it. This helps me deal. I'm also in therapy, regularly go to the doctor about treatment, and I take anxiety meds that also all help, but these rings help me in times where I feel like an attack is gonna take me out. I never take them off, ever, and even when they don't go with my outfits, I keep them in a pocket or purse because just knowing I have them makes me feel secure. It's like a warm hug and a reminder that my anxiety isn't gonna ever kill me although it feels like it will. I seriously don't know how I lived without these but I know I can't live without 'em now that I have them. I definitely recommend if your anxiety tries to sneak attack you. Kick anxiety's ass and remember that your mental health is the top priority!" —Jordan Grigsby

Get a set of eight rings from Amazon for $16.99+ (available in five sizes and four styles).
3.
A Booty by Brabants leggings and bra set specifically designed to be super stretchy so you don't even have to spend any time trying to figure out your size, only for it to arrive and not fit at all. (Ugh, the woes of online shopping!) The fabric has a four-way stretch, light compression, and is moisture-wicking. Just be warned, you may like this set so much that you'll go back to grab another color, and another color after that, too.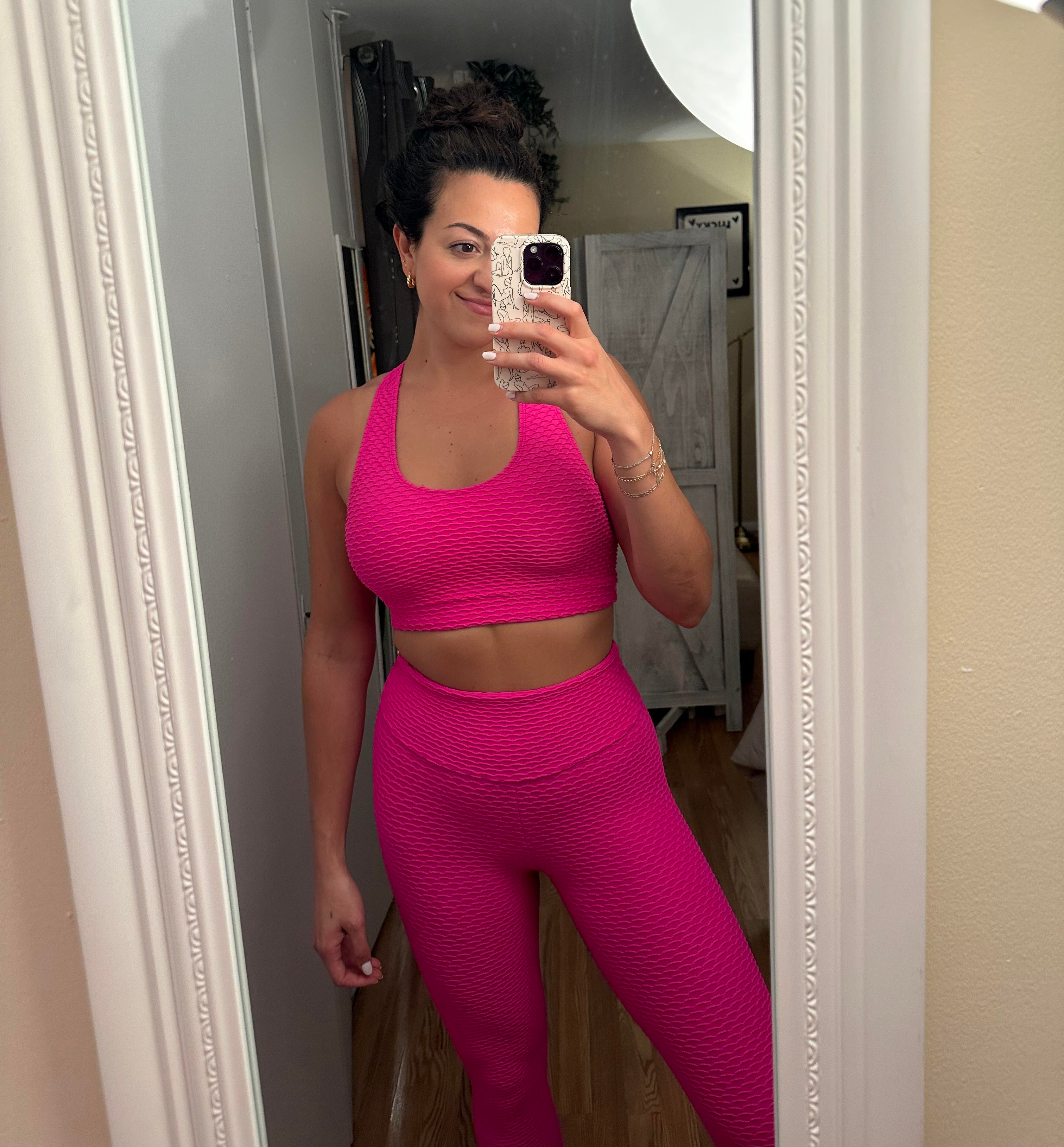 Fabiana Buontempo / BuzzFeed
Booty by Brabants is a Boston-based family-owned small business founded by Kelly Brabants in 2014. Brabants' goal was to create a clothing line that people of most shapes or sizes could wear and feel comfortable in. The standard leggings fit sizes women's sizes XS-L while the curve style fits women's sizes L-3XL.
"Over a year ago, I saw a former colleague of mine post on her Instagram story about this athlesiure brand called Booty by Brabants. I'm a sucker for a cute workout set, so I was intrigued by its marketing pitch as being basically the 'sisterhood of the traveling pants' but instead of jeans, they're super cute sports bras and workout leggings that fit most body types — with the exception that the brand does have a curvy line.
I was hooked once I ordered my first pair, and now basically all of my workout sets are from BBB. I'm almost 5'10'', so it's tough to find workout clothes that fit my body but also stay put when I'm working out. I can't rave enough about the fit and comfort of this brand's products. I'm constantly telling my friends about the brand and have even bought BBB gift cards as for birthdays." — Fabiana Buontempo
Get the leggings from Booty by Brabants for $85 (available in women's sizes XS–L, also available in a curvy style that fits women's sizes X–3XL) The Fuchsia sports bra is currently sold out, but you can get the bra in various other colors or in a curve style.
4.
A Mighty Patch XL chin patch big enough to cover your whole chin, which is great if you deal with multiple breakouts in that area. It'll work overtime while you sleep to pull out more gunk than you really thought was possible.

"I am someone that deals with hormonal acne, mainly on my chin. It's been a thing that I've been working on for a while now, so I am always interested in trying out new products. When Hero offered me a sample of their new XL chin patches, I jumped at the chance. I was already a huge fan of both their original and invisible styles and regularly stock up on them.
 I was able to test these before the were released last winter, and instantly fell in love with them. When they say these are extra large — they are not lying. They cover my whole chin perfectly, which is great when I have multiple blemishes. I wore them at night before going to bed and was always a little disgusted to see how much gunk they got out of my face when I woke up in the morning. 
When I finished my 10-pack and these hadn't been officially released yet, I went to try and find a different brand to hold me over. But the so-called "chin patches" I found barely even covered one side of my chin!!! I was so disappointed, but now I know to never stray from Hero. If you deal with chin acne at all, just do me a favor and add these to your cart RN." —Abby Kass
Get a 10-pack from Amazon for $17.99.

5.
A Paint by Numbers kit perfect for anyone who is looking for a new activity that doesn't involve staring at a screen. The painting is intricate and will take most of your focus, but when it's done, you can hang your beautiful work up as decor in your home!

"That's my in-progress Paint by Numbers on the left!! Compared to the example photo on the right, I'm going to take a moment to toot my own horn and admit how good it's looking (which is shocking because I have zero artistic skills). I will say — this baby is time-consuming, but in the best way possible. In the winter, I always feel like I spend all day on my computer working and then all night watching TV or scrolling TikTok, so I wanted to work on a just-for-fun project that forced me to put the phone down, zone the rest of the world out, and just relax. 
And it works!! I pop on my headphones, listen to an audiobook or a podcast, and just paint away for hours. It's so satisfying to see your work go from a whole bunch of meaningless blobs to a beautiful piece of art! This kit comes with plenty of paint, a simple frame to hang it up when you're done, and four brushes. However, I recommend buying an extra fine point brush to do all that detail work. I also use a goose neck reading light to help me see all the lines better. " —Ciera Velarde

Get it from Michaels for $14.99, and check out other Paint by Number kits here.
6.
A darling cropped turtleneck specifically designed with a built-in padding so you can ditch the bra but still get the support you need. One BuzzFeeder with H cups found it to be super comfortable and cute, too!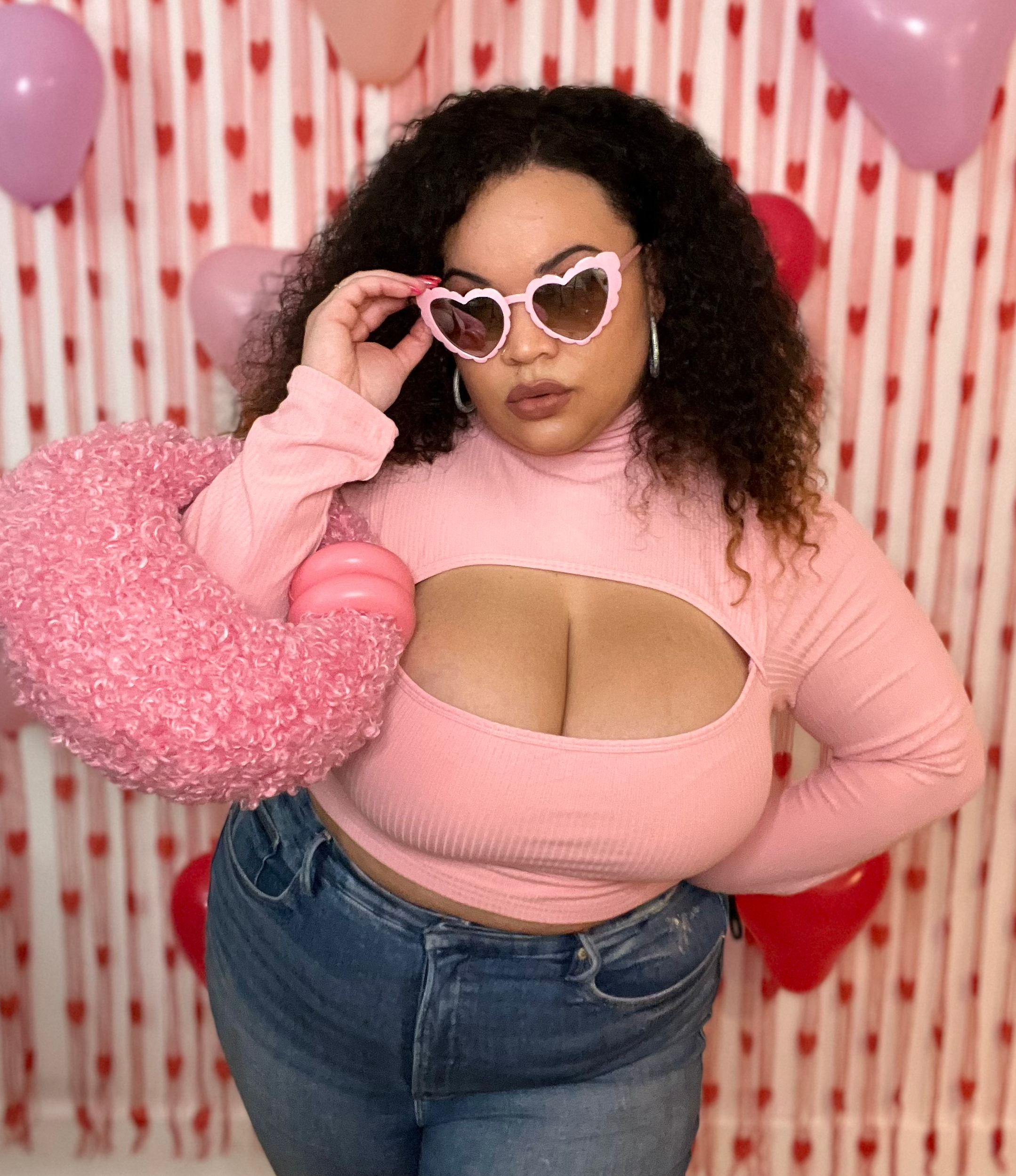 Klassy Network is a woman-owned small business known for their Brami (bra + cami) tops and dresses, as well as loungewear, glasses, and scrunchies. You may have seen this brand while scrolling your FYP on TikTok!

"I have bought multiple Brami tops from Klassy Network, and I LOVE them! Seriously, sooooo comfortable and cute, which is my absolute favorite combo! This one might just be my favorite, because the pink color and cutout are so fun, while still being warm enough to wear in winter. I paired it with some high-waisted jeans and got a ton of compliments. Plus, I didn't have to wear a bra! As someone who wears a size H cup, lemme tell you, that alone is an AMAZING feeling!" —Kayla Boyd 
Get it from Klassy Network for $48 (available in sizes XXS–3XL and three colors).
7.
An Immersion hand blender to help you ~whip~ up soups, sauces, smoothies, and more with ease. It has 12 speed settings, a turbo mode for an extra boost, and a whisk attachment, so you can beat eggs and make whipped cream and icings. You may feel like you're ready to apply for Chopped after using this a couple of times.

"I love to cook and really appreciate any kitchen gadget that will make my time in the kitchen as efficient as possible. So when I was given this handheld blender by my mother (THANKS, MOM!!), I was excited to tackle some new recipes.
The blender is lightweight and comfortable to hold. It has 12 speed settings plus a Turbo setting so you have a lot of control over the final consistency of what you're blending. It also has an LED light for extra visibility. I managed to whip up a silky pasta sauce in no time and cleanup was easy. A quick hand wash did the job. The blender is not too large so storage isn't a problem. I can't wait to try out a ton of soup recipes and knock some baking out of the way!" —Tafi Mukunyadzi

Get it from Amazon for $27.87.

8.
A pair of noise-cancelling headphones any gamer will appreciate because not only are they a super affordable option, but they also block out all the disrupting noise around you so you can focus on getting through the particularly tough level you've been stuck on.

"These are so much better than my last pair of gaming headphones! They are actually comfortable! I can wear them for hours without them irritating my ears. I use them for both my PC and Xbox. They are affordable! I am not willing to drop $75+ on headphones, and I was so lucky when I came across these. For less than $50, these are a great budget option. 
The sound is incredibly crisp that I can even hear background NPCs talking without it sounding mumbled. They're also really great when you're playing stealth games and trying to hear when your opponent is near you. The mic is nice and can flip up, so you don't always have to have it in front of your face." —Tasia Bass
Get it from Amazon for $25.99+ (available in seven colors).
9.
An XCJ noodle variety pack here to give you an incredibly tasty (and authentic) dinner option that shows right up at your door. The pack includes Sichuan Dan Dan noodles, Shanghai scallion oil noodles, and Beijing Zha Jian noodles that come with the noodles, sauce (in either a vegan or pork variety), and garnishes.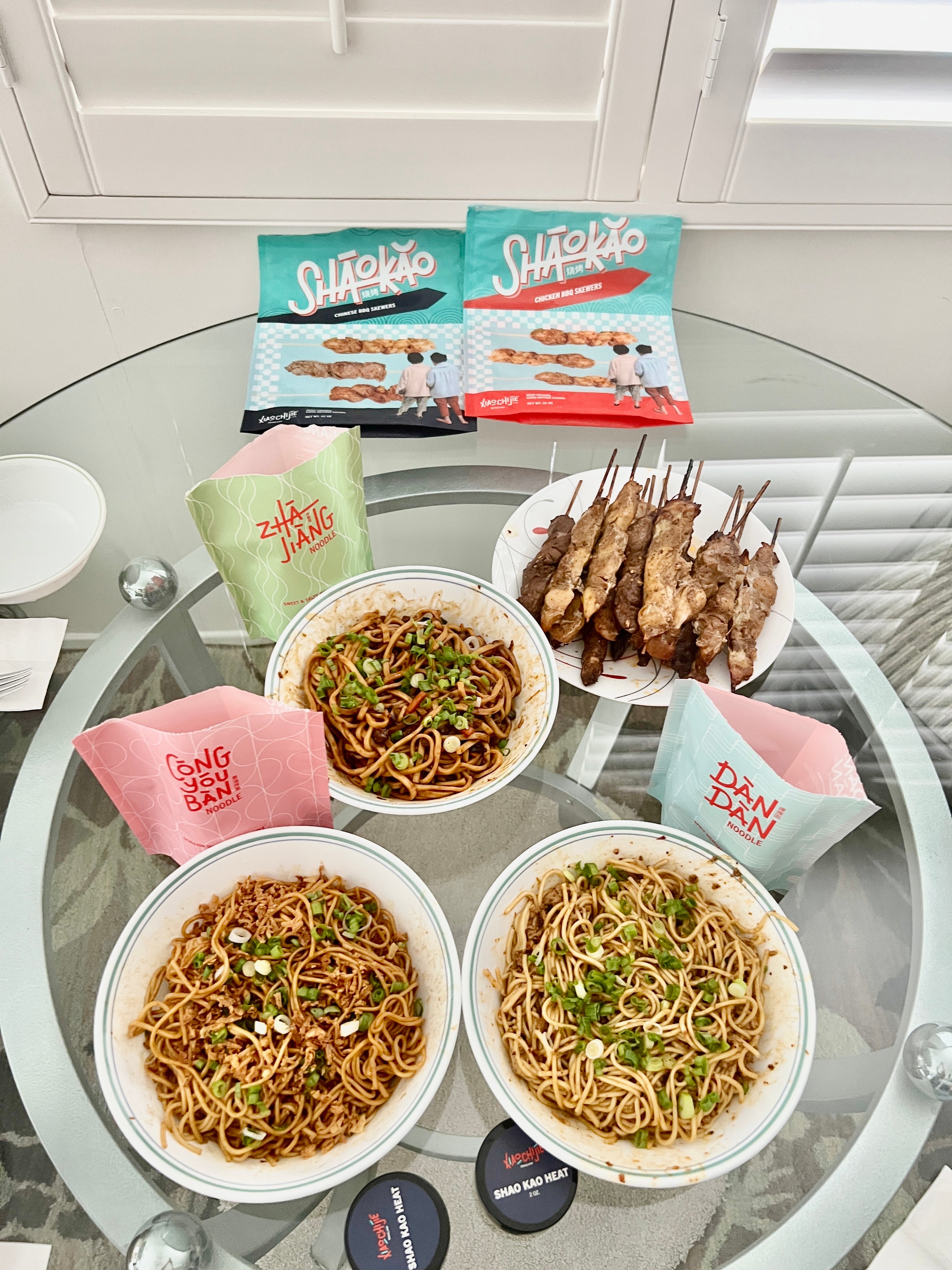 Brittney Trinh / BuzzFeed
"MìLà is a Chinese-owned, Washington-based, modern Chinese food brand with a focus on honest representation, accessibility, and education, in order to open minds and palates to new and exciting flavors. Founders Caleb Wang, Jennifer Liao, Norman Wu, and Chef Brian Yong debuted Xiao Chi Jie with frozen, restaurant-quality xiao long bao, aka soup dumplings, and they further grew their business during the pandemic by freezing batches of their handmade dumplings and making local deliveries. 
They recently added three restaurant-quality, ready-in-minutes noodles and gave me their Noodle Variety Box to try. My favorite was the Spicy Sichuan Dan Dan noodles! The Sichuan peppercorns created a nice tingle on my tongue, and I loved the creamy, nutty taste of the base. The Shanghai Scallion Oil Noodles were my mom's favorite, and she says that the wheat noodles made her feel right at home!" —Brittney Trinh
Get the noodle variety box from MìLà for $54.99 or the individual packs for $32.99+ (available in three styles). 
10.
Winky Lux flower balm lip stain not only made to be super moisturizing, but also to change color based on the unique pH levels in your skin. You'll get the perfect custom shade that works for you. Now that's magic!
"My friend got this for me as a gift and when she explained it to me I was baffled. How does this clear lipstick color your lips?! The answer is wizardry. I'm a lipstick person, but sometimes a fully colored lip is just too much. This is ideal for those I-wanna-wear-lipstick-but-I-don't-wanna-wear-lipstick moments. You know what I mean. Anyway, it offers just the right amount of sheen plus a delicate pink tint that is unique to the person who wears it. It actually looks like it's the natural color of my lips which, if someone were to ask, I would gladly lie and say 'Why yes, this is my natural lip color.' (Although I can't imagine a scenario where anyone would ask me that.)" —Morena Duwe
Get it from Amazon for $17 or from Target for $16 (available in two colors).
11.
A Logitech ergonomic mouse if three plus years of working from home using a laptop trackpad or regular mouse has left you with wrist pain. The shape of this mouse raises your hand to a comfortable, more natural position while still giving you the options to scroll and click like you normally would.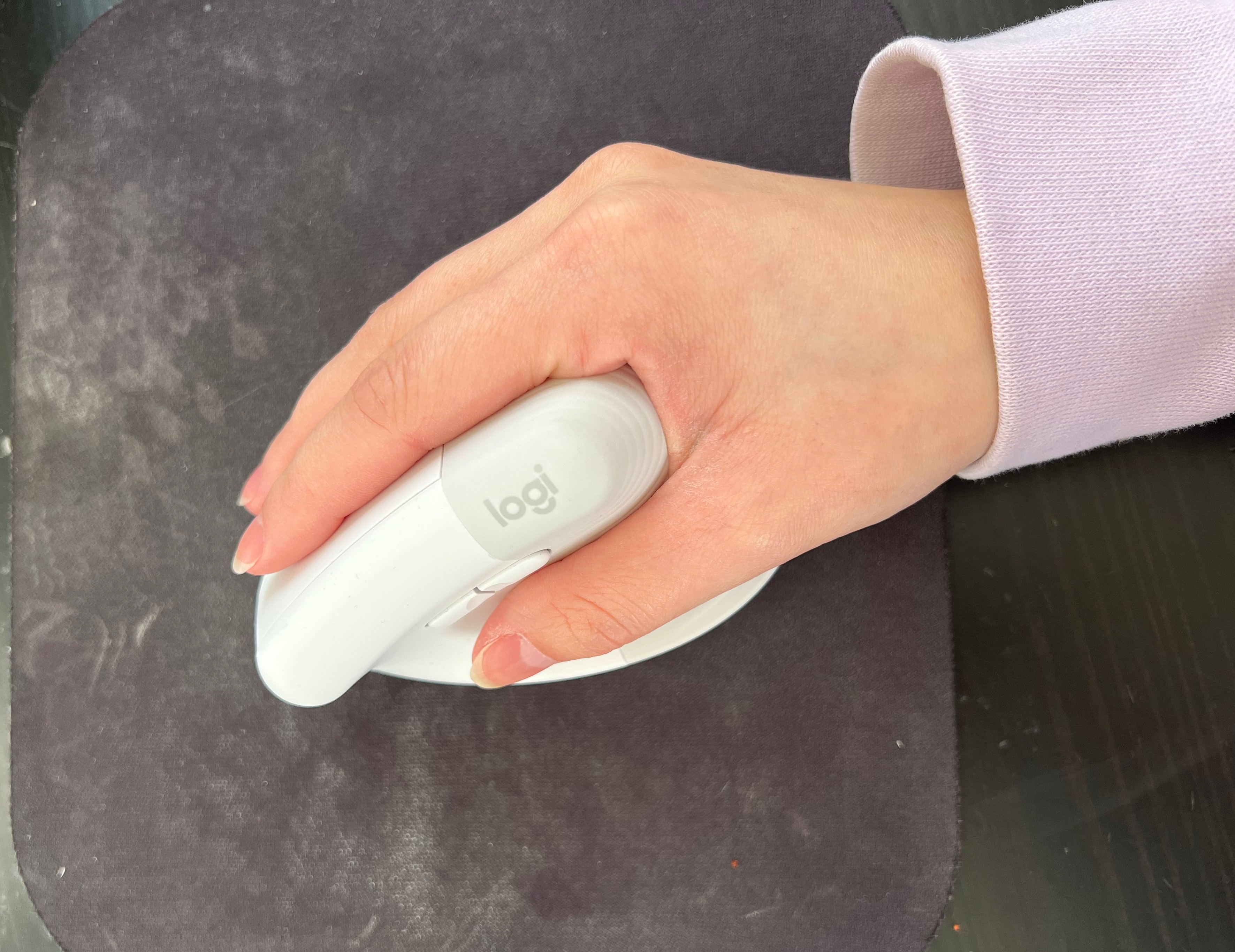 It connects via Bluetooth and has an up to two-year battery life. There are also both a right- and left-hand style, so you can get the right mouse that works for you! Read more about how ergonomic mice can help wrist pain at Cleveland Clinic.
"I, like many people, did not have an ergonomic work setup (or any setup for that matter) when I started working from home in 2020. After months of sitting at the kitchen bar or on the couch and using a trackpad 40 hours a week, I had a lot of pain in my wrist and forearm. Eventually I got a proper desk, chair, and mouse and the pain mostly went away — mostly. I would still notice a twinge sometimes while using my Magic Mouse, which I just accepted as part of life. 
But then — THEN! — I tried this Logitech Lift ergonomic mouse, and I have not had any pain in the almost five months I've been using it. I've also grown to really like the placement of the scroll wheel and buttons. I still use a regular mouse for gaming on my personal computer, but I am now constantly reminded of how much better this Lift mouse is for basically every other computer activity." —Melanie Aman
Get it from Amazon for $68.97+ (available in a right- or left-hand style and in three colors).
12.
Cariuma sneakers specifically designed with insoles that have arch support and memory foam, so it'll essentially feel like your feet are being hugged as soon as you slide them on. Add in the fact that the shoes have a classic look, and you'll have a staple shoe you'll find yourself reaching for all the time.
"I have worn these shoes a few times, and I really like them! Not only are they super cute, but they are shockingly comfortable, especially for seemingly flat shoes. When I first put them on, I was surprised (and excited) about the level of arch support that was actually there. I was initially worried my feet would hurt because they are so flat, but they are actually super supportive, and the memory foam insole makes them that much more comfortable. 
Added benefit, when you buy a pair, Cariuma then plants two trees so they can help restore rainforests — so far they have planted 1.8 million trees! These definitely make a great staple shoe." —Jessica Hall
Get them from Cariuma: $129 (for the high-tops; available in women's sizes 5-13 and in seven colors) and $79 (for the low-tops; available in women's sizes 5-13 and in 17 colors). 
13.
Marlowe natural deodorant made with coconut oil, shea butter, and jojoba for a fresh-smelling option that may just have you ditching every other deodorant you've ever tried.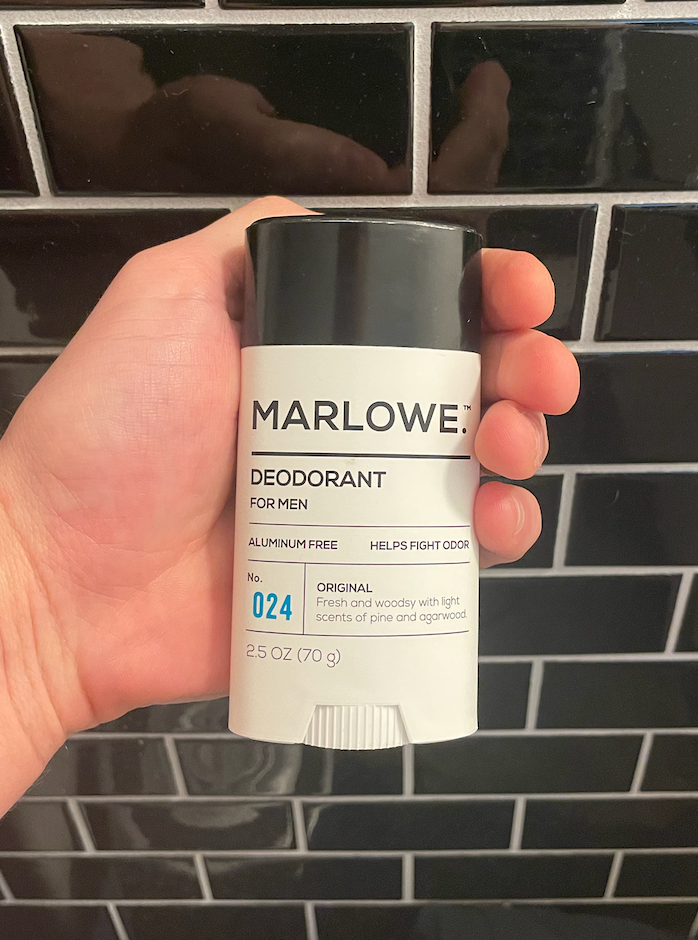 "Y'all, I don't think I've ever been passionate about a deodorant before. Until now. I tried the Original scent, which is 'fresh and woodsy with light scents of pine and wagarwood.' I will never go back to another deodorant after this. It smells like there's an expensive ass Yankee candle in my armpit. I put it on during the day, but I also put it on at bedtime, because that's when our sweat glands are most active. I literally wake up smelling good. I'm obsessed with this." —Ryan Schocket
Get it from Amazon for $12.99 (also available in a three-pack).