1.
An adorable octopus-shaped blackhead remover that actually works to pull out whiteheads, blackheads, and any other ~ink~ clogging up your pores. You may be disgusted by what the lil' cutie pulls out of your face, but you'll be so thankful it does.
Promising review: "After just two days of use, this adorable little octopus has done wonders for me, smells great too. Here's how I used it: I wore down the stick just a little to where the texture from the salt is visible, scrubbed around on my face so there was plenty of product, then I used my fingers to gently massage all the gunk away. Rinse, pat dry, and enjoy the softness. Highly recommended for people with sensitive skin like myself." —LuckLocust
Get it from Amazon for $12.50 (available in five styles). 
2.
A magnetic cloud key holder so you can place your keys on it when you arrive home and know exactly where to find them when it's time to leave again.
Promising review: "This is one of the most useful purchases I've ever made on Amazon. I use it every single day to hang my keys. I've had it for at least half a year now it seems. It hasn't lost any magnetism, and it holds my car keys, remote start, USB, rewards/gift cards, house and work keys, etc. I'm in love. It's one of the best purchases I've made." —Makenah
Get it from Amazon for $7.98.
3.
A cherry chomper to take ~a bite~ out of your cherries so you don't have to deal with doing it yourself.
4.
A little dog doorstop everyone in your house will love, even your canine because this cuteness is dog-gone ~un-stoppable~.
Promising review: "I bought this dog doorstop for my 18-year-old granddaughter who just started college. She wanted a doorstop so she can keep her door open at times, and it's a heavy door. This worked perfectly and she loves him. She calls him Lil' Ernie." —D. Jones
Get it from Amazon for $10.99 (available in four styles).
5.
A crab spoon rest so you don't get ~crabby~ when you have no place to set your spoon while cooking that won't make a mess in your kitchen. Reviewers also say it looks like this lil' guy is cheering you on as you cook! 
Promising review: "I have absolutely no good reason for buying a small crab spoon holder. However, I find Sebastian to be delightful and happy. Even when he's not holding a spoon, he's functional — it looks like he's cheering me on when I cook! No, he doesn't always stay standing, and no, the spoon doesn't always fit seamlessly into his little claws, but I didn't expect him to be perfect. I love him, and I'm glad I live in a world where I can buy whimsical things for my kitchen. Happy day!" —Sarah
Get it from Amazon for $19.95. 
6.
A dog-gone adorable ceramic pallet and brush rest you'll be ~dachshund-ing~ to use during your next water color session. You'll have a place to mix colors, store them, and even rest your brush on the mini doggo. ~Color~ me impressed.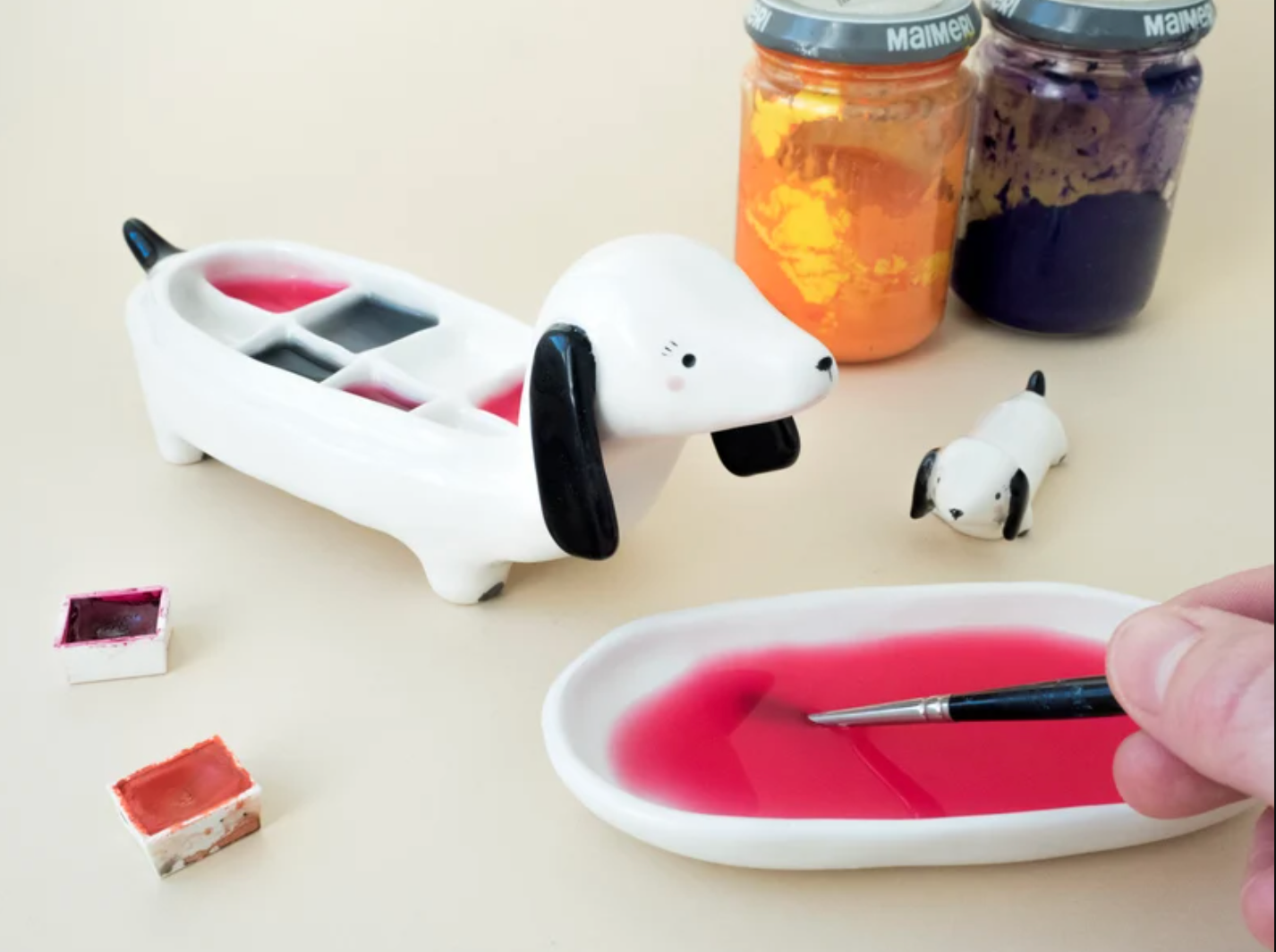 Tramai Ceramics is a Udine, Italy-based small biz that specializes in creating super cute animal-themed ceramic art supplies, dishes, jewelry, and more. 
Promising review: "I love the dachshund ceramic palette and brush rest. They are adorable! Very well made, and carefully packed in a lovely box. Thank you so much for this cute set!" —Karen
Get the two-piece set from Tramai Ceramics on Etsy for $99+ (also available individually). 
7.
An "Egguins" egg holder made to help boil, store, and serve eggs without much fuss on your end at all. If you make hard-boiled eggs a lot, simply place your eggs in this holder and lower them into boiling water. The whole process will be as smooth as the tap dancing in the movie Happy Feet. 
Promising review: "I love hard-boiled eggs, but it's always been a hassle to ever so gently lower them into a boiling pot of water with a spoon, then scoop them back into the now-wet carton to cool. This solves all those problems. You simply load the eggs in, lower into the boiling pot, pull back out, then store in your fridge. No more extra steps or gingerly lowering eggs into the pot. Plus, they're adorable." —Lara P
Get it from Amazon for $19.99 (available in black and brown). 
8.
A pair of light saber chopsticks that actually glow *and* change colors. You can have them work together to pick up your sushi or have an epic battle worthy of being the high point of the next Star Wars movie. The choice is yours.
Promising review: "Ok. I have wanted these for YEARS AND YEARS and finally bought them. WHAT TOOK ME SO LONG?!?!?! I don't eat plain sushi anymore. I eat sushi like a jedi would. Easy to clean and will bring you nerd joy every time you use them." —Hoosieronthemove
Get a set of two from Amazon for $12.97.
9.
A daisy egg separator to help your baking skills truly ~bloom~ because you'll never accidentally drop an egg yolk into a recipe again.
Promising review: "This is a terrific little tool, and it works perfectly. I place it over a short drinking glass and crack an egg right into it. The white of the egg tends to hand down in one long 'stalactite,' but with a couple of shakes it plops neatly into the glass." —D. Rachlin
Get it from Amazon for $13.99.
10.
A hanging disco ball planter reviewers swear brings them an immense amount of joy because not only does it look cool hanging around, but it also adds sparkles to the room when light hits it.
Promising review: "This planter brings me so much joy every day! It is well crafted and beautifully packaged. I appreciate the extra touches like the fact it comes with a few extra mirrored tiles and that there are different ways to display it (it comes with a stand and nicely braided hanging rope). Every day my whole living room becomes a party. :) I cannot recommend this enough." —Phil 
Get it from Amazon for $29.97.
11.
An Apple Watch stand — it may be 2022, but really, you'll aways be a '90s kid at heart, and this is the best way to charge your watch.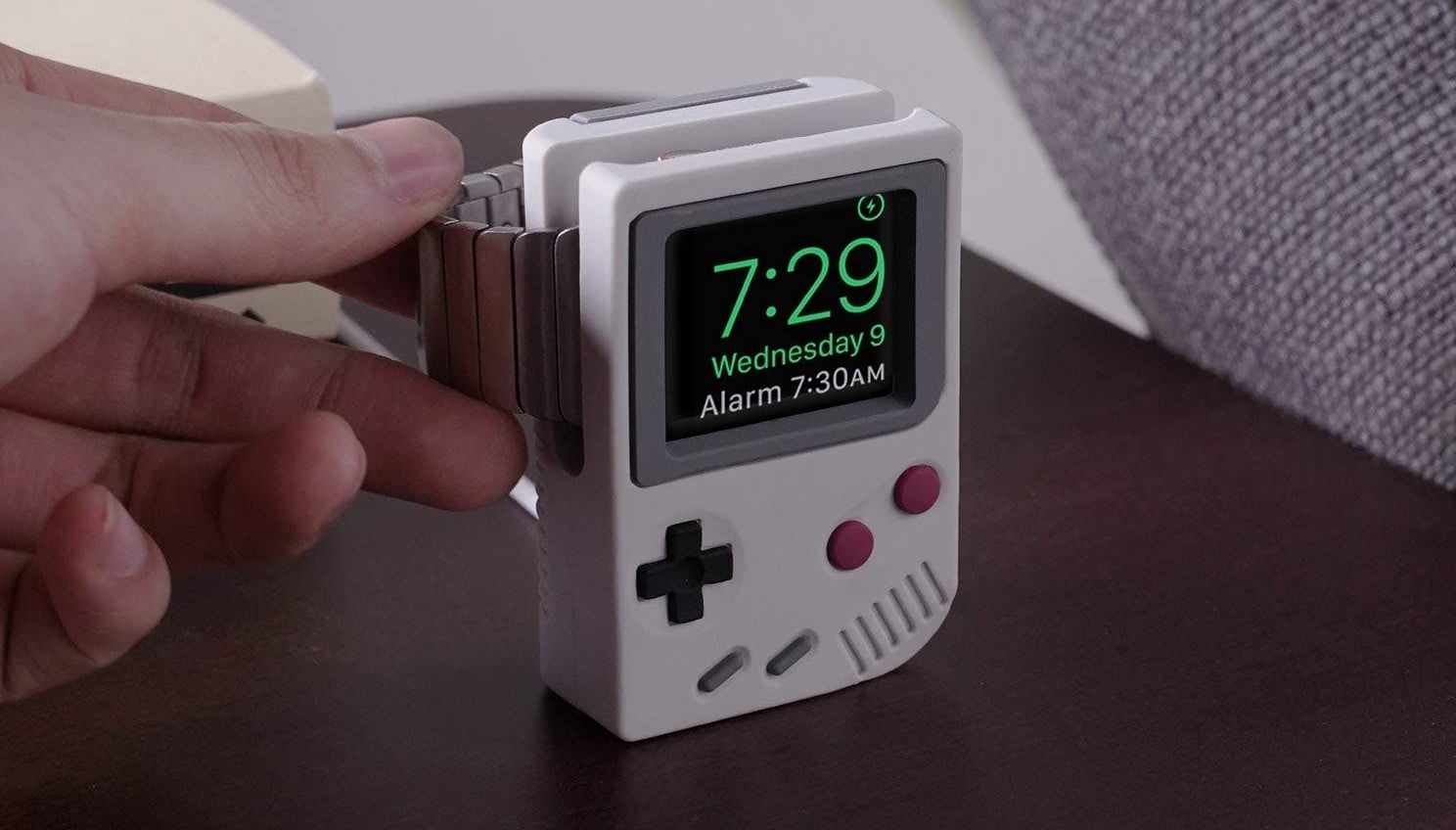 Promising review: "My absolute favorite purchase of the year. My watch fits perfectly, no matter the band that I'm using. Plus, look at it, it's ADORABLE. The '90s kid in me is so happy when I put my phone to charge every night. Excellent purchase." —Reviewer of Things
Get it from Amazon for $15.99 (available in four colors; also available in an Airpod and Airpod Pro style).
12.
A cactus humidifier because sitting at your desk when it's super dry out ~succs~, and you really shouldn't have to live that way.
Promising review: "This is so stinking cute, completely silent, has multiple settings, and the cordless option makes it super easy to move next to some of my plants that need a little extra humidity!! Love love love. :) I will probably purchase more for around the house and for plant-loving friends!!"—Rachel
Get it from Amazon for $18.99 (available in four colors). 
13.
A genie lamp stopper that will (sadly) only grant one wish: easy and controlled pouring.
14.
A cacti bottle brush set you won't mind having out on your counter when you're not spending approximately 78% of your day washing and rewashing all your baby's bottles.