Romney Campaign: Obama's Second Term Plan Is A "Glossy Panic Button"
GOP derides Obama's booklet.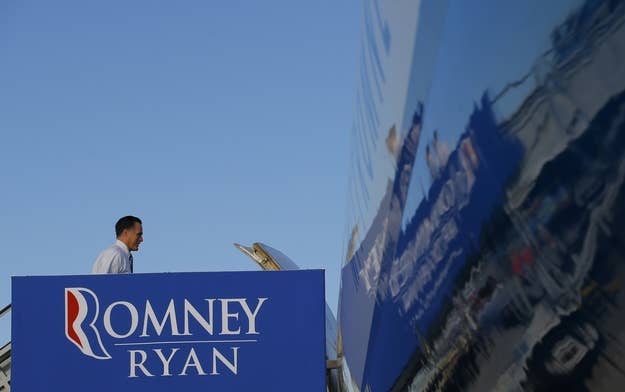 LAS VEGAS — A top aide to Mitt Romney said President Barack Obama's new emphasis to describe his agenda for a second term is a sign of panic.
Briefing reporters aboard Romney's plane en route to Las Vegas where Romney is holding a campaign event, senior adviser Kevin Madden declared it a "glossy panic button."
"I would say that it is a glossy panic button," repeating the phrase for effect, when asked by reporters about the 20-page booklet released by the Obama campaign this morning with sections like "Building an Economy from the Middle Class Out" and "Moving America Forward."
Romney aides have grown more confident of victory in recent days, as recent polling has put the campaign on the rise in several must-win swing states, as well as nationally.
As for the Romney plan for the next 14 days, Madden said Romney would be visiting the key battleground states over and over again.
"You know where we feel like we've got some really great momentum and where you know we need to make sure we turn out as many voters as possible that are supporting the governor," he told reporters. "So we're going to be in places like Colorado, Nevada, Iowa. We'll be back to Florida I expect. Virginia. You know these next 14 days we're going to be very busy. We're going to be in multiple states in single days. I think the governor right now is really focused. I think he's really energized and he's looking forward to it."
Asked about Florida turning in Romney's direction, Madden said the campaign believes it's theirs to stay.
"Florida's one of those states, it's like a freight liner, and once it turns – and I think it's turned – it's hard to turn back," he said.